Yes! Teaching English Abroad Provides Great Opportunities to
Learn a Foreign Language
It may seem counterintuitive that working full-time as an English teacher provides fantastic opportunities to learn another language. In fact, whether you teach English abroad in China, Chile or Germany, teaching English abroad provides a great opportunity to work on your language skills.
Here's why teaching English abroad provides great opportunities to learn a foreign language:
From language scholars to those who have actually learned a foreign language it is almost universally accepted that immersing yourself in an environment where you are constantly exposed to a language is the best way to learn a foreign language. As an English teacher abroad, you will live in exactly such an environment where you will be constantly surrounded by the local language and will enjoy innumerable opportunities to use and practice it.
In most cases, you will have access to many affordable quality language courses and tutors that are just as good and often far cheaper than any fancy international language study program that you might enroll in from home.
As an English teacher abroad, you will enjoy many opportunities to build friendships with local citizens who will be happy to help you improve your language skills.
You will constantly be exposed to the local language as it is actually used by native-speakers, rather than "classroom French" or "classroom Spanish." This will enable you to learn the language as it is actually used in real life. You will learn to comprehend it when native-speakers speak the local language at its natural speed. You will also learn colloquialisms, idioms and casual expressions that you are not typically taught in a classroom setting.
Exposure to mass media, including radio, television, newspapers and other reading materials will provide you with great opportunities to practice your skills. Watching a soccer match or a newscast will also introduce you to different elements of vocabulary and jargon as well as different speaking styles.
Finances - Many people pay thousands and thousands of dollars to enroll in fancy foreign language study programs, but as a professional English teacher, you will be paid to live in a foreign country so you can support yourself financially while you live in a foreign country and learn a foreign language.
Great Countries for Teaching English Abroad & Learning the World's Most Important Languages
Arabic - One of the world's most widely spoken and important languages, Arabic is known as one of the most difficult and beautiful languages. It is also highly sought after by international corporations and government and diplomatic bodies like the United Nations, the U.S. State Department and intelligence agencies like the CIA. You can study Arabic and teach English in many countries throughout the Middle East. Persian Gulf nations like Saudi Arabia, the United Arab Emirates (U.A.E., including Dubai and Abu Dhabi), Oman and Kuwait offer many lucrative opportunities to native-English speaking opportunities, and other Arab nations like Morocco, Tunisia, Lebanon, Egypt and Jordan also offer great opportunities to learn Arabic and teach English.


Chinese - Mandarin Chinese is the most widely spoken language in the world and China is the largest job market for teaching English abroad in the entire world. If you want to gain work experience and learn the language of the world's fastest growing center of business and commerce, Mandarin Chinese would definitely be up your alley.

Taiwan, another Asian economic juggernaut with fantastic history, natural beauty and a great job market for teaching English overseas, is another great location for learning Mandarin Chinese.

Cantonese, the second most popular Chinese dialect, which is also spoken by millions of people, though far fewer than Mandarin, is more prominent in Hong Kong and the southeastern region of China known as Guangdong, which is one of the major hubs of China's booming economy.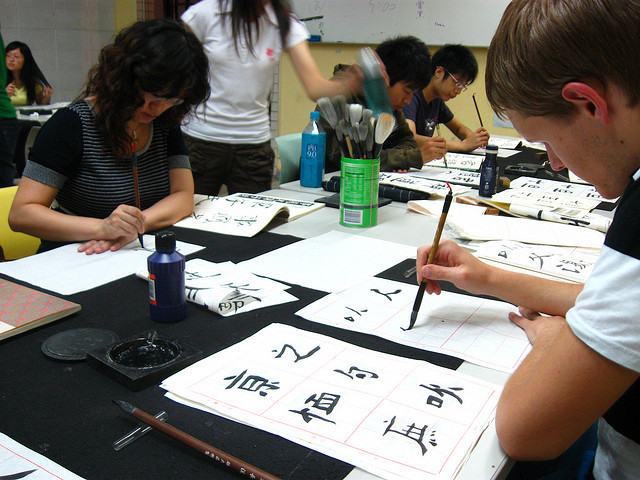 French - France itself offers numerous opportunities for teaching English and learning French. Unfortunately, most other French-speaking nations in Africa and the Caribbean are not major job markets for teaching English abroad.
German - Germany is one of the largest markets in Europe for teaching English abroad. Austria is another German-speaking country that offers opportunities for teaching English.
Italian - Italy represents one of the top job markets for teaching English in Europe and the Italian language is known for its beauty and romance. There are many full-time teaching opportunities for teaching English in Italy, and those who are studying Italian and Italy and gain a TEFL certification can easily make money on the side teaching English.

Japanese - A nation of 127 million with a strong commitment to education and an economy dependent on international commerce, Japan is one of the largest and most popular job markets for teaching English abroad. Those looking to teach English in Japan can find great opportunities in cities, as well as in smaller towns and rural regions, which provide a great environment for immersion in Japanese culture and language.

Want to Learn More about Teaching English Abroad?
The opportunity to learn and master a foreign language is just one of many benefits that teaching English abroad offers. To learn more about opportunities teaching English abroad and how you can earn the TEFL certification you need to get hired by thousands of schools and language institutes around the world, please request a free brochure or call 773-634-9900 to speak with an expert advisor about all aspects of teaching English around the world, including TEFL certification, the hiring process, salaries, visas and more!

Related articles: