Teaching English in Tunis, Tunisia: Alumni Q&A with Adam Lucente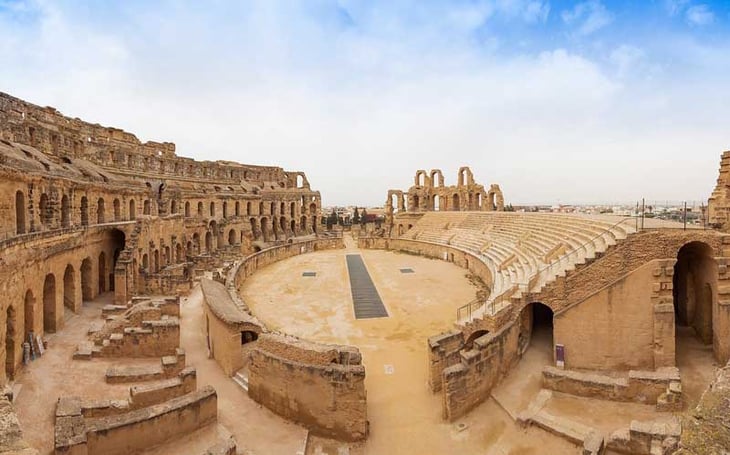 What is your citizenship?
United States
What city and state are you from?
Suffern, New York
How old are you?
24
What is your education level and background?
Bachelor's Degree
Have you traveled abroad in the past?
Some international travel with friends, family, business, etc.
If you have traveled abroad in the past, where have you been?
Canada, Brazil, Egypt, Belgium, France, Italy, Spain, Jordan, South Africa, and Zimbabwe.
If you have studied abroad in the past, where did you study?
Amman, Jordan.
What sparked your interest in going to teach English abroad?
I studied International Affairs, and focused on the Middle East. I wanted to return to the region to learn more firsthand and improve my Arabic. Teaching English seemed like the best way to do that.
What were some of your concerns before teaching abroad?
I worried about making a living and making friends in my new environment.
What did your friends and family think about you moving and teaching abroad?
They were supportive and excited, but my mom was also worried for my safety.
Why did you decide to get TEFL certified and choose International TEFL Academy?
I looked into the TEFL job market in the Middle East and came to the conclusion that a certification was necessary.
Which TEFL certification course did you take?
USA - New York
How did you like the course?
The course was great. I felt like I learned years worth of material. The instructor brought an immense amount of knowledge and experience to the class, and it showed. It required a lot of work, but was as exhilarating as it was tiring. The tasks were organized in a way that facilitated our learning, and the practicums were directly related to what we studied. We applied the theories in our practice teaching lessons, and received tons of feedback from the instructor and our peers alike.
How has your TEFL training helped you in your current teaching position?
The training was quite applicable to my job. I found that many of the techniques I was taught were found in the textbooks at work, i.e. CCQs, controlled practice, etc. We also discussed many potential classroom issues in the course. When these came up, I was for the most part prepared to deal with them.
Which city and country did you decide to teach English in and why?
Tunis, Tunisia. I looked for jobs across the MENA region and found one here. North Africa's contrasts and similarities with the Middle East also intrigued me.
How long have you been in this country and how long do you plan to stay?
I was there from September 2013-September 2014.
How did you secure your English teaching job?
I had a previous relationship with my employer through study abroad. I went on their website and saw the job opening.
What school, company, or program are you working for?
AMIDEAST
How did you get your work visa?
My employer helped me with the process. Tunisia grants a 4 month visa on arrival to Americans, 3 months to many other nationalities. Then I applied for a residency permit. The process is long and chaotic, but possible, especially if you have a local help you. Many others work on a tourist visa, and border hop when it expires.
Tell us about your English teaching job!
I worked anywhere between 25-30+ hours a week. The pay was more than enough to live comfortably and travel domestically. International travel required a bit of budgeting on my end. I think it's possible to save a few thousand dollars, especially if you find private tutoring gigs. I taught all sorts of classes. Beginner, intermediate, business, adults, children, teens. I even taught music. We got off for the U.S. holiday season in December and January. We also had periodic breaks throughout the years as sessions began and ended.
How did you find somewhere to live and what is it like?
My employer found me an apartment. Then I found one on a sort of Tunisian Craig's List. I lived middle class in my first apartment. In the second, I was in a working class neighborhood and we lacked many amenities. You don't need to do this, but I loved it. It was dirt cheap and the people were friendly. I felt part of the community. The less well-off areas have much cheaper rent rates, and despite belief to the contrary, are mostly safe. I lived alone at times, with roommates at others. It's easy to find locals and expats to live with via the grapevine.
Please explain the cultural aspects, public transportation, nightlife, social activities, food, expat community, dating scene, travel opportunities, etc...
LIFE IN TUNISIA: Tunisians are friendly, and social. If you need directions, for example, many people will help you. There are scammers, but far less than the amount in other developing countries. Islam is an important part of life, but not for everyone. You'll hear the call to prayer, and many people will want to talk to you about it. The country shuts down on major holidays. Again, not everyone is religious though. Many people don't partake in Islamic customs, and the country has a few religious minority groups.
GETTING AROUND: Public transportation is mostly used by locals, but don't let that deter you. Buses and trains are cheap and safe, bhey aren't timely.
FOOD: I found the western and foreign food (pizza, burgers, Chinese, etc.) to be very sub-par. Tunisian food, on the other hand, is raved about by most people who visit.
SOCIAL LIFE/NIGHTLIFE: If you're into cafes and soccer you'll have fun. There are some movie theaters. Tunisia has several bars and nightclubs too. These are frequented by both locals and expats. It's acceptable for the two to mix socially. The expat community is diverse and large, with many Europeans and Africans, some Americans, and Asians too. Being a small country, it's easy to see a lot of it in a short amount of time.
DATING: Dating depends on your gender and community. People in the expat communities interact. It's common for Tunisian men to date western women. Western men and Tunisian women is where it gets complicated. Expectations can be different, and being together at night in certain areas can bring attention from the police. However, there are successful relationships of this mold. It just takes sensitivity and patience.
What are your monthly expenses?
RENT: I paid between $120 and $245 USD per month, depending on where I was (I moved) for rent.
FOOD: $40 a week can cover your food if you cook. In terms of eating out, a large pizza from a restaurant is usually $5 or so, for example. '
TRANSPORTATION: Taxis during the day are generally just a dollar or two. At night, it can be $15 to get to the outskirts of the city from downtown, so carpool if possible.
PHONE/INTERNET: I paid less than $10 a month for a local SIM card with 3G. Calling internationally would've eaten up my credit. Skype is a better option. 3G USB sticks are available for internet on your laptop or tablet for around $20 a month. They are fast enough.
How would you describe your standard of living?
Good.
In your opinion, how much does someone need to earn in order to live comfortably?
Around $500 a month. A lot depends on where you live and how you get to work.
What advice would you give someone planning or considering teaching abroad? Would you recommend teaching English in Tunisia?
If you are interested in teaching, international relations, travel then do it. I recommend Tunisia highly.
Adam Lucente is a journalist and English-language teacher from New York City. He learned Arabic in college and has since taught in Tunisia, Jordan, and the Kurdistan Region of Iraq. As an ITA Alumni Ambassador, Adam has shared many of his experiences and insights with others interested in teaching in the Middle East through numerous articles.
Want to Learn More About Teaching English Abroad & Online?
Request a free brochure or call 773-634-9900 to speak with an expert advisor about all aspects of TEFL certification and teaching English abroad or online, including the hiring process, salaries, visas, TEFL class options, job placement assistance and more.