tefl certification
A 5-Step Plan for Teaching English Abroad in 3-6 Months
Here is your 5-Step Plan for Teaching English Abroad in 3-6 Months. Take the plunge and follow these steps to live your dream of living and teaching English abroad.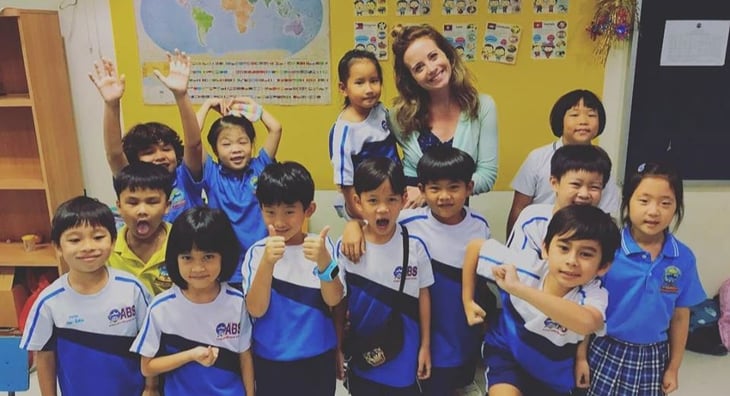 Teaching English abroad can be a rewarding experience that allows you to immerse yourself in a different culture while sharing your language skills. While three to six months is a relatively short time to teach abroad, it's still possible to find opportunities.
How to Begin the International Adventure of a Lifetime in 3-6 Months
For those of you that wanted to be teaching English abroad yesterday, here are 5 steps to get yourself certified, employed, and living an international lifestyle in as little as 3-6 months:
Answer the Call to Adventure & Begin Researching
Choose a TEFL Certification Course
Explore Teaching Destinations, Start Your Job Search and Plan Your Budget
Make Travel Arrangements and Start Planning Your Departure
Pack and Go
Let's take a look at each of these steps further:

1. Answer the Call to Adventure & Begin Researching
The most important question to ask yourself is: "Do I want to teach English abroad?"
If your answer is an overwhelming "YES!", then you need to make a commitment to yourself and take the first steps to make it happen. Moving to Spain, Argentina or China to teach English abroad is a very realistic and achievable goal for most English speakers, but it will never happen unless you commit yourself and get the ball rolling. Committing yourself is the first step, but then you need to actually make it happen!
Diddling and dawdling, and telling yourself that you'll start researching and taking concrete steps next week or next month, or next year is one way to ensure that your dream of living and teaching abroad will remain just that: a dream.
Read more:
You may not know where you want to teach, and or have an answer to every question, but making the commitment to yourself and getting the ball rolling is absolutely key. Once you commit yourself and realize that you are actually going to take the necessary steps to teach English abroad and live overseas in a fantastic foreign country, your motivation, excitement, and sense of exhilaration will go sky-high!
Get Going with Research
To get going, you need to start researching options for TEFL certification and destinations for teaching abroad.
Check out a country chart and call an advisor at 773-634-9900. You can also download a free Financial Guide to Teaching English Abroad to learn about all of the financial aspects of reaching your goal of teaching English abroad and also how and where you can make the most money.
Read more:
2. Choose a TEFL Certification Course
Once you have committed yourself, now you have got to set yourself up for success. This means getting professional training to be an English teacher. There are at least a quarter of a million jobs around the globe for TEFL-certified teachers, but schools and language institutes aren't typically going to hire you off the street (or the Internet) just because you speak English.
Read more: What is TEFL Certification?
An accredited TEFL certification will provide you with the skills you need to be an effective teacher and a recognized qualification that schools around the world seek when hiring English teachers. When considering your options for TEFL certification, bear in mind that an accredited TEFL course must include at least 100 hours of coursework, 6-20 hours of live practice teaching, and incorporate an accredited curriculum.
You also need to consider the following questions:
Full-time 4-week in-person classes are finished quicker but an 11-week part-time online course provides the flexibility to interview for jobs abroad while getting certified as well as the option to continue to work and save for your move overseas.
Online TEFL courses also tend to be more cost-effective, especially if you are working and generating income while you get certified. Either class choice will give you an accredited certification that meets the international standards for course hours and live practice teaching.
3. Explore Teaching Destinations, Start Your Job Search and Plan Your Budget
You may think choosing a TEFL class and then a location to teach is putting the cart before the horse but essentially with any class, you will have the flexibility to teach in any thriving job market you are qualified for.
If you choose to take an in-person 4-week class in Prague, for example, you can decide to teach in the Czech Republic, of course, or you can hop over to Germany, Italy, or even Asia or Latin America. Your certification from International TEFL Academy is recognized throughout the world.
If you are getting certified online the online class gives you the flexibility of getting certified over 11 weeks in the comfort of your own home while applying for jobs in advance and conducting interviews by phone or Skype.
Many individuals choose to start online classes and then cast a wide net by exploring teaching opportunities and interviewing for jobs in multiple regions and countries across the globe. It is not uncommon to apply for positions in Europe, Asia, and Latin America and receive job offers from all schools all over the world.
Imagine the choices!
Should I take a job in Istanbul, Turkey, and wine and dine on the Mediterranean on the weekend or should I go for the position in Hong Kong amid futuristic high rises and spend my weekends dining on dim sum? Taking the cost of living into account is key as you are making your choices. Check out our start-up cost estimates from country to county as you consider these decisions.
Read more: How Much Can You Make Teaching English Abroad?
Some additional points to note:
4. Make Travel Arrangements and Start Planning Your Departure
So you have now researched locations of where you would like to teach and you have developed a plan for heading to a particular country to interview on the ground face-to-face, or perhaps you have a job lined up already.

Prior to departure, you need to make sure you're actually ready to go.
Now it is time to get airborne! Research airfare prices out of your home city but also in surrounding major airline hubs. You can save hundreds or even sometimes a thousand dollars by taking a car or bus a few hours away going out of a larger hub like JFK in NYC instead of a smaller local airport like Bradley Airport in Hartford, CT.
If you are going to need accommodations in your new destination, you probably want to book a place at a hostel where you can stay until you can find more permanent arrangements. At this stage of the game, the excitement level is almost at its peak!
Read 25 Great Websites for International Travel on a Budget and How do I find a place to live while teaching English abroad? for more info on planning your travels and accommodations.
5. Pack and Go!
In as little as 3-6 months, you have decided to change your life. You have taken a rigorous and rewarding TEFL certification course that has prepared you to walk into any international classroom equipped and prepared with a professional educational skill set. You have networked, connected or even started to interview with schools in all countries on this earth that you have ever had an interest in exploring.
You may have had phone interviews with schools in Moscow, Seoul, and Santiago all within the same week. You may have heard back from schools in Madrid, Florence, or Prague letting you know they would like to set up an interview once you have landed in Europe. At this stage, you are going international! Your ticket is booked and now for the final steps. Pack and party!
Pack only what you need for a month. The rest you can purchase in the country you are working in: anything from shampoo to teaching supplies. Put the rest of your belongings in storage or at a family member's or friend's house - or better yet, sell as much as possible to get more cash for your new adventure. Where you are going you want to be free, flexible, and adventurous!
Then, of course, you need to throw yourself a great going away party! This is the opportunity for friends and family members who didn't believe you would do it to congratulate you on your courage and exchange Skype addresses. You are on your way to a spectacular adventure that everyone at your party will be envious of! Celebrate your decision, celebrate your accomplishment, and celebrate your dedication and motivation because this is the final step that has brought you to one of the most amazing experiences you'll ever have in this lifetime.
Then, it's off to the airport to embark on the greatest adventure of your life!
Go Further: A 7-Step Plan for How to Teach English Abroad
Founded in 2010, International TEFL Academy is a world leader in TEFL certification for teaching English abroad & teaching English online. ITA offers accredited TEFL certification courses online & in 20+ locations worldwide and has received multiple awards & widespread recognition as one of the best TEFL schools in the world. ITA provides all students and graduates with lifetime job search guidance. ITA has certified more than 40,000 English teachers and our graduates are currently teaching in 80 countries worldwide.
Want to Learn More About Teaching English Abroad & Online?
Request a free brochure or call 773-634-9900 to speak with an expert advisor about all aspects of TEFL certification and teaching English abroad or online, including the hiring process, salaries, visas, TEFL class options, job placement assistance and more.