must read
What Are Basic Start-up Costs for Teaching English Abroad?
Understand the cost of teaching English abroad and how much money you should plan for to kick off your TEFL adventure overseas.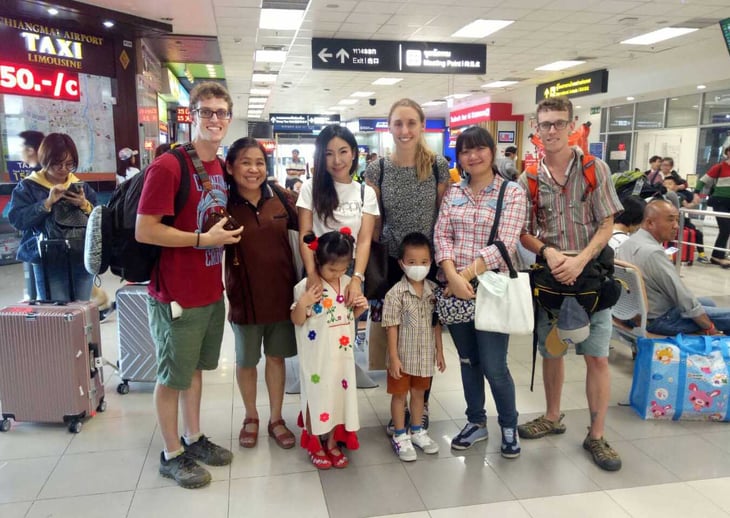 To move anywhere, whether from New York to New Jersey or Chicago to Madrid, you'll probably need to incur at least some basic start-up costs. When it comes to TEFL (Teaching English as a Foreign Language), consider these costs as the expenses you need to invest to get overseas to begin teaching. Once you start teaching and getting paid as a professional teacher, your salary should cover your cost of living, and in some cases, you may even be able to save extra money.
How Much Does it Cost to Teach English Abroad?
The start-up costs to teach English abroad typically include:
TEFL certification course costs (also known as a TESOL or ESL and range from $500-$2,000 USD)
Travel document fees (e.g. passport, background check, transcripts)
Travel & moving expenses
Daily expenses and supporting yourself prior to earning your first paycheck
It is worth noting that, depending on where you decide to teach English overseas, these expenses will vary based on the local cost of living and whether you receive benefits like free housing and/or airfare from the school that employs you.
In most countries around the world, once you begin to work full-time and receive paychecks, you will earn enough to cover your daily and monthly living expenses.
Teach English Abroad Round Trip Costs
The round-trip costs to teach English abroad depend on a number of factors. Some schools reimburse airfare or provide free housing, saving you thousands of dollars. You can count on spending a few thousand dollars to become TEFL certified, fly to your new country and support yourself for a few months before getting your first paycheck.
Now that you know what these TEFL costs are, let's look at them in detail:
TEFL Certification Cost
To teach English abroad, you need to get TEFL certified. Therefore, the first cost to account for when planning for teaching English abroad is the cost of your TEFL certification. Those costs will vary depending on whether you take your TEFL course online or in person.


Cost of an In-person TEFL Certification Course
In-person course tuition varies by location, but typically ranges from $1,500 - $2,000 USD (some courses will cost more) and does not usually include housing, personal expenses (food, getting around town, sightseeing, etc.) or transportation, including flights, to your course site.
Housing costs also vary but typically range from $300 - $1,000 for four weeks.
Read more:
Cost of TEFL Certification Online
An online TEFL certification will likely cost $500-$1,000 less than taking an onsite TEFL course in North America, and $1,000-$2000 less than traveling to an international location to take your TEFL course, especially if you have to invest in airfare and housing.
As a matter of fact, the funds you save from taking an online TEFL course can go towards other start-up expenses (airfare, first month's rent, etc.) or other endeavors like travel.
Standard tuition for the International TEFL Academy (ITA)'s part-time 11-week online TEFL Course, including course materials, is $1,499. This course is being held part-time for 11 weeks. This allows you to get certified while going to school or working your full-time job without giving up your income or incurring other out-of-pocket expenses like travel.
Read more:
Legal Document Fees
When you find your TEFL job, chances are your employer will require you to provide some documents to complete the hiring process. Whether you may or may not need the below documents depends here again on the employer, the job position and the country you are going to teach English in. Just know that in most cases, you will need to pay a fee to receive said documents.
Such legal documents typically include:
Valid passport: If you don't already possess a passport (or if you need to renew your passport) you will need to get a new one, and therefore pay for the application process;
Visa: Your teaching position may require that you apply for a visa. The cost of visas will vary based on the type of visa you need, and also from one country to another;
Criminal background check: Some employers will require you to provide a criminal background check. In the case of U.S. citizens, you can apply for such background check with the FBI for a small fee (about $18);
Transcripts: You may be required to provide a transcript of your college credentials and diploma. Contact your college or university to obtain these. You should order two or three to have a backup, they are typically $6-8;
Medical Forms: In some cases, medical documents may be required to obtain a visa. For instance, in South Korea, you may be required to undergo a physical and/or a drug test upon arrival;
Apostille & Notarization: In many cases, your documents will need to receive an international notarization known as an apostille. Use Google or contact a local government body such as the secretary of state to learn where and how you can get your documents apostilled in your area or through an online service.
Read more:
Travel Costs
Another TEFL cost for you to plan for includes your travel expenses. Teaching English abroad entails that you, well, move overseas to a foreign country. To make that happen, you will most definitely need to book your flight and possibly look to get international health insurance.
Here again, these travel costs vary depending on where around the world you would like to go teach. For instance, in countries such as South Korea, your employer will pay for your airfare. Some employers may also offer health insurance when hiring you. It is important that you consider health insurance coverage when deciding on where to teach English abroad.
Read more:
The Cost of Your First Few Weeks Abroad
When planning for your move overseas, it is important that you consider how you are going to pay for the first few weeks before you receive your first paycheck.
There are 2 scenarios to consider:
You Need to Interview Face-to-Face
There are many countries in Latin America such as Costa Rica and Argentina, as well as many countries in Western Europe like Spain and Italy, where you need to plan on traveling there to interview for positions locally in person and begin teaching.
If you decide to go that route, we recommend that you plan for at least 6 weeks' worth of savings. This includes:
The first two weeks that you will be looking for a job;
Once you accept a job offer, you typically will be paid monthly. Therefore, we typically recommend that you plan for an additional month's worth of savings for day-to-day living expenses until you receive your first paycheck.
Therefore plan for 6 weeks of living expenses to make sure that you are financially secure in your transition to your new country.
Here's a brief summary of what you will need money for in the first 6 weeks abroad:
Weeks 1 & 2 for housing while interviewing, i.e hostel, hotel, etc;
Apartment deposit (typically 1 month's rent);
1st Month's rent;
Groceries for 6 weeks;
Transportation;
Cell phone;
Going out;
Sightseeing.
You Can Interview from your Home Country
Signing a contract in advance from your home country will save you the 2 weeks of expenses that you would typically need to interview on the ground.
When you accept a job in advance you will only need to bring with you a month's worth of savings. For instance, if you start a position on January 1st, you will essentially need enough cash to sustain you until February 1st or whenever you receive your first paycheck.
Teaching English in a country where you can interview and get hired in advance will typically enable you to enjoy lower start-up costs.
Things you will need money for during your first 4 weeks:
Apartment deposit;
1st Month's rent (see hot tip below);
Groceries;
Transportation;
Cell phone;
Going out;
Sight-seeing.
Read more: Where will schools hire me in advance to teach English abroad?
Pro Tips: How To Keep Your TEFL Costs Low
At International TEFL Academy, we have been in your shoes before. Everyone on our staff has moved overseas and had to face the same costs you will be facing. Here are some of our takeaways to help you keep your TEFL costs affordable:


Plan ahead and space out your expenses. If you spread your expenses like TEFL certification, airfare and other start-up costs over 6-12 months, rather than 2-3 months, you will find it easier to achieve your goal of teaching English abroad;
Choose a country where schools typically reimburse or provide free airfare and/or free housing to English teachers abroad. For instance, choose to teach in South Korea, China, Indonesia, Saudi Arabia, U.A.E., Qatar, Russia and Turkey.
Choose a country with a low cost of living. These countries will typically be found in Latin America, Eastern Europe and Southeast Asia.
Be a smart consumer by purchasing air tickets as far as in advance as possible and by using online tools to find the best deals on airfare;
Choose a geographically close location to save on airfare;
Travel light to keep your luggage cost at a minimum;
Teach English Online to offset those start-up costs. Teaching English online offers you the opportunity to start making money teaching before you even head abroad. Additionally, because you can do it from anywhere, you can begin teaching English online and earning money as soon as you arrive in your destination country, even if you don't have a job yet at a local school.
Here are Some Specific Start-up Costs Examples:
Estimated start-up costs (6 weeks of living expenses, not including airfare and TEFL certification, until you begin receiving paychecks) in Spain or Italy will typically range from $2,000 -$3,000;
Meanwhile, in Costa Rica or Peru, those same costs will typically range from the equivalent of $750 - $1,000;
In the Czech Republic, they will range from $1,300 - $1,700 and in Turkey, they will range from $1,000 - $1,650.
Remember, your U.S. dollar will have more buying power in some countries than others. Western European countries (i.e. Spain or Germany) that use the Euro will cost more to start up than Eastern European countries that do not (Czech or Poland).
Read more:
Our Country Chart provides estimated start-up costs, not including TEFL certification and airfare for more than 60 countries around the globe.
You can also learn more about costs of living in various cities around the world using websites like this.
The Big Takeaway?
Teaching English abroad is a realistic goal for just about anybody provided you conduct your research and plan accordingly. Don't let finances become an excuse for not achieving your dream of living and working abroad.
Please contact International TEFL Academy for further information. We've been in your shoes and we're here to help!
Go further:
John Bentley is Co-Founder & Senior Writer for International TEFL Academy (ITA), the world leader in TEFL certification for teaching English abroad. A graduate of Harvard University and the Medill School of Journalism at Northwestern, John is a recognized expert in the field of TEFL. His articles have appeared across the field's top websites, including GoAbroad.com, StudyAbroad.com, InterExchange, GoOverseas.com, Adventure Teaching, & many others. He has also spoken as an expert on Teaching English Abroad & TEFL certification at major conferences like MeetPlanGo and Lessons from Abroad (LFA) in Portland & San Diego.
Want to Learn More About Teaching English Abroad & Online?
Request a free brochure or call 773-634-9900 to speak with an expert advisor about all aspects of TEFL certification and teaching English abroad or online, including the hiring process, salaries, visas, TEFL class options, job placement assistance and more.