20 Great Websites for International Travel on a Budget
If you are teaching English abroad, studying overseas or just planning your next international adventure on a budget, here are 20 great international travel websites to help you plan, make arrangements and connect with like-minded travelers around the globe.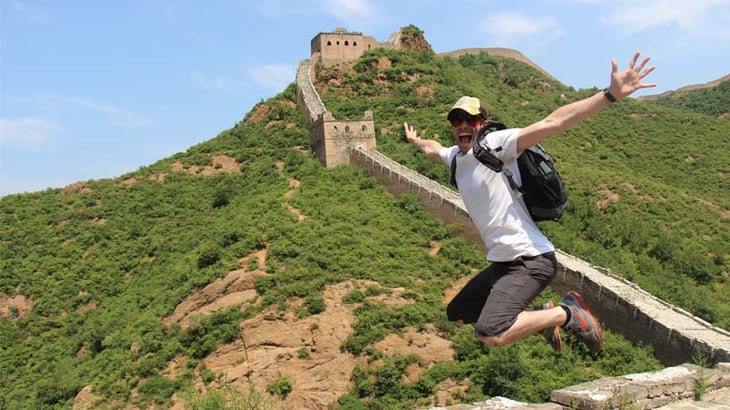 20. Frugal Traveler - New York Times
The New York Times' Frugal Traveler column provides a wealth of tips, information and firsthand perspectives on international travel on a budget.
19. BudgetTravel.com
From simple savings tips and travel deals to articles and destination profiles, https://www.budgettravel.com, the website for Arthur Frommer's Budget Travel magazine is a gold mine of information for those looking to travel on the cheap.
18. Trippy.com
If you are looking for something fresh and to join a community of more than 250,000 travelers worldwide, https://www.trippy.com is the way to go!! Trippy integrates social networking sites such as Facebook, Google+, Twitter and others to enable travelers to connect with each other and to share tips, ideas and experiences.
17. TripTuner.com
https://triptuner.com is a fun site that will match you to customized travel options. Using virtual knobs that resemble a volume control on a stereo you can select preferences, such as weather, cultural interests, level of adventure, etc., and the site will help you select destinations and itineraries that match your interests.
16. - 21. Momondo, Skyscanner, Travelzoo & Kayak
Several great sites for comparing airfares, hotel rates and other travel deals include https://www.momondo.com, www.skyscanner.com, www.travelzoo.com and www.kayak.com!
15. & Budget Air Travel in Europe - RyanAir.com & EasyJet.com
Twenty years ago air travel within Europe was so expensive that it was almost exclusively the domain of business travelers and upscale tourists from the United States and Japan. However since the European Union deregulated the airline industry in the 1990s, a number of budget airlines have offered high value service throughout the continent. Check out Ryan Air and www.EasyJet.com and you can often book flights within Europe for as little as the equivalent of $50 or even $25 USD one-way.
14. AirFareWatchDog.com
Just lined a great teaching job in Thailand, but need to be there in a week or sooner? If you are in rush to find the best airfare deal at the last moment, check out https://www.airfarewatchdog.com!
13. Trip Advisor
https://www.tripadvisor.com is one of the largest and most popular travel sites on the Internet today. Incorporating more than 100 million reviews and opinions from people like you, it's great for gaining the perspective of actual travelers!
Here you can also find great tips about flight fees, hotels and other deals, plus comments and photos about restaurants, clubs, historical sites, museums, cultural attractions and more. If you use it through your Facebook account you can even check out your friends' comments about the places that they visit and have your own travel map! That's my favorite part!
12. Agoda.com
This great site https://www.agoda.com will help you to find some awesome prices in hotels and hostels all over the world!
11. Priceline.com
If you are ready to negotiate and name your own price for a hotel, car rental, vacation packages, cruises and more https://www.priceline.com is worth a visit.
10. Airbnb.com
Tired of the same old hotels and hostels?
Want to experience a city or a town while staying in an apartment in a local neighborhood?
If so, airbnb.com is a great resource! The site provides all sorts of home-style accommodations, so whether you are looking to crash on a couch for a night or two or rent out an apartment for a week, the site provides options!
It also provides participants the opportunity to save or make some money! For travelers, the site offers accommodations that vary from standard hotels and hostels. You can stay in an apartment like a local or perhaps enjoy a totally unique set of accommodations, including palaces, castles, water towers, tree houses, or even a restored Boeing 727 fuselage suite! This is Awe-so-me!!!
9. Couch Surfing
One of the great innovations in budget travel, https://www.couchsurfing.org matches member travelers with welcoming hosts in more than 100,000 cities and towns all over the world who open their doors and their couches/spare bedrooms. Accommodations are typically free and the terms of stays, including any financial arrangements to accommodate incurred expenses are usually worked out in advance.
8. Sleeping in Airports
If you are between flights or really under a budget https://www.sleepinginairports.net can help you to find the best spot in your transit airport!
7. Google Maps
Think Google Maps (https://maps.google.com) is just for finding your way to a business appointment or the closest fast food outlet? Whether you are trying to navigate the alleys of medieval Cairo or the boulevards of Buenos Aires, Google Maps is an invaluable tool for locals and travelers everywhere for obtaining directions, locating services and even accessing telephone information and reviews!
6. RickSteves.com
Public Television host and prolific guidebook writer Rick Steves has been a guru for Americans traveling to Europe for more than two decades. His website, www.ricksteves.com, offers a wealth of information, tips, articles and other resources for those looking to explore Europe.
5. BudgetPlaces.com
https://www.budgetplaces.com is another great resource to find deals and offers for hotels, hostels, campsites and other budget-friendly accommodations around the world!
4. TravBuddy.com
If you seek to connect with other travelers that are going to the same place at the same time this is a great way to find them: https://www.travbuddy.com!
3. Travellers Point
This social networking site is designed for those travelers seeking to engage in interactive planning with others and for those looking to share their experiences by participating in forums, sharing photo galleries and writing their own blogs. Learn more at https://www.travellerspoint.com
2. Matador Network
If you want to read cool articles about potential destinations, get great travel tips or just to get inspired to head out and discover the world, https://matadornetwork.com represents the pinnacle of travel writing for independent and budget travelers on the Internet!
1. Lonelyplanet.com
One of my favorite sites! Lonely Planet may be the top series of travel guidebooks in the universe for budget travel and their website, https://www.lonelyplanet.com, is a goldmine of information and perspectives on international travel.
Country profiles feature not only great descriptions and information about the usual tourist attractions but also a wealth of practical information relating to everything from dining options and health and safety, to riding public transportation and work and study. Extensive forums also enable readers and travelers to share their perspectives and experiences with others!
Super Bonus Option: International TEFL Academy
The best way to see the world on a budget is to get paid to live abroad as a home base and then travel country to country from there! If you speak English fluently, you can become trained to teach English in a short-term training program (4 weeks full-time or 11 weeks part-time online) and then find over 100,000 new job openings around the world. International TEFL Academy www.InternationalTEFLAcademy.com is one of the world's largest TEFL certification schools with over 5,00 annual graduates who are teaching in Asia, Europe, Latin America and the Middle East.
If you are considering teaching English abroad contact us for a free brochure and to learn about International TEFL Academy TEFL Certification options and the great possibilities for you to teach English around the world.


Articles Related:
Founded in 2010, International TEFL Academy is a world leader in TEFL certification for teaching English abroad & teaching English online. ITA offers accredited TEFL certification courses online & in 20+ locations worldwide and has received multiple awards & widespread recognition as one of the best TEFL schools in the world. ITA provides all students and graduates with lifetime job search guidance. ITA has certified more than 40,000 English teachers and our graduates are currently teaching in 80 countries worldwide.
Want to Learn More About Teaching English Abroad & Online?
Request a free brochure or call 773-634-9900 to speak with an expert advisor about all aspects of TEFL certification and teaching English abroad or online, including the hiring process, salaries, visas, TEFL class options, job placement assistance and more.