tefl certification
7 Key Tips for Choosing the Best TEFL School
Learn how to evaluate TEFL certification schools and choose the best TEFL training to help you teach English as a foreign language abroad or online.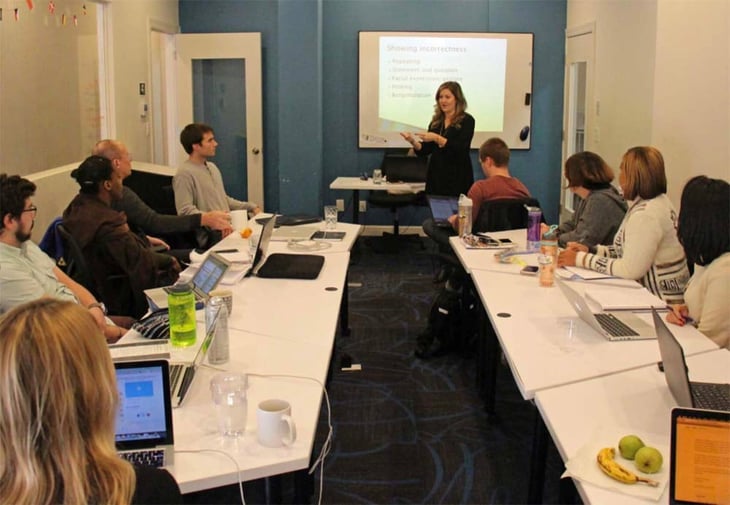 How To Choose The Best TEFL Certification School?
If you're looking to get your TEFL certification in order to teach English abroad, choosing the best TEFL school can quickly become daunting. There are a lot of schools out there. Don't worry, we're here to help you navigate the TEFL industry and get a better understanding of which TEFL school is best for you.

Explore: What are my TEFL options?
First off, there are 2 primary areas for you to consider when looking for a TEFL school:
Academics: The academics standards as well as the accreditation and credentials of the TEFL school;
Jobs search guidance after certification: The school's ability to assist you in actually procuring employment overseas and online as an English teacher.
Next, let's take a look at these 7 key points for you to consider in your research:
1. Length of The TEFL Course Offered by The School:
You should always start with this question: Is the TEFL / TESOL certification course at least 120 hours? The minimum standard for accreditation is 100 hours of academics and 6-20 hours of live practice teaching to actual ESL (English as a Foreign Language) students (not class peers).
TEFL / TESOL training courses with fewer than 100 hours and/or no live practice teaching (also known as practicum) will not provide you with an internationally recognized TEFL or TESOL certification. There are many TEFL / TESOL certification courses of different lengths of content. Schools are divided into those that meet the 100-hour standard and those that do not. Be wary of schools that tout the terms "120-hour TEFL course" but lack any mention of hands-on live practice teaching or interactive instruction.
A standard amount of time for a full-time 100-hour in-person TEFL course is 20 classroom days (4 weeks). A weekend class of 2 days or 20 hours is simply one-tenth the minimum standard for a certified teacher to obtain, and even a TEFL course spread over 3 or 4 weekends will not meet international standards.
The same applies to online TEFL certification courses that do not incorporate at least 100 hours of coursework and 6 hours of hands-on live practicum. A comparable part-time class or interactive Online TEFL Course with structure will typically take 2-3 months part-time.
Why is this important? When you're looking for an English teaching job overseas, it's safe to say that most of the reputable employers with the highest standards tend to be the best places to work. Well, if you wish to work in any of these reputable places, you need to get a reputable TEFL certification. These employers will not recognize any lesser TEFL certification.
2. The School's TEFL Course Accreditation:
The second question you should ask yourself is the following: Is the TEFL certification provided by the TEFL School internationally recognized and accredited? Additionally, how to know if a TEFL course is accredited or not?
There are accrediting bodies and there are memberships.
Accreditation entails a formal and rigorous process of review by a recognized accrediting body, which is an independent third party that examines a school's academic and professional standards.
Well-known TEFL accreditation organizations and TESOL accreditation organizations include TQUK, College of Teachers, and ACCET. Courses offered directly through an accredited university will also be considered accredited, including SIT, Cambridge University (CELTA), Trinity University (Trinity certificate).
Note that some TEFL / TESOL schools without a true accreditation have set up their own "accrediting body" (usually with its own website and other trappings like an impressive-sounding name) to provide them with a faux accreditation that is not actually recognized in the TEFL field. An accrediting body that exists within only 20 or 30 organizations and opened a few years ago is likely not going to be respected in the field, and/or considered legitimate by potential employers.
Read more: TEFL Accreditation & TEFL Levels Explained
Memberships in academic associations are not based on any criteria and should not be considered the equivalent or a substitute for accreditation. Most schools can simply join an organization by paying annual fees, with no independent review of their educational and professional standards. These are basically the equivalent of subscriptions to the organizational magazine. Examples of memberships include TESOL, NAFSA, etc.
3. The School's TEFL Course Instructor Qualifications:
Does the TEFL school offer courses taught by highly experienced, university-level instructors?
A university-level professional training course should be taught by a highly qualified instructor with the equivalent of a master's degree in TESOL or a related field, or equivalent training and experience (i.e. a DELTA or degree in Education and ESL endorsement, etc.), and many years of experience teaching English as a foreign language.
Be wary of courses taught by a "tutor" or "mentor" whose qualifications have not been clearly spelled out. It actually comes down to money: A university-level instructor commands a higher level of pay than someone with simply a 4-week TEFL certificate and a year teaching in China. One reason that some TEFL courses are so cheap is that they are not taught by truly qualified professional instructors.
4. Hands-on Live Student Teaching (Practicum):
Does your TEFL / TESOL course include a practicum/hands-on element to the class?
This is necessary for two reasons:
You really need it to actually gain the necessary skills to be an effective teacher.
Most potential employers around the world will not recognize a certification that does not incorporate a practicum.
Note: Some schools will claim that their courses incorporate student teaching, but in reality, their courses only incorporate role-playing with other teachers-in-training. This does not meet international standards and such courses will not be recognized by potential employers around the globe.
5. Assistance from Professional Advisors Prior to Registration:
Another important element when looking for the best TEFL school is assistance and support provided before you enroll. Will you receive the attention of an expert Admissions Advisor who will provide honest and straightforward information about courses as well as working abroad and online before you even pay for the course?
Investing your time and money in a TEFL / TESOL Certification and going overseas is no small matter and it is critical for you and all aspiring teachers to fully understand such critical issues as what are the qualifications to work in certain markets, when are the hiring seasons, how much start-up money will I need when I go abroad, and what sort of pay should I expect?
A live professional advisor should cover all of these issues (and many more) with you before you commit your time and money to a particular TEFL / TESOL certification course.
Read more: Why You Need to Speak with a Professional TEFL Admissions Advisor if You Want to Teach English Abroad (and do it right)
6. Free Lifetime Job Search Assistance & Support:
Another major element to consider, and probably the most important one since it has to do with helping you find your English teaching job, is the support you'll receive after you enroll in your TEFL course. Will you receive FREE lifetime job search guidance, including personal attention and service, from experienced career advisors, who will provide you with insight and knowledge regarding every matter related to finding a suitable job from writing an international resume and cover letter, to negotiating a contract and understanding visa regulations?
Are you working with a "real live" person? Or will the school just send you a few links to a couple of job boards?
Is the school charging you extra money for job search guidance and placement? Do you have to pay for job placement?
Does the job search guidance expire?
7. TEFL Course Price:
Pricing is an important element for everyone. We get it. Here, you want to be sure that you're investing your money in quality training. So, when looking at different schools and different TEFL / TESOL courses, ask yourself the following:
Does this price/offer sound too good to be true? Can I really expect to receive a professional-level certification and high-quality job placement assistance from a $200 course, or even a $500 TEFL class? The typical cost of a professional TEFL / TESOL 120-hour certification course will range from $1,600 - $2,000 USD depending on operating costs (real estate, paying highly qualified instructors, etc.)



Can I really learn the skills I need to teach English at a professional level by taking a self-paced, solo online course or a two-day weekend course in a hotel room?

If I get certified, will I also be provided with the guidance, knowledge, and personal assistance that I will require to navigate job markets around the world?

Do you feel that you can receive a university-level educational experience and a legitimate, internationally recognized professional teaching certification to teach in more than 80 countries around the world for only $200 or $400 or $600?
There is no secret that you get what you pay for. You should consider your education as an investment of your time and money that will never diminish in value. You will get out of it what you put into it. Investing in a quality certification will pay off both in your ability to gain employment during economically challenging times, and in the satisfaction you will enjoy from knowing that you will provide your students with a rewarding educational experience.
Read more: 7 Critical Mistakes to Avoid When Choosing the Best TEFL Course
John Bentley is Co-Founder & Senior Writer for International TEFL Academy (ITA), the world leader in TEFL certification for teaching English abroad. A graduate of Harvard University and the Medill School of Journalism at Northwestern, John is a recognized expert in the field of TEFL. His articles have appeared across the field's top websites, including GoAbroad.com, StudyAbroad.com, InterExchange, GoOverseas.com, Adventure Teaching, & many others. He has also spoken as an expert on Teaching English Abroad & TEFL certification at major conferences like MeetPlanGo and Lessons from Abroad (LFA) in Portland & San Diego.
Want to Learn More About Teaching English Abroad & Online?
Request a free brochure or call 773-634-9900 to speak with an expert advisor about all aspects of TEFL certification and teaching English abroad or online, including the hiring process, salaries, visas, TEFL class options, job placement assistance and more.