Teaching English Legally in France, Spain & Italy with a Student Visa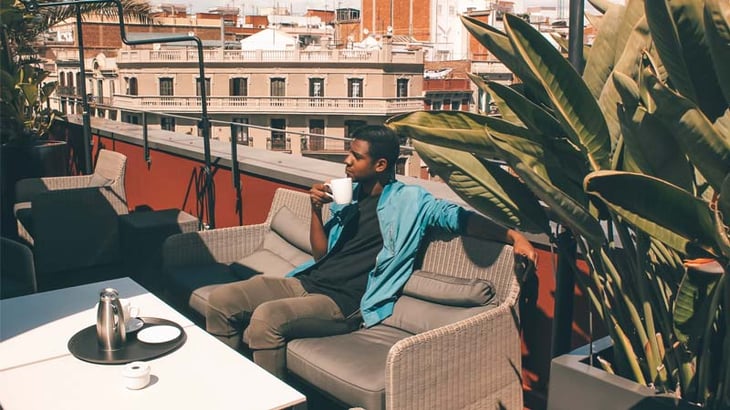 Overview:
An American is legally eligible to work 20 hours a week while on a student visa in France, Spain, or Italy. Many foreign English teachers will also tutor students privately or teach English online to earn additional income.
To obtain a student visa you must enroll in a government-recognized program at an approved language school or university where you will be learning the local language (i.e. Spanish in Spain).
Process and fees to obtain a student visa and teach English in France, Italy, or Spain
All participants must take an International TEFL Academy TEFL certification course, either in person for 4 weeks or online for 11 weeks, with no exceptions. (See below for examples.)
Please visit one of the web pages for information on how to apply for your student visa in a particular country:
Interviews for English teaching jobs in France, Spain, and Italy
Interviews for English teaching jobs in France, Spain, and Italy are almost always conducted locally face-to-face. The primary hiring seasons for English teachers in these countries are mid-September through early October and in January. Both occur at the beginning of the semester following the departure of up to 50 % of the previous teachers. Jobs are typically 20-25 hours a week of teaching hours (not including prep time) at 12-18 Euros an hour, which is sufficient pay to live comfortably in these countries.
Face-to-face interviews
With a TEFL certification and assistance from the Student Affairs office at International TEFL Academy, you will interview in the peak hiring season with many language schools. Most new teachers find work within 5-10 days and start working immediately if they are in-country during the peak hiring seasons. (Language classes can be taken prior, concurrently, or after interviewing and starting a job.)
Hiring seasons for English teaching jobs in Europe and worldwide
See our chart of countries and hiring seasons.
TEFL Certification requirements
To teach English abroad and receive job search guidance, students are required to take any of our professional TEFL courses. TEFL courses are offered in 25 locations worldwide (4 weeks) and online (11 weeks). All International TEFL Academy TEFL certificates are accepted worldwide.
Popular TEFL class locations to teach English in France, Italy, and Spain
Many Americans and Canadians who want a domestic TEFL course prior to moving to Europe will take our Chicago TEFL class.
More than 80% of International TEFL Academy students take our Online TEFL class and then go abroad to teach English.
Timing of TEFL classes, language classes, and job interviews
Popular TEFL Class Options:
A. Complete your TEFL class first

1) Online TEFL classes

Students may start the process of obtaining a student visa while also taking International TEFL Academy's 11-week online TEFL course. Typically a student will finish their TEFL class prior to going abroad to teach. Graduates then arrive in a country and start a language class and interview for a job during the hiring season.

2) TEFL classes in Europe:
Example 1:
Example 2:
Example 3:
3) TEFL Classes in North America
Example:
4). Complete foreign language classes first
Example:
Month 1 – Language class in Toulouse France.
Month 2 - TEFL Toulouse class.
Month 3 - Move to anywhere in France and teach English on a student visa.
Spain Student Visa Programs:
ITA has a partner program in both Madrid and Barcelona, Spain to take Spanish (other languages available) and cultural immersion classes for a year which allows you the opportunity to work on a student visa. View the Madrid Student Visa Programs and the Barcelona Student Visa options.
Founded in 2010, International TEFL Academy is a world leader in TEFL certification for teaching English abroad & teaching English online. ITA offers accredited TEFL certification courses online & in 20+ locations worldwide and has received multiple awards & widespread recognition as one of the best TEFL schools in the world. ITA provides all students and graduates with lifetime job search guidance. ITA has certified more than 40,000 English teachers and our graduates are currently teaching in 80 countries worldwide.
Want to Learn More About Teaching English Abroad & Online?
Request a free brochure or call 773-634-9900 to speak with an expert advisor about all aspects of TEFL certification and teaching English abroad or online, including the hiring process, salaries, visas, TEFL class options, job placement assistance and more.