must read
How Americans Can Obtain a Student Visa to Legally Teach English in France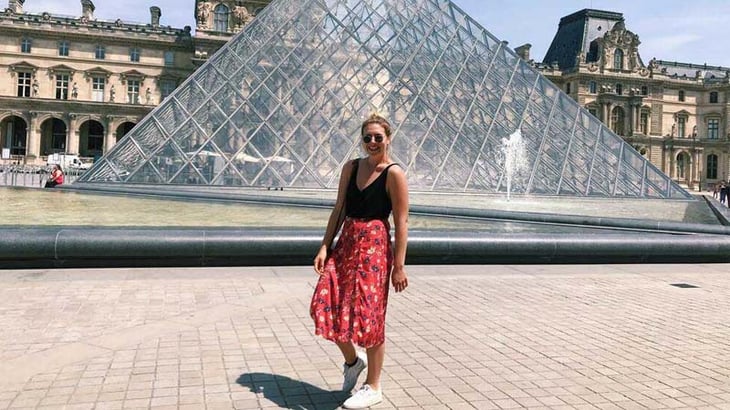 Learn more about the requirements and steps that go into obtaining a Student Visa to teach English in France for American teachers.
In order to teach English in France, ESL teachers have to find their own way to do so legally. If you are not an EU citizen, don't have the option of teaching on a Working Holiday Visa, or were not accepted/not interested in the TAPIF program, there is still an option of working legally in France by acquiring a Student Visa. On a Student Visa, teachers will typically take approximately 20 hours of French language courses and will then be able to find an English teaching job or tutor students privately.
Student Visas can be an expensive option, as the cost for French language courses are not cheap. However, this is an excellent opportunity to learn a language and teach in an amazing country all at the same time!
*Please note that this information applies to United States citizens only.
*Please check the Campus France and French Consulate websites for any updates to visa requirements, documents needed, costs, etc. The information provided should be used in concordance with information from Campus France and the French Consulate.
Important information to know about a Student Visa for France:
Student Visas MUST be obtained in your home country. They cannot be processed once you are already located in France. However, Student Visas can be renewed in France by purchasing more French courses. (some rules apply, so be sure to check with your program and/or French language school if you do decide to renew your visa)



The whole process can take approximately three months (12 weeks), from purchasing French courses to receiving your Student Visa so give yourself enough preparation time.*

*Due to the impacts of COVID-19, be sure to contact your local French consulate or embassy to get an idea of the current student visa processing times, and if your local French consulate is currently processing visas.

The total cost to apply for the Student Visa (not including the French courses, necessary paperwork, or financial guarantee) is approximately $235 USD.
Two Options for a Student Visa in France:
Enroll for the 4- week TEFL certification course at

TEFL Toulouse

through International TEFL Academy and register for French Language Courses through the

Alliance Francaise in the Place du Capitole in Toulouse

.



Take any other TEFL course offered through International TEFL Academy and get a Student Visa independently.

How to apply for your French Student Visa:
Register for French language courses through the Alliance Francaise or any other French language school recognized by the French consulate or embassy.

You should receive a registration certificate after paying for the courses. You will then take this registration confirmation to help you begin the process with Campus France.

Create an account on Campus France and Submit an Online Etudes en France (EeF) Application. Documents needed to submit online: headshot, official photo ID (passport, license), resume, transcripts and/or last obtained diploma, official acceptance letter from school (Official acceptance letter must include: Full name, institutional letterhead, exact start and end dates, contact information, signature/stamp and full address of institution).

Pay the $180 application fee online or via money order and Mail required paperwork: Admission Form, Photocopy of official acceptance letter, Processing fee (receipt of online payment or money order).

Wait for the Campus France team to review your application.

Receive email confirmation from Campus France once everything has been processed (takes approximately three weeks after submitting complete application). This email confirmation enables you to book an appointment at the French Consulate.

Complete a student visa application on the France-Visas platform.

Book an appointment at the French consulate (VFS Global Center) in your jurisdiction;

Visa appointments can typically be booked online on the consulate's website.

Visa appointments at the French Consulate must take place no more than 90 days and no less than two weeks before departure to France. (Recommended visit is 6 to 8 weeks in advance of departure).

Check your local French consulate's website for a list of required documents, visa processing fee, and appropriate photocopies to bring to the visa appointment (all consulates have different requirements). If you forget anything, the appointment will be postponed and you will have to set up a new appointment and pay the entire visa fee again.

Documents you may need for your appointment could include but may not be limited to: original passport, photocopy of the identity page of your passport, proof of accommodation in France, proof of funds sufficient for your entire stay in France, processing fee, application form, US passport sized photo, attestation from Campus France, receipt of payment from Campus France, Etudes en France electronic acceptance letter, proof of French class registration, financial guarantee, OFII form, airline reservation, self-addressed envelope, etc. (check out Campus France's Application Guide for specific details on each document needed).

Once your Student Visa has been approved and processed, pack your bags and head to France!

After arriving in France, you will have an appointment at the local immigration office or OFII upon arrival:

You will receive a notice in the mail regarding an appointment at the OFII. This appointment must take place within the first three months of your arrival in France.

During this appointment, you will need to pass a medical examination including an x-ray of your lungs to check for tuberculosis.

Once you pass the examination, you will receive a new sticker in your passport that validates your student visa.

Apply for your Residence Permit: Register and validate your Student Visa on this page within the first three months of arriving in France:

To complete this online registration you'll need:

A valid email address;
Your Student Visa information;
The date you entered France;
Your permanent address in France;
Your credit card details so that you can pay the fee for your residence permit.
If you don't validate your Student Visa visa in the first three months after you enter France, you won't be considered a legal resident of France and won't be able to re-enter France or the rest of the Schengen Zone.
Note: Student visas are not an "automatic" thing that are purchased. Consulates are notorious for being very particular on every item needed on their checklist and will send you home to get it perfect before issuing a student visa.
* This article was updated December 30, 2020.*
Founded in 2010, International TEFL Academy is a world leader in TEFL certification for teaching English abroad & teaching English online. ITA offers accredited TEFL certification courses online & in 20+ locations worldwide and has received multiple awards & widespread recognition as one of the best TEFL schools in the world. ITA provides all students and graduates with lifetime job search guidance. ITA has certified more than 40,000 English teachers and our graduates are currently teaching in 80 countries worldwide.
Want to Learn More About Teaching English Abroad & Online?
Request a free brochure or call 773-634-9900 to speak with an expert advisor about all aspects of TEFL certification and teaching English abroad or online, including the hiring process, salaries, visas, TEFL class options, job placement assistance and more.