TEFL Certification in Madrid Spain - Overview
Do you want to live, work and teach English in Spain?
Are you looking for an internationally accredited TEFL certification that will qualify you for thousands of jobs teaching in Spain and around the world?
Would you like to live, study Spanish and get paid to work in Madrid, one the most historical and beautiful cities in Europe, boasting world-class architecture, museums, cuisine & nightlife?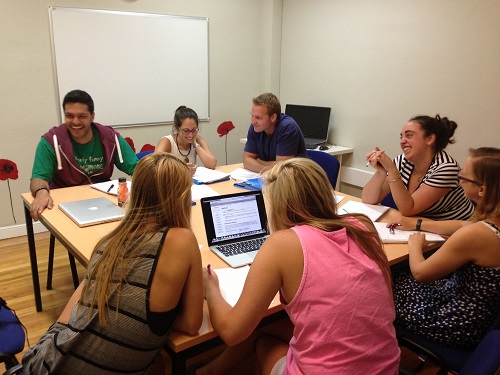 International TEFL Academy is proud to offer a state-of-the-art, internationally accredited four-week TEFL certification class in Madrid, capital of Spain and one of the largest job markets in Europe for teaching English abroad.
To provide you with training and certification you need to teach English in Spain, this four-week TEFL certification course in Madrid features:
Live Practice Teaching: All students engage in at least 6 hours of live practice teaching with local Spanish students to gain hands-on experience in a live classroom environment.
Coursework & Intensity: 100+ hours of coursework & in-class instruction. Students are in class from 9:30 a.m. - 7 p.m. Monday - Friday over four weeks.
Expert Instruction: Instruction is provided by highly qualified instructors who are native English speakers with advanced academic credentials (typically at least an MA) and years teaching experience.

Small Class Sizes: Small classes ensure an interactive and hands-on learning environment and a low student:teacher ratio.
Accredited Curriculum: This class exceeds international standards for a professional level TEFL certification and is accredited.
During and after the TEFL certification course in Madrid, all students receive comprehensive job placement assistance, including:
Resume & Cover Letter Development: During the course, expert staff members will help you tailor your resume for the job market in Spain.
Job Market & Interview Training: The course itself includes workshops that provide detailed information about teaching English in Spain, including an overview of the types of schools and jobs for teaching English.
Resume Distribution & Setting Up Interviews: Your resume will be distributed to more than 300 schools and language institutes in the Madrid region. Many of these schools have hired graduates previously and specifically seek to hire those who have successfully completed this class. You will also receive assistance setting up interviews with potential employers and coaching on the interview process.
Worldwide Job Placement Assistance: If you are looking to teach outside of Spain, the International TEFL Academy Student Affairs team in Chicago provides lifetime job search guidance to help you understand the job markets and interviewing procedures around the world.
*Note about the TEFL Course in Madrid: If you do not have a European Union passport, a student visa, a working holiday visa for Spain, or a work visa, you must participate in the TEFL + Student Visa Option in order to take the Madrid TEFL Class.