---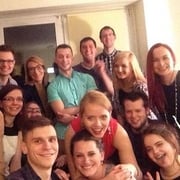 Elizabeth Rippon | ITA Graduate
Teaches English in Poland
"I chose International TEFL Academy because they were so helpful in my research process. They never made me feel like they were pushing it on me to sell something and actually encouraged me to research other options. My TEFL instructor was very helpful during the course and the life long job search guidance has been a great resource!"
---
Fill out the form to request a call back & receive:
Free Downloadable Starter Kit: Learn more about the world of Teaching English Abroad and compare salaries, hiring requirements and more in 60+ countries;
Expert Guidance: Get your questions answered by experienced advisors who have lived & worked overseas;
TEFL Certification Options: Our Level 5, OFQUAL-accredited Online & U.S. TEFL Courses are led by highly credentialed professors and are recognized by employers worldwide;
Lifetime Job Search Guidance: Learn about the job placement assistance that our students receive to gain employment teaching English in 80 countries.
---
They talk about us