must read
No Degree, No Problem: The 6 Best Countries to Teach English Without a College Degree
Find out where in the world you can teach English without a degree and learn about 6 top destinations for TEFL jobs when you have no degree.
Considering the overwhelming number of possible places to teach English overseas, it's inevitable that each country will require different qualifications for English instructors. Because of visa requirements or government restrictions, certain countries may require that English teachers hold a four-year degree. However, if you don't have a degree, do not let this deter you.
According to our count, there are dozens of countries throughout the world where you can live and explore while teaching English, even without a university degree. ESL jobs that don't require a degree are plentiful if you know which countries to look for work in. Sounds great, right? Let's address a few questions:
Can I teach English abroad without a degree?
You do not need a Bachelor's degree to teach English abroad in many countries. Having an accredited TEFL certification is all you need to teach English in numerous destinations throughout South America, and in some parts of Europe and Asia -- no 4-year degree required.
Can I teach English abroad with an associate's degree?
Yes. With an associate's degree and a TEFL certification, you can teach English abroad in more than 50 countries, from Costa Rica to Taiwan. Some countries like South Korea & Japan require a 4-year degree, but you still have many options.
Can I teach English abroad with just a TEFL certificate?
In many countries, having a TEFL certificate and being a native-English speaker are enough to get a job teaching English abroad, no degree required. You do not need professional teaching experience, a teaching license, a degree in education or even a college degree to teach English abroad.
How to teach English abroad without a degree:
The key is to take a high-quality TEFL certification course that will provide you with the skills and qualifications you need to get hired to teach English abroad or to teach English online. A quality TEFL course provider will also provide the job guidance and alumni support you need to find a great job.
Now that we answered some of your questions, let's take a look at these top destinations:
Where Can You Teach English Without a Degree?
Countries that do not require a degree to teach English abroad:
The best countries for where to teach English abroad without a college degree are Cambodia, Costa Rica, Spain, Argentina, Mexico and Russia. These countries do not require a college degree to teach in, and are popular among TEFL teachers. Luckily they are also countries where English teachers are in high demand.
To learn more about what qualifications you need to teach overseas, check out What are the Basic Requirements to Teach English Abroad?
1. Cambodia
Characterized by an extremely tropical climate, Cambodia is home to a growing population eager to learn English. Known for having some of the friendliest and warmest people despite a very recent and tragic history, Cambodians welcome teachers looking for an adventure. While underdeveloped compared to its neighbors Thailand and Vietnam, there is a demand for English teachers, especially in the capital city of Phnom Penh and even the touristy city of Siem Reap, the location of the famous Angkor Wat.
Native English speakers can work teaching English in Cambodia without a college degree very easily. Language schools throughout the country prefer a degree but with more students learning English in Cambodia each year, and most teachers overlooking Cambodia and going to Thailand or Vietnam instead, schools need native English teachers.
Teachers can even expect to save a bit of money due to the low cost of living and high salaries. History, beaches, beautiful and friendly people - Cambodia truly is a hidden gem of Southeast Asia for those looking for jobs teaching English abroad without a degree!
Read More: Cambodia TEFL Country Profile
Watch More: Teaching English in Phnom Penh, Cambodia with MaShayla Hern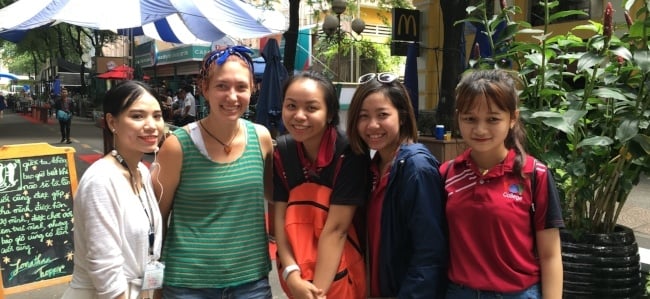 2. Costa Rica
Known for its stunning natural beauty and alluring tropical climate, Costa Rica is one of the hottest job markets for English teachers in Latin America. Costa Rica offers a super authentic Latin American experience and a perfect opportunity to learn Spanish. With a low cost of living, Costa Rica is also a popular option for English teachers who want to live abroad and teach English online. Fantastic beaches, stunning volcanoes and lush rain forests are never far away. When asking yourself "where can I teach English without a degree?'", do consider Costa Rica as a serious option. Additionally, you may even consider earning your TEFL certificate at ITA Costa Rica in Heredia.
Read More: Costa Rica TEFL Country Profile
Watch More: Teaching English in Brasilito, Costa Rica with Courtney Hall
3. Spain
As popular a destination as ever, the English teaching market in Spain remains relentlessly strong and just as appealing despite fluctuations in the global economy. If you're interested in Europe, teaching English in Spain is one of the best choices if you don't have a college degree. The Spanish population is eager to learn English, considering its reigning title as the language of business, tourism, and education. There is an astonishing variety of English schools throughout Madrid, Barcelona, Seville and Valencia.
Spain is one of the most diverse and stunning countries in all of Europe. By living like a local amongst the Spaniards, you'll have the opportunity to explore restaurants, bars, and museums off the beaten tourist trail as well.
Read More: Spain TEFL Country Profile
Watch More: Teaching English in Barcelona, Spain with Daniella Mazzeo
4. Argentina
A beautiful country in South America, Argentina holds a huge demand for English teachers. Thousands of positions are scattered throughout the country, with openings in schools everywhere from urban Buenos Aires to the bucolic and mountainous countryside. Argentina's climate is warm and moderate, making it ideal for anyone. Schools across the country - whether you want to work with children, students, or business professionals, in Buenos Aires, Mendoza or Cordoba - do their hiring in the early spring or at the end of the summer. The best part? Native speakers need only a TEFL certification to find a high-paying teaching job in Argentina. With a stable, prosperous economy, and an increasingly important role in international politics, the stage is set for you to discover this exciting and growing South American nation while teaching English without a degree.
Read More: Argentina TEFL Country Profile
Watch More: Teaching English in Buenos Aires, Argentina with Adrienne Glenn
5. Mexico
English comprehension and fluency are in high demand throughout Mexico. The potential for employment is high wherever you may wish to teach. Mexico City is one of the easiest places to find work teaching English without a college degree, simply because there are so many people interested in learning the language- from school children to university students and businessmen. Due to the incredible need for English teachers in Mexico, the government recently passed a law to give work permits to teachers as long as they hold a professional-level TEFL certification and can speak English fluently regardless of degree status. Explore Mexico as most gringos rarely see it - take the time to travel everywhere from quaint coastal villages to the urban centers of Mexico City, Guadalajara, and Puebla.
Read More: Mexico TEFL Country Profile
Watch More: Teaching English in Colima, Mexico with Fallon Mawhinney
6. Russia
Years after the fall of the Iron Curtain, Russia remains very high on the list for countries in need of English language instructors. The demand for teachers is so strong here that you can be hired to teach English in Russia without a college degree relatively easily. Russia's size alone - a population of 140 million spread throughout the largest country in the world, spanning nine time zones - predicts a wealth of employment opportunities. Russians make up for cold winters with their warm hospitality, good humor, and bracing shots of vodka. Moscow and St. Petersburg are two of the best places to start looking for work teaching English, but opportunities can be found throughout this vast nation. It's not uncommon to find work in a language school that will not only pay for your accommodations but also your visa costs, return airfare, and transportation. As it seeks to transform itself from the largest bastion of communism to a modern 21st-century state that can compete in a globalized economy, Russia is one of the most fascinating and dynamic nations in Europe.
Read More: Russia TEFL Country Profile
Watch More: Teaching English in Moscow, Russia with Kristen McGuire

In all of these countries, as well as many others throughout the world, it's possible to find a job teaching English overseas without a bachelor's degree. By enrolling in a TEFL certification course and receiving lifetime job search guidance from ITA, you'll gain valuable, practical knowledge that can immediately be used to further your goal to teach and travel.
Your next step:
Contact the International TEFL Academy to request a FREE brochure and learn about TEFL training courses with a comparison of the most popular countries to teach English throughout the world.
John Bentley is Co-Founder & Senior Writer for International TEFL Academy (ITA), the world leader in TEFL certification for teaching English abroad. A graduate of Harvard University and the Medill School of Journalism at Northwestern, John is a recognized expert in the field of TEFL. His articles have appeared across the field's top websites, including GoAbroad.com, StudyAbroad.com, InterExchange, GoOverseas.com, Adventure Teaching, & many others. He has also spoken as an expert on Teaching English Abroad & TEFL certification at major conferences like MeetPlanGo and Lessons from Abroad (LFA) in Portland & San Diego.
Want to Learn More About Teaching English Abroad & Online?
Request a free brochure or call 773-634-9900 to speak with an expert advisor about all aspects of TEFL certification and teaching English abroad or online, including the hiring process, salaries, visas, TEFL class options, job placement assistance and more.