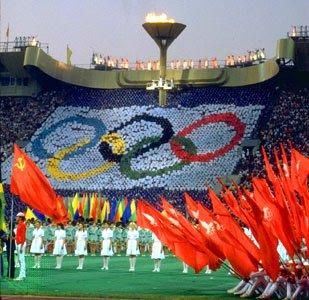 Want to Teach English Abroad in an Olympic Host Country?
Teach English Abroad in an Olympic Host Country
Want to teach English abroad in a country hosting the ultimate spectacle in sports – the Olympic Games? This week, the 2014 Winter Olympiad will kick off in Sochi, Russia, and in coming years, the Games will be held in three of the world's top job markets for teaching English abroad: Brazil, Korea and Japan. It's hard to imagine four more different and fascinating countries when it comes to culture, climate and national character, but each of these nations boasts a rich sporting heritage as well as fantastic culture, cuisine and natural beauty. They also represent three of the hottest job markets in the world for teaching English abroad and provide great opportunities to live the Olympic tenets of international tolerance and cross-cultural exchange.
Teach English in Russia: Sochi – Winter Olympics, 2014
The 2014 Winter Olympic Games will be held in Sochi, Russia. During the Cold War, when it was the heart of the Soviet Union, Russia was the arch rival of the U.S. during the Olympics, just as it was in geopolitics. Since the end of the Cold War, Russia has maintained a winning record at Olympic Games, but as it has opened to the World, it has also emerged as one of the largest job markets on the planet for teaching English abroad.
Russia offers English teachers an opportunity to experience world-class cities, fantastic art and architecture, and stunning natural beauty, as well as to discover the hospitality and sense of humor of the Russian people. Most opportunities to teach English in Russia will be found in private language institutes teaching adults. Larger language school chains will interview and hire TEFL-certified teachers to teach English in Russia in advance and in some cases provide benefits like airfare and housing.
From a sporting perspective, Russia has long been dominant in traditional athletic events like track and field, gymnastics, and swimming as well as winter events like cross-country skiing and hockey. Those who teach English in Russia will encounter innumerable opportunities to participate in fitness and sports, including outdoors activities like hiking, cycling and ice skating that provide ample to chances to enjoy the nation's captivating natural beauty.
Read more about teaching English in Russia…

Learn about TEFL Certification in St. Petersburg, Russia...
Teach English in Brazil: Rio de Janeiro – Summer Olympics, 2016

In the world of sports, Brazil is synonymous with soccer, or futebol as it is known in Portuguese, but in 2016, the spectacle of the Summer Olympic Games will come to Rio de Janeiro and the beaches of Ipanema and Copacabana.
In recent years, Brazil has emerged as one of the largest job markets in the world for English teachers as its economy has soared and trade and commerce with the wider world has grown exponentially. The fact that Brazil will be hosting two of the world's largest events in coming years – the FIFA World Cup in 2014 and the Summer Olympics in 2014 – has only increased the demand for English teachers in Brazil as the nation prepares for an onslaught of foreign visitors. The vast majority of English teachers in Brazil work in private language schools training adults, primarily those involved with business and commerce, including tourism. Those teaching English in Brazil will find most jobs in big cities like Rio de Janeiro and Sao Paulo and most language schools interview and hire teachers locally in Brazil.
Read more about teaching English in Brazil……
Learn about TEFL Certification in Rio de Janeiro, Brazil....
Teach English in Korea: Pyeongchang –Winter Olympics, 2018

The Olympic Games return to Korea in 2018 (Seoul hosted the 1988 Summer Olympiad), when Korea will host the Winter Olympiad in the scenic highlands of Pyeongchang. While not as well-known as the European Alps or the Rockies of North America, the mountain ranges of northeast Korea provide a stunning array of magnificent scenery, historic Buddhist temples and a wide variety of opportunities for world-class skiing, hiking, snowboarding and other outdoor recreational pursuits. From baseball, golf and soccer to Tae Kwan Do and speed skating, Korea is a sports-mad culture, and the nation will surely make the 2018 Games an event to remember.
In addition to the 2018 Olympics, beautiful mountain scenery and fantastic sporting and recreational opportunities, teaching English in Korea provides a variety of benefits. Those teaching English in Korea will enjoy the chance of a lifetime to experience a dynamic Asian nation that offers thousands of years of history and culture, as well as one of the most modern and high-tech economies on the planet. Foreign English teachers also enjoy excellent pay and benefits including free housing, reimbursed airfare, paid vacation and salaries high enough to save up to $1,000 or month a more after expenses.
Read more about teaching English in Korea here…..
Learn why Seoul is one of the top cities in the world here……
Teach English in Tokyo, Japan - Host of the 2020 Summer Olympiad
Japan – Nagano hosted the Winter Olympics in 1998 and Tokyo hosted the Summer Olympics in 1964 and the Summer Games will return to Tokyo in 2020. Japan also boasts a long-standing tradition of recruiting foreign English teachers to teach English in Japan through operations like the legendary JET Programme (Japan Exchange and Teaching), which places up to 4,000 English teachers in public schools throughout Japan each year. The private sector market for English teaching is also one of the largest in Asia and language schools can be found on nearly every street corner of most major cities.
Ultimate Japan: 11 Highlights of Living and Teaching English in Japan
Previous Olympic Host Countries That Are Also Great for Teaching English Abroad:
China – China is the world's largest English teaching market with over 300 million people learning English and thousands of schools employing more than 50,000 foreign English teachers annually. Beijing hosted the last Summer Olympics in 2008 that showcased ground-breaking technology and spectacular performances by the likes of Michael Phelps and Usain Bolt.


Spain - Barcelona hosted the 1992 Summer Olympics, which featured the "Dream Team" in basketball showcasing all-time legends like Michael Jordan, Magic Johnson and Larry Bird. Barcelona is also a top job market along with Madrid and Seville for the nearly 10,000 English teachers working in Spain. In addition, the government recruits native English-speaking teachers to work in public schools throughout the country.
Italy - Turin hosted the Winter games in 2006. Italy is one of the most popular English teaching markets in Europe as thousands of teachers are employed annually in Rome, Milan and other major cities throughout the nation.
France – Albertville hosted the Winter Olympics in 1992. A hub of international business, tourism and education, France has enormous demand for English language instruction and English language schools are found throughout major cities and towns. Foreign English language teachers are also recruited to teach English in France in the public school system through the Ministry of Education.
Founded in 2010, International TEFL Academy is a world leader in TEFL certification for teaching English abroad & teaching English online. ITA offers accredited TEFL certification classes online & in 25 locations worldwide and has received multiple awards & widespread recognition as one of the best TEFL schools in the world. ITA provides all students and graduates with lifetime job search guidance. ITA has certified more than 25,000 English teachers and our graduates are currently teaching in 80 countries worldwide.
Want to Learn More About Teaching English Abroad?
Request a free brochure or call 773-634-9900 to speak with an expert advisor about all aspects of TEFL certification and teaching English abroad or online, including the hiring process, salaries, visas, TEFL class options, job placement assistance and more.