What Types of Schools Will Hire Me to Teach English Abroad?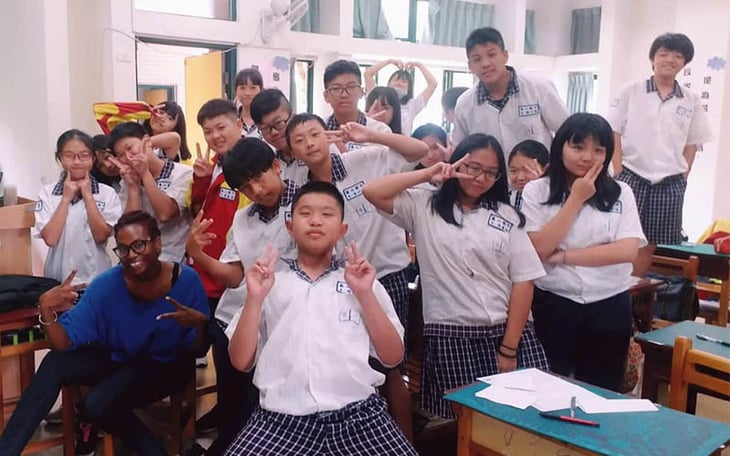 English teachers abroad work in all sorts of schools, institutes, academies, camps and other venues. Most English teaching positions, particularly in Europe and Latin America, will be in private language schools and institutes. Public schools in some countries, particularly in Asia, also hire TEFL certified English teachers.
Private Language Schools and Institutes
As foreigners are not typically hired to teach children in public schools in most countries, the majority of opportunities for TEFL certified English teachers abroad will be in private language schools. These are typically privately owned enterprises specializing in language training (usually English), and can range in size and scope from mom-and-pop businesses with a single classroom to large multi-national chains of schools operating dozens of branches in multiple countries.
Large cities in Europe, Asia and Latin America typically host anywhere from 50 – 250 such schools. Some will specialize in business English or English for young learners, while others may offer general classes to students of all levels and abilities.
In Europe and Latin America, these types of private language schools typically cater to adult students, however the market for younger students is growing.
Private language schools and academies, pre-schools, and vocational schools hire English teachers throughout the Middle East.
Daily work schedules vary, but on average you will teach for 25 - 30 hours a week with 12-15 hours of prep work. A common shift is from 2 – 9 p.m. with some weekend work to accommodate students looking to study English after a standard work or school day. Class sizes also vary, but typically range from 2 – 15 students.
For those looking to teach English abroad to children, there are opportunities in many countries, particularly in Asia, to work in private kindergartens, pre-schools and day care centers.
Teaching English abroad in Public Schools
In many Asian countries (Japan, Korea and Hong Kong among others) and a limited number of nations in Europe, the Middle East and Latin America, public school hire native English speakers to work as English language teachers at grade schools and junior high schools.
In most cases, foreign teachers work as assistants or partners with local teachers.
ASIA - In Asian public schools, classes typically run from five days a week and you can expect an average workday to begin at 8 a.m. and last until 4 p.m. Public school opportunities in countries like Korea and Japan are typically limited to native speakers with a four-year degree and usually teachers receive excellent pay and benefits like health insurance and paid vacations; in some cases (primarily in Korea), housing and airfare are included.
EUROPE - Government programs in both Spain and France each recruit more than 1,000 Americans and other native speakers to work as teaching assistants in public schools. In the UK, the British Council also recruits young university students and graduates to work as teaching assistants in these countries and some others. Participants typically spend 10-12 hours a week in the classroom and receive a modest stipend and some other benefits.
The nations of Chile and the Republic of Georgia also offer volunteer-style opportunities to teach English in public school settings. In these cases, participants typically receive room and board with a local family and a very modest stipend.
RECRUITING AND APPLYING FOR PUBLIC SCHOOL TEACHING OPPORTUNITIES - Depending on the country, public school systems recruit, interview and hire foreign English teachers 2-8 months in advance and English teachers will typically interview and arrange their contract from their home country. Recruiting programs for public schools in these countries typically require that teachers hold citizenship from a native English speaking country and that they hold a four-year degree.
Teaching English abroad in Summer Camps
Summer camps in Europe, Latin America and Asia offer four to six week summer teaching jobs in language camps for school aged children. These opportunities are great for those looking for shorter stints overseas as well as those who enjoy working outdoors with children.
Europe offers the most summer camp English teaching positions, particularly Spain, Italy and France.
Most camps hire English teachers locally in-country, however some camps will recruit internationally and interview in advance.
Most camps that hire English teachers will hire those between 20 – 30 years of age.
Teaching English Abroad in Universities
TEFL certified teachers with advanced degrees and/or previous teaching experience on the professional level may find openings at the university level. These positions provide opportunities to work with advanced students and typically pay higher than positions in private language institutes or public schools.
Volunteer Opportunities to Teach English Abroad
Non-governmental organizations, including charitable organizations and faith-based groups often sponsor TEFL TESOL teachers to travel abroad to teach English.
Volunteering offers opportunities to work in some regions of the world where paid opportunities are extremely limited or non-existent, including India, Nepal, many Sub-Saharan African nations, and poorer nations in Latin America and Southeast Asia.
Many volunteer opportunities are short term (1 week – 2 months), which may be ideal for those looking to go abroad for s shorter period or time.
Peace Corps – A very high percentage of Peace Corps assignments incorporate English language instruction, so those with a TEFL certification will greatly enhance their opportunities to be accepted into this prestigious volunteer program.
Founded in 2010, International TEFL Academy is a world leader in TEFL certification for teaching English abroad & teaching English online. ITA offers accredited TEFL certification courses online & in 20+ locations worldwide and has received multiple awards & widespread recognition as one of the best TEFL schools in the world. ITA provides all students and graduates with lifetime job search guidance. ITA has certified more than 40,000 English teachers and our graduates are currently teaching in 80 countries worldwide.
Want to Learn More About Teaching English Abroad & Online?
Request a free brochure or call 773-634-9900 to speak with an expert advisor about all aspects of TEFL certification and teaching English abroad or online, including the hiring process, salaries, visas, TEFL class options, job placement assistance and more.