Who Will My ESL Students be When I Teach English Abroad?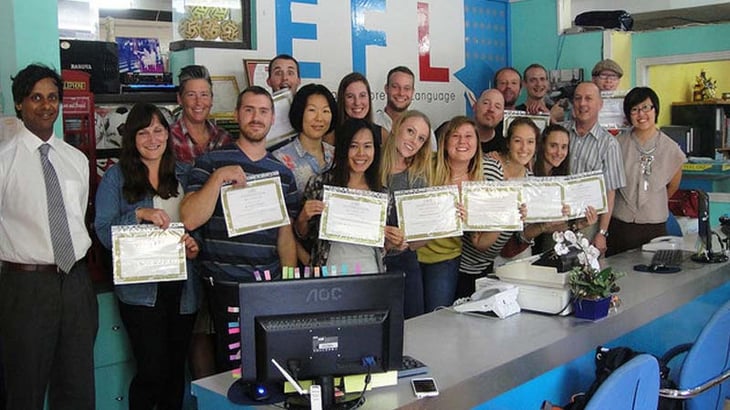 ESL students abroad come from all backgrounds, ages and walks of life. While teaching English abroad, you may teach ESL students abroad who are corporate executives from Fortune 500 corporations, clerks from the local hotel, or university students. Or, you may find yourself tutoring local housewives or possibly teaching children in public schools. Bear in mind that your International TEFL Academy TEFL certification course will provide you with the skills necessary to teach a broad variety of ESL students abroad.
ADULTS:
Adult language learners represent the largest segment of ESL students abroad that most English teachers work with when they go overseas to teach English, particularly in Europe and Latin America.
Types of Adult English Students:
Business professionals, corporate executives and employees– some companies will contract with a local language school to bring a teacher onsite to provide instruction to employees; others will send their employees to a class at the school.
Small business owners who conduct business with foreign firms in English, or who work extensively with English-speaking customers.
ESL students abroad frequently world in tourism and the hospitality industry.
University students looking to study abroad, or who are conducting research in fields dominated by English.
IT and the Web- ESL students abroad often work in technology or are looking to take full advantage of the Internet.
Entertainment - Those looking to enjoy English-language movies, books, music, television and other media.
Most adult ESL students abroad either work or go to school, so be prepared to teach classes in the late afternoon and evenings, and possibly on weekends as well. Many adult ESL students abroad also seek private lessons, which offer teachers a great opportunity to earn additional income and work with ESL students on a more personal level.
CHILDREN:
Teaching English to Children Abroad:
Private Language Institutes & Private Lessons
Asia is a booming market for those looking to teach English to children, while opportunities in Europe and Latin America are fewer though they are growing. In countries like Korea, many parents enroll their children in language classes at private language institutes after school to supplement the instruction they receive in school. If you work with such students in a private language institute setting, expect to be giving most of your lessons in the late afternoon and early evening.
Many parents will seek private lessons for their children to get a head-start on their English proficiency or to assist them in passing a college entrance exam in English known as the TOEFL. This is particularly the case in countries such as Spain, Czech Republic and Poland where fast-growing middle classes have led to growing enrollment of children in private language schools and private lessons.
English language summer camps are another popular venue where language training is provided to younger ESL students in Europe, Latin America and Asia as well.
Teaching English to Children Abroad:
Public Schools & Government Programs
South Korea, Japan and Hong Kong operate large national efforts to recruit foreign English teachers to teach in public school schools.
In Europe, the governments of Spain, France and recently the nation of Georgia, all operate large programs to recruit English teachers from specific native English-speaking countries. Also, in South America, the Ministry of Education in Chile also has been recruiting foreign English in the public schools for over 6 years.
ESL students in the Middle East span all age groups and teaching opportunities can be found in private language schools and in public schools in some Persian Gulf countries.
To learn more, check out: The Pros & Cons of Teaching English Abroad in a Government Program
Teaching English to Private Students
English teachers abroad can often make extra money teaching additional classes or tutoring individual students. Private tutoring sessions typically pay more, and in some cases, teachers double their hourly earnings when giving private lessons. This money can go far in terms of providing financial resources for travel and pursuing other interests. English teachers abroad who are able to build a strong clientele of students – and this can take months or years in some cases – can also provide themselves with a more flexible schedule.
It is important to understand local practices and regulations as giving private lessons off the books may be illegal in some instances. You should also consult your primary employer first as some schools maintain policies that discourage their employees from teaching outside their classrooms; at the very least it is generally considered bad practice to offer lessons to ESL students that attend the school where you work as most employers will view this as cutting into their business.
Learn more about Getting a Private Tutoring Jobs Teaching English Abroad
Teaching English to Students Online
With demand for online English language instruction skyrocketing worldwide, teaching English online provides TEFL certified teachers with opportunities to earn extra pay at virtually time from anywhere in the world. Most teachers are able to make at least $10-$20 (USD) an hour & hours are very flexible. Online teachers may teach students as individuals or in a virtual group setting. Online English students also represent ages and levels of proficiency.
To learn more, check out our Teach English Online FAQs.
Editor's note: This article was originally published in 2012. It was last updated for freshness & accuracy on January 19, 2021.
John Bentley is Co-Founder & Senior Writer for International TEFL Academy (ITA), the world leader in TEFL certification for teaching English abroad. A graduate of Harvard University and the Medill School of Journalism at Northwestern, John is a recognized expert in the field of TEFL. His articles have appeared across the field's top websites, including GoAbroad.com, StudyAbroad.com, InterExchange, GoOverseas.com, Adventure Teaching, & many others. He has also spoken as an expert on Teaching English Abroad & TEFL certification at major conferences like MeetPlanGo and Lessons from Abroad (LFA) in Portland & San Diego.
Want to Learn More About Teaching English Abroad & Online?
Request a free brochure or call 773-634-9900 to speak with an expert advisor about all aspects of TEFL certification and teaching English abroad or online, including the hiring process, salaries, visas, TEFL class options, job placement assistance and more.