must read
Teach English Abroad in the Summer (2022)
Looking for TEFL summer jobs? Find out about your options when it comes to summer teaching jobs abroad at language camps in Europe, Asia and Latin America.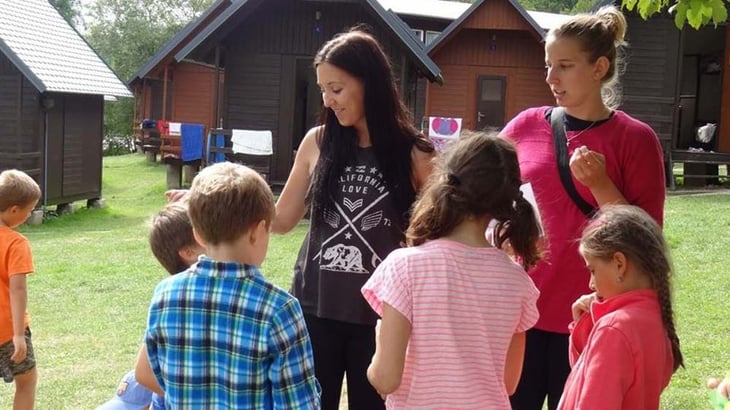 So, you're interested in summer teaching opportunities? Great! There are certainly opportunities around the world for you to find TEFL summer jobs in 2022.
Can I teach English abroad for a summer?
Yes, you can teach English abroad in the summer. However, options will be more limited than if you were looking to teach English abroad for a year or even for six months. Except for some short-term contract work, most language schools look to hire full-time teachers for 10-12 month contracts.
What are my teach abroad options for summer 2022?
Most short-term opportunities for English teachers in the summer will be either in summer camps or in a volunteer capacity.
Teaching English abroad in the summer as a volunteer or at a summer camp may not pay much (if anything at all), but you can find great opportunities to spend a couple of months abroad and any experience you gain will be a great addition to your resume, especially if you decide to teach English abroad again at a later date.
Let's look at summer camps and volunteering options in more detail:
Teaching English Abroad in Summer Language Camps
Summer language camps in Europe, Latin America and Asia offer 1-2 month opportunities to teach English for school-aged children and university students (in Asia). These opportunities are great for those looking for shorter stints overseas as well as those who enjoy working outdoors with children.
ITA alumna Michelle shares a day in her life teaching at a Summer Camp in Russia.

Different Types of Summer Camps that Hire English Teachers in 2022
Overnight "away" camps
This is what most Americans envision when they think of a "summer camp." Students/campers typically live in the woods in cabins, eat in a mess tent, and spend a good part of the day playing sports, swimming in a lake and engaging in other recreational activities. At English language camps in Europe, English language classes are also taught several hours a day, but the point is that campers and students are immersed in an English-only environment 24/7.
All activities including sports, crafts, outings, dining, horseback riding, etc. are conducted in English and are led by English speakers (TEFL certified teachers are typically preferred). They may be coined an "English Village" or "American Village".
There are similar camps in the US, UK and Canada for French and Spanish children and adolescents. In such camps, English teachers serve as counselors as well. The students or campers typically attend such camps for at least 2 weeks at a time and many stay for several sessions. Ages typically range from 8-18.
Day Camps
These camps offer similar activities and English classes as away camps but they are typically operated in more urban environments. A typical day will run from 8 am-5 pm and campers usually return home in the evening. English teachers and counselors usually live in an apartment in the city where the camp is held.
University Campus
These camps are more common in Asia - particularly in China - where the "camp" is really at a university campus. English teachers live in the dorms. The students are usually college students but may be younger in some cases.
Here are some additional points regarding summer camp opportunities for English teachers:
Europe offers the most summer camp English teaching positions, particularly in Spain, Italy, France, and Germany.
Most camps in Europe hire English teachers locally in-country. However, some camps will recruit internationally and interview in advance, typically during late winter and spring. Camps give first dibs to the current English teachers in Europe as they have experience and finish their local contracts in June. Examples of camps that interview include the American Village camps in France and ACLE in Italy.
Most language camps that hire English teachers in Europe are looking to hire English teachers and counselors between 20–30 years of age. Language Camps in Asia tend to hire English teachers into their mid-30s, while volunteer options tend to accept participants into their 50s.
Most English teachers who work at summer camps are provided room and board, plus a modest stipend (perhaps the equivalent of $200-$300 a week). There are also volunteer opportunities teaching English abroad in summer camps.
Many summer positions involve sports, arts and other educational and recreational activities in addition to teaching English in a classroom setting. In other instances, teachers are hired solely to teach English classes.
Teaching English abroad as a volunteer
In addition to summer camps, to teach English abroad in the summer of 2022, you can also volunteer.
Non-governmental organizations, including charitable organizations and faith-based groups, often recruit TEFL / TESOL teachers to teach English abroad.
Volunteering offers opportunities to work in some regions of the world where paid opportunities are extremely limited or non-existent, including India, Nepal, many Sub-Saharan African nations, and poorer nations in Latin America and Southeast Asia.
Many volunteer opportunities are short-term (1 week – 2 months), which is ideal for those looking to go abroad for a summer.
Expect to incur all costs associated with flights and travel, and in many cases for accommodation as well as many volunteering opportunities are found in poorer Third World nations. Sometimes charitable organizations such as faith-based groups may absorb your costs.
Work visas are not typically required for volunteer programs, but you may encounter some exceptions.
To learn more about a variety of short-term volunteer teaching opportunities, please visit Interexchange.
Watch ITA alumni MaryAlice & Katie volunteering in Chiang Mai, Thailand.
Summer TEFL Courses to be trained as an English teacher
If you are keen to begin your career as an international English teacher, but only have a summer to spare, you might consider spending your summer gaining your qualification and a bit of hands-on teaching experience through a four-week TEFL certification course overseas.

This will provide you with an opportunity to gain an internationally accredited TEFL certification while spending four weeks in a great international location (and perhaps engaging in some travel on the side). You will also have an opportunity to gain hands-on student teaching experience by engaging in practice teaching with local ESL students.
Typical examples:
Many of our students will either take a 4-week TEFL course abroad for this summer in Europe (such as France, Spain, Italy), in the US, or in Latin America (such as Costa Rica) and teach abroad the next summer.
Other students will take an online TEFL course in advance so they can apply in December, January, February and March for opportunities the following summer.
If you choose to get TEFL certified with International TEFL Academy, bear in mind that your TEFL certification does not expire and you will enjoy lifetime job search guidance to assist you in lining up both summer and longer-term opportunities to teach English abroad in the future.
Our TEFL graduates all receive an extensive summer camp directory to assist them in finding paid and volunteer English teaching positions in Europe, Asia and Latin America.
"If you are willing and ready to put your whole heart into this job, be full of energy, and play by the camp's rules then you will have the best summer of your life.'
Note: International TEFL Academy is a TEFL certification school, we only assist our TEFL class graduates with job assistance, not teachers who are certified elsewhere. Contact us for free information on TEFL certification and English teaching jobs around the world.
Founded in 2010, International TEFL Academy is a world leader in TEFL certification for teaching English abroad & teaching English online. ITA offers accredited TEFL certification courses online & in 20+ locations worldwide and has received multiple awards & widespread recognition as one of the best TEFL schools in the world. ITA provides all students and graduates with lifetime job search guidance. ITA has certified more than 40,000 English teachers and our graduates are currently teaching in 80 countries worldwide.
Want to Learn More About Teaching English Abroad & Online?
Request a free brochure or call 773-634-9900 to speak with an expert advisor about all aspects of TEFL certification and teaching English abroad or online, including the hiring process, salaries, visas, TEFL class options, job placement assistance and more.