Asia / Latin America / Europe
Worldly Watering Holes: English Teachers & ITA Staff Pick Their Favorite Bars Around the Globe

Worldly Watering Holes: English Teachers & ITA Staff Pick Their Favorite Bars Around the Globe
Here at International TEFL Academy we like to believe we are experts in a couple of things: advising students on teaching abroad, training them to go teach, and assisting them in actually finding work abroad! But, beyond that, there is one thing that each member of our staff is definitely an expert on: finding a good drink! As a staff who has traveled to over 80 countries around the world, we can easily say that we have been to some of the best, worst, smallest, biggest, most popular, and most hidden bars in the world! Below are some tips from the expert drinkers at ITA on bars all around the world that you need to check out!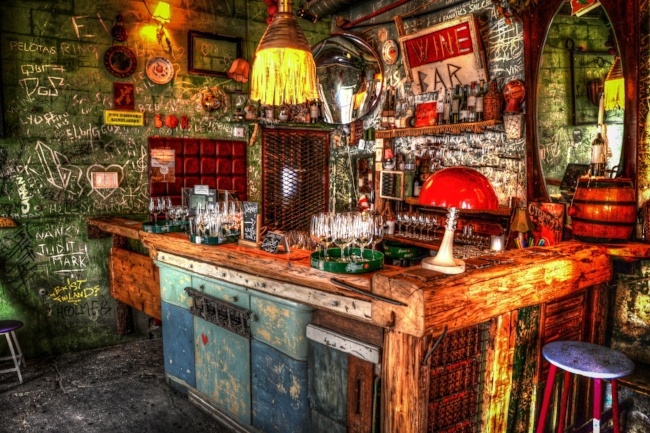 Budapest, Hungary is home to some of the coolest bars in Europe.


"We just got back from our yearly company trip. This year we were lucky enough to go to Eastern Europe. Our first stop was in Budapest and on our final night there, the whole ITA staff found itself at Szimpla. This is a two story bar made up of dozens of themed rooms that are uniquely decorated and tell a different story. Even though you can easily get lost, we all found each other in one room and made it a dance floor. Be ready to dance your face off. Oh and also, someone walks around and sells raw carrots. It's weird. But delicious." -Doug, ITA Advisor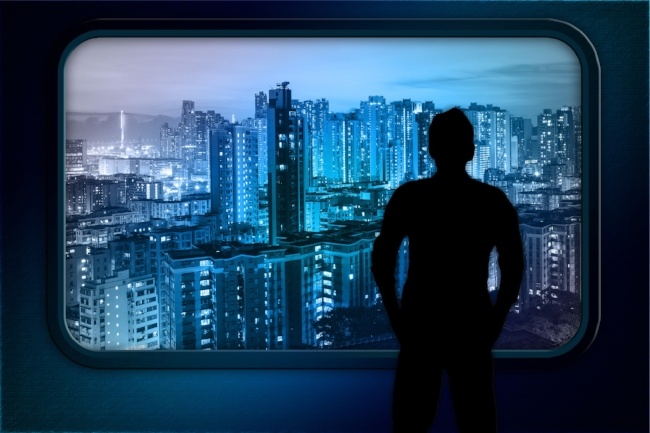 Ozone is known for stunning views of Hong Kong's legendary skyline.
"Ozone in Hong Kong. One of the highest bars in the world. It literally set the bar high! Hahaha get it? Okay, just google it!" -Tyler, Admissions Advisor
"Houseboat U Bukanyr! It's a boat on the Vltava River that is also a nightclub in Prague. Seriously, don't get there before 3am, but once you get there, dance the night away to electronic music with a bunch of amazing people and watch the sun rise over the city from the front deck of the boat until it closes at 8am." -Dani, Admissions Advisor


"The Hemingway Bar in Prague. It's just all around amazing. You feel like Hemingway is going to walk in any minute. They served me a cocktail in a tea cup and my friend's cocktail inside of a book. Neat stuff. Check it out. And have a tea cup for me!" -Cassie, Admissions Advisor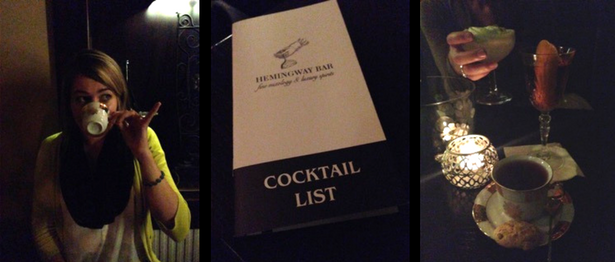 Hemingway & bars are a natural fit. Here ITA Advisor Cassie Wells enjoys refreshments at the historic Hemingway Bar in Prague, Czech Republic.
"Cassie stole mine...well the name at least! You got to check out Hemingway's bar in Barcelona. The locals and tourists alike are all drinking absinthe the 'proper way:' a fork, sugar cubes, and a slow drip water bottle. You are going to feel like you have gone back in time at this bar that is looks like it is falling apart at the seams. And there is no way you are walking out of there without making a few new friends!" -Lindsay, Admissions Advisor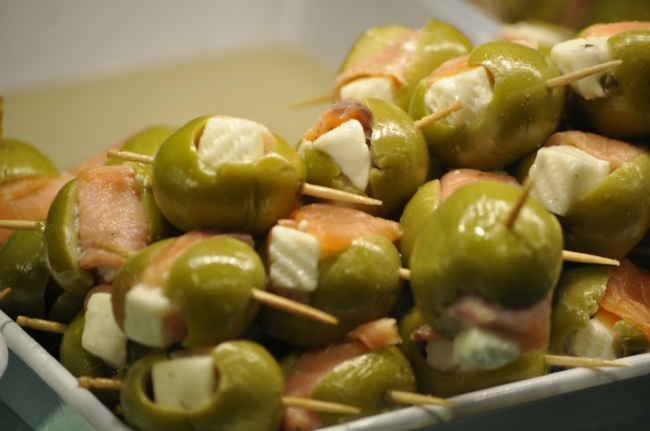 "Spain is bar culture. You can stumble into any bar and get an amazing table wine for one euro that is better than any $20 class from Napa! When you are Madrid, I advise you go off the beaten path and check out El Chapandaz. It is a cool spot near the university that is a cave! Order the Leche de Pantera (Panther's Milk) that is a delicious cocktail that comes out of the stalactites in the ceiling! It is literally a hidden spot, so keep looking...you will find it! Then, sticking with the lactose theme, head to La Vía Láctea (The Milky Way) to dance the night away, with a little rock and roll edge!" -Helen, Admissions Advisor


"Just one in Prague? How about three? Okay: U Sudu is a smoky bar that is a location in a former bomb shelter underground. There is a long hallway that open to 6 different bars, each with a different scene. Then, you also gotta check out Lucerna. This is a dance bar that projects music videos on the wall from 70s/80s/90s. On any given night, you will be bumping elbows with students, tourists, and locals alike. But, seriously, if you want to see unbelievable views of Prague, go check out the Beer gardens." -Britton, ITA Advisor


Smith's
"Easy. Smith's in Bangkok. It is by far the best Thai food I've ever had. The place is run by a family: the mom cooks and the sons bartend. They speak English and have the best cocktails around. It is hidden off a weird dark little alley, so if you can find it, you will find expats and locals enjoying good music, drinking and joining tables. It's definitely one of those places that doesn't have a website, but you can check out a review here!" -Erika, Student Affairs advisor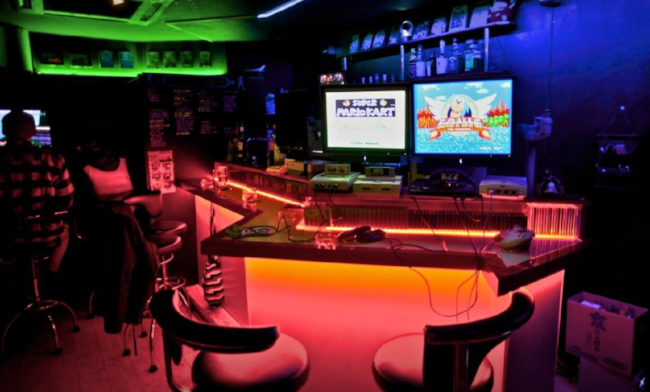 Space Station Bar has become an institution in Osaka, Japan for both locals and expats, including English teachers.
"Space Station in Osaka, Japan is seriously a must see! No entry fee, which beats out a lot of other bars in Osaka that have a cover fee. This is just weird, funky place. It is owned by an American dude named Matt, which is also an unusual occurrence across Japan! Funky all around!" -Chelsea, Admissions Advisor


Bad Monkey Bar
"Bad Monkey Bar in Dali, China. This place not only is a blast to go with a group, but it a hoot to go alone. You will be chatting with people all around and across the bar. Everyone is at home at Bad Monkey! On my way to China for the first time, I randomly ran into someone who lived in Dali on a layover. He said I had to go...and he wasn't wrong! " -Havvah, Student Affairs Advisor


"Check out La Factoria in Old San Juan, Puerto Rico. Walk in and have an amazing craft cocktail in this charming, small bar. (I recommend the Lavender Mule). You will then see people coming in and out of a side door. Venture in! The bar is made up of like 6 or 7 bars that include a wine bar, dance floors, and more. I wasn't even able to find all of them! Oh, and say hi to David for me!" -Helen, ITA Advisor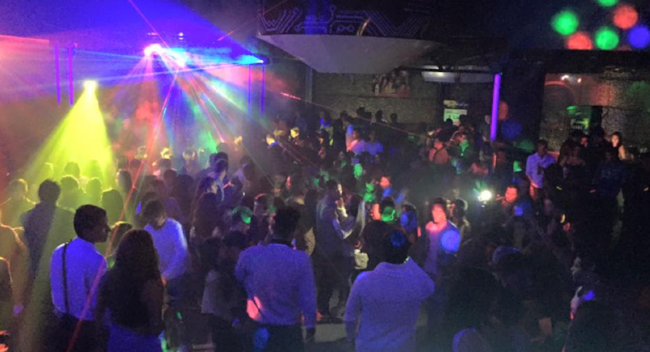 Space
"There's giant bar/club called Space in Cuenca, Ecuador. It has three separate dance-floors and the electronic dancefloor is inside of an actual airplane. It doesn't get much better than dancing drunk on a plane without turbulence!" -Meg, ITA Advisor
"The best bar in the world is right here in Chicago. I have traveled the world my whole life, and always come back to Galway Bay!" -Ian, Vice President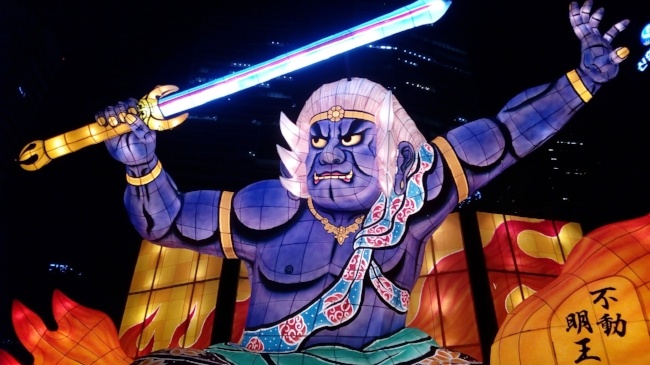 "Club FF is a place you will go to regularly because it is in the coolest neighborhood of Seoul (Hongdae) and one of the most fun bars in that neighborhood. What is different about this place is that it is a rock club with live bands playing to an energized crowd until midnight. Then they drop the curtains on the stage and a live DJ takes over in the back of the room, playing everything from indie rock to soul to funk, just all around fun music....until 5am. No dress code or ungodly cover charges here, either. Just come as you are, ready for some fun! -Matt, Admission Advisor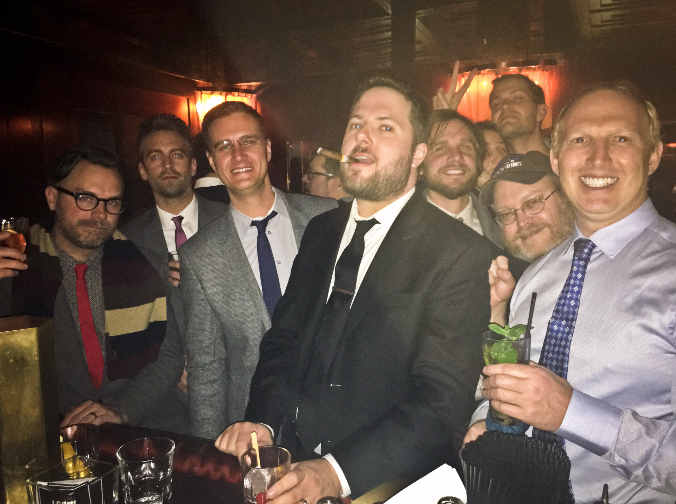 Members of the International TEFL Academy team enjoy world class drinks & a few laughs in the legendary American Bar in Vienna, Austria.
"Loos American Bar - Vienna. A top 5 bar experience of my life, and I've had a few. It was first opened in 1908 and is a total blast from the past. The architecture and decor take you back to the roaring 20's without feeling kitschy or contrived. The barkeepers are absolute pros. Hip, talented, yet super friendly. And most importantly, the drinks!! I had 3 of the best cocktails of my life there. The hipper locals of all ages love the place, and it's frequently visited by celebrities from around the world. Quentin Tarantino named a character in Kill Bill: Vol. 2 after one of the barmaids. If you teach in Prague, Brno, Budapest, Munich, Bratislava....visiting this gem is a simple weekend trip away!" -Michael, Admissions Advisor...yep, you read that right, this bar is so good it's shown up twice!!
"The American Bar in Vienna. You must go. Don't let the name 'American Bar' fool you, locals all around Vienna call it the coolest bar in the city. The whole vibe of the bar is speakeasy: from the low light vibe to the bartenders who are all dressed in white suit and bow ties. Now, imagine the smallest bar you have ever been to. It is smaller. So be ready to get to know your neighbor. And, as always with a speakeasy: dress code is key. You gotta be looking good to fit in here! If you don't believe me, check out this review on Vanity Fair." -Shay, Admissions Advisor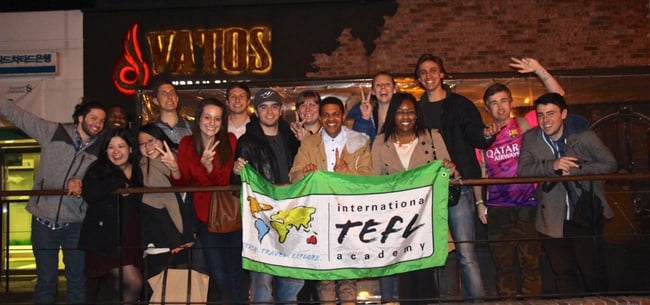 ITA alumni gather in Seoul, Korea, which is know for its fantastic nightlife.
"The place is called "Luxury Su Noraebang." This is a singing bar in the middle of a great popping area of Seoul, South Korea. This is not a traditional bar but a noraebang (singing room) in the middle of the neighborhood of Hongdae. Hongdae is still one of the biggest nightlife neighborhoods in Seoul so it is a very fun spot to spend an hour or two while having a night out in Hongdae. Check it out and be sure to warm up your voice before!" -Jeff, Admissions Advisor
On your next adventure in one of these cities, be sure to check out these spots, but also, check out some new ones and share them with us….we are always looking for another bar to frequent!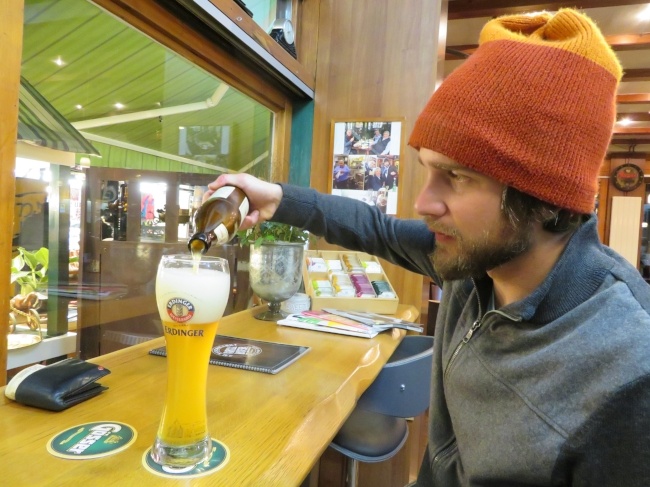 A western girl at heart, International TEFL Academy Admissions Advisor Helen grew up in Texas and New Mexico and gained her love of travel on her first trip abroad to India. After college, Helen had the amazing opportunity of living and teaching in Madrid for a year. Upon returning to the U.S. she joined International TEFL Academy where she has spent more than 5 years assisting hundreds of people from all backgrounds to achieve their goals of getting TEFL certified & teaching English abroad.
Want to Learn More About Teaching English Abroad?
Request a free brochure or call 773-634-9900 to speak with an expert advisor about all aspects of TEFL certification and teaching English abroad or online, including the hiring process, salaries, visas, TEFL class options, job placement assistance and more.