By Gabriela Fernandez
If you like people that love to enjoy food, drink, parties and life…going to Spain will be a great way to get that! Enjoy the flamenco or the sound of a gypsy guitar. Tempt your lips with delicious paella, tapas and wine. Travel around the Pyrenees, the Mediterranean and the rugged shores of Asturias. Indulge your senses with the creativity art of Salvador Dali and Pablo Picasso and discover the whimsical beauty of Antoni Gaudi's fantastical architecture. Admire the passion of Spanish "futbol" and behold of the pageantry of the bullfight.

A great way to discover the joys of this fantastic country by teaching English in Spain. Spain is one of the largest job markets in Europe for teaching English abroad as thousands of language schools around the country hire new English teachers each year, particularly during the major hiring seasons of mid-September - early October and in early-to-mid January.
Here are some top destinations to explore while teaching English in Spain!

Madrid
If there is a city of contrast, this is Madrid! The old and the new here create a beautiful, creative, inspirational and vivid mix that is the spirit of this city. Narrow cobbled lanes, grand palaces and modern skyscrapers coexist in harmony. In Madrid you can discover the genius of Spanish masters at the Museo Nacional del Prado, enjoy one of Europe's hottest live music scenes, and indulge in classic Spanish cuisine in the city's world class restaurants and Tapas bars. Madrid is also the largest job market by far for teaching English in Spain.
Barcelona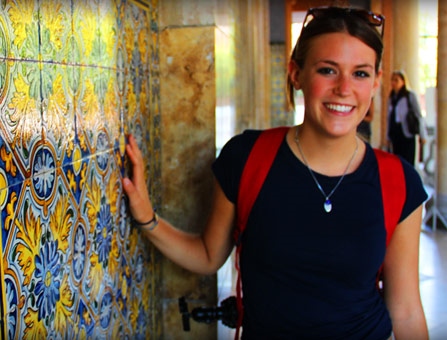 Known as a city of architectural, artistic and culinary innovation, Barcelona is a gothic and modern city on the Mediterranean Sea - how cool is that? Cosmopolitan, fun, and oozing creativity, Barcelona is a must-see destination if you are teaching English in Europe or Spain. Start your day eating a great breakfast at the Boqueria Market, then discover the charms of Barcelona just exploring by foot. Dive into the Barri Gotic's streets and discover the majestic beauty of the Santa Maria Church. To experience the city's most famous landmark, head to La Sagrada Familia Cathedral to explore the genius of Gaudi, Spain's most famous architecture, or go to the Picasso Museum to learn about the roots of the 20th century's great artist. Afterwords, take a deep breath (or even a siesta!), pause for a minute and savor a great dinner at a neighboorhood tapas bar, or one of the city's world-renowned restaurants. Then, head for a drink, or maybe two, and enjoy some of the most exciting nightlife in Europe! You should know that if you really want to party, you have to wait until midnight, when things really get going!
Want to know what it's actuallyl like to teach English in Barcelona? Check out this Barcelona, Spain Q&A with Lexi Sabatino who is teaching in Barcelona right now!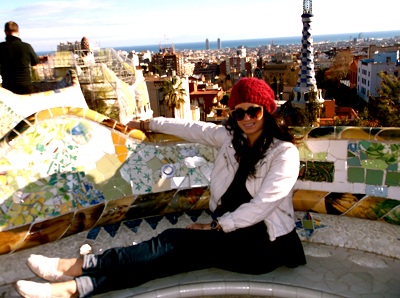 Seville
If you want to experience one of the most famous dances of Spain, this is the place to be because Seville is the birthplace of Flamenco, and also a center of art and culture. Seville regularly welcomes artists, writers and composers that makes every night that much more fun. Seville reflects a centuries old mix of Islamic Moorish and European traditions and you can discover the passion of both at the Alcazar Palace. Originally constructed 800 years ago by the Moorish Almohade Dynasty, it was later added to by a series of Spanish monarchs over the centuries, and today, it is the oldest royal palace still in official use in all of Europe. To cap off your visit, climb the Giraldo Tower, mythical home of Don Juan, to experience a great panoramic view of this historic city.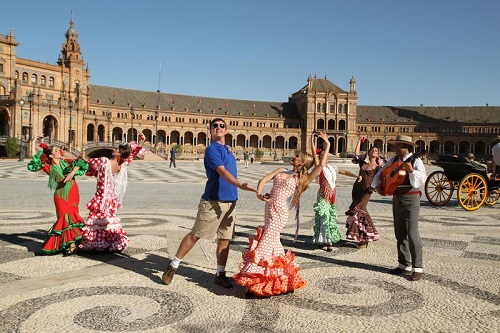 Ibiza
If you are an electronic music lover and you are looking for a great place to spend the summer break and party all the time…Ibiza should be at the number one of your list!!! Why? Because Ibiza is considered the world's party capital!!!
Here you will discover some of the hottest clubs in Europe for house, trance, techno, dubstep, liquid funk, UK hardcore, and much much more!!! If you can't wait to make your musical dream come true just like me, head to Ibiza. The best live electronic beats are waiting for you!!!
But Ibiza is not all about nightclubs and discos. The island boasts stunning natural and architectural beauty, including magnificent beaches lined with classic villas, great restaurants and fantastic hotels.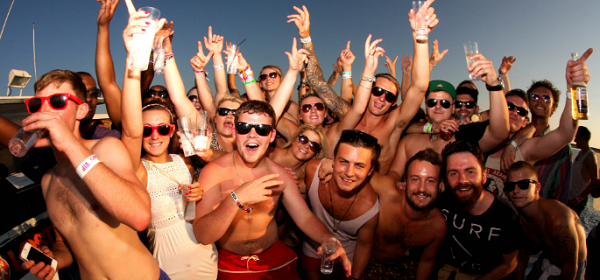 So how do you get to live in beautiful Spain and get a paying English teaching job?
You become TEFL certified through International TEFL Academy.
Download a free brochure on TEFL certification and teaching English abroad and speak to one of our admission advisors today, the good life is right around the corner!
To Learn More About Teaching English in Spain, check out:
About the Author - Gabriela Fernandez is a passionate traveler, journalist, writer and political scientist with extensive international experience working as a broadcaster, writer and actress for television channels, radio stations and magazines across the globe. With a Master's Degree in International Development & Cooperation, she has explored cultures and cuisines the world over while traveling to 6 continents, more than 20 countries and hundreds of cities worldwide.