Teaching English Abroad: Celebrating 3 Kings Day & The Epiphany
Learn what countries celebrate three kings day and where you can enjoy festivities around the world while teaching English abroad.
One of the great aspects of teaching English abroad and traveling overseas is the opportunity to experience holidays and festivals in foreign countries. While Christmas might be the most celebrated holiday around the globe, as a world traveler you will discover that celebrations and traditions vary widely.
In the United States, by the time the first week of January rolls around, the Christmas season has all but wrapped up. Folks are throwing out their trees and getting back to work and school. In many parts of the world, however, the season is not concluded until January 6 (or January 19 for those in Orthodox nations such as Russia, and Coptic Christians in Egypt), which is known as the "Three Kings Day" or "The Epiphany." The day is also referred to as "The manifestation of God", "The adoration of the Magi" and as the "Twelfth Night."
This day, which is one of the most important religious days of the calendar for many, celebrates the arrival of the Magi or Three Kings: Gaspar, Melchior and Balthazar who saw a bright star on the night Christ was born and followed it to Bethlehem, bearing gifts of gold, frankincense and myrrh to the baby Jesus. This scene is commonly represented in nativity paintings and scenes throughout the world during the Christmas season and is recounted in Gospel of Matthew 2:1-12 in the Bible.
From Spain and France to Chile and Mexico, millions of people celebrate the Three Kings Day with a variety of traditions, rituals and symbols, marking the end of the "12 Days of Christmas." Across Latin America and Europe this day will be filled with festivities, parades, dancing, costumes and floats, some of which even feature live camels too! Food will be also part of the celebrations and various types of King Cakes seem to be the favorites!
France
In France, the King Cake is King during celebrations on 3 Kings Day! Known as Gallette des Rois in French, it is very similar to King Cakes eaten in New Orleans during Mardi Gras season. Often made with fruit or chocolate, tradition holds that the youngest person in the house will cut the cake and the person who gets the piece of cake with the trinkets becomes the king or queen of the celebration!
Germany
In Germany it is customary that young people dress like Wise Men and knock on the doors of their neighbors to sing carols. They often carry a star representing that which guided the Three Kings on their way to bear gifts to the young Christ Child. These singers are known as sternsinger and groups are typically comprised of four girls or two boys and two girls. As they make their way around the neighborhood, they ask for donations for worthy causes organized by their churches and members of the community will typically give them treats and trinkets as well.
Italy
Epiphany is one of the largest celebrations of the year in Italy. In Rome, the new charismatic Pope of the XXI century, Benedict XVI greets the faithful and leads mass at St. Peter's Basilica to celebrate Epiphany. In many villages, towns and cities, elaborate processions are held and many participants dress in medieval costumes. In Venice, special boat races are held on canals. In Florence, flag throwers put on a special presentation in the Piazza della Signoria. Back at the Vatican, one procession brings symbolic gifts to the Pope and living nativity scenes are put on across the country.
One of the most interesting traditions is that of La Befana, a witch-like old woman who flies through the night of January 5 delivering gifts to children. The tradition is based on an old tale that as they were making their way to visit the Christ Child, the Three Kings stopped to ask for directions from an old woman. They asked her to join them, and she declined. Later, she changed her mind and went to join them in giving gifts to the Baby Jesus. However, she got lost and never found her way.
Poland
Happy Trzech Kroli! The Epiphany in Poland is a huge celebration that encompasses massive parades, caroling, and children dressed in colors that represent the continents of Europe, Africa and Asia. Special masses are held in churches throughout the nation and many businesses close for the day.


Spain
In Spain, beautiful and massive parades are held in different cities to celebrate El Dia de los Reyes. It is customary for children and also adults (who don't want to grow up!) to leave their shoes polished in their windows waiting for presents from the Three Kings. The next day, after everybody receives their gifts, they celebrate in the streets with massive parades, complete with music, camels and carriages!
Without a doubt, this is a great celebration to put an end to one of the best seasons of the year: Christmas!
Argentina
Argentina celebrates "El Día de los Reyes" with great fervor. Children in particular love this day because they traditionally leave their shoes by the door with grass and water for the Three Kings' camels with the hope of getting a present the next morning! In addition, it is customary to prepare special pastries known as Rosca de Reyes, which are formed to resemble a king's crown.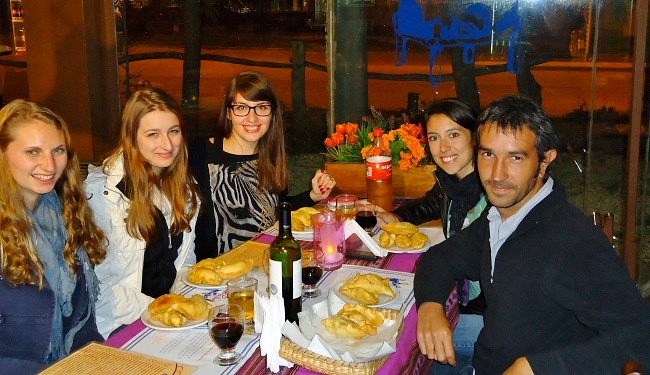 Brazil
Those teaching English in Brazil during 3 Kings Days while enjoy opportunities to celebrate with special music, dance and food, all accompanied by caipirinhas! This is also a day when Christmas decorations are put away and preparations begin for the Carnival season, which will culminate a 6-8 weeks later with Fat Tuesday when Rio hosts "The Largest Party on Earth."
Egypt
Egypt is a predominantly Muslim country but the nation is home to one of the oldest Christian communities on earth. Egypt's Coptic Christians actually celebrate Christmas on January 6, when Catholics and others mark The Epiphany and they celebrate Epiphany on January 19. On that day, Egyptian Copts hold parades representing the life of Jesus, from his incarnation to his Baptism in the Jordan River. Unlike in the Catholic tradition, which focuses on the arrival of the Three Kings, Coptic Epiphany emphasizes the baptism of Jesus. The day is also marked by church services and strict fasting; in addition, priests will be knocking doors of their neighbors to bless their homes!
Interested in celebrating other holidays and traditions overseas? Look no further:
Gabriela Fernandez is a passionate traveler, journalist, writer and political scientist with extensive international experience working as a broadcaster, writer and actress for television channels, radio stations and magazines across the globe. With a Master's Degree in International Development & Cooperation, she has explored cultures and cuisines the world over while traveling to 6 continents, more than 20 countries and hundreds of cities worldwide.
Want to Learn More About Teaching English Abroad & Online?
Request a free brochure or call 773-634-9900 to speak with an expert advisor about all aspects of TEFL certification and teaching English abroad or online, including the hiring process, salaries, visas, TEFL class options, job placement assistance and more.