Brazil's Carnival - The World's Biggest Party! Celebrate In Person While Teaching English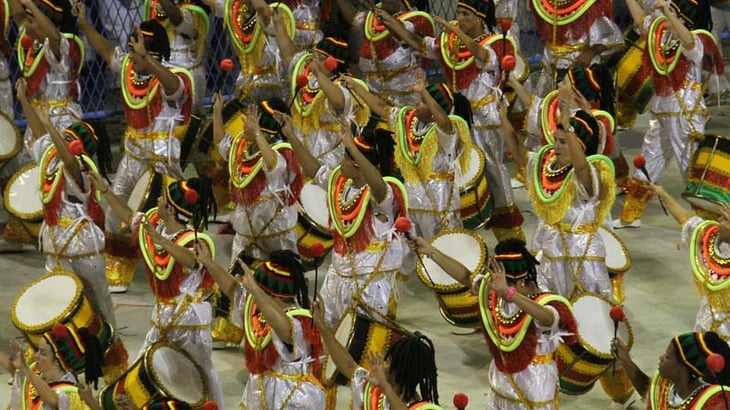 Carnival 2018 is here! Brazil's world-famous festival of samba music and competitive revelry is set to reach its culmination on February 13, which is Fat Tuesday and the last day before the beginning of the traditional fasting season of Lent. Carnival parties are held in various cities and countries throughout the world, particularly in Catholic nations, but none are capable of surpassing Rio de Janeiro's sensational street festivities, wild parades, and glamorous masquerade balls. Anticipation for this raucous event begins building months in advance, when the Carnival theme is announced and local samba schools begin practicing their carefully choreographed routines.
The Carnival of today, an exceptional display of Brazilian spirit and culture, contains influences from past ceremonies and rituals conducted by the African, European and indigenous natives of Brazil. During the weeks of Lent, Christians traditionally abstained from the consumption of meat and poultry, hence the term "carnival," from carnelevare, "to remove (literally, "raise") meat." Carnival celebrations are also believed to have roots in the pagan festival of Saturnalia, which, adapted to Christianity, became a farewell to bad things as well as a purification of the body in preparation for the death of Christ.
Carnival Facts:
The exact dates of Carnival in Rio change every year, but it is always 46 days before Easter.
The official (and most outlandish) parade is hosted at Sambodromo, or the Sambadrome, where 12 different teams of samba schools (Escolas de Samba) compete to see who can present the most spectacular show.
The merrymaking marathon begins at 10 or 11pm in the evening, lasting until the sun rises the next morning.
Modern Brazilian Carnival was first held in 1641, when the city's bourgeoisie began importing aspects of Parisian Carnival to Rio.

Later elements derived from Native American and African cultures were absorbed into the festivities. As time past, the "Carne Vale" became an excuse for ordinary people to dance, wear masks, and parade in the streets. The intermingling of Indian costumes, African beats, and European Catholicism ultimately produced one of the world's greatest and most outrageous parties.
While not everyone can join in these enormous samba school dances, Rio has hundreds of "samba blocks" where smaller schools congregate, their contagious rhythms and glitzy attire inviting anyone to participate in the fun.
One key feature of the annual event is its notorious outdoor parties, where colorful performers, magnificent floats and talented musicians lead tourists and locals on an unforgettable joyride through the streets of Rio. Carnival street bands, called blocos de carnaval, or simply "blocos", organize free parades in various areas of the city. Blocos parade in nearly every neighborhood, but the most famous ones parade in Copacabana, Ipanema, Leblon, Lagoa, Jardim Botânico, and throughout downtown Rio.

Each school is led by a samba queen and escorted by hundreds drummers who beat a pulse connecting the dancers with the thousands of onlookers in the stands. These block parades start as early as January, and may last until the Sunday after Carnival. Not coincidentally, this time of year it is more expensive to travel within Brazil and the city of Rio de Janiero.
If you have an interest in exploring the natural beauty and unique cultural traditions of South America and living abroad in Brazil consider becoming TEFL certified and working as an English teacher in Brazil. Obtaining your TEFL certification through the International TEFL Academy will prepare you for a life-changing adventure anywhere overseas.
Related articles:
Founded in 2010, International TEFL Academy is a world leader in TEFL certification for teaching English abroad & teaching English online. ITA offers accredited TEFL certification courses online & in 20+ locations worldwide and has received multiple awards & widespread recognition as one of the best TEFL schools in the world. ITA provides all students and graduates with lifetime job search guidance. ITA has certified more than 40,000 English teachers and our graduates are currently teaching in 80 countries worldwide.
Want to Learn More About Teaching English Abroad & Online?
Request a free brochure or call 773-634-9900 to speak with an expert advisor about all aspects of TEFL certification and teaching English abroad or online, including the hiring process, salaries, visas, TEFL class options, job placement assistance and more.