tefl certification
The Canadian's Ultimate Guide to Teaching English Abroad
From job markets and salaries to TEFL certification and visas, here's a full overview of what you need to know to gain employment as a professional English teacher overseas, even without prior teaching experience or even a university degree.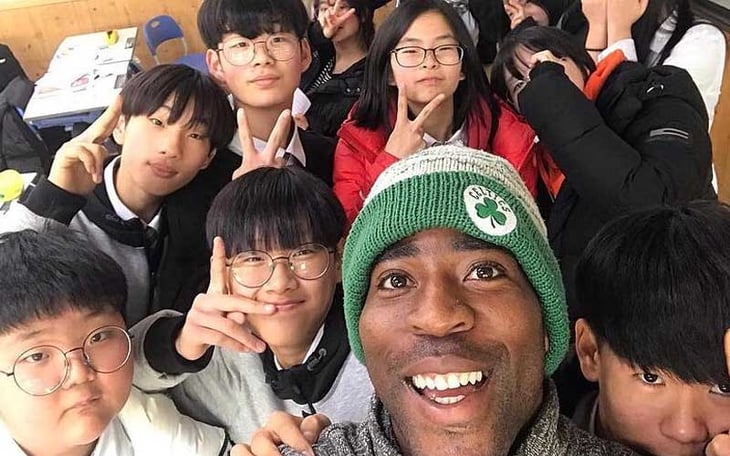 As the world continues to recover from COVID-19, the desire for meaningful travel is stronger than ever for many of us. In fact, according to a 2021 American Express Global Travel Trends Report, 54% of respondents said that the freedom and flexibility of being able to live and work while travelling the globe are more appealing now than it was before the pandemic. Moreover, with more than one billion people learning English worldwide, teaching English abroad as a foreign language (TEFL) provides thousands of opportunities for native and fluent English speakers to get paid to live and work abroad. From teaching grade school students in Korea or businessmen in Madrid to working as a private tutor or teaching English online, there are all kinds of opportunities for those looking to live and work overseas while making a difference in the lives of others.
How can a Canadian teach English abroad?
If you are a fluent English speaker, you do not need prior teaching experience or even a university degree to teach English abroad. However, taking a legitimate and recognized TEFL certification course will provide you with the necessary skills and qualifications to get hired.
Table of Content
1. Research as Much as You Can about Teaching English Abroad
Whether this is the first time you've considered teaching English abroad, or perhaps you've conducted previous research, you'll have questions about how to teach abroad that you'll need to address. Common questions are: Where can I teach based on my previous experience and education? Can I teach English overseas without prior teaching experience? Can I still teach abroad in the age of COVID?
We can't stress enough that research is key to your TEFL success. We've compiled a few resources to get you started on how to teach English overseas:
Kori Johannesen, 25, from Moncton, New Brunswick with her students in Cambodia - Read her story.
2. Get TEFL Certified with an Accredited TEFL Course
One great aspect of teaching English abroad is that virtually anybody can do it and have a great experience getting paid to live, work and travel overseas. Taking an accredited TEFL certification course will provide you with the training, skills and qualification you need to get hired as an English teacher abroad. (TEFL stands for "teaching English as a foreign language.")
As you research your options for TEFL certification, it is important to note that to best prepare yourself as a teacher and to qualify yourself for the best English teaching jobs overseas, you will need to make sure that you choose a TEFL course that is accredited by an authoritative body that meets basic international standards. These standards include:
100 hours of academic coursework and training (equal to a full-time, intensive 4-week in-person course, or the equivalent part-time or online);
6-20 hours of live practice teaching (practicum) to actual ESL students (not role-playing with other teachers-in-training);
Employs a curriculum accredited by a recognized, independent body within the field;
Instruction is provided by a highly qualified, university-level instructor.
These standards are recognized by language schools and other institutions that employ foreign English teachers as well as major bodies within the field.
What are my TEFL certification options?
Take an in-person TEFL course, such as those offered by International TEFL Academy in 20+ locations worldwide. These courses are typically four-week intensive courses.
ITA offers an 11-week, part-time 170-Hour Online TEFL Course that is our most popular option as it offers flexible scheduling and is ideal for those who are working or going to school full-time.
ITA also offers a four-week Intensive Online TEFL Course
All ITA courses are internationally accredited and are taught by highly credentialed and experienced university-level instructors.
The tuition for TEFL courses typically varies depending on the location of the class but online TEFL courses generally cost less. You can also usually discuss payment plans when you enroll in a course, so finding a TEFL certification course that's within your budget shouldn't be too hard.
3. A Quick Primer on TEFL Acronyms
As you learn more about teaching English abroad and TEFL certification, you will encounter a variety of jargon and acronyms like TESOL, ESL, CELTA, etc. Here's a quick rundown of the most common acronyms.
TEFL: Stands for Teaching English as a Foreign Language. Simply put, TEFL is English language instruction for non-native speakers. TEFL is essentially the same as some of the terms listed below. It most commonly refers to teaching English abroad, while some of the terms below more commonly refer to teaching English domestically in an English-speaking nation such as Canada or the U.S.
TESL: Teaching English as a Second Language. This acronym is most commonly used in Canada for the certification required to teach English to non-native speakers. A TESL certification typically must be recognized and accredited by TESL Canada in Canada. This body officially validates TESL certification for those wishing to teach English in Canada privately in organisations like language institutes.
For TESL specifically, let's answer some common questions:
As a Canadian, do I need a Canadian TESL (or TEFL) certification to teach English abroad?
No! Your TEFL or TESL certification does not have to be from Canada. Many of the top TEFL schools for teaching English abroad are based in the U.S., the U.K., or other nations, and as a Canadian, their certification will prepare you and qualify you to teach English abroad. The key is to take an accredited course that meets the above-mentioned standards.
Is a TESL certification the same as a TEFL certification?
A TESL certification and a TEFL certification are the same in that both provide training and a credential for teaching English to non-native speakers. Individual courses for either moniker may vary based on content, structure, quality and accreditation. TESL is simply more commonly used in Canada.
Can I use a TESL certification in place of a TEFL certification when applying to jobs abroad?
Yes, you can use a TESL certification to apply for English teaching jobs abroad as long as that certification meets international standards such as incorporating at least 100 hours of academic coursework and including live practice teaching. The course should be internationally accredited.
TESOL: Teachers of English to Speakers of Other Languages. This acronym typically applies to the teaching of English to non-native speakers in native English-speaking countries like the U.S and Canada. Those who earn university degrees in TESOL commonly seek to teach ESL (English as a Second Language) in domestic classrooms in native English-speaking nations. However, individuals holding TESOL degrees can also teach English abroad in all types of schools, language institutes, universities, and elite international schools.
ESL: English as a Second Language. This acronym typically refers to English language education in countries where English is the official language. Examples of ESL students would be recent immigrants or foreign exchange students studying English in a country where they can immerse themselves in the language. In Britain and Ireland, ESOL (English for speakers of other languages) is sometimes used in a similar context.
EFL: English as a Foreign Language. While similar to "ESL", this term is usually used when referring to English language education in countries where English is not the official language (most of the world).
Lisa Forese from Quebec enjoys some local wine while teaching English in Bordeaux, France. Read her story here.
4. TEFL Job Search Tips for Canadian English Teachers
To become a professional Canadian English teacher, you will need to apply & interview for jobs. The hiring process for English teaching jobs will vary from country to country, region to region, and even school to school. Getting a job teaching English in Peru will be a much different process than getting a job in Japan, for example. Requirements for teaching English in a summer camp in France will differ from a job teaching businessmen in Tokyo. Check out these TEFL Country Profiles to learn more about the job search process for teaching English in specific countries.
International TEFL Academy provides lifetime, worldwide Job Search Guidance to all students & graduates to assist with navigating the ins and outs of getting hired as an English teacher overseas. It is critical to your success that you research and understand both your options and what the process will be before enrolling in your TEFL class. Some matters that you will need to learn about include:
Canadians are eligible to participate in prominent government programs to work as teaching assistants in public schools in Japan (Jet Programme), South Korea (EPIK), France (TAPIF), and Spain (NALCAP – Cultural Ambassadors Program).
Pro Tip! While COVID restrictions for travelling and working abroad have eased dramatically since the end of 2020, hiring levels for international English teachers still remain below pre-pandemic levels. Due to remaining border restrictions, some countries like China and Vietnam are still not fully reopened to foreign English teachers. Therefore, we recommend flexibility and patience to give yourself the best chance to find the right opportunity to help you realize your goals.
5. Financial Tips for Teaching English Abroad
One significant aspect of teaching English abroad is that it provides viable options for almost any English speaker to get paid a sustainable income to live and work overseas. In most countries, first-time English teachers typically "break-even," which means you can expect to earn enough working full-time to support yourself and enjoy life, but you usually don't count on putting money in the bank at the end of each month.
There are opportunities in many Asian and Middle Eastern countries where even first-time teachers can save up to $600 - $1200 CAD a month after expenses and receive benefits like airfare, housing, and paid vacation.
Regardless of where you teach, as you look ahead to your adventure teaching English abroad, you'll need to engage in some financial planning to account for start-up costs and supporting yourself as you're just getting started. Here are some quick tips on planning and saving money for teaching English abroad.
Research and plan your TEFL start-up costs, these typically include the cost of your TEFL certification, document fees, travel to your destination country and supporting yourself while abroad until you start getting paid. These costs will vary depending on factors like the cost of living in countries where you want to teach and whether schools that hire you will provide benefits like housing and airfare. Typically, your start-up costs may run anywhere from $2,000 - $5,000 CAD. That may seem like a lot, but remember that you will be spreading these expenses over at least several months and you're investing in an amazing adventure.
One way to save on your start-up costs is to take your TEFL certification course online. Getting certified online will typically save you $500 - $1000 CAD or compared to taking a TEFL course in-person. Also, ITA's part-time 11-week online TEFL class is designed to accommodate aspiring English teachers who are working or going to school full-time, so you can continue to generate income while you get TEFL certified.
If you're looking to make the most money, head to Asia or the Persian (aka Arabian) Gulf countries in the Middle East.

Read:

Top 5 Countries to Make the Most Money Teaching English Abroad.
Almost anywhere globally, you can make extra money as a private tutor and by teaching English online (usually $12 - $25 CAD per hour for first-time teachers).
ITA graduate, Jeff Alten (above), shares his experience in his article A Canadian's Guide to the Documents Needed to Teach English in Vietnam.
6. Important Documents for Travelling and Teaching English Abroad
The actual documents you will need to teach English abroad as a Canadian will vary depending on where you teach and the requirements for the job you plan to accept. Here are some of the documents most commonly required for travelling and teaching English overseas.
Passport:

Citizens of Canada can check the Passport Canada Website for step-by-step instructions for obtaining a passport in their home country or abroad. Note that some countries will only stamp long-term visas into passports that are valid for at least six months, and sometimes a year, from the date you plan to travel to your destination country. So even if you have a passport, if it is only valid for a few more months, you probably want to get it renewed now.

According to Service Canada, the processing time for a new passport is ten business days if you apply and pick it up in-person. If you apply by mail, the processing time will be up to 20 business days plus mailing time. Contact the nearest Canadian consulate or embassy for more information if you are already abroad.


Visa

: A

visa

is simply a document (often in the form of a stamp in a passport) issued by a government that authorizes a foreign citizen to enter that government's country for residency, tourism, education, or work.




Common types of visas for teaching English abroad include work visas, student visas, tourist visas, independent contractor visas, and working holiday visas (see below).




The type of visa you will need to teach English abroad will vary based on the country and teaching job you plan to take. Sometimes, work visas require submitting certain documents (like proof of a job offer, academic records or a criminal background check) and can take several months to process.




If you get a job before you actually travel abroad to teach English, your employer will typically assist you with the process of getting your visa in terms of providing you guidance regarding which documents you need and how to submit them.



Academic Documents: You may need to submit academic records, diplomas or certificates either to apply for certain jobs or to get a visa to enter and work in certain countries.


Medical Records/Tests: In some cases, you may need to provide certain medical documents or tests to apply for a job or to get a visa. Some schools or countries may require drug tests as well.

Important! In many cases, proof of an approved COVID vaccine and/or a negative COVID test may be required to enter certain countries and many schools will also require COVID vaccination as a condition for work. Specifics will depend on which country you teach in and which school you work at.


Criminal Background Check:

As is common in Canada, many schools abroad that employ teachers (especially those that work with children) will require submission of a criminal background check. As always, exact requirements will vary, but typically Canadians can get any needed background check from the

Royal Canadian Mounted Police (RCMP).
7. International Health Insurance
In some countries, Canadian English teachers will gain free or subsidized access to health insurance and healthcare through their teaching job and their employer. This is typical in East Asian nations like South Korea, Japan, and Taiwan, and Persian Gulf countries of the Middle East like the United Arab Emirates and Saudi Arabia. However, many English teachers abroad will not receive insurance.
Be aware that your Canadian health insurance and the Government of Canada will not cover your medical expenses abroad. Therefore, the Government of Canada recommends that if you do not have other international health insurance in place, you purchase some international health insurance based on your personal needs to cover necessary costs (including prescriptions) and in case of emergency. Read more about official guidelines and information.
Lindsey Huckson from Hamilton taught English in Paris, France on a working holiday visa. Read her story.
8. Consider Teaching Abroad on a Working Holiday Visa
Through the framework of International Experience Canada (IEC), Canadians are fortunate that the Canadian government has established bilateral agreements with more than 30 nations. These agreements allow Canadian citizens who meet specific criteria to live, travel, and work in those countries on a working holiday visa for extended periods of up to six, 12, or even 24 months.
The qualifications to partake in the Working Holiday Visa exchange will vary depending on the country. Typical requirements may include:
Age – The typical age requirements to participate are usually between 18-30 or 35 years old.
Employment – Certain countries only allow travellers to work in specific positions. Some folks teach English formally at a recognized school or camp. Others may teach "off the books" primarily as private tutors or teaching English online.
Money – Visitors generally need to prove that they have access to a certain amount of funds.
Insurance – Some countries require proof of international health or travel insurance.
Length of Stay – Those who obtain a Working Holiday Visa can usually reside in a country for up to one year, however, this can vary according to each country's agreement.
For more information on working holiday visas you may be able to take advantage of to teach English abroad, check out the International Experience Canada (IEC) website.
Looking for more information about teaching English abroad & meaningful long-term travel overseas? Check out these useful resources:
TEFL Starter Kit - Get a free comprehensive e-guide to teaching English abroad and TEFL certification, including a Country Chart that compares teaching abroad in more than 60 countries.
Verge Online Magazine - This Ontario-based online publication features a wealth of resources, tools, and information about all aspects of "travelling with a purpose" specifically for Canadians. They also sponsor Go Global - one of the biggest meaningful travel conferences in North America held in Montreal and Toronto.
The Government of Canada's Guide to Living Abroad - Tips and resources from the Canadian government for Canadians seeking to live, work, retire, or volunteer abroad.
Happy teaching!
John Bentley is Co-Founder & Senior Writer for International TEFL Academy (ITA), the world leader in TEFL certification for teaching English abroad. A graduate of Harvard University and the Medill School of Journalism at Northwestern, John is a recognized expert in the field of TEFL. His articles have appeared across the field's top websites, including GoAbroad.com, StudyAbroad.com, InterExchange, GoOverseas.com, Adventure Teaching, & many others. He has also spoken as an expert on Teaching English Abroad & TEFL certification at major conferences like MeetPlanGo and Lessons from Abroad (LFA) in Portland & San Diego.
Want to Learn More About Teaching English Abroad & Online?
Request a free brochure or call 773-634-9900 to speak with an expert advisor about all aspects of TEFL certification and teaching English abroad or online, including the hiring process, salaries, visas, TEFL class options, job placement assistance and more.