no degree
Phnom Penh, Cambodia English Teaching Q and A with Kori Johannesen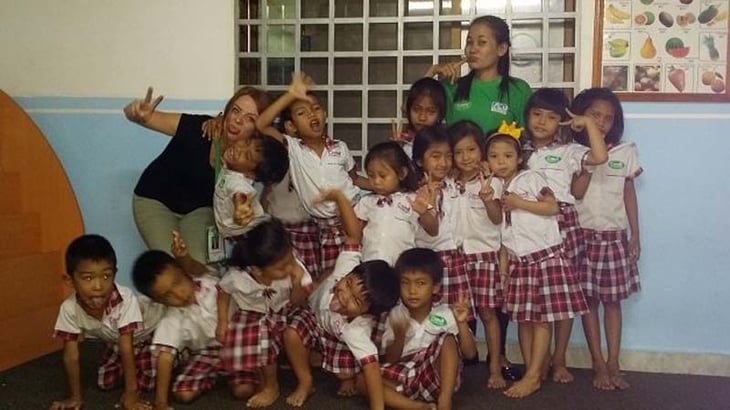 TELL US ABOUT YOURSELF
What is your citizenship?

Canada

What city and state are you from?

Moncton, New Brunswick, Canada

How old are you?

25

What is your education level and background?

Some College
Have you traveled abroad in the past?
Never left the country
What sparked your interest in going to teach English abroad?

What sparked my interest in going to teach English was I was already saving money to go backpacking, but figured, why just travel for a few months when I can work and get paid to travel!? So I started looking into my options—au pair, bartending, farming, and so on. I came across International TEFL Academy while researching and instantly knew it was teaching that I wanted to do. After reading other stories from previous ITA Alumni and talking with a representative, I knew I was meant to teach English abroad!

What were some of your concerns before teaching abroad?

My main concern before teaching abroad was whether I was going to make enough financially to pay bills back home, but still enjoy my time abroad and get to travel.

What did your friends and family think about you moving and teaching abroad?

My family and friends were never more excited for me. They knew I would love it and have no problems, so they were very supportive.


TEFL CLASS INFORMATION
Why did you decide to get TEFL certified and choose International TEFL Academy?
I chose to get TEFL certified because I knew that it would help me get a better job than without one, also because I knew that it would properly prepare for me teaching English and provide me with the skills and confidence that one needs to be a teacher.

I chose International TEFL Academy because they seemed to be the most legit company. The website was filled with lots of information and previous alumni stories, videos, and pictures. After talking with my ITA representative, John, and having him answer a million of my questions, I just knew that ITA was the one I wanted.

Which TEFL certification course did you take?

Cambodia - Phnom Penh

How did you like the course?

I had so much fun with my course! My instructors were excellent; they knew what they were talking about, told past stories and experiences, but yet were laid back and so much fun. The course itself was quite intensive with homework every night, but in the end, it was all worth it. They truly prepare you for the real world of teaching, yet making it a fun experience you'll never forget!

How has your TEFL training helped you in your current teaching position?

The TEFL training helped me while I was a teacher in many ways. It had been a while since I was in school, so it was a great refresher for the grammar part and also what it's like to be a student again. The course provided me with two weeks of practice teaching which helped me gain the perspective of what it's like in the real world and gave me the confidence for my real teaching job. Taking the course in Cambodia and not online also gives you way more. You hear first-hand stories, teaching tricks, games, songs, ideas, and countless helpful things you wouldn't get without taking the course.

Which city and country did you decide to teach English in and why?

I chose to teach English in Cambodia in the city of Phnom Penh because it is very easy to get a job; the cost of living is very cheap, and its culture truly is the opposite of where I live, and I wanted that exotic excitement.

How long have you been in this country and how long do you plan to stay?


I only stayed for one year in Cambodia, but I intend to go back for sure.

How did you secure your English teaching job?

It was very easy. I had several interviews and job offers, and I chose the one that worked best for me. I signed a six-month contract and off I went!

What school, company or program are you working for?

I was working for CamElite School.

How did you get your work visa?

When I first arrived, I receive a tourist visa for 30 days that lasted until the end of the course. Once finished, I renewed for a six-month business visa, and that was it. My school never asked me about obtaining a work permit, and they paid me cash at the end of the month and that's all that was ever said. After that six months, I just renewed again for another six months. Some schools do require a work permit, so it just depends on which school as they are all done differently.

Tell us about your English teaching job!

I was working for a private school and was teaching Kindergarten level. I worked Monday to Friday 7:30 - 10:45 AM, lunch break, and then 1:30 - 4:45 PM, which is the norm for most schools. At first I was paid a salary of $700 US a month, but holidays and sick days were paid. That salary is quite low compared to the norm, but I had my housing covered from another job, so it was all money in my pocket. Then they changed it, and I was no longer on salary, but being paid hourly. I was making close to $900 US a month now, but my holidays and sick days were no longer covered. In Cambodia they have a lot of holidays, so you get a lot of time off which leaves you plenty of time to travel around.


How did you find somewhere to live and what is it like?

I was lucky and didn't have to find a place to live. The course that I took in Phnom Penh to get TEFL certified was based in a hotel, where the instructors live, and the students stay while taking the course. The boss of the language company (LanguageCorps Asia) offered me a job to be the events coordinator for the program and in return, I could live for free in an apartment-style room in the hotel. I only had to work two evenings a week for the course, which involved me hosting trivia and karaoke nights for the new groups of students!


COUNTRY INFORMATION - FUN!
Please explain the cultural aspects, public transportation, nightlife, social activities, food, expat community, dating scene, travel opportunities, etc...
Cambodia is a country with plenty of everything. They have a crazy nightlife in the city of Phnom Penh, Siem Reap, and Sihanoukville, with many bars open 24hrs, with everything from dance clubs to live music. There is plenty of countryside and nature to explore; you just have to leave the cities. People get around mainly on motos or tuk-tuks, and they are everywhere for your convenience. The cost is very cheap for all transportation; for example, you can take a bus 5 hrs away and only pay maybe $8.

The food is delicious and is everywhere. There are numerous street food vendors selling fried noodles, sandwiches, soups, stir fry, fruit, etc. and all at a very low price. They also have an abundance of restaurants/cafes for every budget and every style. If you can handle street food, then it's realistic to say that you can live on $3 a day for food!

There is a big expat community of travelers who have never left, from English teachers to entrepreneurs. While I was there, I had a huge group of friends, and they all had different groups of friends and so on. It's impossible not to have friends and be welcomed with open arms anywhere you go. Also, there are plenty of dating opportunities as the city is filled with so many like-minded people, either Khmer or expats.

Overall Cambodia's culture is one of kindness and happiness. The locals smile from ear to ear at any foreigner and are so anxious to meet you and say hello. Don't be surprised if they ask to touch your hair, nose, skin, etc. They are so amazed at foreigners; it's quite sweet really.


COUNTRY INFORMATION - MONEY
What are your monthly expenses?

As I mentioned before, I did not pay rent/utilities, but usually you can pay anywhere from $150 US a month to $800 US a month. All depends on whether you want true Khmer style, or you want a Western luxury apartment.

The food is very cheap! Markets are the cheapest for fresh food, but even the grocery stores are relatively cheap in comparison to back home in Canada. Street food is cheap, ranging anywhere from 50 cents to $2. Beer and cigarettes are very cheap as well. Beer can be bought at the store for 50 cents, and most bars charge anywhere from $1 to $5. Packs of 20 cigarettes can also be bought anywhere from 50 cents to $3.

Most transportation is done by moto or tuk-tuks. The most I have paid for a moto ride was $2.50, and that was for quite a distance. Tuk-tuks are more expensive, and most start off at $2.

Buying a SIM card was cheap and easy. Was able to buy one for 50 cents, or you can buy one from a phone store with your passport in case you lose your phone or SIM card. I would just put a few dollars on it at a time, and usually $5 would last for a month. Most of the time, I used Wifi instead of my money.
It is very easy to travel to nearby villages or cities. You can rent a tuk-tuk for a day, or you can take a bus for $8 to almost the other side of the country. Buses are going everyday almost all day to almost anywhere!

How would you describe your standard of living?

My standard of living was of relatively high quality as I lived in a hotel. I had free Wifi, air conditioning, 24-hour bar and restaurant, gym, pool, free laundry, and cleaning.

In your opinion, how much does someone need to earn to live comfortably?

Well, if you don't have bills back home, want a decent place to live, and want to travel, then honestly you could live off $600 US a month. Just depends on your standards of living and expenses.
ADVICE FOR PROSPECTIVE ENGLISH TEACHERS
What advice would you give someone planning or considering teaching abroad? Would you recommend teaching in your country?

If you are considering teaching abroad, then my advice is to do it! It was the best decision I ever made and changed my life for the better. If you already said yes to the best experience of your life, then I suggest saving as much money as you can, preparing well in advance to pack properly, make sure you say goodbye to everyone, and do a little research on the culture and weather so you know what to expect. I would highly recommend teaching in Cambodia, not only for the easy job market or the ability to save and travel but for Cambodia itself. It truly is an eye opening country filled with lots of love, culture, and great people!



Founded in 2010, International TEFL Academy is a world leader in TEFL certification for teaching English abroad & teaching English online. ITA offers accredited TEFL certification courses online & in 20+ locations worldwide and has received multiple awards & widespread recognition as one of the best TEFL schools in the world. ITA provides all students and graduates with lifetime job search guidance. ITA has certified more than 40,000 English teachers and our graduates are currently teaching in 80 countries worldwide.
Want to Learn More About Teaching English Abroad & Online?
Request a free brochure or call 773-634-9900 to speak with an expert advisor about all aspects of TEFL certification and teaching English abroad or online, including the hiring process, salaries, visas, TEFL class options, job placement assistance and more.