Top 5 Destinations to Surf and Teach English abroad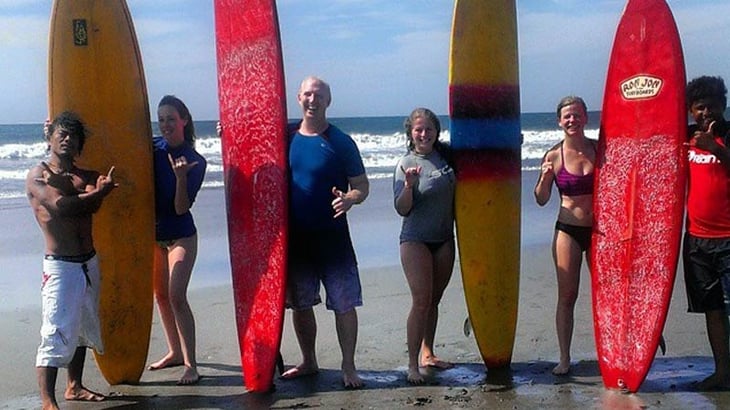 Love to surf and want to see the world?
Teaching English abroad provides a viable way to get paid to live overseas in any of up to 80 countries around the world, including many that offer great surfing opportunities. From Costa Rica and Brazil to Thailand and Taiwan, here are some of my top picks:
1. Brazil
Brazil, also known as surfer's paradise, is home to some of the world's most beautiful beaches. The sleepy city of Florianópolis, located in the Southern tip of Brazil, is famous for its year-round, consistent waves, making it a top pick for surfing connoisseurs. Brazil is also famous for being the largest country in South America, with the highest GDP, thus creating the economic infrastructure that supports private education. English is growing in popularity among businesses and schools alike, making a stable market for teachers to find employment.
Best season for surfing: May to September
Best season for hiring: February-March or July-August
2. Peru
If you're the type of surfer who dreams of catching high tide on your lunch break, you may want to consider teaching English in Lima, Peru. The bustling district of Miraflores, located along the coast of Lima, offers the perfect setting for teachers who are looking for easy access to the ocean. It's a 10 minute cab ride from the city center, or 20 minute bus ride. Surfing in Lima may require a wet suit most of the year, but the waves are consistent year-round. Teachers can enjoy a consistent job market as well. Peru has experienced substantial economic growth, including tourism and international trade over the past 10 years. As a result, businesses and schools are constantly looking for TEFL certified to fill some great jobs!
Best season for surfing: April to September
Best season for hiring: February – March or July – August
3. Costa Rica
Teachers heading to Costa Rica have their fortunate pick of two different oceans for catching waves. The Caribbean coast has plenty to offer in the way of resorts and nightlife - but surfers beware, the surfing season doesn't last as long as it does on the Pacific coast. The Pacific side, however, is known for its consistent waves and sleepier beach towns. The market for English teachers is increasingly becoming more in demand with the rise of the local tourism industry and the growth of the local expat community. There are many trade schools, private language academies, and wide array of businesses that are hiring English language teachers to help bridge that language barrier between locals and the many millions of tourists who visit the country each year.
Best season for surfing: April to September
Best season for hiring: February – March or July – August
ITA graduate, Jason Findling, reports on teaching English, surfing and nightlife in Costa Rica in Playa Flamingo, Costa Rica English Teaching Q&A with Jason Findling
4. Hainan, China
While China may not necessarily be known for its tropical beaches, Hainan is a beautiful island getaway with a subtropical climate located in the southernmost point in China. There is a modest job market for teaching English on Hainan , but the island is also perfect for teachers who are working in mainland China, and are in need of a quick surfing weekend escape. The scenic combination of lush mountains, golden beaches, and year-round high temperatures, arguably makes it the most beautiful beach in China. Teachers in China can often enjoy great perks like free flights, paid housing, and paid vacations from schools throughout the country. There are an estimated 300 million English language learners in China, making it the largest ESL market in the world. If saving money and traveling to fantastic Asian destinations (including great surfing locales) in your spare time is on your teaching abroad wish list, definitely consider a job in The Middle Kingdom!
Best season for surfing: August to March
Best season for hiring: All Year Round
5. Thailand
Thailand is a gorgeous country to call home while teaching English abroad. The crystal clear waters and white sand beaches on the Andaman Sea and the Gulf of Thailand will make you feel like you've entered early retirement as an English language teacher. Phuket has become the country's surfing capital only in the past decade, due to high demand from the many travelers the country sees. While Phuket may not been known as an international surfing destination, it offers ideal conditions for beginners to the sport. Thailand is also a major leader in the ESL market in Southeast Asia. The country has seen significant economic growth, thus creating vast opportunities for ESL educators to find work. From growing businesses, to the ever-expanding tourism industry, to elementary education, teachers can enjoy a wide array of teaching opportunities throughout the country.
Best season for surfing: April to September
Best season for hiring: All Year Round
This is just the tip of the iceberg (and surfboard)!
Other great surfing and English teaching countries: Indonesia, Chile , Spain , Vietnam , Nicaragua, Mexico and Portugal.
Related articles:
After graduating from Texas State with a Teacher Certification, Felicia Braverman taught English in Buenos Aires, Argentina, and Taipei, Taiwan. Before joining International TEFL Academy in 2013, Felicia ran an international recruiting company for teachers. With more than 10 years of experience in the fields of teaching English abroad & TEFL certification, she is a verified expert who has published many articles on various facets of teaching overseas.
Want to Learn More About Teaching English Abroad & Online?
Request a free brochure or call 773-634-9900 to speak with an expert advisor about all aspects of TEFL certification and teaching English abroad or online, including the hiring process, salaries, visas, TEFL class options, job placement assistance and more.