3 Fantastic Coastal Cities for Teaching English Abroad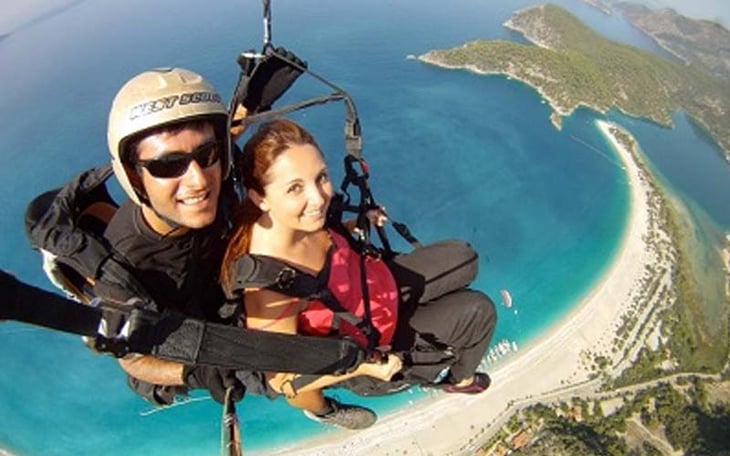 One of the most exciting parts of the journey abroad is deciding where to go to teach English abroad. It's an opportunity not only to spend a year in new region, country and culture, but to live in a city of your choice, as similar or different from your home as you should choose. If looking at your checklist for traits you desire in a city and being seaside ranks right at the top, then this article is for you! Here are three of our favorite coastal cities in countries with booming English teaching markets that you might want to consider.
Valparaiso, Chile
Just 70 miles Northwest of Santiago on the Pacific coast lies perhaps Chile's most colorful, vibrant and eccentric city. A melting pot of immigrants from its days as a major seaport for ships crossing between the Pacific and Atlantic, Valparaiso became known as the "Jewel of the Pacific." Nowadays it's a major university town, a place for artists, sailors and bohemians alike, where the nightlife doesn't end until the candles burn down. Teaching English in Chile offers great opportunities for those interested in learning or improving their Spanish, as well. Built upon steep hills overlooking the Pacific, Valparaiso is famed for its colorful building facades and murals, the narrow, winding cobbled streets, charming architecture, delectable seafood eateries, and its edge.
The New Year's celebration, which stretches along the coast all the way to the neighboring city of Vina del Mar, rivals any other worldwide, where thousands kick off their shoes and take their champagne glasses to the beach for fireworks, friends, and dancing as summer vacation officially arrives. This is a place to inspire and be inspired. From street music to poetry slams to midnight conversations about the meaning of life, Valparaiso is city not only to explore, but to discover yourself.
Busan, Korea
Located on the Southeastern tip of the Korean Peninsula, Busan, the second largest city in Korea offers a more laid back atmosphere than the capitol of Seoul, but with all of the amenities of a large city, including 24 hour nightlife, a famed film festival, spectacular dining options and the world's largest department store. Check out Haeundae Beach and its seemingly endless sea of colorful parasols, where fried chicken and beer can actually be delivered to your blanket beachside. Spend an afternoon exploring the magnificent Haedong Yongungsa Temple, built upon rock cliffs facing the ocean. For sashimi and seafood lovers, the world famous Jagalchi Fish Market offer the freshest and most diverse options one could ask for in a feast (live octopus anyone?).
For fish admirers, just head to the Busan Aquarium and pick up a postcard. As a weekend getaway, catch the ferry to the beloved Jeju Island, and enjoys spectacular panoramic views from the summit of Mount Hallasan. Busan has it all, and if you're interested in teaching English in Korea and looking for a city on the sea in one of the best teaching markets on the globe, it just may be for you!
Izmir, Turkey
As Turkey's third largest city, Izmir is a buzzing metropolis along the Aegean Coast in western Turkey, where traders, merchants and explorers have crossed paths for thousands of years. From cosmopolitan neighborhoods like Alsancak, where niche clubs provide a plethora of nightlife and diverse dining options, to the narrow streets and colorful scenery of the Kemeralti bazaar, where clothing, jewelry and textiles can be bargained for, Izmir offers the quintessential mix of the modern and traditional in a fascinating country.
Head seaside to the Kordon where bike paths and parks offer open spaces near the water for biking, jogging, or sit at an outdoor café over a cup of Turkish tea or coffee to catch the sunset. Like the city itself, the local cuisine reflects influences from across the Mediterranean and highlights fresh local seafood, olive oil and fruits like watermelon as well as traditional Anatolian fare like grilled meet kebabs, fantastic salads and fresh bread and cheese.
The region itself offers some of the most stunning coastline and famous archaeological wonders in the world. Ancient cities like Ephesus, considered by many to be the finest preserved Greco-Roman city in the world, can be reached by bus in less than two hours form Izmir, and the entire Aegean coast is peppered with coved beaches, romantic cities, and ferries to the Greek Isles. The history, the climate, the cuisine, the life, Izmir is an idyllic city in a fascinating region of the world worth exploring for yourself while teaching English in Turkey!
There are many more places on the list:
Barcelona and Bilbao, Spain; Rio de Janeiro, Brazil; Alexandria, Egypt; Shanghai and Shenzhen, China; Hong Kong; Istanbul, Turkey; Panama City, Panama; and Leon, Nicaragua (almost on the coast) to name a few. If you are a lover of the water and coast, this is your chance to live your dream abroad.
Your next step is to become TEFL certified and see the world!
Founded in 2010, International TEFL Academy is a world leader in TEFL certification for teaching English abroad & teaching English online. ITA offers accredited TEFL certification courses online & in 20+ locations worldwide and has received multiple awards & widespread recognition as one of the best TEFL schools in the world. ITA provides all students and graduates with lifetime job search guidance. ITA has certified more than 40,000 English teachers and our graduates are currently teaching in 80 countries worldwide.
Want to Learn More About Teaching English Abroad & Online?
Request a free brochure or call 773-634-9900 to speak with an expert advisor about all aspects of TEFL certification and teaching English abroad or online, including the hiring process, salaries, visas, TEFL class options, job placement assistance and more.