Can Couples or Friends Teach English Abroad Together?
Teaching English abroad is certainly life-changing. The best part? You don't have to do it alone! Let's find out how you can teach English abroad with your partner or best friend.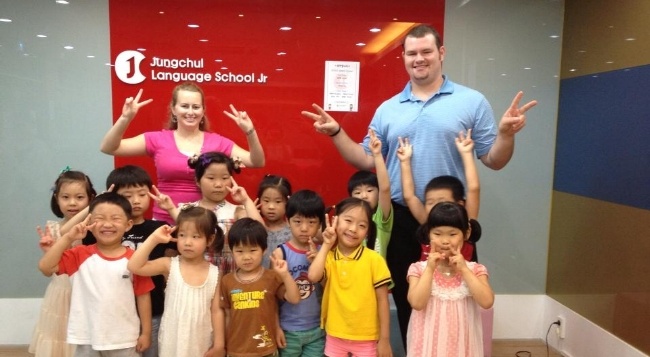 Got a special someone in your life, but want to move overseas? Traveling with your best friend, spouse or significant other is possible in every English teaching market. In the summer of 2009, my wife and I sold most of our stuff, packed a few bags, and headed off to Madrid, Spain, to start a new life together as English teachers. We had done all the research, got TEFL Certified, saved money, and come up with a solid plan. Yet, even then, we were still scared half to death about actually following through with this dream of ours. Quitting our careers to move halfway around the planet without a job, friends, or place to stay seemed….well….crazy!
Read more: Teaching English abroad overview
We had each other though, and in the end, that gave us the final push we needed to pursue this adventure. I can confidently speak for both of us when I say, it was the best decision of our lives.
Teach English Abroad with a Friend or Partner
I'm going to share with you a few tips to make teaching overseas with your friend, spouse or significant other happen but first, let's address a few commonly asked questions:
Can Couples Teach English Abroad Together?
Yes, it is very common for couples (both married and unmarried) to go abroad together to teach English. If you're lucky enough, you and your partner may even be hired to work as English teachers together in the same school.
Can Friends Teach English Abroad Together?
Yes, friends can teach English abroad together. International TEFL Academy (ITA) actually counts many alumni and graduates who are currently teaching English abroad with their friends.
Can You Teach English Abroad with a Family?
Yes, it's possible to teach English abroad with a family, but it's important to research the requirements and consider the logistics and challenges of relocating and living abroad with a family.
Read more: Can You Teach English Abroad with a Family?
Now let's see how we can make it happen for you:
How to Teach Abroad with a Friend or Partner
If you are interested in teaching abroad with a friend or partner, here are some general steps you can take:
1. Get TEFL Certified
To help you find the best English teaching opportunities overseas, make sure you are both TEFL certified. Getting TEFL certified will provide you with the relevant training and qualifications you need to get hired by reputable schools. Your TEFL certification course should leave you feeling confident in your abilities to provide ESL lessons to your students as well.
Can You do TEFL with a Friend?
Yes, you can definitely do a TEFL certification course with a friend. Many TEFL course providers offer group discounts, or have a referral program, which can make it more affordable to enroll together. Studying with a friend can also be a great way to stay motivated and support each other through the course.
Depending on what's more convenient, you can take an online TEFL course, or decide to take an in-person TEFL course in the country you and your plus one are planning to teach.
2. Make Sure You Both Meet the Country's Requirements
Look into the requirements for teaching English abroad in the countries you are interested in, and make sure that both you and your friend or partner meet those requirements. This may include having a certain level of education, a TEFL certification, meeting the age requirement or having a work visa.
For instance, if only one of you possesses a bachelor's degree, you can cross off countries such as South Korea or Japan that require a 4-year college degree for foreign English teachers.
Read more: Requirements to teach English abroad
Make sure you concentrate your efforts in places where it is realistic for both of you to find work based on your backgrounds and qualifications. In some job markets, it can be difficult or impossible for people who do not have four-year degrees or who are not native English speakers to gain employment. Consult your country chart, the TEFL country profiles on our website and with your TEFL Advisor to learn more about particular job markets.
3. Search & Apply for Your TEFL Jobs Early
Apply to the program or school that you have chosen, making sure to follow all application requirements and deadlines.
If you choose a reputable school for your TEFL course, you'll also benefit from their support and assistance to help you choose the best country that suits you and your plus one's needs.
4. Prepare to Relocate
If you are accepted, you will need to make preparations to relocate to your chosen country. This may include obtaining a work visa, finding accommodation, and making travel arrangements.
Read more: Visas for Teaching English Abroad


5. Be Flexible & Communicate
Make sure to communicate openly with your friend or partner throughout the process, and have clear expectations and responsibilities for both the teaching and living environments. It's important to consider the dynamics of working and living together in a foreign country, as it can be both rewarding and challenging. It's important to have open communication and a clear understanding of each other's expectations and responsibilities in both the teaching and living environments.

Teaching abroad with a friend or partner can be a rewarding and enriching experience, but it's important to do your research and plan carefully to ensure a successful and enjoyable time abroad.
Lucky for you, I have some top tips to share from my own experience:
Top Tips for Finding TEFL Jobs with a Friend, Spouse or Significant Other
1. Teaching Abroad with a Friend or Partner is Financially Beneficial
Not only is moving overseas to teach with your significant other possible. It's also typically financially beneficial, too. Take rent and accommodation, for instance.
Compared to living in a larger 2+ bedroom apartment with roommates, you can look for smaller, one-bedroom units. This means lower rent and utility costs, which you'll split between 2 salaries! Plus, you'll have two people looking for a place to stay, which takes much of the burden off of an individual to find an ideal new home.
In teaching markets where housing is typically provided by your employer like China or the UAE, schools will either provide you with couples housing directly, or give you a stipend to use towards local housing that you will find yourself.
Apartments come fully furnished, and English teachers tend to live in desirable neighborhoods, as that is typically where language schools are located.
2. Be Strategic about Your TEFL Job Search
If you want to live and work in the same city or region, concentrate your efforts on going to major job markets where it is most that likely that you will both gain employment. This will typically include major cities in Europe, South America and Asia, which are often home to dozens if not hundreds of language schools.

Additionally, follow the hiring seasons! In Europe and Latin America, hiring is concentrated during particular times of the year, when the majority of schools and language institutes conduct their hiring and recruiting. If you don't follow these hiring periods, your chances of both landing good teaching opportunities decreases dramatically.
3. You Can Both Be Hired by the Same School (Sometimes)
Really, the answer is….it depends. While it is entirely common for friends and couples to go abroad and teach English, to live together in the same apartment or city, you should not necessarily count on working in the same school. Some schools actually prefer not to hire friends or couples in case one leaves, the others won't leave as well.
Conversely, some schools do prefer to hire friends or couples under the philosophy that those with the support and company of a companion will make a smoother transition to life and work overseas. Bear in mind that you may work at separate schools and still live and socialize together, and many couples and friends actually find it beneficial to work at separate schools because they are able to meet more English-speaking colleagues and widen their social networks.
That being said, in teaching markets like Europe or Latin America, it's common for English teachers to work for multiple schools. Sometimes, you will work together at that same language school, and sometimes you will not.
Additionally, it is common in such regions for many teachers to work either part-time or full-time as private tutors to make extra money. Either way, you will both be able to find work within a reasonable distance of the home you share.
In markets like Asia and the Middle East, it is realistic that an individual might only work for one school. It is possible for couples to find schools that are eager to hire two teachers at the same time in these regions. However, if not, the same concept as teaching in Europe or Latin America still applies.
4. You Don't Need to Be Married
Generally speaking, no! Couples who are dating (but not technically married), and couples who are in same-sex relationships can typically live together abroad, basically at the same rate as a married couple in a "traditional" relationship would be able to (Some housing facilities in conservative Middle Eastern nations may officially prohibit cohabitation for unmarried couples in the same apartment).
Most positions for English teachers are in large cities. This means that there is space for people from a variety of backgrounds, and social situations. Yes, some countries are more conservative than others, but if teachers are patient, diligent, and flexible, there will undoubtedly be good housing/teaching opportunities for them, no matter what type of relationship they are in.
5. Teaching Abroad with a Non-Teaching Spouse is Possible but Requires Planning
With some exceptions, most English teaching positions pay enough salary to support one individual. This means that unless you are able to line up an especially good-paying job or you have access to alternative financial resources, both of you should count on working to ensure that you earn enough to support yourselves and to enjoy a comfortable standard of living.
Teaching abroad with a non-teaching spouse can be possible, but it can require more planning and consideration than teaching abroad as an individual. Here are a few things to keep in mind:
Research visa and work requirements: Depending on the country you plan to teach in, your non-teaching spouse may need a specific visa or work permit to accompany you. Research the requirements for both of you to ensure that you can both legally live and work in the country.
Consider job opportunities for your spouse: While you focus on finding a teaching position, it's important to consider job opportunities for your non-teaching spouse as well. Look into the job market and opportunities for your spouse in your chosen location, and consider any language or cultural barriers they may face.
Plan for living expenses: Living expenses can add up quickly, especially if your non-teaching spouse is not able to find work right away. Plan ahead for your living expenses and consider ways to reduce costs, such as finding shared accommodations.
Connect with expat communities: Joining expat communities or social groups can help both you and your spouse to adjust to living in a foreign country, meet new people, and make new connections.
Communicate openly: As with any major life change, it's important to communicate openly with your spouse about your plans and expectations for teaching abroad. Make sure you are both on the same page about your goals, concerns, and responsibilities.
If you are married and one of you has citizenship in the country where you wish to live and teach, it will likely be easier for to gain employment, work visas and residency. Note that laws regarding these matters vary from country to country. It is critical that both/all of you speak with your TEFL Advisor.
Your Advisor cannot provide accurate advice without knowing the circumstances of both parties and it is critical that the Advisor be able to directly address the questions and concerns of all involved.
6. Read About Other Experiences
Here are a couple of articles from International TEFL Academy graduates:
Finally, to this day, there is nothing I enjoy more than traveling with my wife. Sharing these adventures together is a piece of our relationship that we wouldn't trade for the world. If you have a special someone that you want to teach English overseas with, you can! Just talk with your advisor about the markets that interest you, and they can help break down what to expect for your personal circumstances.
Happy travels!
"Wherever you go, go with your heart." - Confucius (551 -479 B.C.)
A Michigan native, Michael has more than 10 years of experience working in education, both teaching English abroad in Spain and teaching in the Chicago public school system. Michael holds a Master's Degree in Education from DePaul University and is one of ITA's most senior advisors, who has also published numerous articles about various aspects of TEFL. When asked about his experience in Spain, Michael invariably states that after marrying his wife, teaching abroad is the best decision he has ever made.
Want to Learn More About Teaching English Abroad & Online?
Request a free brochure or call 773-634-9900 to speak with an expert advisor about all aspects of TEFL certification and teaching English abroad or online, including the hiring process, salaries, visas, TEFL class options, job placement assistance and more.