Best Tips for Teaching Abroad with Your Spouse or Significant Other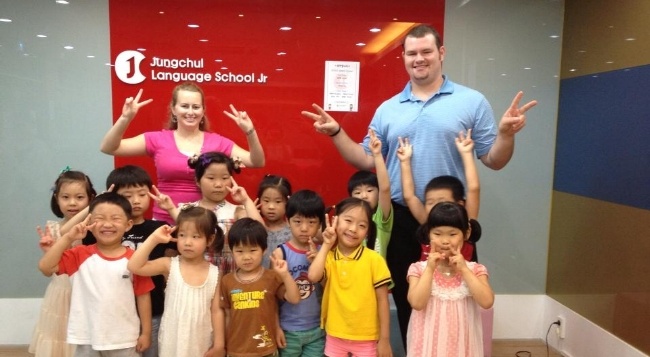 Got a special someone in your life, but want to move overseas? Traveling with your spouse or significant other is possible in every English teaching market. In the summer of 2009, my wife and I sold most of our stuff, packed a few bags, and headed off to Madrid, Spain, to start a new life together as English teachers. We had done all the research, we got TEFL Certified, saved money, and come up with a solid plan. Yet, even then, we were still scared half to death about actually following through with this dream of ours. Quitting our careers to move halfway around the planet without a job, friends, or place to stay seemed….well….crazy!
We had each other though, and in the end, that gave us the final push we needed to pursue this adventure. I can confidently speak for both of us when I say, it was the best decision of our lives!

Is it Financially Beneficial?
Not only is moving overseas to teach with your significant other possible, it's typically financially beneficial, too.
Rent for Accommodations: Compared to living in a larger 2+ bedroom apartment with roommates, you can look for smaller, one bedroom units. This means lower rent and utility costs, which you'll split between 2 salaries! Plus, you'll have two people looking for a place to stay, which takes much of the burden off of an individual to find an ideal new home. In teaching markets where housing is typically provided by your employer like China or the UAE, schools will either provide you with couples housing directly, or give you a stipend to use towards local housing that you will find yourself. Apartments come fully furnished, and English teachers tend to live in desirable neighborhoods, as that is typically where language schools are located.
Can my partner and I be hired by the same school?
The answer is….it depends. In teaching markets like Europe or Latin America, it's common for teachers to work for multiple schools. Sometimes you will work together at that same language school, and sometimes you will not. Also, it is common in such regions for many teachers to work either part-time or full-time as private tutors to make extra money. Either way, you will both be able to find work within a reasonable distance of the home you share. In markets like Asia and the Middle East, it is realistic that an individual might only work for one school. It is possible for couples to find schools that are eager to hire two teachers at the same time in these regions. However, if not, the same concept as teaching in Europe or Latin America still applies.
Is it necessary for a couple to be married, or in a "traditional" marriage to do any of this?
Generally speaking, no! Couples who are dating (but not technically married), and couples who are in same-sex relationships can typically live together abroad, basically at the same rate as a married couple in a "traditional" relationship would be able to. (Some housing facilities in conservative Middle Eastern nations may officially prohibit cohabitation for unmarried couples in the same apartment.) Most positions for English teachers are in large cities. This means that there is space for people from a variety of backgrounds, and social situations. Yes, some countries are more conservative than others, but if teachers are patient, diligent, and flexible, there will undoubtedly be good housing/teaching opportunities for them, no matter what type of relationship they are in.
To this day there is nothing I enjoy more than traveling with my wife. Sharing these adventures together is a piece of our relationship that we wouldn't trade for the world. If you have a special someone that you want to teach English overseas with, you can! Just talk with your advisor about the markets that interest you, and they can help break down what to expect for your personal circumstances. Happy travels!
"Wherever you go, go with your heart." - Confucius (551 -479 B.C.)
Related Resources:
A Michigan native, Michael has more than 10 years of experience working in education, both teaching English abroad in Spain and teaching in the Chicago public school system. Michael holds a Master's Degree in Education from DePaul University and is one of ITA's most senior advisors, who has also published numerous articles about various aspects of TEFL. When asked about his experience in Spain, Michael invariably states that after marrying his wife, teaching abroad is the best decision he has ever made.
Want to Learn More About Teaching English Abroad & Online?
Request a free brochure or call 773-634-9900 to speak with an expert advisor about all aspects of TEFL certification and teaching English abroad or online, including the hiring process, salaries, visas, TEFL class options, job placement assistance and more.