Can I Teach English Abroad with a Family?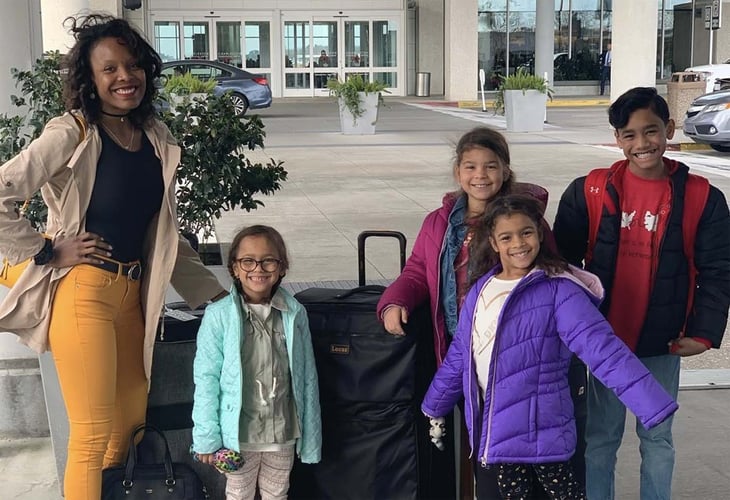 Teaching English abroad with a family is something that can be done but there are a lot of matters to consider when deciding if it is realistic for you and your family.
Can I teach English abroad if I have children?
Yes. It is possible to teach English abroad and online with children. Obviously, you will need to consider matters like finances (including income & cost of living), visas, and school options for your children. These issues can present challenges, but it is not out of the realm of possibility.


Money
We all know that it takes money to raise a child, so the first question you need to ask is can you afford the costs of moving and living with a child abroad. Money solves a lot of problems, so either you will need to make enough on your teaching salary or you will need independent sources of income to pay for your child's expenses. Bear in mind that salaries for English teachers around the world vary greatly; in some countries teachers make enough to support one or more dependents, but in many nations, a typical teacher's salary is just enough to support one individual.
Can I Afford to Teach English Abroad as a Single Parent?
In Europe and Latin America, the wages of an English teacher alone are only sufficient for one person. Schools in many countries in East Asia, including Japan, South Korea, Taiwan, Vietnam, and China offer wages high enough (and low enough living costs) to raise a child on an English teacher's salary.
Money and couples
It can be realistic in many countries if both parents are working as English teachers to support a child. This will also depend on the local cost of living and the expenses you will need to incur for education and/or childcare.
Education
Is your child going go to daycare or school? Who will watch the child while you are teaching English? What are the costs of daycare of school in the country where you will be teaching? Will you have other family members there to assist with looking after your children and/or such expenses? These are critical questions that need to be considered.
Public schools: Will your child be able to speak the local language and enroll in local schools? Some countries accommodate foreign speaking students to learn the local language while others do not. May a five-year old be able to assimilate into Argentinian schools and learn to speak Spanish? What about a 10-year old or a 15-year old? If you child is of school age, it will be incumbent upon you to learn about the educational options for your child in the country that you plan to move to.
International Schools: In some countries, it is not feasible to enroll foreign children in the local school system, which means that the only other option is to place children in an international or American/British school where the curriculum is taught in English. Typically these schools can be extremely expensive and usually cater to highly paid business people and diplomats. A month of tuition may cost $1,000 or more a month.
Child Care
Couples, or even individuals may earn enough to cover daycare or a nanny, particularly in developing nations in Latin America or in Asia. In other cases, it may be feasible for one parent to work while the other cares for the child. Bear in mind that many English teaching jobs abroad are in the private sector so classes are often held in evenings and on weekends.
Medical Care and Health Insurance
If you are in a country where medical care is included with your contract it may be possible to purchase additional insurance and some schools even provide dependents with health insurance. In some countries the national insurance is fantastic, in other countries the local medical care is not very good. Again, it will be incumbent upon you to research the options in the countries where you may be interested in teaching English abroad.
Visas
If you are on a work visa, typically a child may reside in the country on a dependent visa. If you are working in a country without a work visa and doing boarder runs to renew your tourist visa every 3 months (which is perfectly legal), you need to check with local authorities to get residency for the child to attend public schools. If you are going to overstay your visa as some people do in Western Europe, being illegal with a child is not something most people would consider a good decision.
Cultural Adaptation
Is it one, two or three children you are bringing? If they have siblings they will have some social stability. If there is one child and that child is under 5, they are more apt to be adaptable to play with other children regardless of language barriers. Older children may experience more difficult adapting to a new country, particularly if there aren't other kids in the same age group who speak their native language.
Language Issues
The younger a child the more adaptable they are to pick up a second language. Will your child be frustrated not being able to communicate? In some cases, living in a foreign culture may present a perfect opportunity for a younger child to pick up a new language.
Extended Family
What do your parents and family think about you moving their grandchild away to another country? Is this going to cause a big issue? Will you have family in the country where you plan to move?
Legal Considerations for Single Parents
If you're considering teaching English abroad as a single parent and taking your child to another country, it is advised you speak with the other parent and an attorney before leaving the country with the child. It is probably best to have a written agreement with the other parent. It is imperative that you make sure that taking your child abroad does not break any divorce or settlement agreements.
In summary, there are many people teaching English abroad with children but there are many practicalities to consider and work out to make this a good experience for your family.
It is critical that you speak to an admission advisor about your circumstance so we can provide professional advice prior to registering for a TEFL class or making a decision on moving to a country.

Contact International TEFL Academy directly at 773-634-9900 or to request a callback. If you have a spouse please speak to him/her prior to contacting us.
Founded in 2010, International TEFL Academy is a world leader in TEFL certification for teaching English abroad & teaching English online. ITA offers accredited TEFL certification courses online & in 20+ locations worldwide and has received multiple awards & widespread recognition as one of the best TEFL schools in the world. ITA provides all students and graduates with lifetime job search guidance. ITA has certified more than 40,000 English teachers and our graduates are currently teaching in 80 countries worldwide.
Want to Learn More About Teaching English Abroad & Online?
Request a free brochure or call 773-634-9900 to speak with an expert advisor about all aspects of TEFL certification and teaching English abroad or online, including the hiring process, salaries, visas, TEFL class options, job placement assistance and more.