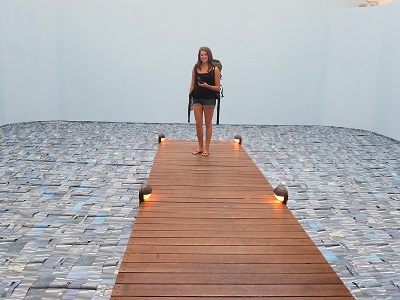 Madrid, Spain English Teaching Q and A with Molly Torbert
TELL US ABOUT YOURSELF
What is your citizenship?

United States

What city and state are you from?

Portland, Oregon

How old are you?

30

What is your education level and background?

Bachelor's Degree
Have you traveled abroad in the past?

Studied abroad

If you have traveled abroad in the past, where have you been?

Costa Rica, Mexico, Austria, Hungary, Czech Republic
If you have studied abroad in the past, where did you study?

Guanajuato, Mexico

What sparked your interest in going to teach English abroad?

I have always had a passion for seeing the world and learning about new cultures, and it has been a long-term goal for me to learn Spanish. After working 6 years in Human Resources as a Recruiter, I realized that I was living my life on repeat, and I never had enough vacation time to really travel as much as I wanted to, so I looked into options for working abroad. After some internet research, I stumbled across the International TEFL Academy, spoke to an Admissions Advisor, and I was sold immediately. Moving to Spain, and taking the plunge to teach English abroad was the best decision I have ever made.

What were some of your concerns before teaching abroad?

Homesickness; difficulty meeting people/making friends; finding a job quickly; working abroad without the proper work visa.

What did your friends and family think about you moving and teaching abroad?

My friends and family were definitely surprised at first, but then extremely supportive and excited for me. They knew that I had been dreaming of living abroad so they were also very proud of me for doing something so "outside the box."

TEFL CLASS INFORMATION
Why did you decide to get TEFL certified and choose International TEFL Academy?

I wanted to have the ability to make money abroad while I travel Europe and learn Spanish here in Spain. I chose ITA because of the responsiveness of the staff to my questions, the first-hand knowledge the staff was able to provide, and the website looked the most legitimate to me out of the other online websites offering TEFL certification.
Which TEFL certification course did you take?

Online TEFL Class

How did you like the course?

The course was very informative and the instructor was readily available to answer any questions I had through the course. The tasks were helpful in the moment to help me get a better grasp of what would be expected of me once abroad. The main critique I have is that some additional guidance would have been helpful for the practicum, maybe a list of items to check off through the practicum to ensure that the alumni are on track and taking away as much applicable, useful information as possible.

How has your TEFL training helped you in your current teaching position?

I think the TEFL training assisted me heavily with the foundation of actually knowing English grammar in a way that I could teach it, and it also helped me to understand the different types of students and classes I might obtain upon moving abroad. Also, the structure of lesson planning, and effectively planning a class within the time constraints.

Which city and country did you decide to teach English in and why?

I chose to teach English in Madrid, Spain because I wanted to travel Europe while still living in a Spanish speaking country. Madrid and the Spanish culture have always really intrigued me.


How long have you been in this country and how long do you plan to stay?

I have been here 1.5 years since September 2013, and I am staying an additional 4 months. So just shy of 2 years.

How did you secure your English teaching job?

I got very lucky my first year and found my Academy through a friend referral out of Portland. The second year I had enough referrals and contacts coming my way, that I have found all private classes. Also, a few through posting my resume online.

What school, company, or program are you working for?

Academy from last year closed. This year all private classes found through referrals and
www.tusclasesparticulares.com

How did you get your work visa?

I never obtained a work visa. My first year in Spain, my Academy Director transferred my pay monthly through PayPal. Then, after he sold the company, I was paid in-person, in cash. This year I am paid in cash by each student either once or twice per week. I have had no issues so far with travel in the Schengen Zone, just like ITA advised me, and my tourist visa expired in December 2013. I have traveled to Portugal, France, Germany, Italy, Holland and Greece without a single question asked. The most difficult part of working under the table and being here without a visa, is that I haven't been able to open a bank account with only my passport. This has made things complicated because when I need to make a credit card payment, I have to deposit money into a friends' bank account, and then have them PayPal the money to my American bank account. It is quite the headache. Other than this, everything has truly been smooth sailing.

Tell us about your English teaching job!

WORK HOURS: Over the last year and a half I have been working anywhere from 12-18 hours per week.
SALARY: 20 euros per hour unless I have to commute more than 30 minutes one way for a class.
ARE YOU ABLE TO SAVE? Any money I could have saved has gone to travel. If a person wanted to save money, they could feasibly work more hours, and travel less.
TYPE OF SCHOOL - I teach all private classes.
WHAT TYPE OF STUDENTS DO YOU TEACH? All types of students. Youngest is 6 years old, 3 high school students, and the rest are adults. I have had some university students in the past as well that needed an exam prep class.
VACATION: There are a lot of holidays in Spain, including a week to two weeks off during the Christmas/New Year holiday season, and a week off in March/April for Semana Santa. These are periods of time that I go without pay, so budgeting is important.

How did you find somewhere to live and what is it like?

I found my apartment last year through another ITA alumni that had moved here before me. Then this last summer I found my current apartment through a friend referral. The first year I lived with an Italian guy and an American girl. Both extremely nice, and also teachers. This year I live with a French girl who is a university student, a Spanish guy who is a French teacher, and an Italian guy who has his own company. We are all friends for the most part and it has been a very good experience. The most popular sites for finding a place to live though is www.idealista.com or www.lingobongo.com
COUNTRY INFORMATION - FUN!
Please explain the cultural aspects, public transportation, nightlife, social activities, food, expat community, dating scene, travel opportunities, etc...

SPANISH CULTURE: The Spanish are a lively crew, and in Madrid, based on my experience they have been very welcoming. Especially in the larger cities, and many of the medium sized cities, the Spanish are very accustomed to foreigners living in their midst.

PUBLIC TRANSPORTATION: I have never seen anything like the metro, bus and train system in Madrid. It is INCREDIBLE. I can get most places that I need to within 30 minutes in the metro, and there is always a metro station nearby. I think having a car would actually be more of a hassle since I live in the center of the city. Madrid also recently implemented electric bikes all over the city, which are awesome and super fast! You just buy the card online, and then add money to your account through the website. It's very affordable and an awesome way to get around.

SOCIAL LIFE: There is something for everyone here in regards to nightlife. Little pubs, very typical Spanish Cafeterias, clubs/discotech's, swanky bars, rooftop bars. Sometimes the hardest part about going out in Madrid is deciding exactly where to go.

HOW DO YOU MEET PEOPLE? There are loads of Facebook groups for just about any interest you could possibly think of in Madrid and most other cities in Spain. Running and sports groups. Music related. Language exchanges to practice Spanish and even other languages. Travel groups and companies that offer affordable, all-inclusive trips around Spain and Portugal. Bar crawls to meet new people. Making friends couldn't be easier.

FOOD: Spanish food consists of tapas (small, shareable plates of food), pinchos/tostas (pieces of bread with some sort of delectable item on top, seafood and all different types of meat. Also, most cities in Spain, especially Madrid and Barcelona have literally any type of food you could want. Italian, Vietnamese, Thai, Mexican, Chinese... etc. etc. Also, most Spanish people don't eat dinner until 9 or 9:30 pm!

MEETING EXPATS: Most cities in Spain have some sort of university, thus, there is a high population of expats and foreigners really from all over the world. In Madrid there are thousands of teachers, students and extranjeros (expats).

DATING: The dating scene has been interesting! All in all, I would say it hasn't really varied that much from the United States, except most of the Spanish men I have met continue living at home with their parents through their 20's. This has been a big cultural difference for me. Otherwise I have tried some online dating, and it has been a fun way to meet new people.

TRAVEL OPPORTUNITIES: Travel has been a constant for me during my time here. Especially out of Madrid. Flights have been cheaper than many within the United States, and as I mentioned previously, there are many tour groups that offer group trips if someone needed a travel partner.

GOOD BUYS: Wine is super cheap! It would be extremely rare to pay more than 3 euros for a class of wine and usually you only pay about 2 euros.
COUNTRY INFORMATION - MONEY
What are your monthly expenses?

RENT: Rent/utilities: 450 euro per month

FOOD: varies. Grocery shopping I usually spend about 30 euros every 2 weeks or so. Eating out can be very affordable when you find the right places to go. There are usually offers on certain nights at restaurants when you can find deals.

SOCIAL ACTIVITIES: This usually involves grabbing tapas with friends, going to Retiro Park or Casa de Campo, there are amazing museums all over Spain, traveling to nearby towns, attending futbol matches, etc. I usually am quite active with friends each week and spend anywhere from 30-75 euros per week.

TRANSPORTATION: 54 euros per month for unlimited use of the metro and buses. This metro pass is called the abono.

PHONE: 15 euros per month.

TRAVEL: Completely varies depending on if I take a larger trip. Anywhere from 0-250 euros in a month if I travel to another country.

How would you describe your standard of living?

Great. The apartments are typically smaller than a standard US apartment, but the standard of living is very high.

In your opinion, how much does someone need to earn in order to live comfortably?

Approximately 1200 euros per months

ADVICE FOR PROSPECTIVE ENGLISH TEACHERS
What advice would you give someone planning or considering teaching abroad? Would you recommend teaching in your country?

My advice is to just do it! Take the leap, and don't look back! My decision to move abroad has changed my life in so many positive ways, and helped me to grow into a better version of myself. You will never regret choosing to live abroad, but someday you could regret never making it happen. I highly recommend teaching in Spain. It has been a top-notch experience and I am going to miss this beautiful country when I leave in June!


To read more about Molly's adventures, check out her blog: www.mollyandmadrid.wordpress.com
Founded in 2010, International TEFL Academy is a world leader in TEFL certification for teaching English abroad & teaching English online. ITA offers accredited TEFL certification classes online & in 25 locations worldwide and has received multiple awards & widespread recognition as one of the best TEFL schools in the world. ITA provides all students and graduates with lifetime job search guidance. ITA has certified more than 25,000 English teachers and our graduates are currently teaching in 80 countries worldwide.
Want to Learn More About Teaching English Abroad?
Request a free brochure or call 773-634-9900 to speak with an expert advisor about all aspects of TEFL certification and teaching English abroad or online, including the hiring process, salaries, visas, TEFL class options, job placement assistance and more.