non native english speaker
Teaching English in Madrid, Spain: Q&A with Rhea Baliwala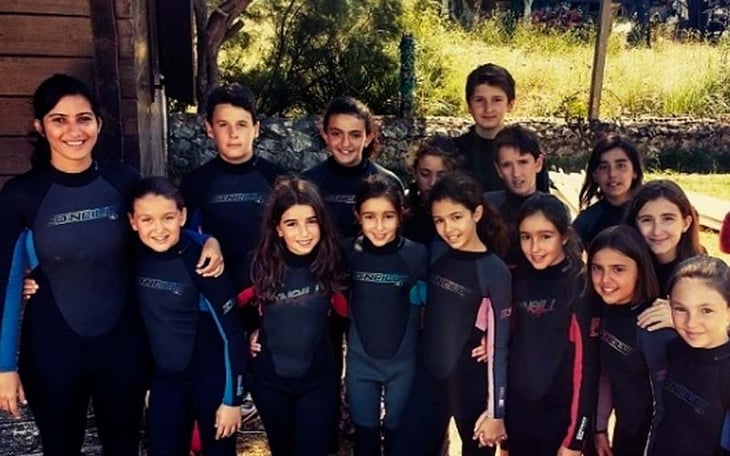 What is your citizenship?
India
What city and state are you from?
Mumbai, Maharashtra
How old are you?
27
What is your education level and background?
Master's Degree or Higher

Have you traveled abroad in the past?
Some international travel with friends, family, business, etc.
If you have traveled abroad in the past, where have you been?
Hong Kong, Amsterdam, London, Manchester, Paris, Nice, Monaco and Barcelona.
What sparked your interest in going to teach English abroad?
It all began when I first traveled to Europe in 2015. It was my first time in a Western culture. The beauty and the history completely took me by surprise. I realized there was so much more I had to see, and it created a kind of unknown urge to figure out how I could do that.
What were some of your concerns before teaching abroad?
Adjusting to a new culture, making friends, and getting a job.
What did your friends and family think about you moving and teaching abroad?
My family thought I was crazy! I couldn't really blame them. I come from a cultural background where it is not natural/normal to leave your stable job to travel the world. They were concerned with how I was going to manage myself.
Why did you decide to get TEFL certified and choose International TEFL Academy?
I realized if I had to teach English, I definitely would need a TEFL certificate. After spending around two months researching , I came across ITA. It seemed legit, and I emailed them and got a quick response. I could also speak to the student adviser Shay who was helpful. We were in completely different time zones, so calling was not always an option, but Shay was very prompt in responding to all my queries through email.
Which TEFL certification course did you take?
Spain - Madrid In-Person TEFL Course
How did you like the course?
I think the course was amazing! I had no formal teaching background, but the course helped me understand - the 'how', 'what' and 'why' of teaching. It familiarized me with new teaching structures and terminology which I think is very important when you start off in an absolutely new industry. The instructors were great and always ready to answer any doubts. The place had a very fun-filled atmosphere with a good academic focus. The practicum was great and well planned through the month. I am not a shy public speaker, but it gave me the confidence to teach and talk in a way that students understand and learn.
How has your TEFL training helped you in your current teaching position?
It gave a good structure to my teaching. The method they taught us was very practical and I believe could be tweaked for teaching any category of students --children, adults, in-company, etc.

Which city and country did you decide to teach English in and why?
I decided to teach English in Spain in the city of Madrid because I was always intrigued by the Spanish lifestyle and wanted to experience it first hand while learning some Spanish on the side.
How long have you been in this country and how long do you plan to stay?
One year and I plan to stay another year.
What school, company, or program are you working for?
I work for Celeritas Training. I do a mix of telephone classes and face to face in-company classes.
During which months does your school typically hire?
It is a relatively new company, so the hiring is mostly when they get a new client. But the major hiring season would be October.
Did you secure this position in advance of arriving?
Nope.
How did you interview for this position?
In-person interview.
What kind of visa did you enter on?
Student visa
Please explain the visa process that you went through.
I did my TEFL course in Madrid & participated in the Madrid Student Visa Program. The staff in Madrid helped me through the entire visa process.
Being from India, my process was a little different, but Helen put me in contact with people that could help, so it all went fairly smooth.
What are the qualifications that your school requires for teachers?
TEFL Certification.
What is the best way to apply?
In-person.
Please include any application resources (website, email, etc.) or other information here:
The program in Madrid has a great job guidance facility where they send out your CV at the end of the course to over 300 academies. I got my job through that. Also http://www.lingobongo.com/madrid/ is great.

Tell us about your English teaching job!

HOURS: I work around 25 hours a week (Monday to Thursday). Average pay would be 15 euros an hour (about $16 USD).
STUDENTS: I teach business professionals in financial institutions (because of my finance background back home) and also do a few hours of telephone classes.
SAVINGS: I don't save any money because I use it to travel. July and August are completely free, but last year I did two summer camps in July to finance my travels in August. (Summer camps are super easy to find in Spain. You can use Lingo Bongo for that as well)
VACATION: I also have 15 days off in December and a week for Semana Santa (Holy Week) which is end of March or start of April. But most holidays are unpaid, so you need to budget your money for these periods

How did you find somewhere to live and what is it like? Do you have roommates?
Madrid in my opinion is by far the toughest place to find a house. I currently share a flat with a friend from my salsa class. I found this one because he was my friend. But this is my third flat in the year! Rent is not super high though, very affordable.
Typical websites to use are:
Would strongly advise anyone looking to live in Madrid to NOT book an accommodation in advance from home and definitely visit it before finalizing.
On a scale of 1 - 10 please rate your experience with this school.
9.
Please explain the cultural aspects, public transportation, nightlife, social activities, food, expat community, dating scene, travel opportunities, etc...

Culture: Spain is a beautiful country with an amazing climate. Spanish people are very warm and friendly and welcoming. They are very helpful as well. Very easy to make new friends.
Nightlife in Madrid is very good. Lots of bars and clubs that are open till very late at night.
Social activities are in abundance. You can always find something to do if you want to.
Food: I love the

tapas culture here in Madrid.

Wine and beer is so inexpensive and you get free tapas with every glass at most places. There is also this amazing concept here called 'Menu del dia' which means 'Meal of the day'. It includes a starter, a main dish, a drink and a dessert - all in 10-12 euros. But it is only at lunch and only Monday to Friday. But you will not leave the table without your tummy full and heart super satisfied.

Expat Community:

I can't comment much on the expat community because I made expat friends from my TEFL course and that was about it. I have always been more inclined to meet Spanish people, which I could through my Salsa and Bachata classes.
Dating scene is great. Madrid is a multicultural city with people from all over the world. It is not hard to meet new people. I am not a fan of using apps, but I met new people through my interests which was dancing and yoga.
Travel opportunities are plenty. It is very cheap to travel around Spain. They have a super fast Renfe train that connects all parts of the country. But it can be expensive sometimes. I generally use the Blah Blah car, which is very popular here and super safe. Also budget airlines like Ryan Air, Easy Jet, Iberia etc make it very cheap to travel around Europe. If you plan a little in advance you can score tickets as cheap as 50 euros round trip to Denmark!
What are your monthly expenses?

Rent/utilities: 450 ($475 USD)
Food: 300 ($320 USD)
Social activities: 200 ($215 USD)
Transportation: 55 (below age 26 it would cost you just 20) - $60 USD
Phone/communication: 10 ($11 USD)
Travel: I use all my left over salary for traveling!
How would you describe your standard of living?
Pretty good.
In your opinion, how much does someone need to earn in order to live comfortably?
1200 euros ($1275 USD).
What advice would you give someone planning or considering teaching abroad? Would you recommend teaching in your country?
I would definitely recommend Madrid. One because it is a beautiful city with beautiful people and two, because it is so lively - It is really hard to get bored in Madrid.
Also, I would definitely recommend the Madrid TEFL course. First, because it was an in-person course and in the country I wanted to teach, so it gives you that time to adjust to a new city while you study and have not to be worried about finding a job. Second, it gives you an instant set of friends who might become the group you hang out with. (That was the case for me.)
And my advice to someone planning to teach abroad would be to pick your country, do your research and then just follow your heart. I knew no one from my country that has done this before. Most people thought I was crazy but I knew I wanted this for myself and I listened to my heart. Life is too short to listen to your brain!
Travel started for Rhea when she was 26 and took her first trip to Europe in May 2015. She came from a very middle class family in Mumbai and with her dad being the sole wage earner, travel was a luxury her family could not afford. She graduated with an MBA in Finance from a premier business school in India and land a lucrative job with a career path defined for me. But soon into her career she realized she still very much had the itch to keep traveling after her first trip to Europe. The rest is history!
Want to Learn More About Teaching English Abroad & Online?
Request a free brochure or call 773-634-9900 to speak with an expert advisor about all aspects of TEFL certification and teaching English abroad or online, including the hiring process, salaries, visas, TEFL class options, job placement assistance and more.