Teaching English in Madrid, Spain: Q&A with Salina Owens
ITA alumna, Salina Owens, talks about life teaching English in Madrid, Spain for the last three years at private language academies, an English camp, and now as part of the North American Language & Culture Assistants Program.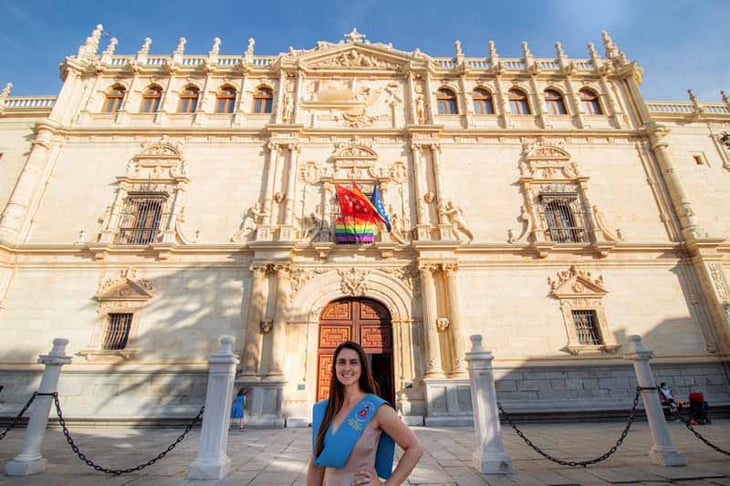 What is your citizenship?
United States
What city and state are you from?
Arlington, Texas, USA
How old are you?
27
What is your education level and background?
Master's Degree or higher.
Have you traveled abroad in the past?
I've traveled to Mexico, The Bahamas, Panama, Spain, Italy, France, England, Greece, Belgium, Germany, Ireland, Switzerland, The Netherlands, The Vatican, Wales.
What sparked your interest in going to teach English abroad?
The semester before I got my undergrad, I came to the conclusion that I did not want to pursue my degree further and attend school for longer. My prior travel experience sparked a great interest in moving abroad and teaching English is one of the best ways to make that happen. It was incredible to discover that I could apply for jobs abroad with the language skills I already had.
What were some of your concerns before teaching abroad?
The language barrier, bureaucratic processes, being an ocean away from home, and not knowing anyone in my intended destination.
What did your friends and family think about you moving and teaching abroad?
Thankfully, I have very supportive parents. My mom was more apprehensive than my dad because I am her only child and we are very close. But, they both expressed that they just wanted me to be happy no matter where I was. I am forever grateful for their continuous support.
Why did you decide to get TEFL certified and choose International TEFL Academy?
I researched several programs and ITA had some of the best reviews and testimonials out there. Also, ITA's website provided so much helpful information that I continued with enrollment knowing it was an investment in my future.
Which TEFL certification course did you take?
I took the 11-Week Online TEFL Course in January of 2018.
How did you like the course?
It was part-time and it was easy to complete one module a week over the span of 11 weeks. I had a great practicum experience also where I went to a community college down the road and completed my hours there. The teachers were so kind and welcoming and the students were eager, non-English natives which helped a lot to prepare.
How has your TEFL training helped you in your current teaching position?
It helped me understand different learners and how to properly elicit answers from my students
Where did you decide to teach and why did you choose this location?
I have been teaching English in Madrid, Spain since 2018, so three years now; I plan to stay for at least several more years. I fell in love with Europe on a backpacking trip in 2016 and I always wanted to improve my Spanish skills. Spain made perfect sense and I chose Madrid because it is the capital, there are lots of foreigners here, and the job market is booming for teachers.
What school, company, or program are you working for?
I first worked for several private academies and then a camp company. For my 3rd year, I was in a Master's program and also a part of the Ministry program as an Auxiliar de Conversacion in a secondary public school.
During which months does your school typically hire?
September and January.
Did you secure this position in advance of arriving?
No - I interviewed in-person here in Spain.
What kind of visa did you enter on and what was the visa process like?
I am on a student visa. I went through the long-term student visa process at the Spanish Consulate in Houston (back in the USA). It was tough and I actually had to retract my first application because they continuously refused the health insurance I presented. I went back the next month with other health insurance paperwork and my application was actually accepted 9 days later. It felt like a miracle.
What are the qualifications that your school requires for teachers?
Bachelor's Degree and a native English speaker.
What is the best way to apply?
Online at this website.
Tell us about your English teaching job!
I worked for several private academies with teenagers and business adults my first 6 months averaging 20 hours a week. I then worked for a camp company as an English-speaking monitor and I got to travel a lot around Spain (worked here with kids ages 9-17). During my Master's program, I worked in a non-bilingual public secondary school with 11-15 year olds. I was able to save about 100€ a month give or take. Vacation time revolved around the national and regional holidays and we always had generous time off for Christmas and Holy Week.
Please explain the cultural aspects, public transportation, nightlife, social activities, food, expat community, dating scene, travel opportunities, etc...
Public transport in Madrid is great. You can get everywhere in the city easily. Traveling the country is also easy and affordable as well. Nightlife and social activities are the beating heart of Madrid. Any night of the week there is something happening. You are never bored here! There are tons of foreigners here, not just from the States. There are a lot of British and other Europeans here since Madrid is a great place to study abroad and do internships also.
What are your monthly expenses?
Rent = $440
Utilities= $41 (divided by 4 people)
Food= $250-300/week
Transportation=$24 - 90 /month (depending on your age)
Phone bill = $18
Travel (depends on the month) = $100-500
How did you find somewhere to live?
Before arriving, I booked accommodation through a trusted site called Spotahome. It's a secure site and had good reviews so I booked my initial apartment through them and the 3 apartments after that. I have always had roommates, anywhere from 1-5 people both male and female. I am still close friends with 2 of the girls I first lived with! I found my most recent flat on a site called Idealista, which is the most popular place to find flats. If your Spanish is decent, I would recommend using this platform once you arrive in Spain.
How would you describe your standard of living?
At first, budget and basic comfort was the most important aspect. Now, three years later, I am happy and comfortable spending more money for more space, a large terrace, a central location, etc.
In your opinion, how much does someone need to earn in order to live comfortably?
Depends on how much you enjoy going out and/or traveling but in my opinion - $1500-1650 USD/month.
What advice would you give someone planning or considering teaching abroad? Would you recommend teaching in your country?
Lots of research and insight from someone who has been there! Understand that the standard of living is very different and that you don't need a lot of stuff. I would absolutely recommend teaching in Madrid. Spain is a great country to live abroad in and there are so many opportunities.
Salina Owens is a 27-year-old English teacher from Texas. She moved to Madrid, Spain in 2018 to pursue an English teaching career and gain international experience. She received her undergrad from the University of Arkansas and a Master of Arts in International Education from the University of Alcalá. In her free time, she travels frequently and works as a freelance travel content writer.
Want to Learn More About Teaching English Abroad & Online?
Request a free brochure or call 773-634-9900 to speak with an expert advisor about all aspects of TEFL certification and teaching English abroad or online, including the hiring process, salaries, visas, TEFL class options, job placement assistance and more.