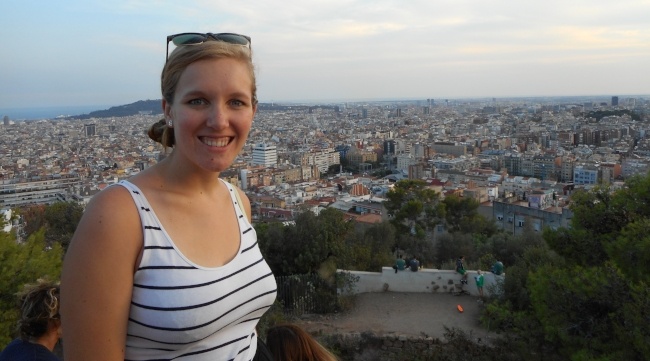 Barcelona, Spain English Teaching Q and A with Alice Denny
TELL US ABOUT YOURSELF

What is your citizenship?

United States

What city and state are you from?

Mundelein, Illinois

How old are you?

24
What is your education level and background?

Bachelor's Degree
Have you traveled abroad in the past?
Some international travel with friends, family, business, etc.

If you have traveled abroad in the past, where have you been?

Peru, France, Italy
If you have studied abroad in the past, where did you study?

Peru

What sparked your interest in going to teach English abroad?

I wanted to spend more time traveling around Europe. I was in Italy and France last year and fell in love!

What were some of your concerns before teaching abroad?

Visas and money

What did your friends and family think about you moving and teaching abroad?

My family was apprehensive but supportive.
TEFL CLASS INFORMATION
Why did you decide to get TEFL certified and choose International TEFL Academy?

I like that ITA was in Chicago and I could visit the office. I also liked that they offered a comprehensive online course, which I needed for my schedule at the time.
Which TEFL certification course did you take?

Online TEFL Class

How did you like the course?

The instructor was very knowledgeable and the course work was just the right amount of work. I learned a lot from the course.

How has your TEFL training helped you in your current teaching position?

I didn't have a background in teaching before I took the course, so the live practicum [practice teaching] was particularly useful for me. It gave me a lot more confidence in my teaching ability before I made the move to another country.

Which city and country did you decide to teach English in and why?

I decided to teach English in Spain in the city of Barcelona. I had never been to Spain and I wanted to learn Spanish.

How long have you been in this country and how long do you plan to stay?


I have been here for 3 months and will be here for one more month

What school, company, or program are you working for?

I work only with private lessons

During which months does your school typically hire?

N/A

Did you secure this position in advance of arriving?

No, I found all my students once in Barcelona.

How did you interview for this position?

In-person interview

What kind of visa did you enter on?

Tourist Visa

Please explain the visa process that you went through.

I am staying here on a tourist visa. I plan on staying on expired visa. I was very concerned about this before I came here, but I have met many other teachers doing the same thing.
Please include any application resources (website, email, etc.) or other information here:

I found most of my students through word of mouth and advertising classes online

Tell us about your English teaching job!

I work about 15 hours a week with private lessons and 8 hours a week doing private lessons with the host family I live with. I do not save money as I spend most of it on travel and having fun on the weekends. I like teaching private lessons because I work with a wide variety of students and do something different each day.

How did you find somewhere to live and what is it like? Do you have roommates?

I live with host family, instead of renting my own place. In exchange for room and board, I give English lessons to the children 4 times a week. For me it is perfect because I like living in a family, and I save a lot of money.
COUNTRY INFORMATION - FUN!
Please explain the cultural aspects, public transportation, nightlife, social activities, food, expat community, dating scene, travel opportunities, etc...
Barcelona has great public transport. It is cheap, easy to navigate, and safe. I use it everyday for work.

There is a really fun nightlife scene here. I am not a big fan of going out to the clubs, but there are so many restaurants and bars open late in the city; it makes going out really fun.

There is a huge international community here in Barcelona, so it is easy to meet people from all over the world. There are also a lot of English teachers here in BCN too, so it has been good to network with other teachers and join in a few teacher happy hours!

Meals here are late and LONG. The food in Spain is delicious and eating is always a social activity. Lots of great wines and jamon, but if you are a vegetarian, there are quiet a few great options for you too!

One of the main reasons I came Barcelona was because of the ease of travel within Spain and the rest of Europe. The airport is easy to get to so I am always looking for cheap flights out of BCN for a fun weekend excursion.
COUNTRY INFORMATION - MONEY
What are your monthly expenses?

Thanks to the host family I found, I do not spend money on food, rent, or utilities.

Here are all my other expenses...
Social activities: €150 ($160 USD)
Transportation: €30 ($32 USD)
Travel: € 200 ($215 USD)
Phone: €10 ($11USD)

How would you describe your standard of living?

Minimal but comfortable

In your opinion, how much does someone need to earn in order to live comfortably?

€900 ($965 USD)


ADVICE FOR PROSPECTIVE ENGLISH TEACHERS
What advice would you give someone planning or considering teaching abroad? Would you recommend teaching in your country?

Go for it! Teaching in BCN can be competitive because there are a lot of teachers here, but that also means there is a great network. BCN is a beautiful city with so much to offer! I was really nervous before I came here, but it has been such a fun adventure, I wouldn't trade it for anything.


For more on Alice's adventures, read her article Hola, Barcelona!
Founded in 2010, International TEFL Academy is a world leader in TEFL certification for teaching English abroad & teaching English online. ITA offers accredited TEFL certification classes online & in 25 locations worldwide and has received multiple awards & widespread recognition as one of the best TEFL schools in the world. ITA provides all students and graduates with lifetime job search guidance. ITA has certified more than 25,000 English teachers and our graduates are currently teaching in 80 countries worldwide.
Want to Learn More About Teaching English Abroad?
Request a free brochure or call 773-634-9900 to speak with an expert advisor about all aspects of TEFL certification and teaching English abroad or online, including the hiring process, salaries, visas, TEFL class options, job placement assistance and more.