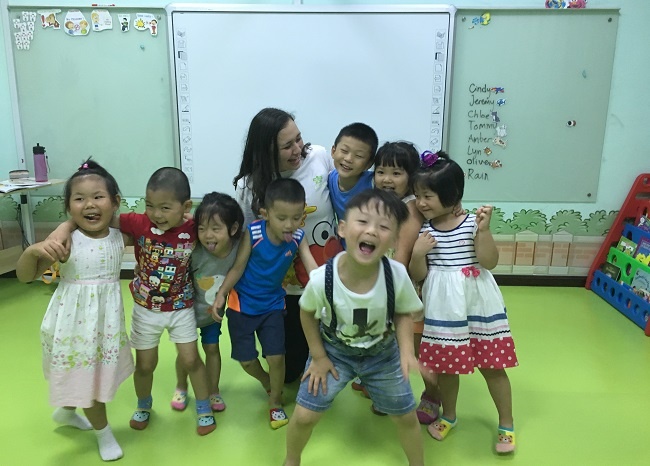 Teaching English in Jiaxing, China: Alumni Q&A with Grace Sommers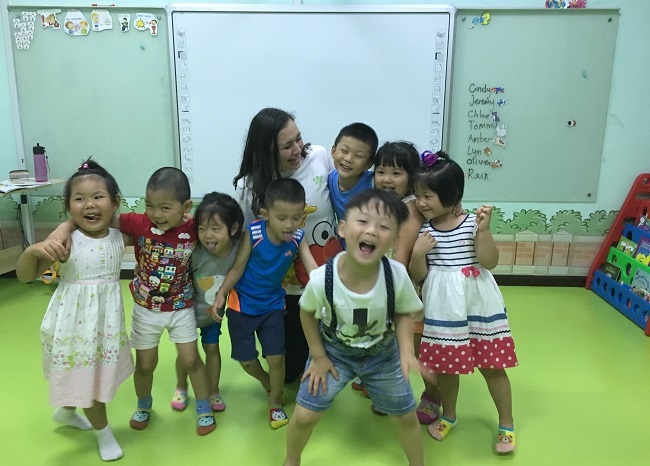 What is your citizenship?

United States

What city and state are you from?

Madison

How old are you?

20

What is your education level and background?

High school, No college

Have you traveled abroad in the past?

Never left the country

What sparked your interest in going to teach English abroad?

Before my senior year in high school, I was teaching at a summer camp where children from all over the world came while their parents studied at the local university during the days. It was there that I realized I enjoyed the challenge and gift presented to a teacher of a classroom of students with different languages, cultures, and lifestyles. A fellow teacher mentioned teaching abroad and how great of an experience it can be while being an affordable way to travel and experience new places. Once I looked into it, there was no changing my mind that that was what I wanted to do with my life...I can now say I do not regret that decision for a minute!

What were some of your concerns before teaching abroad?

The biggest thing was just the lack of information before heading over to an entirely new country and unknown area. Just like any new, big life change, there are the many worries of how things will be there--if the situation would be 100% safe, if the company I signed up to work for would treat me fairly and hold up there side of the bargain, if I was prepared enough to teach people a whole new language, if I would be able to handle the culture shock/home-sickness, etc. Pretty much everything you can think of to worry about could apply when you're up and changing your whole life! Luckily, most of those were just that...worries! It was an amazing, crazy experience and that's part of the adventure: you learn as you go and make thing work for your situation!

What did your friends and family think about you moving and teaching abroad?

People were definitely surprised/skeptical of my plan, especially because I was going right out of high school, but almost all of them supported my dream to teach abroad none-the-less. The help and support I got from my family throughout the process definitely helped make my goal possible!

TEFL CLASS INFORMATION
Why did you decide to get TEFL certified and choose International TEFL Academy?

I decided to get TEFL certified because I knew it would open up a lot of jobs to choose from and especially without a college degree, I knew I would have a tough time finding an employer if I didn't have at least one of those qualifications. I also wanted to be prepared for doing the best job I could if I did find an opportunity overseas, which the class would help me do. I found out about ITA through a simple Google search but after doing my research, I saw they came highly-recommended and their many locations helped me find a class close to me.

Which TEFL certification course did you take?

USA - Chicago

How did you like the course?

The course was a very good experience overall. It is definitely a TON of work but because it's only one month, it's doable, and they keep the course moving quickly from topic to topic which helps. I liked that they gave us a good amount of space to practice teaching with what we learned each day, and I loved the couple times in the later weeks where we got to actually teach real TEFL students who were trying to learn English there in Chicago.

Both of my instructors were great and very different in their teaching styles and backgrounds which kept things interesting and objective. I was lucky to have a great group of peers who practically became my second family throughout that month (after all, we were sometimes spending 13 hours a day together at ITA!). I felt that I learned a ton by the end of the course, including grammar, different learning styles, phonetics, pronunciation techniques, and what it was really like to teach abroad!

How has your TEFL training helped you in your current teaching position?

It helped a lot for remembering the different learning styles and how to teach in my specific country, but because I ended up teaching young children, I didn't really need to utilize all of the grammar and more in-depth English language topics that I'd learned about in the course. More than anything, my ITA course gave me the experience and confidence to do a good job at that teaching position.

Which city and country did you decide to teach English in and why?

I decided to teach English in China in the city of Jiaxing. I had heard that China was a good spot to look if you didn't have a degree and that you would more likely be able to get a job there than other countries while still saving money because of the low cost of living, especially in smaller cities. I was open to pretty much anywhere in China and applied to over 30 jobs online with different China locations, but eventually chose this location because the job seemed like a good fit for me.
How long have you been in this country and how long do you plan to stay?

I taught English and lived in China for eight months, as planned.

During which months does your school typically hire?

All year but late August is best

Did you secure this position in advance of arriving?

Yes

How did you interview for this position?

Skype/Phone Interview

What kind of Visa did you enter on?

Tourist Visa

Please explain the visa process that you went through.

Because of my age and lack of college degree, I pretty much knew from the beginning that I would be teaching semi-illegally (you need to be 22 and have a degree to get a working visa in China). I accepted this and flew over on a tourist visa (L) originally, then three months in as my company had told me before I came, I went to Japan to change my visa to a student visa (X1) which I stayed with for the remainder of my travels there.

What are the qualifications that your school requires for teachers? Please check all that apply

- Native English speaker
- Having a TEFL or college degree is good and helps a lot, but they may hire you regardless

What is the best way to apply?

Email
Tell us about your English teaching job!

My job was good overall, but if I did it again, I would have asked for a higher salary and maybe stand my ground a bit more when it comes to scheduling and such.

Students: My school was a training school which focused on children ages 2-10 so I worked mostly with younger children and had only one group of older kids.

Hours: I worked 40 hours per week and in the beginning, I was only teaching around eight of those, but as the school expanded I taught closer to 15 hours per week which felt like a more steady amount and better use of time.

Salary: I was payed 8000 RMB ($1,250 USD) per month with an apartment included, so it was definitely a good set up for my first job abroad but had friends that made much more in the same city.

Savings: I was able to save around $4500 USD after eight months living fairly cheaply, but still traveling around and having fun.

Other: I was one of two foreign teachers there but had many wonderful fellow Chinese teachers who would help assist our classes and translate, while teaching their own English class to each group once a week as well.

Vacation time: I had a few different paid vacations, the biggest one being for Chinese New Year where we got two weeks paid vacation but also got some shorter ones for Christmas, Dragon Boat Festival, New Years, and more. Despite a few organizational problems, Sesame Street was a very kind company that helped me with many things beyond the typical American company and was a great first teaching job overall!

How did you find somewhere to live and what is it like? Do you have roommates?

My company provided an apartment included in my teaching contract. It was a four bedroom place but looked as though it may have been an old office renovated into an apartment. It was generally pretty nice to have that space, but it did not come with anything but one table and my bed. I originally was living alone but about a month in, my company told me there would be someone moving in with me the following day; she was the first of many fellow teachers (all native Chinese women) that moved in and moved out of that apartment depending on if they were still working at the school or not. I got to know a few of them very well and they became great friends of mine over the course of my stay there.

COUNTRY INFORMATION - FUN!

Please explain the cultural aspects, public transportation, nightlife, social activities, food, expat community, dating scene, travel opportunities, etc...

China is an AMAZING country! It's huge, so I really only got to experience a small section of the culture, food, and opportunity the country has to offer, but what I did see, I fell in love with. My city was located in the mid-Southern are of the East coast only around an hour train ride form Shanghai, Hangzhou, Suzhou, and more. It was a third tier city, so not as big and bustling as places like Beijing but definitely still plenty to do and see and explore. It was a developing city so I had many chances to see China countryside, which can be a very different experience--an opportunity to learn about the history of the country and the languages and different dialects and ways of life.

Despite Jiaxing being a more family-oriented city, it still offered a good amount of nightlife in certain areas and had many nice night markets, weekend events, and restaurants galore. Because of it's Southern influence, the food was generally pretty spicy and very delicious with lots of seafood dishes and of course tons and tons of rice and noodles! The expat community there was small with many many familiar faces at each event/party, but big enough to meet new-comers here and there. Overall, I loved my time in Jiaxing and definitely plan on visiting in the future!

COUNTRY INFORMATION - MONEY
What are your monthly expenses?

Expenses per month:

Rent: free (included in contract)
Food: ~800 RMB ($125 USD)
Social Activities: ~500-700 RMB (depending) (approx. $75 - $110 USD)
Transportation: ~250 RMB ($37.50 USD)
Phone/communication: 80 RMB ($12.50 USD)
Travel: ~200+ RMB (depending)

How would you describe your standard of living?

Generally comfortable. My apartment was not the nicest and was a bit ways out of the city center, but my general day to day was very comfortable, eating out usually once a day, traveling to nearby cities every few weeks and farther on vacation time, and enjoying a casual social life, while still saving a little over half my pay check each month.

In your opinion, how much does someone need to earn in order to live comfortably?

If they want to enjoy their time there and get the most out of the country while they can, I would say ~5000-6000 RMB ($785 - $850 USD) per month is a fine amount to live on comfortably.

ADVICE FOR PROSPECTIVE ENGLISH TEACHERS
What advice would you give someone planning or considering teaching abroad? Would you recommend teaching in your country?

I would say 100% GO FOR IT! It is an experience like no other, and you will learn not only so much more about the world, but so much about yourself as well! I definitely recommend teaching in China but would say it is a country you must go to with an open mind...it is not for those unwilling to let their old customs go for a bit and step outside their comfort zone! The country has so much to offer in culture, food, language, history, and more and more is becoming an incredible choice for the adventurers of the world! :)



Founded in 2010, International TEFL Academy is a world leader in TEFL certification for teaching English abroad & teaching English online. ITA offers accredited TEFL certification classes online & in 25 locations worldwide and has received multiple awards & widespread recognition as one of the best TEFL schools in the world. ITA provides all students and graduates with lifetime job search guidance. ITA has certified more than 25,000 English teachers and our graduates are currently teaching in 80 countries worldwide.
Want to Learn More About Teaching English Abroad?
Request a free brochure or call 773-634-9900 to speak with an expert advisor about all aspects of TEFL certification and teaching English abroad or online, including the hiring process, salaries, visas, TEFL class options, job placement assistance and more.