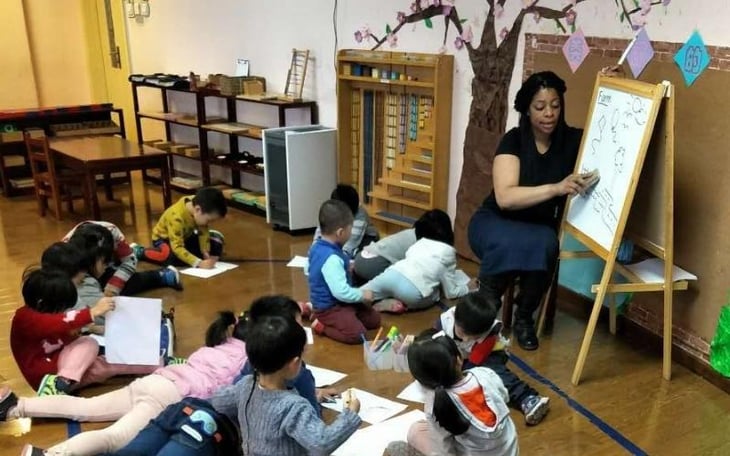 Teaching English in Beijing, China - Alumni Q&A with Mara Fields
What is your citizenship?
United States
What city and state are you from?
Cincinnati, OH, USA
How old are you?
35
What is your education level and background?
Bachelor's Degree.
Have you traveled abroad in the past?
Some international travel with family and friends.
If you have traveled abroad in the past, where have you been?
I have traveled to European countries, France, Austria, Germany, Switzerland and Czech Republic; South America, Rio de Janerio; Asia: Indonesia, Bali; Seoul, South Korea.
What sparked your interest in going to teach English abroad?
I knew that I wanted to teach, but didn't necessarily know what or where. So, after finishing my degree in French, in 2016, I decided I wanted to teach abroad. So, I got my TEFL and began my search.
What were some of your concerns before teaching abroad?
I did not have any real concerns because I was excited to do and learn something new about other people, countries, and cultures. I was more curious than concerned.
What did your friends and family think about you moving and teaching abroad?
My friends were very concerned because they didn't understand why I had to go so far to do the job I want. I explained to them that it's something new that we will all have to adjust to and stay connected throughout the journey. My family was very supportive and excited for my new adventures. They know that I love to travel and learn about other cultures. To ease everyone's mind, I always posted a weekly update on my life wherever I went. Whether it was at my job teaching or a weekend getaway, everyone could be on the journey with me through me.
TEFL CLASS INFORMATION
Why did you decide to get TEFL certified and choose International TEFL Academy?
I decided to get TEFL certified to have another outlet for teaching besides getting a teaching license. I went with International TEFL Academy after doing research and seeing that they were accredited and had many options for courses, it suited me the best.
Which TEFL certification course did you take?
Online TEFL Certification.
How did you like the course?
I liked taking the online course because I prefer taking online courses due to my personal schedule. It was very accommodating and practical. I like that each tasks had a specific lesson to learn. My practicum was great because I got to apply what I learned throughout the course. The instructor was helpful with elaborating on things that were questioned and offered support in any way they could assist.
How has your TEFL training helped you in your current teaching position?
My training prepared me for the hands-on aspect of teaching. From lesson planning to instructional practices, everything was important to the environment that I would be teaching in. It helped shaped my teaching skills as a beginner. Now, I am able to understand my student's needs, strengths and weaknesses to create a lesson that will help them to achieve their goals and be successful.
How long have you been in China and how long do you plan to stay?
I have been living in Beijing, China since 2016 and don't plan on staying longer because I have accepted another job in Poland!
Why did you decide to teach English in this location?
I was contacted by a number of people in China before I accepted my job now and decided that teaching in a large city made me more comfortable. So, I was offered a job in Beijing and accepted.
What school, company, or program are you working for?
House of Knowledge
During which months does your school typically hire?
Schools, in general, in China hire for August school year start and mid-year January. So, they begin looking April or May and October (after national holiday). But, if there is an immediate opening spot, they will hire when needed.
Did you secure this position in advance of arriving?

Yes.

How did you interview for this position?
I had a Skype/Phone interview.
What kind of Visa did you enter on?
Work visa. I had heard things about people going on different visas, so I specifically said that I would not be coming over until my work visa was in order for less complications.
Please explain the visa process that you went through.
I begin with applying for a work visa, on my end, then they also prepared documents and letters that I would need for applying to the US Embassy. Thank goodness, it was a smooth process for me. I just sent the documents and waited.
What are the qualifications that your school requires for teachers?
Bachelor's Degree
TEFL Certification
Native English Speaker
What is the best way to apply?
There wasn't really an application. There was just a posting and I directly emailed the HR, so that I could speak with someone about openings. I think you get a better response via email.
Tell us about your English teaching job!
My job was great! The hours were 7:45am - 4:45pm, but school didn't open until 8:00am and ended at 3:30pm. Planning period was 3:30pm - 4:45pm. As an ESL teacher, I collaborated with Lead teachers in my ESL period for the students.
The type of school is Reggio Emilia methodology. I had previously taught at a Montessori school, so this was right down my alley. The students were PreK and all the same ages, as they learn and study for 3 years with the same teacher(s).
The pay is negotiable. I made and could save more than enough money to travel and pay bills back at home. I could save around $1,500-$2,000 a month.
Vacation time was awesome because there was so much time off. We had the normal holidays that seemed to be extended, so I was happy about that. They also had a short winter/summer camp then the summers would be off. Other companies work through the summer, so I was grateful for my school's schedule.
I am able to save so much because I don't really do a lot outside of work. I socialize every weekend (lunch, shopping) to catch up with my friends, but nothing extreme. With a small amount of money saved, one could travel to the provinces in China and other cities for cheap. So, it was very beneficial to living in Beijing.
style="font-size: 30px;">COUNTRY INFORMATION
Please explain the cultural aspects, public transportation, nightlife, social activities, food, expat community, dating scene, travel opportunities, etc...
Wow. There are some many cultural differences from USA to China. At times, I felt stared at being that I am an African American. It was difficult at times, but then it became normal for people to look at me.
Public transportation can be crazy!!! The trains are packed most of the time, so you learn to use apps like DiDi (similar to Uber or Lyft) to have more personal space.
The food was different due to how prepared or spices ( or lack thereof) used. I was respectful and would try dishes offered to me. The food (at Chinese restaurants) is traditionally served family style and you take what you want with many selections.
I can only speak furthermore about travel opportunities. So, many places I have seen and visited due to living in China. I began small and visited Shanghai and Hong Kong. They were very different from Beijing in being more westernized. Also, a better variety of foods was great for me because I am a pescatarian and so it can be difficult to find certain things and prepare them like in the USA. I had visited South Korea once before and decided to go back. I got to do more touristy things the second time around. The people and culture was totally different than in China.
What are your monthly expenses?
My rent was 6200CNY ($890) which was a modern 1 bedroom and bath. It was a larger apartment compared to those lesser in value.
I would grocery shop and it was around 500CNY ($72) a month.
Utilities were separate from the rent and I could pay however much I wanted to at one time. I could check where the levels were and add money to keep it on. The amount would be around 200CNY ($30).
It was convenient that I stayed in a building where there were small markets, so I could grab small items like toilet tissue, water, etc. I could pay my water for the year at my leasing office.
I would save my money for travel and splurge on accommodations, transportation, tours, and food. I would always have money saved and not used to where I could relocate it to another area such as eating out, DiDi (instead of the train), things like that. It all seems like a lot of money and I could've saved much more, but I wanted to be as comfortable as possible as long as I was living in Beijing.
Also, I lived very close to my job which was very important to me and close to other areas like Sanlitan, Wangfujing, Gumao, and more.
How did you find somewhere to live?
I had roommates before and knew I didn't want any, so I was able to secure an apartment via WeChat apartment groups and realtor agents. They post many pictures, locations, and prices. Easier access for foreigners looking for apartments in China.
How would you describe your standard of living?
My standard of living is high. I want all or close to the comforts of home. It will help me to stay longer in a country if I have comfortable living.
In your opinion, how much does someone need to earn in order to live comfortably?
It depends on your comfort level. For an older, single person I want my own quiet space to live without others. That is what suits my needs. I have lived with 2 roommates and then 1 other roommate and it wasn't for me. It's great for having someone around and cutting rent cost. I think it's a trade-off. I have known some people pay cheap rent, but live far from their job. It might be a 2 hour train ride in exchange for cheaper living.
ADVICE FOR PROSPECTIVE ENGLISH TEACHERS
What advice would you give someone planning or considering teaching abroad? Would you recommend teaching in your country?
I would recommend doing you research on the country that would include teaching, travel, schools, weather, etc. I think everyone should experience something and someplace outside of their norm. I would recommend teaching in China because there are many opportunities. But, always know that you can negotiate anything!
After earning her French degree, Mara was eager to explore the world and no field offered more opportunities than teaching ESL. With a busy schedule, she took ITA's part-time Online TEFL Course and headed to teach English in Beijing, China. Next on her list: teaching English in Poland.
Want to Learn More About Teaching English Abroad?
Request a free brochure or call 773-634-9900 to speak with an expert advisor about all aspects of TEFL certification and teaching English abroad or online, including the hiring process, salaries, visas, TEFL class options, job placement assistance and more.