must read
A 6-Step Plan to Get a Job Teaching English in China in 2021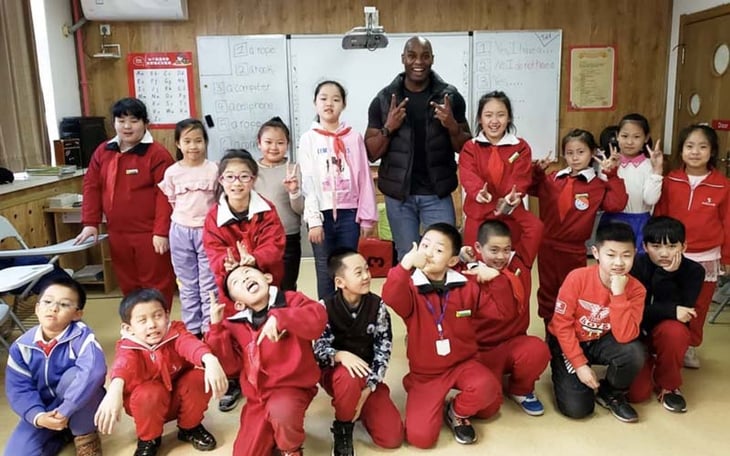 How do I become an English teacher in China?
The word is getting out that China is one of the hottest destinations around the world for teaching English abroad. The job market for teaching English in China is the largest in the world. With over 1.3 billion citizens and an estimated 300 million English learners, China shows no signs that it will relinquish its title as the top job market for English teachers any time soon.
Most people don't think of China as their first choice to teach English abroad, but after learning about the country's incredible opportunities, it's no wonder that it is a popular destination for many International TEFL Academy graduates each year.
Here's why getting a job teaching English in China is great
Ancient culture, stunning natural beauty and uber-modern, high-tech cities
The job market for teaching English abroad in China is the largest in the world
English teachers receive free housing and reimbursed airfare
Make enough to save $600 - $1,750 a month or more after expenses
Interview from home & line up a job in advance
Fantastic travel opportunities throughout Asia
Amazing shopping and cuisine
According to an extensive study conducted by the University of Sussex in the U.K. that examined public attitudes towards professional status, trust, pay and the desirability of teaching as a career, China topped the charts leaving many European nations and the U.S. far behind.
Follow these 6 steps to get hired to teach English in China in 2021
1. Call An Advisor & Begin Your Research
Request a free brochure for teaching English abroad or call 773-634-9900 to speak with an ITA expert advisor to discuss your options and questions about teaching English in China and around the world. All of the Admissions Advisors at ITA have spent time living, traveling and/or teaching abroad. They will work with you throughout your research and will answer questions on up-to-date teaching market information, hiring procedures and timelines, average salary and living costs, education requirements, visa eligibility, and more.
If you already have been assigned to an advisor, send them an email or give them a call to set up a time to talk.
To learn more about teaching English in China specifically, check out the following resources:

Additionally, check out our FAQs & Articles, which feature hundreds of articles about TEFL certification and teaching English abroad, and where you can read numerous firsthand accounts of teaching English in China and dozens of other countries around the world.
2. Enroll in a TEFL Class
Earning your TEFL certification is critical as it will provide you with the skills you need to actually function successfully as a teacher and it will provide you with a recognized qualification that thousands of language schools and institutes in China and around the world seek and require when hiring new English teachers. Even if you are a certified or experienced teacher, unless you have a degree in TESOL, you will still want to get TEFL certified. Also, when you take an International TEFL Academy TEFL class, you will receive the Job Search Guidance you need to get hired in China and other countries around the globe.
Most ITA students going to teach English in China (and elsewhere) take their TEFL certification online or in Chicago (as the job process to interview and get hired to teach English in China takes 1-3 months). This is because schools in China prefer to hire you from your home country and you will need to get your visa processed in advance prior to your departure for China.
The 170-Hour Online TEFL Class is 11-13 weeks part-time so you can get certified while going to school or working full-time.
You receive Job Search Guidance during the course, so you can begin your job search for positions in South Korea & elsewhere while you get certified.
The online TEFL class is the most cost-effective way to earn your TEFL certification.

The Chicago TEFL Class is 4 weeks in-person and represents the quickest path to certification. You can also begin working with ITA advisors on your job search during this class.
Here is a complete list of Course Dates & Tuition for Online TEFL Classes
Here is a complete list of Chicago TEFL Class Dates & Tuition
3. Prepare For Your Job Search
The ITA team will help you conduct your job search successfully:
Prepare your resume and cover letter (ITA Student Affairs can help!)
Use ITA's resources to connect with recruiters and find job listings.
Apply whenever you're ready because Chinese schools hire year-round.
4. Interview & Apply for Positions
The interview process for teaching positions in China is usually done over the phone or Skype, in fact, the whole hiring process generally occurs while you're on home soil. Typically you can begin this process once you have begun your TEFL class.
International Academy advisors in the Student Affairs Department will assist you in preparing for your interview and often any recruiter that you are working with will assist you with arranging and preparing for interviews.
5. Sign A Contract, Make Travel & Visa Arrangements
Once you receive a job offer that you want to accept, you will need to sign a contract, and then file documents to receive your visa. Your new employer and the recruiter you are working with will typically assist you with arranging the necessary documents. Your employer will also work with you to make flight arrangements.
6. Hop On a Plane to China and Begin Your New Adventure!
Here you have it! With ITA's help, you are now TEFL certified and are ready to teach English in China.
John Bentley is Co-Founder & Senior Writer for International TEFL Academy (ITA), the world leader in TEFL certification for teaching English abroad. A graduate of Harvard University and the Medill School of Journalism at Northwestern, John is a recognized expert in the field of TEFL. His articles have appeared across the field's top websites, including GoAbroad.com, StudyAbroad.com, InterExchange, GoOverseas.com, Adventure Teaching, & many others. He has also spoken as an expert on Teaching English Abroad & TEFL certification at major conferences like MeetPlanGo and Lessons from Abroad (LFA) in Portland & San Diego.
Want to Learn More About Teaching English Abroad?
Request a free brochure or call 773-634-9900 to speak with an expert advisor about all aspects of TEFL certification and teaching English abroad or online, including the hiring process, salaries, visas, TEFL class options, job placement assistance and more.