must read
What is the Salary for an English Teacher in China?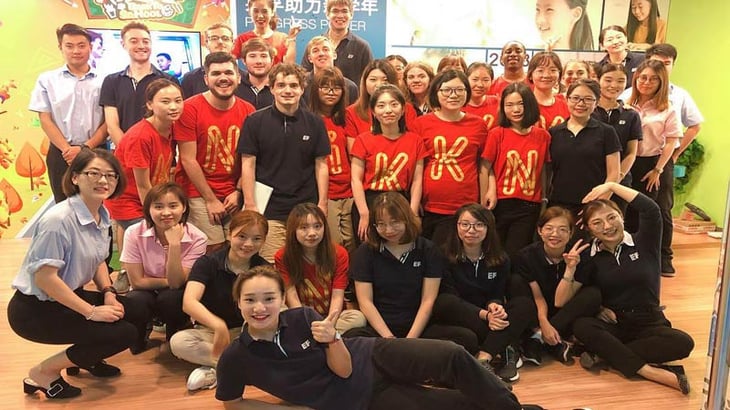 The salary of many people teaching English in China is enough to save between $600 and $1,750 a month.
Boasting the world's fastest-growing economy and home to 300 million English students, China represents the largest and one of the most lucrative job markets on earth for teaching English abroad. Given the scope of China's market for English language instruction, how much an English teacher can make in China varies widely based on the types of jobs and employers, but most first-time English teachers in China from the U.S., Canada, the U.K. or other native English-speaking countries typically make between 8,000 RMB ($1,200) to 18,000 RMB ($2,600) per month, and some make earn more than that.
Many English teachers in China also receive free housing, or a stipend (typically 3,000 RMB per month) to cover housing costs and some also receive free or reimbursed airfare.
What does this mean to me in real terms?
While such salaries may not be high in absolute terms compared to what you may consider to be a high salary in your home country, because the cost of living in China is lower and housing costs are provided for, most English teachers in China are able to make enough to save the equivalent of $600 - $1,750 a month after expenses, and some teachers are able to save more than $1,500 a month after expenses or up to $20,000 a year.
Why Can I Save so Much?
Lower Cost of Living
A lower cost of living in China (which is roughly 50% of the cost of the US) means that your salary goes farther and it is easier to save. Note that salaries are often lower in regions where the cost of living is also lower, so you can still save a substantial portion of your income.
Housing Costs are Often Covered
Most Americans pay 25%-35% of their monthly income in rent and other housing-related costs, so if your housing costs are covered, as they are for English teachers in China, you will be able to keep more of your income each month.
Employer Covered Health Insurance and Paid Vacation
Many English teachers in China also receive health insurance and paid vacation.
Tips for Saving Money Teaching English in China
Receiving training and holding a recognized TEFL certification will qualify you for more many more jobs, especially better-paying jobs.
China was once known as a country where virtually any English speaker could get a job regardless of whether they had any teaching experience or training, but that's simply no longer the case. In recent years, both schools and the Chinese government have substantially raised standards and tightened hiring requirements and now most schools will not hire you off the street simply because you speak English.
In many provinces it is now the law to have a TEFL class of more than 120 hours and the trend is for this to become the law everywhere.
Many schools in China already require a 120-hour TEFL certification, and many schools automatically pay higher salaries to those who do hold a recognized TEFL certification.
Research and Explore Your Options
Every year, tens of thousands of English teaching jobs need to be filled across China in thousands of schools, language institutes, preschools and universities. You will avail yourself to more options and more opportunities to land a great position with an excellent salary and benefits if you make an effort to explore your options. This means looking at lots of job boards, talking to a variety of recruiters and applying and interviewing for a variety of different teaching jobs.
Also, conduct as much research as you can on different schools (including their reputations – speak to current teachers if possible). You should also research individual regions where you are considering teaching, including the local cost of living, which can vary widely between different cities and regions across China.
Choose the Right Job - Be Patient and Selective in Your Search
There is a shortage of qualified native-speaking English teachers in China and especially for those of you who are native English speakers with a college degree and a TEFL certification, the first job offer will not be the only job offer that comes your way. Unlike elsewhere in a challenging economy where job seekers will take any offer that comes their way, those qualified to teach English in China will have their choice of positions and it can really pay off to be patient and to explore your options.
Take on Private Students
The Chinese highly value education and there are hundreds of millions China's nouveau riche and middle class who are willing to spends tens of thousands of dollars a year providing their children with private English lessons from native English-speaking tutors – particularly those with a TEFL certification. Many foreign English teachers in China can make double per hour giving private lessons compared to their hourly wage at the school where they teach and many English teachers in China can make the equivalent of an extra $10,000 or more a year giving private lessons.
Learn to Live and Shop Like a Local
From 30-cent rides in state-of-the-art subways to groceries, travel and nearly every other basic good or service, the cost of living in China is a fraction compared to the U.S. This is one major reason why it is possible for foreigners in China to make and save money. That said, as an expatriate living in a foreign country, it's easy to fall into the trap of hanging out, eating/drinking and shopping at "foreigner-friendly" establishments and that usually means paying over-inflated "foreigner" or "tourist" prices. You will save a ton more money if you learn how to take public transportation, shop at local Chinese markets, and also if you avoid pricey restaurants, bars and nightclubs.
John Bentley is Co-Founder & Senior Writer for International TEFL Academy (ITA), the world leader in TEFL certification for teaching English abroad. A graduate of Harvard University and the Medill School of Journalism at Northwestern, John is a recognized expert in the field of TEFL. His articles have appeared across the field's top websites, including GoAbroad.com, StudyAbroad.com, InterExchange, GoOverseas.com, Adventure Teaching, & many others. He has also spoken as an expert on Teaching English Abroad & TEFL certification at major conferences like MeetPlanGo and Lessons from Abroad (LFA) in Portland & San Diego.
Want to Learn More About Teaching English Abroad & Online?
Request a free brochure or call 773-634-9900 to speak with an expert advisor about all aspects of TEFL certification and teaching English abroad or online, including the hiring process, salaries, visas, TEFL class options, job placement assistance and more.