Happy Chinese New Year - Teaching English in Asia During Holidays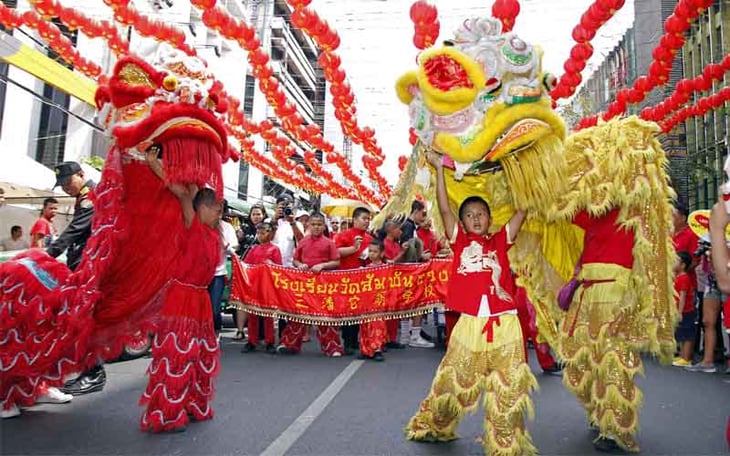 Greetings to nearly 2 billion people in China, Asia and throughout the world who are celebrating the Lunar New Year, the most important holiday of the year for millions from Shanghai to Singapore. Centuries old and based in ancient Chinese myth and tradition, the "Spring Festival" as it is known in China is a two-week celebration centered around family gatherings, special foods and other traditions that vary from region to region. Many of these customs revolve around the ideals of reflecting on oneself and ushering in good fortune for the New Year. The Lunar New Year in 2021 begins on February 12 and is the Year of the Ox. From China, Korea and Vietnam to Taiwan and Malaysia, this holiday is a cultural focal point in many of the most popular destinations for certified English teachers.
Here are just some of the countries where this holiday is being celebrated and where you could be living and teaching English this year.
China: Many people will clean their houses, and families will gather to feast on duck, fish and sweets. Children receive money in red envelopes symbolizing good luck and the two-week celebration typically ends with the Red Lantern when colorful lights are hung throughout the community.
Taiwan: Posters depicting various gods and spirits are posted on doors to drive away evil spirits and temples are crowded with worshippers gathering to burn incense and present offerings to ensure good fortune in the New Year.
Hong Kong: The city's flower markets are in full bloom as residents purchase elaborate bouquets for friends and relatives. Gathering for large family meals in traditional restaurants prior to New Year Day is another ritual that many Hong Kong residents engage in to celebrate the annual holiday.
Vietnam: The Vietnamese celebrate Tet – as the holiday is famously known – by gathering for a dinner of traditional foods like bánh ch ung (a square cake made of sticky rice stuffed with beans and pork), mang (a soup of boiled bamboo shoots and pork) and xôi gấc (orange sticky rice). It is also common to see the streets filled with people on bicycles and motorbikes carrying home a traditional "Tet tree" or tac, which is a cone shaped fruit tree with miniature oranges.
The Lunar New Year is also celebrated in such countries as South Korea, Malaysia, Indonesia and Thailand. Many of these nations represent some of the best job markets and most exciting destinations in the world for English teachers. Indeed, in most East Asian countries, English teachers can expect to make enough to save 30%-50% of their salary after expenses, and in some countries schools will also provide free housing and/or free airfare from the teacher's home country. Read more about some of these countries Top 5 Countries to Make the Most Money Teaching English Overseas.
John Bentley is Co-Founder & Senior Writer for International TEFL Academy (ITA), the world leader in TEFL certification for teaching English abroad. A graduate of Harvard University and the Medill School of Journalism at Northwestern, John is a recognized expert in the field of TEFL. His articles have appeared across the field's top websites, including GoAbroad.com, StudyAbroad.com, InterExchange, GoOverseas.com, Adventure Teaching, & many others. He has also spoken as an expert on Teaching English Abroad & TEFL certification at major conferences like MeetPlanGo and Lessons from Abroad (LFA) in Portland & San Diego.
Want to Learn More About Teaching English Abroad & Online?
Request a free brochure or call 773-634-9900 to speak with an expert advisor about all aspects of TEFL certification and teaching English abroad or online, including the hiring process, salaries, visas, TEFL class options, job placement assistance and more.