Teaching English in Beijing, China: Alumni Q&A with Kevin Neumann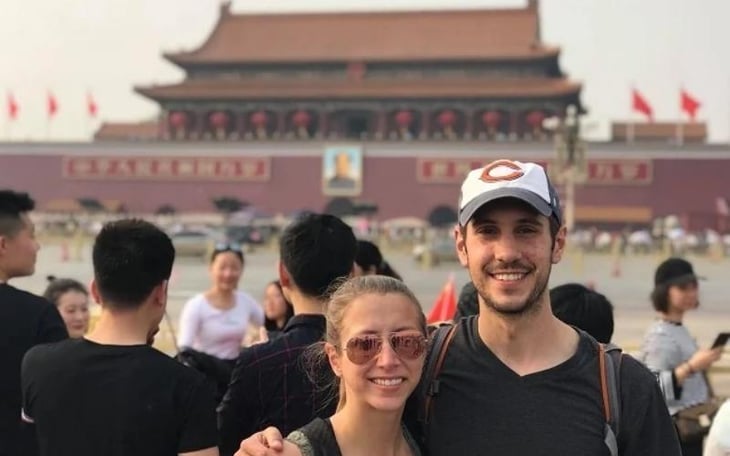 What is your citizenship?

United States

What city and state are you from?

Chicago, IL

How old are you?

28

What is your education level and background?

Bachelor's degree
Have you traveled abroad in the past?
Studied abroad

If you have traveled abroad in the past, where have you been?
Canada, Mexico, Austria, England, France, New Zealand, Cuba, Qatar, South Africa, Hungary, and more
If you have studied abroad in the past, where did you study?

I went to high school in Austria and university in New Zealand.

What sparked your interest in going to teach English abroad?

Speaking to an old coworker in Chicago who had worked in Germany at a hotel that focused on English language service, that made me want to try to work abroad. My cousin is half Chinese and works teaching in China; he ultimately convinced me that I should go the TEFL route. Ultimately I was unsatisfied with my corporate sales job and wanted to have much more time to travel as I'd always known it was a passion.

What were some of your concerns before teaching abroad?

Most of my concerns revolved around leaving my comfort zone. I may not have been satisfied with my work life but it was a good job and I was doing well financially. It was a major challenge for me personally to give that up, sell my car, sublet my apartment and move all my stuff to my parents house.

What did your friends and family think about you moving and teaching abroad?

My friends were all very supportive. I heard "I wish I could do that" A LOT, and I still do. I always just tell people that they're no different from me; I just bit the bullet and did it. My parents were a mixture of supportive and concerned. I think mostly they thought something bad would happen to me in China. They didn't want their only child to be so far from home as well. Of course, they were also supportive and helped me however they could - they still do. But just about every time I video chat my mom, she asks when I'm moving home. The rest of my family was nothing but supportive.

TEFL CLASS INFORMATION
Why did you decide to get TEFL certified and choose International TEFL Academy?

After doing research about how to teach abroad and talking with my cousin who had been doing it for many years, getting a TEFL certification was the clear choice. A TEFL certification allows me to teach just about anywhere, and I like that flexibility. I chose ITA for a few reasons. One, proximity to my house. I lived about a mile from the office in Chicago so it was easy to stop in if I wanted to despite doing the online TEFL course. The online option fit my schedule while still working full time and maintaining my life. I thought the price was fair, and the reviews I read were all very good. I am happy with the choice.
Which TEFL certification course did you take?

Online TEFL Course

How did you like the course?

I liked the course. The instructor I had was very informative and provided detailed feedback. Clearly she had a lot of experience and helped me think differently or more clearly about the work I was submitting. The tasks were very well focused to put me in the right mindset. I was not an English major in college, and I worked for 4+ years in a corporate environment, so it was helpful for me to begin thinking like a teacher in a classroom! There were issues and subjects I never would have thought about had I not gone through the program.
The practicum was the best part for me. It's one thing to talk about a subject, to read about it, etc., but actually practicing was invaluable. I did my practicum at the Erie House and worked with immigrants prepping for their Citizenship test, as well as working 1 on 1 with mostly adults. It helped me sort out my methods but also provided a powerful and personal experience hearing some of their stories and struggles.

How has your TEFL training helped you in your current teaching position?

The biggest area I think TEFL has helped me is time management and keeping students engaged if they have different levels of English. Time management is so important in the classroom. You have a limited amount of time and a lot of goals in mind, so staying on track is key. Knowing how much time might be too much for certain activities (leading to bored students) or not enough (leading to confused students) keeps my classes balanced and efficient. Throwing different types of tasks at my students to again, be balanced, keeps my class fresh and also engages students differently playing to their differing strengths and weaknesses.

Which city and country did you decide to teach English in and why?

I decided to teach English in China in the city of Beijing. Beijing is a well rounded place to live. There is a lot of history, and a lot of modern comforts. There is a large expat and international community. Living in a smaller city before, I was pretty bored and not finding much that I liked about it. Beijing also pays more, and offers more opportunities to earn extra money than a place like Foshan. I chose China overall because of a few factors. Pay, time off, and working hours. It seemed to have the right balance of these three things versus other countries that I considered (Japan, Thailand, South Korea).
How long have you been in this country and how long do you plan to stay?

I have been in China for about two years. First in Foshan, Guangdong, for a year and now in Beijing for one year. I just began my second contract in Beijing and third overall; it will keep me here until June 2019. I think after this contract I will move elsewhere and continue teaching. I can see myself doing this for another two years depending on where I go.

What school, company, or program are you working for?

Capital University of Economics and Business

During which months does your school typically hire?

Spring/Summer to begin in August

Did you secure this position in advance of arriving?

Yes

How did you interview for this position?

Skype/phone interview

What kind of Visa did you enter on?

Work Visa

Please explain the visa process that you went through.

Entering in 2016 was easier than it is now. I basically got all of the documents in line, sent signed copies to my future employer, then they mailed a visa application form to me. I took it to the embassy and again got my documents in line. I had to get a health check from my doctor and a background check from the state of Illinois. That was my original Z visa. Transferring it to Beijing was easy and my school handled everything.

What are the qualifications that your school requires for teachers? Please check all that apply

Bachelor's degree

What is the best way to apply?

Email
Tell us about your English teaching job!

Pay: I work for a public university and my pay is as follows:
- 16 teaching hours, no office hours
- 13,000 RMB / month ($1,875 USD) + either a 5,000 RMB ($725 USD) housing allowance OR free apartment - 600 RMB ($85 USD) allowance for travel
Vacation time: I get A LOT of time off, about two months summer and two months winter + all Chinese public holidays. I've never worked on a Monday at this school either.
We are paid for 11 months out of the year in full, and if you sign another contract you are paid for the full 12 months. Again, full pay.
Ability to save: I save 500 RMB ($75 USD) in cash per month (emergency fund), and $500 USD per month that my family so kindly takes out of my account with a Chinese debit card I left in America.
Hours & students: I have 8 total classes per week with 25-40 students per class - mostly they are 2nd year students (20 years old)

How did you find somewhere to live and what is it like? Do you have roommates?

My school owns the building that I live in, so it was quite easy as I take their free apartment offer. It's in a great location in Beijing near two popular areas (Sanlitun and central business district). If you choose the housing allowance, they do not officially help you, but my direct boss usually helps everybody out. I have a roommate, but it's my girlfriend (we work together). This benefits us because I take the apartment, and she takes the housing allowance which we split. So our take home pay is 16,100 ($2,325 USD) each instead of 13,600 ($1,950 USD).
COUNTRY INFORMATION - FUN!
Please explain the cultural aspects, public transportation, nightlife, social activities, food, expat community, dating scene, travel opportunities, etc...

Culture: China is vastly different than America culture-wise. On one hand, I find that people are very friendly and want to help you out as a foreigner. Generally people are welcoming and want to show you their country or their culture. On the other hand China can be a difficult place due to culture. It's all about getting ahead - whether that means financially or just in a line of people. It can come off as rude or harsh at times. You must watch what you say as anything negative coming from a foreigner about the country is not going to be well received. Work wise, the culture is frankly difficult. Problems are not dealt with in a manner any Westerner will be used to or appreciate. Information is often late, wrong, or "half true". Your best bet is to just accept and not fight it—let China do its thing. It usually works out.
Transportation: Great. Beijing has one of the worlds biggest subway systems, and it's growing. You can take a bus to any odd end of the city too. It's all cheap. Taxis and the Chinese version of Uber are abundant (the Didi app is in English too!)
Nightlife: You can do anything you want here. English comedy? Check. Dance club? Check. Movies (English)? check. Sports? Check. Bars? Check. Cooking classes? Check. Really, anything you want, it's here.
Social Activities: Also, as above, it probably exists here. I play lacrosse with a large group of both expats and locals. There are leagues for any sport you want. There are WeChat groups that are both general and specific to your liking that really aid in getting connected here. I've done acro yoga on the Great Wall, taken cooking classes, attended a coffee festival, a pizza festival, a spicy foods festival....
Food: All the Chinese food you want from all around China is here. All of the food from the rest of the world is also here (although a bit more expensive).
Expat Community: A+
I have never encountered such a welcoming and helpful group of people. They go out of their way to answer questions, help fellow expats, and get connected.
Dating scene: I can't really comment on this as I came to China with my girlfriend, but I would imagine that between the 65,000+ foreigners in Beijing and the local community, dating should be pretty easy.
Travel opportunities: Abundant. I have traveled A LOT in China and outside of it. With four months per year off, I've been all through Asia. I take weekend trips through China too. Beijing is a perfect hub with the high speed rail network and two, soon to be three airports.
COUNTRY INFORMATION - MONEY
What are your monthly expenses?

Rent: Free - but Beijing IS expensive for rent unless you live outside of the 4th ring road where costs go down.
Food: 2500RMB / month ($365 USD) or more - I shop at import groceries and buy a lot of food from individuals who make it (like a guy from Lebanon who makes falafel).
Social activities: Depends on the time of year. I don't go out a lot but I spend money on things like classes and lacrosse. Could range from 500-1500 RMB ($75 - $215 USD) per month
Transport: Very little - we bought an E-Bike for about 7500 RMB ($1800 USD) nine months ago and therefore don't use much public transit. I maybe spend 100RMB ($15) a month on the subway, and 200 RMB ($30 USD) on Didi or taxis.
Phone: 100 RMB/month ($15 USD) - 8GB data
Travel: During my time off, we do spend a lot on travel. Airfare can range from 2500 RMB to 5000 RMB ($360-$720 USD) round trip flying to Southeast Asia. Generally in-country expenses are low as the RMB is stronger than most currencies in the region (Thailand, Cambodia, Vietnam, Philippines, etc)

How would you describe your standard of living?

High - My apartment is in a great location and was freshly renovated before we moved in. I have enough money to save some USD and pay my student loans off. I have enough money and time to travel and see whatever I want to see within reason. Beijing offers so much in the way of activities and easy access to transportation. The biggest drawback here is obviously the air quality. Smog sucks; there's no way around it. But it has been improving even in the year+ that I've lived here, so hopefully that trend continues. It can also feel really crowded at times which may not suit everyone, but then again, don't come to China if you don't want to live in a crowded place.

In your opinion, how much does someone need to earn in order to live comfortably?

In Beijing, 15,000 ($2,175 USD) if you are paying rent. Expect to pay around 5,000 - 8,000 ($725 - $1150 USD) for rent in less popular and outer areas of the city. Though there are schools paying much more, upwards of 20,000 RMB ($2,900 USD). My best advice is to find a school that gives an allowance or houses you.


ADVICE FOR PROSPECTIVE ENGLISH TEACHERS
What advice would you give someone planning or considering teaching abroad? Would you recommend teaching in your country?

Aside from visiting the country first, talk to people who live there. Especially talk to teachers at any school you consider working for!


For more on Kevin's adventures, check out his blog!
At age 28, Kevin quit his corporate sales job to get TEFL certified & teach English in China. It was not Kevin's first time abroad as he went to high school in Austria and had traveled extensively in Africa, Europe, Latin America, & the Middle East. In hits Q&A, Kevin discusses life as an English teacher and gives Bejing high marks for its great infrastructure, the thriving ex-pat community, and also its fantastic culinary diversity. He also appreciates the travel opportunities in China and the region.
Want to Learn More About Teaching English Abroad & Online?
Request a free brochure or call 773-634-9900 to speak with an expert advisor about all aspects of TEFL certification and teaching English abroad or online, including the hiring process, salaries, visas, TEFL class options, job placement assistance and more.