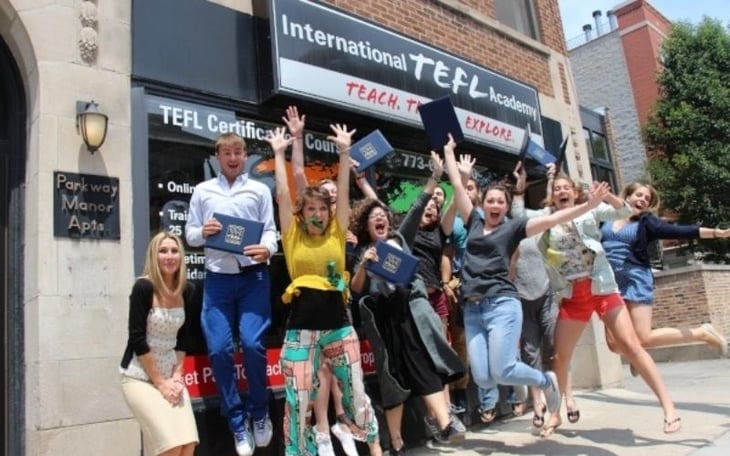 6 Reasons to Take International TEFL Academy's Chicago TEFL Course
So, you're considering getting TEFL Certified in Chicago and then hopping on a plane to travel the world and teach English abroad? Awesome, great plan.
That means you're after an internationally accredited TEFL certification, comprehensive job search guidance, and access to exclusive ITA alumni networks?
Perfect, you're in the right spot!
The 4-week Chicago TEFL course is held at the ITA worldwide headquarters. Year after year, the Chicago class is one of ITA's most sought after TEFL certification options.
Here are 6 Reasons Why You Should Take Your TEFL Course In Chicago:
6. Chicago!
What else needs to be said here, honestly? The Windy City. The City of the Big Shoulders. Home of Michael Jordan, Walter Payton, Frank Lloyd Wright, and the 44th President of the United States, Barack Obama.
From ground-breaking architecture and cutting-edge cuisine, to exciting nightlight and venerable sports teams like the 2016 World Series Champion Cubs, Bulls, Blackhawks, and the Bears (work in progress, we know!)
The ITA HQ is located in the heart of Chicago's North Side in the dynamic neighborhoods of Lakeview and Lincoln Park.
With the Diversey Brown Line "El" (subway/metro) stop just steps away, public transportation is easily accessible. It's a quick 15 minute ride to "The Loop" in downtown Chicago, which is home to the city's greatest architectural and cultural landmarks, including Michigan Avenue, the Art Institute of Chicago, the Field Museum, Soldier Field, the Willis Tower (famously known as the Sears Tower), and hundreds of world-class restaurants, shops and bars.
5. Pre-enrollment advice from trained and seasoned world travelers.
Before you decide if teaching abroad is for you, it's crucial to speak to an ITA Admissions Advisor who has "been there and done that." All International TEFL Academy advisors and staff have lived, worked, and traveled the world with combined first-hand experience in more than 80 countries worldwide.
All advisors receive extensive, ongoing training to provide you with the information you need to know before you "sign on the dotted line, and go for it". They will advise you and answer your questions concerning job markets for English teachers worldwide, including hiring seasons, degree requirements, citizenship requirements, work visas and hundreds of other topics country-by-country.
They are dedicated to working with each student to ensure they develop the right expectations and a clear understanding regarding every aspect of teaching English abroad, including selecting the right TEFL certification course. Check out our
Meet the Team page
to learn more about the ITA Staff and who you'll be working with along the way!
4. Instruction provided by highly qualified and experienced university professors.
Chicago TEFL classes are taught by university-level instructors. Every professor will hold at least a Master's Degree in Education or TESOL (Teaching English to Speakers of Other Languages) or higher; a high percentage of instructors will also hold a PhD. But International TEFL Academy professors are not only highly qualified, each possesses a passion for education and teaching English that is borne out in the enthusiasm and drive that they bring to class each day.
Check out the Meet The Professors Page to learn more about all of the ITA instructors!
3. Live practice teaching with local ESL students
Live practice teaching with ESL students is a critical element for any accredited TEFL course. This is not roleplaying with other teachers in training. Accrediting bodies will not recognize TEFL certification courses that do not incorporate live practice teaching and the vast majority of schools and language institutes around the world will not hire you if your TEFL certification course does not include live practice teaching.
Established international standards maintained by accrediting bodies hold that a professional-level TEFL certification must incorporate at least 6 hours of live practice teaching. Practice makes perfect and the best way to gain the skills you need to become the best English teacher is to practice teaching English with live ESL students.
During your International TEFL Academy TEFL certification course in Chicago, you will engage in live practice teaching with local ESL students from over a dozen different nationalities on an almost daily basis throughout your course. You will not only practice the methodologies and techniques that you will learn in the class; you will also become comfortable working with students from different cultural and linguistic backgrounds, including some who don't speak English at all. Achieving this comfort level will prove invaluable when you actually arrive abroad to begin teaching English on a professional level.
2. Comprehensive job search guidance, including workshops and seminars on finding English teaching jobs around the world.
All International TEFL Academy students receive lifetime job search guidance from our Student Affairs Department. Our Student Affair's Representative's conduct workshops covering critical aspects of the job search process for teaching English abroad, including resume and cover letter development, the interview process, and specific job markets in Asia, Europe, Latin America and the Middle East.
In addition to the assistance during the Chicago TEFL class, students will receive lifetime job guidance following completion of their class finishes, including the ability to work with advisors on an individual basis.
Materials: Graduates also receive a 300+-page job search manual, contact information for top recruiters and more than 10,000 schools around the world, links to hundreds of specialized ESL job boards and list of top governmental English teaching programs worldwide.
1. Earn a Top-Level, Internationally Accredited TEFL Certification
To set yourself up for the best possible jobs teaching English abroad and to best prepare yourself to perform as a professional-level English teacher, you need to receive the best training possible.
International TEFL Academy's Chicago TEFL certification course exceeds international standards as set forth by leading accrediting bodies (as well as thousands of language schools worldwide) for both the number hours of academic training and coursework (160 hours – international standard is 100 hours) and practice teaching (international standard is 6 hours).

This state-of-the-art curriculum incorporates all aspects of teaching English as a foreign language including teaching methodologies and techniques, lesson planning, classroom management, teaching English to business learners and children, and more.
Due to the high standards met and exceeded by this course, it is accredited as a QCF Level 5 course. QCF Level 5 is the highest level of accreditation for TEFL certification and is recognized as the benchmark for objective quality assurance for TEFL courses by schools and language institutes worldwide.
Read more about International TEFL Academy's accreditation
---
Watch the video below and see what's it's like to take our Chicago TEFL Course thanks to ITA student Mike Verdi!
John Bentley is Co-Founder & Senior Writer for International TEFL Academy (ITA), the world leader in TEFL certification for teaching English abroad. A graduate of Harvard University and the Medill School of Journalism at Northwestern, John is a recognized expert in the field of TEFL. His articles have appeared across the field's top websites, including GoAbroad.com, StudyAbroad.com, InterExchange, GoOverseas.com, Adventure Teaching, & many others. He has also spoken as an expert on Teaching English Abroad & TEFL certification at major conferences like MeetPlanGo and Lessons from Abroad (LFA) in Portland & San Diego.
Want to Learn More About Teaching English Abroad?
Request a free brochure or call 773-634-9900 to speak with an expert advisor about all aspects of TEFL certification and teaching English abroad or online, including the hiring process, salaries, visas, TEFL class options, job placement assistance and more.