tefl certification
Does TEFL Certification Expire?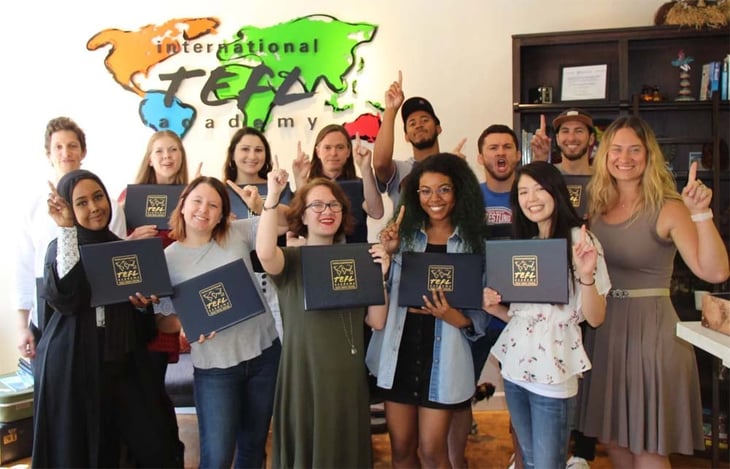 No, an accredited TEFL certificate does not expire and never needs to be renewed. After completing your TEFL certification course and obtaining your TEFL certificate you can start looking for work right away, and you never have to worry about renewing your certificate in the future.
Completing your TEFL certification, either in person classes or online, should be the first thing on your list before you teach English abroad, but once it's done, it's done. You have the freedom and flexibility to put it to use immediately teaching English abroad or to simply check it off on your to-do list as the first step towards your adventure.
How long does TEFL certification last?
Like a college degree, your TEFL certification is a qualification you will possess for the rest of your life. You never have to take additional training or coursework to renew it and it does not have an expiration date.
You can teach English in Mediterranean Europe in your twenties and then retire as an English teacher in a coastal city in Southeast Asia in your fifties. It is your golden ticket to use for the rest of your life whenever you wish to teach English abroad.
Does the job search guidance expire?
At International TEFL Academy, with your lifelong TEFL certification, you also enjoy access to lifelong Job Search Guidance. This means that if you teach in one country and then in one year, three years or five years, you decide that you wish to teach in a different country, you will be able to count on the resources, contacts and expertise of ITA's job search guidance to assist you in finding opportunities teaching English abroad all over the globe. As a graduate of International TEFL Academy, you will enjoy lifelong access to the following resources.
Personal guidance from an experienced Job Search Advisor - Our expert Job Search Advisors are available to speak with you and correspond by email to address all of your questions and to assist you with every aspect of your job search from writing your resume/CV and cover letter, to coaching you on the interview process in different markets, to helping you assess which destinations might be the best fit for you.
ESL job search manual: All of our graduates receive a manual detailing all relevant information for major job markets around the world, including hiring seasons, academic standards, and the interview process as well as templates for resumes and cover letters. This manual also incorporates extensive listings of online resources, including nearly 100 ESL international job boards listing thousands of teaching opportunities around the world. ESL worldwide school directory: We will send you a directory of more than 20,000 schools worldwide that you can contact directly regarding employment opportunities. Referrals to preferred recruiters, placement agencies, and language schools: International TEFL Academy enjoys strong relationships with schools, recruiters, and placement agencies throughout the world.
Founded in 2010, International TEFL Academy is a world leader in TEFL certification for teaching English abroad & teaching English online. ITA offers accredited TEFL certification courses online & in 21 locations worldwide and has received multiple awards & widespread recognition as one of the best TEFL schools in the world. ITA provides all students and graduates with lifetime job search guidance. ITA has certified more than 35,000 English teachers and our graduates are currently teaching in 80 countries worldwide.
Want to Learn More About Teaching English Abroad?
Request a free brochure or call 773-634-9900 to speak with an expert advisor about all aspects of TEFL certification and teaching English abroad or online, including the hiring process, salaries, visas, TEFL class options, job placement assistance and more.