tefl certification
What Can I Do With a TEFL Certification?
What jobs can you get with a TEFL certificate? What does a TEFL certificate enable you to do? Learn how earning your TEFL certification can literally open a world of opportunities for you both personally and professionally.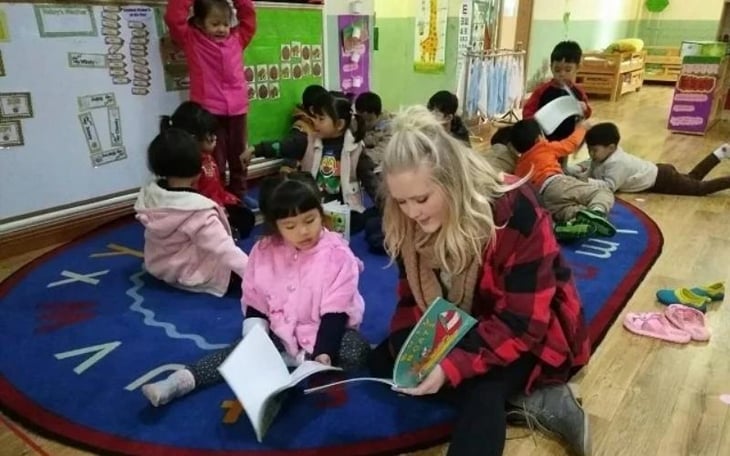 Are you considering teaching English abroad but wondering if earning your TEFL certificate is worth it? Do you question whether a TEFL certification can actually open doors for you professionally and personally? The fact is that a TEFL certification can provide you with skills and a qualification that can help you see the world and make a difference as an English teacher at any stage of life.
You're TEFL Certified. Now What?
With an accredited TEFL certification, an English speaker can get paid to teach English in up to 80 countries worldwide from Costa Rica to South Korea. You can also get hired to teach English online, start an English tutoring business, and teach locally or abroad on a volunteer basis.
What Can I do with a TEFL Certificate?
Now let's look at the jobs you can get with a TEFL certification in detail:
As an English speaker with a TEFL certification, schools and students around the globe will seek your services and guidance as a professional or volunteer English teacher. Let's delve into some more details.
1. Get Paid to Teach English Abroad
Naturally, the first question on your mind should be "where can I work with a TEFL certificate?" Or more precisely - where can you teach with a TEFL certificate? Well, how about getting paid to live in a country like Costa Rica, Spain, or Japan? With more than 1.7 billion people learning English worldwide, the demand for native English-speaking teachers is so high that virtually any native English speaker (and many non-native speakers) can teach English abroad professionally with an accredited TEFL certification. Even without a background in education or a college degree, it's typically not a matter of whether you can get a job teaching ESL abroad but which job in which country is the best fit for you.
If you are looking for short-term opportunities, there are many English summer camps around the globe seeking out TEFL-certified teachers. You can also find numerous volunteer opportunities abroad and in your local community (see below).
Can I teach English abroad without a college degree?
Even without a college degree, a native English speaker who earns an accredited TEFL certification can viably teach English in up to 50 countries worldwide and online. Download your free Guide to Teaching Abroad without a Degree to learn more.
How much can I earn teaching English abroad?
Salaries and benefits for English teachers abroad vary widely based on the type of job, country, level of experience, and other factors. Generally speaking, first-time English teachers make enough to live comfortably, if modestly based on the local cost of living. Many teachers offer private lessons and teach English online to make extra cash for travel.
For those looking to earn more, countries in east Asia and the Persian Gulf regions tend to offer the highest salaries and top benefits for teaching English abroad. In South Korea, a first-time English teacher typically makes enough to save $1000 a month after expenses and receives benefits like free housing, paid vacation, and getting their airfare covered.
Read Top 5 Countries to Make the Most Money Teaching English Abroad to learn more.
What are some benefits of teaching English abroad?
Get paid to travel: Teaching English overseas offers you the flexibility to go to a foreign country and discover the world while earning a sustainable income.
Cultural Immersion: Traveling is great, but if you want to immerse yourself in a foreign culture and challenge yourself to get out of your comfort and get rewarded with immense personal growth, you need to live in a foreign country.
Boost your resume with international work experience: Enhance your resume by gaining valuable experience overseas and showcase your adaptability to work in a foreign country.
Learn a new language: Whether it is Spanish, French, or Mandarin, the best way to learn a foreign language is to live in a country where you will be surrounded by it and use it every day. Even though you will be teaching English, you will also be fully exposed to the local language of the country where you teach abroad.
Enhance your opportunities for getting into a great graduate school program: Graduate schools, including law schools, medical schools, and MBA programs, seek applicants with "real world experience" - teaching English abroad provides precisely that!
Make a difference: As an English teacher, you'll impact the lives and careers of your students, many of whom see learning English as their path to enhanced educational and professional opportunities.
2. Teach English Online
With demand for online English language instruction skyrocketing worldwide, teaching English online provides TEFL-certified teachers with opportunities to earn extra pay virtually anywhere in the world, including their own homes. Most starting teachers can make $10-$20 (USD) an hour to start & hours are very flexible. However, with increased experience, online English teachers can earn more, especially when they work as independent contractors recruiting their own students.
If you plan on teaching English abroad, you can earn extra money and gain experience for your resume by teaching English online before you go overseas. You can also teach English online to supplement your income while teaching English abroad. Many TEFL-certified English teachers even teach online full-time because they can make enough to support themselves and move from country to country because they can teach virtually anywhere. As an online English teacher, you will likely start out teaching English for an online teaching company, but at some point, you may decide to work independently.
Read more: How to Teach English Online
3. Start Your Own English Tutoring Business
In a recent survey of International TEFL Academy alumni, more than 40% of respondents answered that they had worked as a private tutor at some point during their TEFL career. Why? There is enormous demand worldwide for teaching private English lessons generating billions of dollars in business annually. From Costa Rica to Japan, millions of parents, students, and companies are investing in private English lessons to get ahead. In many countries, gaining acceptance into a major university or qualifying for top-paying jobs often depends on English proficiency. This demand will only increase as more students seek independent learning alternatives to traditional brick-and-mortar classes.
It's also worth noting that English teaching opportunities are available abroad in non-English speaking countries. In countries like the U.S., U.K., Canada, Australia, and others, large populations of immigrants, refugees, international students, and other non-native speakers create massive demand for English instruction in general, particularly for private tutoring.
As a TEFL-certified English teacher either abroad or in your home country, you will be in a prime position to take advantage of this demand. Many English teachers abroad take on private students – either online or in-person – to make extra cash on the side from their primary job.
Others may work full-time as private tutors, either online, in-person, or both. English teachers abroad often find that they can make more money per hour as a private tutor than working for a local school.
Setting up your business as an English tutor has the benefits of controlling your schedule and earning more pay. Still, it does require some legwork, including recruiting students (often using social media, job boards, and referrals), organizing your own curriculum, and dealing with issues like cancellations and refunds.
Hot Tip! International TEFL Academy students and graduates can enroll in ITA's exclusive Tutoring English TEFL Specialty Course. This specially designed course not only incorporates the academic elements of tutoring like teaching practices and developing materials but also provides guidance, tools, and resources to help you build your own English tutoring business!
4. Earn Extra Retirement Income
Are you looking to live out your golden years on a beach in Costa Rica, Panama or Mexico? How about in the sunny climes of Arizona, Florida, or even the Costa del Sol in Spain? Whether you retire abroad or somewhere in your home country, you can almost make extra income and become more engaged with your local community by teaching English. Typically, you can offer private lessons to local children and adults, or you may be able to teach part-time or even full-time at a local language school. You can also almost always find opportunities to teach on a volunteer basis.
Photo credit: Clayton Stark
ITA graduate, Clayton Stark, shares his experience:
"I signed up for the TEFL certification class with the International TEFL Academy with a plan to get a semi-retirement teaching position in Guatemala after twenty-five years in another field. I was the oldest person in my class and a little nervous about how not only the class but getting a job in Guatemala would go. After four years here I have taught in two nonprofit schools and one private school in three different cities.

I have always felt well prepared and have always been well received as a TEFL-certified teacher. The preparation I received from ITA and the positive experience it allowed me to start with, have helped me continue to learn and I am now opening a school of my own. I could not be happier with my experience with ITA. I would also like to make myself available to anyone interested in coming to teach in Guatemala. Despite what you read in the news, Guatemala is a wonderful country filled with happy, friendly people. There is a huge demand for English teachers supported by a growing middle class. We, I, could use your help!"
5. Make a Difference by Volunteering or Joining the Peace Corps
Suppose your primary goal is to make a difference in an underserved region abroad or your local community. In that case, a TEFL certification will provide you with the skills you need to provide quality English language instruction in community service or volunteer roles. While the Peace Corps offers opportunities for Americans to serve underserviced regions around the globe in various ways, teaching English has quickly become one of the most common ways for Peace Corps volunteers to serve.
Numerous other foundations, programs, and charitable organizations offer opportunities to teach English abroad and domestically on a volunteer basis. Some resources to find volunteer programs include GoAbroad.com, GoOverseas.com, and VolunteerForever.com.
If you live in an English-speaking nation, you can still make a difference as a volunteer by providing English instruction to recent immigrants, refugees, international students, or other non-native speakers. These folks are usually looking to learn English to enhance their professional and educational opportunities. You can typically find opportunities at local community centers, charitable groups, universities, churches, and other religious organizations that provide services to such groups. You can also find eager students to tutor on your own if you're up for seeking them out on your own.
To learn more about how you can earn your TEFL certification and teach English abroad, check out these top resources:
John Bentley is Co-Founder & Senior Writer for International TEFL Academy (ITA), the world leader in TEFL certification for teaching English abroad. A graduate of Harvard University and the Medill School of Journalism at Northwestern, John is a recognized expert in the field of TEFL. His articles have appeared across the field's top websites, including GoAbroad.com, StudyAbroad.com, InterExchange, GoOverseas.com, Adventure Teaching, & many others. He has also spoken as an expert on Teaching English Abroad & TEFL certification at major conferences like MeetPlanGo and Lessons from Abroad (LFA) in Portland & San Diego.
Want to Learn More About Teaching English Abroad & Online?
Request a free brochure or call 773-634-9900 to speak with an expert advisor about all aspects of TEFL certification and teaching English abroad or online, including the hiring process, salaries, visas, TEFL class options, job placement assistance and more.