tefl certification
10 Questions You Need to Ask Any TEFL School Before Enrolling in Their TEFL Class
Written By: Shay Ames | Updated: June 29, 2023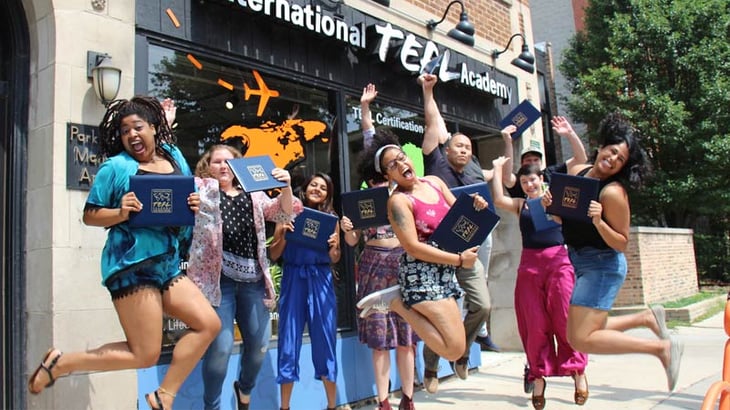 Teaching English abroad will be one of the great adventures of your life and whether you teach in Spain, Thailand, Turkey or anywhere else, your experience abroad will shape you for the rest of your life. So, if you're going to invest your time and money in a quality TEFL certification class (and you should!) you owe it to yourself to make sure that you will receive not only great training, but the support and guidance you need to get a great job teaching English abroad. So, here are 10 questions you should ask any TEFL school before enrolling in a class to make sure that they can help you get where you want to go.
1. Are your TEFL Courses accredited & do they meet international standards?
This is a crucial and obvious question when researching for a quality TEFL/TESOL course. You wouldn't attend a non-accredited university, would you? Taking an accredited TEFL certification course will ensure that your training meets recognized standards and that you receive the training you need to teach English on the professional level. It will also ensure that you gain a recognized qualification that will qualify you for thousands of teaching jobs around the world.
Here are some basic standards that you should look for in a professional level TEFL certification. These standards are recognized by major accrediting bodies, respected institutions like the British Council, and tens of thousands of language schools and institutes around the globe that hire TEFL certified English teachers.
100 hours of training and coursework (equivalent to a four-week, full-time course)
6-20 hours of live practice teaching
Curriculum is externally monitored and approved by a recognized, independent body within the field
Instruction is provided by qualified instructors (at least an MA in teaching English as a foreign language or linguistics, and extensive experience)
Be sure that if you are going to live in a foreign country as a professional, full-time, paid English language teacher you earn a certification that is recognized.
To learn more about accreditation for TEFL certification, please read: What is Accreditation for TEFL Certification Really All About?
2) Why does your course cost what it does?
Spend half a minute googling "TEFL certification" and you will quickly encounter a huge divide in the TEFL/TESL/TESOL/CELTA industry when it comes to training quality and the services one can receive when planning to teach abroad.
The industry standard of a 4-week TEFL class is equivalent to 3 semester classes at a university so the math should add up for the costs.
You can correctly expect that if a course costs $99, you will get $99 worth of training, and that's probably not enough to meet international standards (do you really think you can take a professional level teaching certification course and receive the job placement assistance you need to get a job in China, Spain or Chile for $99?!).
To determine what sort of value you will receive you should also be asking TEFL providers what tuition for their course covers:
What sort of job placement assistance is provided? How extensive is it and does it expire? Will I have to pay extra to receive job placement assistance?
Are books and materials included?
Will I receive pre-enrollment advice and guidance? What about services and support for students and alumni?
Are there continuing education opportunities available?
Expect to invest anywhere from $1300 for an online class or $1500 - $2500 for a full-time class from a legitimate English teacher training school. Similar to many other products or investments, you will often get what you pay for.
To learn more, read 5 Key Tips to Help You Pick the Right TEFL Certification Course (and Not Get Ripped Off)
Also, check out 3 Reasons Why It's Impossible for a Legitimate TEFL Class to Cost Less than $1,000
3. Do actual professors teach your TEFL courses?
If you want to become a professional teacher, it makes sense that you should be be trained by a qualified teacher, right? We all know that in any educational endeavor, a great teacher can make all the difference. So, back to that $99 TEFL course on Groupon - it's probably not taught by a real instructor at all, let alone an experienced university professor (it is simply not financially viable to employ actual professors to teach an interactive class and offer a course for that price).
At international TEFL Academy, our TEFL courses are all taught by highly credentialed professors with at least a MA, if not PhD in TESOL or related field in addition to 5+ years of teaching and training experience (and experience teaching abroad). Our professors are second to none and frankly, we couldn't afford their expertise for $49 per student. Get great training!
4. Can I get a job and a work visa as a US citizen to teach English in Spain? What is the job market like in Dubai? Do I need a degree to teach in China?
If representatives of a TEFL school cannot answer basic questions about international job markets and provide you with a clear and viable path for you to gain employment abroad, then you probably shouldn't be taking their TEFL course or paying them your money.
When you call any TEFL training program for teaching English abroad, the person on the other end of the line should know their stuff, and you should be able to speak with an advisor who will help you create your teaching abroad success plan, complete with all the excitement of adventuring abroad, but also addressing potential challenges (start-up costs, timeline, etc), so that you have the right expectations for your goals. Are other cheap course providers answering your calls, let alone your questions? It's important to take note.
For more, read: Why You Need to Speak with a Professional TEFL Admission Advisors if You Want to Teach English Abroad (and do it right)
5. Does your TEFL course include a practicum (live practice teaching)?
If you want to be a full-time, paid professional in this field and also don't want to be shut out from the more reputable global employers of English language teachers then you must be sure your TEFL course includes actual practice teaching hours (with actual English language learners, not role playing).
The better language schools want their paid teachers to possess experience working with students before conducting multiple classes per work day. Increasingly, many employers around the world will not even consider accepting TEFL certifications (or even university degrees in TESOL) that do not include a live practicum. Practicum will enable you to gain hands-on experience and develop a level of confidence working in a live teaching environment that will prove critical when you actually set foot in an English class in Madrid, Tokyo or Buenos Aires.
At minimum, you should be completing 6 hours of practice before you go abroad abroad as a pro. At International TEFL Academy, all of our TEFL courses include live practicum, including the 170-hour Online TEFL Course, which requires a 20-hour practicum. Bottom line: if the course you are looking at doesn't include practice teaching, then it is probably not worth your time if you want to teach abroad professionally.
6. Do you provide job placement assistance?
If so, is it free? Is it a lifetime service? Gaining your TEFL certification is only part of the process of becoming an English teacher overseas. You will also need to gain employment and get an actual job. The good news is that with 1.5 billion people learning English globally, nearly any English speaker who gains a TEFL certification can get a good job teaching English abroad. But, how do you actually find jobs in Spain, China, or Costa Rica?
From interviews to visas, there are all sorts of variables you will need to figure out and job markets vary from country to country; getting a job in Japan is a totally different animal than getting a job in Peru. So, receiving quality job search guidance is critical to ensuring you can get the best job possible for yourself.
At International TEFL Academy, we maintain a full-time staff solely dedicated to helping our students and alumni with every aspect of the process from resume/cover letter help and interview assistance to providing access to hundreds of job boards and top recruiters around the globe. All students and alumni have access to live, personal assistance and these services never expire, so graduates always have access to guidance when they seek to gain employment teaching English overseas.
ITA's Guaranteed Job Placement Programs
For those willing to invest extra for additional levels of support and guarantee of a high-quality English teaching job in Japan, South Korea, or Thailand, ITA offers our Guaranteed Job Placement Programs for Teaching English in Asia.
Not sure how our Guaranteed Job Placement Program differs from our alumni Job Search Guidance? Learn more here.
Note: Our lifetime Job Search Guidance is only available to ITA alumni who take their TEFL course through International TEFL Academy. Our Guanreteed Job Placement Programs in Japan, South Korea, and Thailand are available to both ITA alumni and those who received their TEFL certification from an outside TEFL provider.
7. Do you have an alumni network & services?
Can your students and graduate correspond and network? At International TEFL Academy, we train more than 5,000 people a year to teach English abroad and our alumni teach in about 80 countries. These alumni have access to a variety of channels to correspond and network with each other and with International TEFL Academy, including Alumni-only facebook groups. They are also able to engage through weekly newsletters, photo and article contests, alumni meet-up groups and more.
To learn more, read: 15 Exclusive Benefits for International TEFL Academy Students & Alumni
8. Can you provide me with more information to help me with my decision-making about TEFL certification & teaching English abroad?
If you're going to move halfway around the world to work as a teacher, you're going to need access to a lot of information and to be able to get answers to your questions. That's why at International TEFL Academy, we publish hundreds of pages of content each year on teaching English abroad. From specific country info (hiring seasons, requirements, salaries, visas, etc.), and alumni stories to FAQs, newsletters and webinars, we strive to provide as much information as possible on industry trends in the field of TEFL.
9. Do you and your staff have personal experience living, working and/or teaching English abroad?
Let's face it, moving to a foreign country to work is a big move with lots of questions and concerns to address. You should be able to receive guidance with somebody who actually has experience living, working and traveling abroad. This is necessary so that they can relate to and address your questions and concerns about all facets of moving abroad, from getting a job, to finding housing, and making friends in a foreign country. At International TEFL Academy, there is a strict requirement that each staff member possess extensive teach/work/life abroad experience.
10. What sets your TEFL certification school apart from others?
How do you stack up in the industry?
Do you have a vision statement?
How dedicated to your students and alumni are you?
What value can you provide me that nobody else can?
Taking the right TEFL class and receiving the guidance and support you need to actually get a job overseas can make or break your dream of living and traveling overseas as an English teacher.
A senior Admissions Advisor with International TEFL Academy, Shay Ames has more than 12 years of high-level professional experience working in the fields of teaching English abroad & TEFL certification. In addition to personally helping more than 1,000 ITA students achieve their goals of teaching overseas, Shay has published numerous articles on the topics of teaching English abroad & TEFL certification. He also works extensively to build partnerships between International TEFL Academy and major institutions throughout international education.
Want to Learn More About Teaching English Abroad & Online?
Request a free brochure or call 773-634-9900 to speak with an expert advisor about all aspects of TEFL certification and teaching English abroad or online, including the hiring process, salaries, visas, TEFL class options, job placement assistance and more.