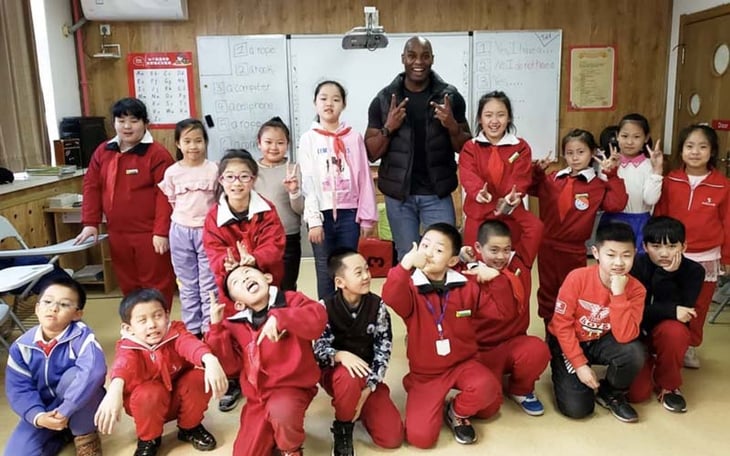 5 Reasons Why You Should Teach English Abroad Right After College
Why teach English abroad?
Teaching English abroad provides English speakers from all backgrounds with opportunities to get paid to live in a foreign country. You will be able to make a difference in the lives of your students, travel, and gain international work experience for your resume.
No matter what phase of life you're in, International TEFL Academy certifies people of all ages and backgrounds, and assists in helping our teachers find English teaching jobs all over the world. However, if you're a recent college graduate, you are at a very unique point in your life where this goal can be a bit easier to obtain. At the same time, you may be feeling the pressure to "get a real job," "begin your career" or to make the move to graduate school right away. And, oh yeah, in addition you probably have to start paying down that student debt. Well, here are a few reasons why teaching English right after college is actually the right way to go regarding all of these points.
Why is teaching English abroad important?
According to the British Council, approximately 2 billion people worldwide are using and learning English. People all over the globe seek to learn English to enhance their professional and educational opportunities. As an English teacher you can make a difference and help them realize their goals.
1. Now's the time! Teaching English abroad provides the opportunity of a lifetime to live, work & travel overseas while making a positive impact on the lives of others. But, it's often too easy to put off a major endeavor like moving overseas. "I'll do it after I earn some money." "I need to start my career first." "My cousin's getting married next spring." Life will inevitably throw things your way that will prevent you from teaching abroad and seeing the world if you let it. Mortgage, children, marriage – all of these milestones will be waiting for you when you graduate from college, but the opportunity to depart with no strings attached is not always going to be available to you - so set sail while you can!
2. Teaching English abroad is a "real job" & you will get valuable international work experience to build your resume. Just before I decided to teach English in Argentina, I was debating on taking a job right out of college in fear of not having any other offers come my way – but I'm so happy I didn't let that fear talk me out of this amazing life adventure. Professional jobs aren't going anywhere - they will be here when you get back. In fact, I felt much more marketable as an employee once I decided to enter the corporate world because I was able to put my professional experience as a teacher, and more importantly, my international experience on my resume.
Even if you don't go into education as a long-term career, teaching English abroad will enhance your resume and skills in areas like: group management, communications and organizational skills. You will prove to future employers your ability to adapt to a new environment; work across cultural & linguistic barriers; and to the stretch yourself beyond your "comfort zone." You will also have a great opportunity to learn a foreign language.
In addition, your teaching abroad experience will set you apart from the crowd and provide a great topic of conversation with your future employers once you get back home to enter the workforce!
Bottom line: in the globalized economy of the 21st century international work experience such as teaching English abroad is like gold on your resume.
3. Teaching English abroad will enhance your opportunities to enter an elite graduate school program. Just like career jobs, the Master's program that you're interested in will be waiting for you when you return, and in this day and age, most admissions officers at top professional schools say that "real world experience" outside of the classroom enhances an applicant's chances of being accepted.
From a financial perspective, some of our teachers even teach English abroad - particularly in regions like Asia & the Middle East - so they can save for their Master's degree. There is even the option to get your Master's degree online now from many universities, which gives you the chance to achieve your goals of earning an advanced degree, all while seeing the world and getting paid to teach English abroad.
4. You've been going to school since you were in Kindergarten! It's crazy to think that we attend school from ages 3 or 4 all the way up until we graduate college. Even if you are definitely planning to go to graduate school, you deserve a break! Teaching English abroad gives you the chance to experience true personal growth outside of the classroom, and to develop new problem solving skills that can only be discovered by traveling the world and getting outside of your comfort zone.
5. Pay off student loans while seeing the world. In countries like South Korea, UAE, or China, teachers can save anywhere from $1,000 - $2,000/month because many of your basic living costs are covered (housing, flights, bills). This gives you the chance to not only save money, but you can chip away at your student debt at the same time. If you're torn on what direction to go, simply ask yourself, 'would you rather be working a corporate job fresh out of college where you're typically breaking even? Or does teaching, traveling, and paying off debt sound a bit more up your alley?' If you chose the latter, you're definitely in the right place, and we're excited to help you get this adventure started. To learn more, read: I Have Student Loans - How Can I Teach English Abroad?
After graduating from Texas State with a Teacher Certification, Felicia Braverman taught English in Buenos Aires, Argentina, and Taipei, Taiwan. Before joining International TEFL Academy in 2013, Felicia ran an international recruiting company for teachers. With more than 10 years of experience in the fields of teaching English abroad & TEFL certification, she is a verified expert who has published many articles on various facets of teaching overseas.
Want to Learn More About Teaching English Abroad?
Request a free brochure or call 773-634-9900 to speak with an expert advisor about all aspects of TEFL certification and teaching English abroad or online, including the hiring process, salaries, visas, TEFL class options, job placement assistance and more.