diversity abroad
Teaching English in Kunming, China: Alumni Q&A with Jamie Bennett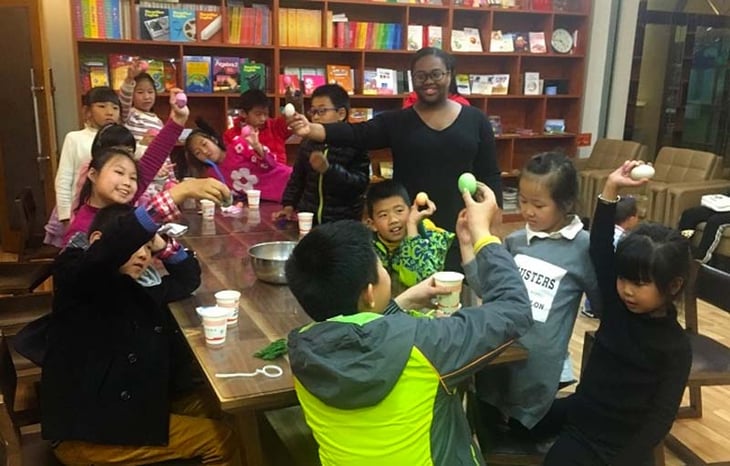 What is your citizenship?
United States
What city and state are you from?
Detroit, Michigan
How old are you?
22
What is your education level and background?
Bachelor's degree

Have you traveled abroad in the past?
Studied abroad
If you have traveled abroad in the past, where have you been
I studied abroad in France.
What sparked your interest in going to teach English abroad?
I decided to teach abroad because I wanted to be a teacher, but not in a regular public school setting. I majored in English, and found that I had a passion for linguistics and the study of languages, and I decided to travel to a foreign country and share that passion with others.
What were some of your concerns before teaching abroad?
I was nervous about teaching abroad and being away from my two younger brothers for so long. They are both still in school, so I knew that I would be missing them as they grew up into their teens and preteen years, respectively.
What did your friends and family think about you moving and teaching abroad?
When I told my parents that I was moving and teaching abroad, my dad said that he would miss me, but knew that I would do great things. My mother threatened to stand in front of the plane. She just needed a bit more time to process it all. In the end, both of my parents supported my move. The rest of my family seemed a bit confused by my sudden want to move across the world, but all were quite supportive, as well.
Why did you decide to get TEFL certified and choose International TEFL Academy?
I had a desire to become certified, but there were many options available. I wanted a certification program that was both comprehensive and affordable. My friend from college was also enrolled in this program and recommended that I contact her advisor for more information. In less than four hours, I was enrolled!

Which TEFL certification course did you take?
Online TEFL Course
How did you like the course?
I very much enjoyed how comprehensive and challenging the course was. My instructor was very responsive and gave great advice on how I could improve my assignments and lesson plans. The tasks were very thought provoking and encouraged me to work hard. I enjoyed my practicum (live practice teaching), which also enabled me to get a well-paying job. The job I found was one that was posted on the places online that would help you get your practicum hours, provided by the school. In short, I feel that I got a lot out of the course.
How has your TEFL training helped you in your current teaching position?
My TEFL training has helped me tremendously with being prepared, and able, to create lesson plans that allow for maximum learning and fun in my classrooms.

Which city and country did you decide to teach English in and why?
I chose to teach English in China in the city of Kunming. I chose this location because I knew some people who had recently been to visit here. They told me of the need for teachers in this area and even recommended a school that was currently looking for foreign teachers. Since China is such a large place and the options can seem endless, I jumped at the chance for my options to be narrowed down and have never regretted that decision.
How long have you been in this country and how long do you plan to stay?
I have been in this country for almost five months, and will be here for, at least, two more years.
During which months does your school typically hire?
The school hires year round.
Did you secure this position in advance of arriving?
Yes.
How did you interview for this position?
Skype/Phone Interview.
What kind of Visa did you enter on?
I entered on a tourist visa and started the process to switch to a work visa, upon arriving.
Please explain the visa process that you went through.
I entered the country on a tourist visa but immediately started working on my work visa. There is a long process, and some of the requirements change day-to-day, so it's something to be prepared for.
What are the qualifications that your school requires for teachers? Please check all that apply
- Bachelor's degree
- TEFL Certification
- Native English speaker
What is the best way to apply?
Email.
Tell us about your English teaching job!
I work 40 hours a week, including planning. I make 6500 RMB (~$1,012 USD) a month. I save by budgeting. I work for an English training school. My students are children. I have pretty decent vacation time, even some American holidays. The teachers have been very helpful in helping me get set up and settled into life here.
How did you find somewhere to live and what is it like? Do you have roommates?
Someone helped me hire a realtor in order to find an apartment. It is a very nice apartment that is quite Western. I have one roommate, Anna Kathryn, and we are easily able to afford the rent for our three bedroom/one bathroom apartment, between the two of us. There is no pollution in this city, and it is an incredible place to live, with many things to do. There is even a mall with horses on the rooftop.
Please explain the cultural aspects, public transportation, nightlife, social activities, food, expat community, dating scene, travel opportunities, etc...
In China, the culture is very different, but very easy to get used to. The main thing to remember is that people here are not very confrontational. There is a lot of public transportation that is cheap and easy to navigate. It is also usually on time. There is a wide variety of street food at night, with more westernized night life in the downtown area. The food in amazing, especially if you enjoy spicy food! The expat community is great here. They all try to help each other as much as possible and are incredibly tight knit. Since the currency here is cheap, so is the travel. This is a pretty central location for traveling around Southeast Asia. The city airport is also an international airport, so it's easy to travel to different places. I also love the lack of pollution here, because it is in a mountain area. There are blues skies almost everyday, unless it's raining.
What are your monthly expenses?
My monthly expenses are not that much. I pay 1308 (~$203 USD) a month for my portion of the rent. We have not had to pay utilities yet, as our landlord pays them, then we pay him back every six months. I spend about 300 RMB (~$46 USD) a month on social activities. I spend about 15 kuai (~$2.30 USD) a month on the bus, plus 2 kuai (~$0.30 USD) every time I park my scooter away from home. My phone bill is 70 kuai (~$11 USD) a month, for 15 GB of data and phone. We hired a housekeeper, because we are busy teaching. She costs about 250 kuai (~$40 USD) each, a month.
How would you describe your standard of living?
My standard of living here is very high. I honestly could not afford to live this well in the States. At least, not at a beginning level.
In your opinion, how much does someone need to earn in order to live comfortably?
A person could live here quite comfortably while earning 5,000 RMB (~$780 USD) a month.
What advice would you give someone planning or considering teaching abroad? Would you recommend teaching in your country?
If you want to move abroad, be open to accepting and assimilating with the culture there. I would certainly recommend coming to teach English in China. It is an amazing country with a rich culture.


After studying abroad in France during college, Jamie was eager to get back out and explore the world. She decided to teach abroad because she wanted to be a teacher, but not in a regular public school setting. Jamie majored in English and found that she had a passion for linguistics and the study of languages. She took ITA's Online TEFL Course before moving to Kunming, China to teach English to children and share her passion with others.
Want to Learn More About Teaching English Abroad & Online?
Request a free brochure or call 773-634-9900 to speak with an expert advisor about all aspects of TEFL certification and teaching English abroad or online, including the hiring process, salaries, visas, TEFL class options, job placement assistance and more.