tefl certification
5 Reasons to Take Your TEFL Course Before Moving Abroad to Teach English
Written By: Shay Ames | Updated: June 28, 2022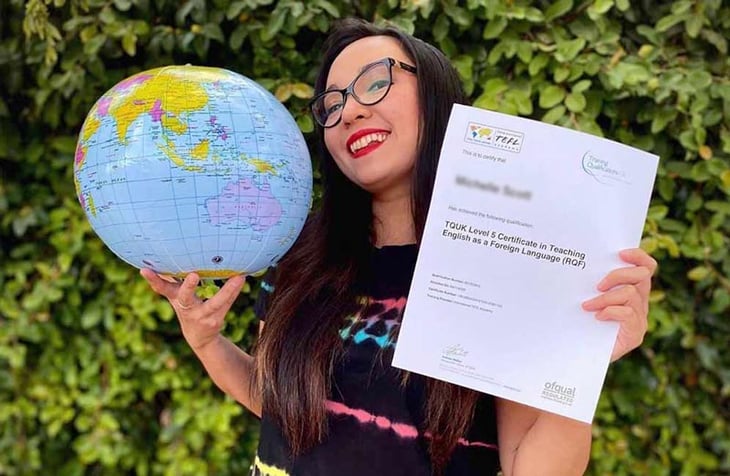 To take your TEFL class abroad or in your home country before you head overseas? This is a common consideration for those looking to make the big move to teach English abroad. There is definitely a lot to consider when deciding where and when to take your certification course.
From convenience to costs, here are five reasons why taking your TEFL certification class before heading abroad can make the most sense in many cases.
1. Interview Procedures - It's More Convenient & Cost-Effective for Getting Jobs in Many of the Top Job Markets for Teaching English Abroad
To get a job in many countries, you will need to interview in advance from your home country before you go abroad. This is the case in some of the most popular countries for teaching overseas, including South Korea, China, the UAE and others where it is much easier and sometimes even required to complete the job hiring process from your home country.
In such cases, you will typically interview by phone and/video call from home. Once you accept a job offer, you will typically need to gather certain documents and submit them to the consulate in your home country to get your visa processed prior to arriving in your destination country. In other cases, you may get your visa processed upon your arrival in your teaching destination country, but schools will still interview and offer a contract in advance.
Here are just some of the popular countries where schools always or often will interview and recruit you in advance from your home country:
2. Keep Your Options Open
Unsure about where you want to teach English abroad? Trying to decide between South Korea, Turkey, and Spain? Deciding where you want to teach first is a difficult choice and our absolute best advice to keep in mind during this decision-making process is to stay open and flexible when considering where to teach English abroad. If you take your TEFL class in your home country you will enjoy the luxury of being able to explore a multitude of job opportunities in multiple countries and regions across the globe. You can also be more patient and selective in your job search.
By contrast, if you invest the time and money to travel abroad to take your TEFL class in a foreign country, you will do so with the intent of staying in that particular country. Certainly, if you have very specific goals to teach in a particular country like Costa Rica or Spain, taking an onsite class in your country of choice will put you right on the ground to get a job after the class. But again, if you want more options, taking your TEFL class in advance is the way to go.
3. Your Start-Up Costs Will Typically be Greatly Reduced
Do you want to take an onsite course overseas, but need to choose a more cost effective route to gain your certification? Taking your certification course in your home country before heading abroad is a great way to save money, especially on start-up costs.
You can choose between taking one of ITA's full-time onsite courses in the U.S. or going for the part-time Online option. Both options meet all international accreditation standards and will make you a competitive candidate overseas.
The international onsite locations are fantastic, but these do require quite a bit more financial planning and traveling half-way around the world to a foreign country to take your TEFL course will cost more. In many cases, costs can be up to $2,000 more when you factor in costs like flights and accommodations.
You can especially cut down on costs by taking your TEFL course online. Not only is tuition less for online TEFL certification, but you can take the course anywhere (no travel costs!) and if you are working, you can continue to generate income while you get certified.
4. Experience Top U.S. Destinations
Have you taken in the local fare at a Chicago street fest in summer? Have you enjoyed a baseball game at Fenway Park? Have you been meaning to visit friends in NYC? The U.S has great some places to experience too and ITA offers full-time, in-person classes in top U.S. destinations like Chicago and New York.
These onsite classes are 4-weeks and allow you to expedite the entire planning process for getting TEFL certified moving abroad. They are also ideal for those who prefer to take their TEFL class in person.
For convenience, in-person courses in the U.S. are great options for those who live nearby one of ITA's onsite locations. Or perhaps you have some friends and family that you've been meaning to visit; why visit for a weekend when you can crash on their couch for the month and really get to experience life in one of America's premier cities.
5. You have a Part-Time Option
Do you need to power through a few more months of your regular routine before you adventure abroad? Or are you currently taking other classes and planning to complete TEFL training while wrapping up your college degree? Are you working and looking to continue to earn your income while you get certified before going abroad.
If you want to keep your current schedule while completing your TEFL training on the side – take ITA's online class part-time. It is interactive, accredited and still includes a practical in-person teaching element. You can even begin your job search during the course and get the ball rolling on the planning process before your Online TEFL course ends.
Take Aways:
Don't forget to keep the big picture in mind when starting the planning process for your move abroad to teach English. There are certainly many cases Often taking your TEFL course in your home country before moving overseas proves to be a convenient and affordable option for many students.
Your TEFL training is step one. Do your homework, make sure that you are making the best decision when selecting when and where to take your TEFL course to ensure that you're getting this adventure going on the right foot.
A senior Admissions Advisor with International TEFL Academy, Shay Ames has more than 12 years of high-level professional experience working in the fields of teaching English abroad & TEFL certification. In addition to personally helping more than 1,000 ITA students achieve their goals of teaching overseas, Shay has published numerous articles on the topics of teaching English abroad & TEFL certification. He also works extensively to build partnerships between International TEFL Academy and major institutions throughout international education.
Want to Learn More About Teaching English Abroad & Online?
Request a free brochure or call 773-634-9900 to speak with an expert advisor about all aspects of TEFL certification and teaching English abroad or online, including the hiring process, salaries, visas, TEFL class options, job placement assistance and more.