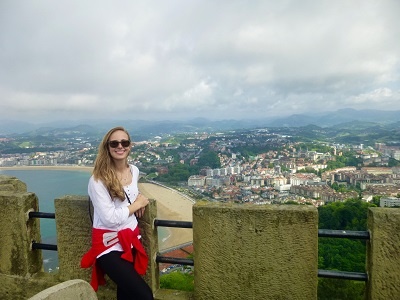 Madrid, Spain English Teaching Q and A with Brooke Ann
TELL US ABOUT YOURSELF
What is your citizenship?

United States

What city and state are you from?

Arlington, Virginia

How old are you?

23

What is your education level and background?

Bachelor's Degree
Have you traveled abroad in the past?
Studied abroad

If you have traveled abroad in the past, where have you been?

Mexico, Belize, Costa Rica, Honduras, and Lebanon
If you have studied abroad in the past, where did you study?

San José, Costa Rica

What sparked your interest in going to teach English abroad?

I had done some international travel before going to college, and I knew that it was something I was passionate about and wanted to continue incorporating into my life. When I had the chance to study abroad during my junior year, I jumped at it. Although there were so many countries to choose from, I ultimately decided to go to Costa Rica - and spent the best three months of my life there. After that experience, I was absolutely sure that I had to go back abroad. I began toying with the idea of teaching English in Spain during my last year of college, and then finalized my plans a few months after graduation.

What were some of your concerns before teaching abroad?

Would I find a nice place to live? Would I earn enough money? Would I make friends?

What did your friends and family think about you moving and teaching abroad?

Nearly everyone I talked to about my plan was supportive and excited to hear about the experience! There were a few small concerns about the economy in Spain, but my friends and family generally felt that teaching English would be a great opportunity.

TEFL CLASS INFORMATION
Why did you decide to get TEFL certified and choose International TEFL Academy?

I wanted to get TEFL certified because I knew that the training and certification would be useful again and again, for future jobs in the US and abroad. Once you are certified to teach, you can go almost anywhere, and at any time in your life. I was attracted to ITA because of the helpful, experienced staff, and the wealth of information on the website.
Which TEFL certification course did you take?

Online TEFL Course

How did you like the course?

I liked the 170 Hour Online TEFL Course because it allowed me to simultaneously work full-time, and it was the most affordable option. My instructor was helpful and easy to reach, and the tasks were not overly challenging. However, nothing prepares you to teach English like actually seeing it and doing it in person. I felt that I got more useful experience out of my 20 hours of practicum [live practice teacher] than the 150+ hours of online course work. So I would encourage anyone doing the online course to really take advantage of the practicum, and to pursue as much extra in-class time as possible.

How has your TEFL training helped you in your current teaching position?

The TEFL training gave me the basic tools to teach English to non-native speakers, and the confidence to do so. Once you begin teaching, you'll find yourself learning so much more about English than you knew before. Students will have questions that you may have never thought about nor covered in the course, but these kinds of questions are fun and challenging ways to gain insight into your own language.

Which city and country did you decide to teach English in and why?

I chose to teach in Madrid, Spain. I wanted to practice Spanish, live in Europe, and learn about the culture behind tapas and siestas.

How long have you been in this country and how long do you plan to stay?


I lived and taught in Madrid for six months.

How did you secure your English teaching job?

I worked with two academies and about six private students. I found all of them on lingobongo.com and tusclasespariculares.com

What school, company, or program are you working for?

Professional Language Studies

How did you get your work visa?

After graduation, I applied to Spain's Ministry of Education to be a North American Language and Culture Assistant. I would encourage anyone interested in teaching in Spain to apply to this program, because the Ministry provides you with a student visa, a school placement, and a monthly stipend (amount depending on your location), which you can supplement with additional classes. There are a few other ways to secure a work or student visa, but they aren't as widespread or easy to obtain.

That being said, Spain is quite relaxed about letting people work under the table without a work visa. Many English teachers that I met were doing so and simply getting paid in cash. One downside is that fewer agencies and academies are willing to hire teachers without visas.

My advice is to research and understand all of your options and then make the best choice for your situation!

Tell us about your English teaching job!

Hours per week: 18-22 actually teaching; 35-40 including commuting and lesson planning
Pay: 15-22 euros an hour, depending on the class.
Savings: I arrived in Spain with a decent amount of savings, because I knew that I wanted to put it towards travel. I was not able to save any additional money, but my income was enough to cover my cost of living (minus major travel expenses).
Students: I taught students as young as eight and as old as 65. Classes included basic conversation, exam preparation, and business English. The variety was really enjoyable!
Vacation time: I found my academies to be quite understanding when it came to taking vacation time. As long as I told them in advance and helped them cover or reschedule the classes, it was never a problem.

How did you find somewhere to live and what is it like?

I used a few different sites to search for an apartment, including idealista.com and easyRoommate. My apartment was nice and the location was great (very close to Retiro Park - my favorite part of Madrid!), but the room itself was tiny. I made the mistake of selecting the very first apartment I visited, and also signing a lease for the entire six months ahead of time (so that there was no way for me to move elsewhere).

One thing I learned in Madrid is that it's quite easy to secure housing, as there are always people coming and going. If I could go back, I would check out more apartments before settling on one. Also - if you want to learn a lot of Spanish, make sure you live with native speakers! They will absolutely be the best source of language practice.


COUNTRY INFORMATION - FUN!
Please explain the cultural aspects, public transportation, nightlife, social activities, food, expat community, dating scene, travel opportunities, etc...

Public transportation: Awesome! The metro/bus/train system in Madrid is super convenient, and really affordable if you purchase an unlimited "Abono" metro card.

Nightlife: Super fun, but be ready to go out at 2am and stay out until 6am.
"You will never out-party the Spaniards."

Social activities: There's an endless list of things to do and see in Madrid. When you're still new to the city, I'd recommend going to meetups, language exchanges ("intercambios"), cultural classes, and find a local conversation partner. Take advantage of the city and never stop exploring!
Food: You can't beat the tapas and wine in Spain. However, most Spanish food includes a ton of bread and fried food. If that's not your thing, there are plenty of diverse restaurants and markets throughout the city.
Expat community: There are SO many native English speakers in Spain because the teaching market is thriving. As a result, the expat community is really strong and present all over Madrid.
Travel opportunities: Endless! Never forget that you're in Europe, and it's not only possible but quite easy to find plane tickets to nearby countries for less than 40 euros!
COUNTRY INFORMATION - MONEY
What are your monthly expenses?

Rent: 400 euros (approx. $430 USD), all utilities included
Food: 150 euros (approx. $160 USD) for groceries, 150-200 euros (approx. $160 - $215 USD) for restaurant eating and drinking
Social activities: 100-200 euros ( $110 - $220 USD) including miscellaneous expenses)
Transportation: 60 euros (approx. $65 USD)
Phone: 10 euros (approx. $12 USD)
Travel: 200-300 euros ($215-$320 USD)

Average cost of living per month: 1,100-1,500 euros (approx. $1180 - $1610 USD)

How would you describe your standard of living?

Medium-High

In your opinion, how much does someone need to earn in order to live comfortably?

900-1000 euros at the very least (approx. $965 - $1075 USD)

ADVICE FOR PROSPECTIVE ENGLISH TEACHERS
What advice would you give someone planning or considering teaching abroad? Would you recommend teaching in your country?

I would absolutely recommend teaching in Spain, especially if you're interested in learning more Spanish and exploring Europe. There is a high demand for English teachers, and you can find many cool job opportunities.

When trying to decide where to live in Spain, I would encourage everyone to consider what they want out of the experience. Do you want to live in a big city and meet a ton of people? Do you want to live in a smaller town and really practice your Spanish/connect with the locals? Do you want to be close to beaches or mountains? Etc. After all, the place you choose will be your home for the next 6+ months, so these questions will be really important in finding the best fit for you.

There are so many beautiful, fun destinations in Spain that no matter where you live, you'll still want to explore them all!
Founded in 2010, International TEFL Academy is a world leader in TEFL certification for teaching English abroad & teaching English online. ITA offers accredited TEFL certification classes online & in 25 locations worldwide and has received multiple awards & widespread recognition as one of the best TEFL schools in the world. ITA provides all students and graduates with lifetime job search guidance. ITA has certified more than 25,000 English teachers and our graduates are currently teaching in 80 countries worldwide.
Want to Learn More About Teaching English Abroad?
Request a free brochure or call 773-634-9900 to speak with an expert advisor about all aspects of TEFL certification and teaching English abroad or online, including the hiring process, salaries, visas, TEFL class options, job placement assistance and more.