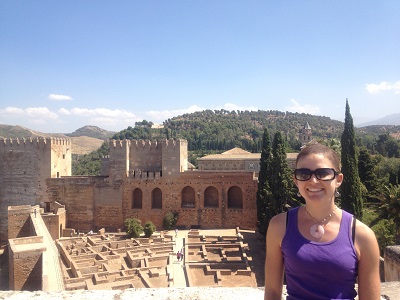 Huelva, Spain English Teaching Q and A with Allison Clark
TELL US ABOUT YOURSELF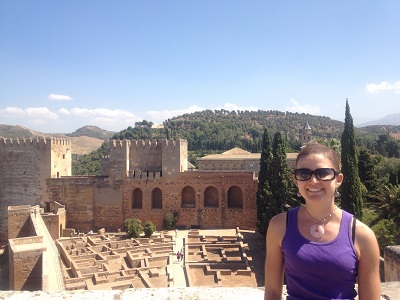 What is your citizenship?
United States
What city and state are you from?
Chicago, Illinois
How old are you?
26
What is your education level and background?
Master's Degree or Higher
Have you traveled abroad in the past?
I previously studied abroad
If you have traveled abroad in the past, where have you been?
Mexico, Peru, Guatemala, Belize, South Africa, Botswana, Zambia, Tanzania, Ecuador, Belgium, Germany, Canada
What sparked your interest in going to teach English in Spain?
I wanted to live in a Spanish speaking country and try teaching ESL. I had done some ESL volunteer tutoring but nothing serious. I wanted to give teaching a try while working on my Spanish fluency at the same time. I also knew it would be a great opportunity to travel.
TEFL CLASS INFORMATION
Why did you decide to get TEFL certified and choose International TEFL Academy?

An accredited TEFL certification from International TEFL Academy has a great reputation and is an internationally recognized. International TEFL Academy is located right in my old home town Chicago which made the choice easier for me to check out.
Which TEFL certification course did you take?
How did you like the course?
I really liked my Online TEFL class and teacher Sam Bandy. The course work is fairly comprehensive. I use the information that I learned in this course everyday that I teach. I think the best way to really learn ESL teaching is to do it hands on (which the student teaching covered), but the information covered is also very useful. I think the lesson planning was also very useful and in-depth.
How has your TEFL training helped you in your current teaching position in Spain?
I use the tips I learned about making speaking and writing corrections, lesson planning and types of learners.
TEACHING ENGLISH ABROAD IN HUELVA, SPAIN
Which city and country did you decide to teach English in and why?
I'm teaching English in Huelva, Spain because the Junta de Andalucía assigned me a secondary school there.
How long have you been teaching English in Spain and how long do you plan to stay?
7 months so far. I have been here since the end of August 2012 and plan to stay through mid-June 2013. I also reapplied to teach again in Spain next year and I'm waiting to hear from Spain's Ministry of Education.
How did you secure your English teaching job in Spain?
By applying through Spain's Junta de Andalucia where you can apply to be a North American Language and Culture Assistant in Spain.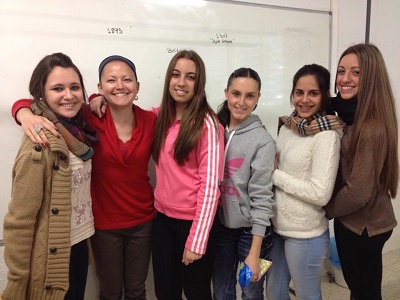 What school, company, or program are you working for?
The public school system in Spain.
How did you get your work visa? If you didn't get a work visa, please elaborate on working under the table without a work visa.
I got my work visa by applying for a long-term student visa because technically Spain's Ministry of Education gives all North American Language and Culture Assistants scholarship money for our salaries. I get paid 700 Euros / month and also give private lessons on the side where I earn about 70-80 Euros extra/ week.
Tell us about your English teaching job in Spain!
Hours: 12 hrs./ week in the school and 8 hrs. of private lessons on the side
Pay: 700 Euros/ month from Spain; I charge 10 Euro/ hr of private classes
- I save a little each month just enough to travel a bit most weekends. I also saved money before arriving to Spain which has helped pay for my travels. But I definitely have a liveable wage.
Students: Secondary school ages 12-18
Vacation: Paid vacation. I work Monday-Thursday and get Holy Week, Christmas, New Year's and other national holidays off.
How did you find somewhere to live and what is it like? Do you have roommates?
I found my roommates through an online website www.easypiso.com
COUNTRY INFORMATION - FUN!
Please explain the cultural aspects, public transportation, nightlife, social activities, food, expat community, dating scene, travel opportunities, etc. about your country:
Culture: Spain is FULL of culture: flamenco, museums, art, theater, music, bullfights, a mixture of cultures from the Arabs, Jews, Moroccans and each region has its own culture. People are laid back, friendly and family oriented.
Public Transportation: Train and bus systems are fairly punctual and reliable. I use them a LOT and have been successful so far. Ryan Air, Easy Jet and Vueling are the most popular airlines. You can look up flights on www.skyscanner.com; Renfe trains www.renfe.com and most bus schedules on www.costasur.com
Nightlife: Spain is known for their parties and vibrant nightlife. People are friendly and I have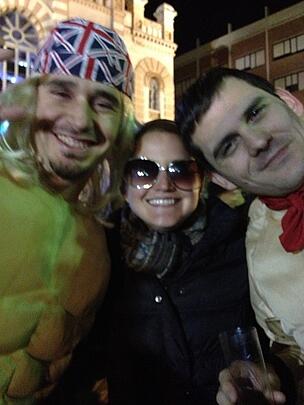 always felt safe. Dinner is late, usually between 10pm-midnight. People don't start to go out to the bars until midnight usually and to the clubs 3am-8am.
Social Activities: Dancing, sports, beach, personal hobbies or art.
Food: Amazing! Wine, ham, bread, cheese, tapas, seafood, great markets, not a ton of international food unless you are in Madrid or Barcelona.
Expat Community: There are British, German and French expats who are retired, mostly in the beach towns. Otherwise I would say there are mostly Spaniards.
Dating Scene: I would say meet people through mutual friends, at work or at a bar just like in the U.S.
Travel Opportunities: A TON! I travel a lot and I think Spain's transportation is good. You can also find cheap flights to London, Germany, France, Italy, and the rest of Europe. Portugal is next door and there are a lot of tour companies that go to Morocco. I LOVE traveling in Spain and throughout Europe. People in Spain are very friendly and helpful when you are traveling and there are plenty of decent affordable hostels and hotels.
- Spain is awesome and I really love the school where I'm working. It's been a great learning opportunity and time for personal growth and reflection about my passions and career path.
COUNTRY INFORMATION - MONEY
What are your monthly expenses?
Rent: 170Euros, 15-30 Euros for utilities
Food: 150-200 Euros depending on how much I eat out
Social activities: 40-50 Euros gym membership, 60 Euros/month Spanish classes
Transportation: I don't have to commute to work so none daily. 16 Euros roundtrip from Huelva to Sevilla which is where I often have to travel out of. Average train roundtrip costs 20-40 Euros.
Communication: 8-10 Euros/ month phone
Travel: 100-200 Euros/ week depending on the location (weekend trips where I have to stay in a hostel or hotel)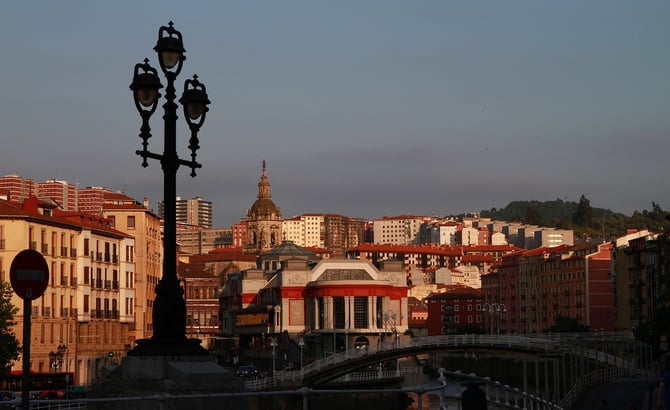 ADVICE FOR PROSPECTIVE ENGLISH TEACHERS IN SPAIN
What advice would you give someone planning or considering teaching abroad? Would you recommend teaching in your country?
I highly recommend Spain because people are so friendly, outgoing and helpful. The schools are generally quite good. The country is so full of great culture, history, sites and things to do. I would say to someone who plans to teach abroad to have an open mind. Not all countries teach the same way or have the same educational system as the U.S. and that the U.S. doesn't necessarily have the best system.
Just take things day by day and try to focus on yourself rather than trying to criticize or change a school or teaching system. Just do your best, be patient and don't take things so personally all the time. Even if you're a native English speaker you don't and won't know everything about English. Be open to different learning and teaching styles and have fun!
Check out Allison's blog: http://www.adventuresofamystic.com/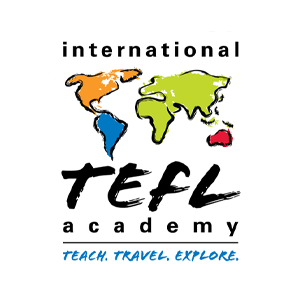 Founded in 2010, International TEFL Academy is a world leader in TEFL certification for teaching English abroad & teaching English online. ITA offers accredited TEFL certification classes online & in 25 locations worldwide and has received multiple awards & widespread recognition as one of the best TEFL schools in the world. ITA provides all students and graduates with lifetime job search guidance. ITA has certified more than 25,000 English teachers and our graduates are currently teaching in 80 countries worldwide.
Want to Learn More About Teaching English Abroad?
Request a free brochure or call 773-634-9900 to speak with an expert advisor about all aspects of TEFL certification and teaching English abroad or online, including the hiring process, salaries, visas, TEFL class options, job placement assistance and more.