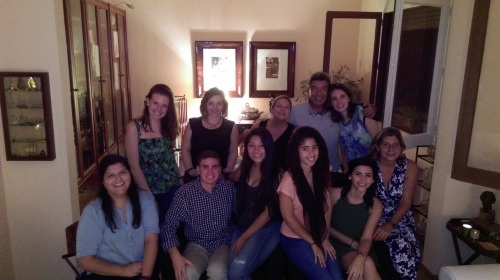 Barcelona, Spain English Teaching Q&A with Jillian Morgen
TELL US ABOUT YOURSELF
Jillian Morgen with her host family in Spain.

What is your citizenship?

United States

What city and state are you from?

Chicago, Illinois

How old are you?

23

What is your education level and background?

Bachelor's Degree

Have you traveled abroad in the past?

Studied abroad

If you have traveled abroad in the past, where have you been?
London, England. Paris, France. Chefchaouen, Morocco. Dubrovnik, Croatia. Venice, Italy. Budapest, Hungary. Sevilla, Spain. Tarragona, Spain.
If you have studied abroad in the past, where did you study?

Cuernavaca, Mexico & Barcelona, Spain

What sparked your interest in going to teach English abroad?

I had just graduated college and my parents were moving away from Chicago. I studied abroad in Barcelona my junior year of college and wasn't ready to make it just a fond memory, so I decided I would go back to teach English.

What were some of your concerns before teaching abroad?

How hard finding a job could be

What did your friends and family think about you moving and teaching abroad?

My friends were extremely supportive and thought it was really cool, although they totally expect something like this out of me. Shockingly enough, my parents were super cool with it too!
TEFL CLASS INFORMATION
Why did you decide to get TEFL certified and choose International TEFL Academy?

I was doing my research trying to figure out how to go about becoming TEFL certified and just kept coming back to ITA's website. It had everything I was looking for and the amount of information it had about cities all over the world, regardless of wanting to return to Barcelona, I knew I would have so many options and people's real experiences to learn from if I chose ITA.

Which TEFL certification course did you take?

USA - Chicago TEFL Course

How did you like the course?

I felt prepared to take the course having just graduated from college with a degree in Spanish Education. Overall the course was like my undergrad - full speed ahead in a matter of just a few weeks. Betsy and Juliana were both great instructors and I think their two very different teaching styles helped the most because you gain two completely different perspectives and yet somehow both of their knowledge and skills come together to really help you create your own teaching persona. Not going to lie, the class moves FAST, but some of the notes we got from previous students made it seem like you're falling down a hole and there's no ladder to get out. I think if you just breathe, stay focused, and kick your time management into full gear you're able to succeed just fine.

How has your TEFL training helped you in your current teaching position?

The training helped me become more confident in working one-on-one with the students I had. Not to say we really did that in the TEFL practicum because we still had multiple students, but the size of the practicum classes is small enough where you don't feel drowned out by the amount of students you have, and sometimes working one on one is more terrifying than 30 pairs of eyes staring back at you. As an private tutor, as opposed to working in traditional school environment, I felt extremely prepared.

Which city and country did you decide to teach English in and why?

I decided to teach English in Spain in the city of Barcelona because I had studied abroad there once already and just loved it.
How long have you been in this country and how long do you plan to stay?

I taught for 4 months

What school, company, or program are you working for?

I was a free lance teacher, so I wasn't working in the school system.

Did you secure this position in advance of arriving?

I was in Barcelona for about two weeks before I started receiving emails from people in need of private lessons.

How did you interview for this position?

I didn't really have any interviews, although most students and/or parents at least wanted to meet once to talk about the student's needs prior to actually beginning.

What kind of visa did you enter on?

Tourist Visa

Please explain the visa process that you went through.

I didn't have an official visa aside from my tourist visa, meaning that "technically" I was only supposed to be in Europe for 90 days. But, it's true what they say, you can go to Spain with just your tourist visa and stay longer than 90 days and you'll be okay.
For more on this topic, please read: Visas & Jobs: A Guide to Teaching English in Barcelona, Spain for Americans

What are the qualifications that your school requires for teachers? Please check all that apply

- TEFL Certification
- Native English speaker

Most of my students just wanted to make sure I could speak English (most definitely wanted Native speakers) and that I was at least certified.

Please include any application resources (website, email, etc.) or other information here:

I posted an ad on tusclasesparticulares.com with all my credentials, availability, contact info. etc, and then students contacted me if they felt like they wanted me as a tutor.

Tell us about your English teaching job!

As a private tutor I worked about 20 hours a week making 20-25 euros an hour. You can charge more or less but I wouldn't go too low or too high. Basically, try to stay around the same price that other people are charging. You can look this up by looking at other people's adds on tusclasesparticulares.com. I wasn't really able to save but that was because I wanted to travel and my housing situation was more expensive than usual. Barcelona is also not the cheapest city to live in/explore in the first place so I more or less broke even.
As a private tutor I had students of all ages. My youngest was about 7 or 8 years old and a lot of what we did was songs, games, simple vocabulary, drawing, and coloring. Most of my students were around the middle school age and their lessons were what you would most commonly do. They usually had homework that I would help them with, and I would ask them to let me know in advance what grammar or vocabulary they were practicing that week so that I could prepare additional activities or supplementary lessons for them that related to what they were already learning. My oldest students were between 35-40. They were two business men who had their lessons together. They were already phenomenal English speakers but wanted to practice expanding their vocabulary and knowledge of heavy topics in English.
Typically I would print out articles from famous American newspapers, have them read them, highlight anything they were confused about, go over those words or phrases and then discuss the article as a whole. We also worked on phrases and idioms that were common in English so that they could feel more native by using these in their speech.
As for vacation time, I only took two weekend trips while I was in Barcelona so that only affected my Saturday student. But whenever the kids didn't have school or it was a national holiday, I wouldn't have work either.

How did you find somewhere to live and what is it like? Do you have roommates?

I was lucky that the host mom I lived with while studying abroad had introduced me to her brother and sister-in-law who were able to house me upon my return to Barcelona. It was essentially another host family, but they were also hosting two French girls, and another American who was my age, so I had roommates AND "parents" who cooked for me which was amazing. My host parents were extremely laid back and understood that I was there to live and experience Barcelona so all they asked was that we make our beds and let them know if we'd be home for dinner or not. I also loved living with a host family because I speak Spanish and didn't want to lose that ability by only teaching in English for four months, so it was an automatic source of practice for me as well.

On a scale of 1 - 10 please rate your experience with this school.

10
COUNTRY INFORMATION - FUN!
Please explain the cultural aspects, public transportation, nightlife, social activities, food, expat community, dating scene, travel opportunities, etc...

Two very important things to know about Barcelona: they not only speak Spanish, but Catalan (which is spoken in the entire region of Catalonia, not just Barcelona) and they have a very relaxed attitude about life overall. It is important to be conscious that Catalan is spoken in Barcelona because just as much as Barcelona citizens do or do not identify with being Spanish, they also may or may not have a passion for their Catalonian identity. This is an important history lesson to brush up on before moving in Barcelona and also be willing to learn about upon arrival. The reason I say Spanish people are very relaxed is because it's the truth! Sometimes it's better to let go and just let things take their course, so don't be offended if someone shows up for your dinner date 30 minutes late; that's normal and it's better to accept that than to let it frustrate you. Enjoy your nap times or siestas, and try to immerse yourself the best you can.

Barcelona is SO FULL of culture and history it is incredible. I have a short blog: jmorgen830.tumblr.com, that has some entries about Barcelona (mostly entries about Barcelona and food). I think the most amazing cultural aspect of Barcelona is it's architecture. Take ample time to explore the city, and I don't mean just the big sights but little allies and side streets as well. The biggest sights to see of course though are: La Sagrada Familia, Casa Batllo, Parc Guell, Las Ramblas, Catedral de Barcelona.

Go to a soccer game at Camp Nou. There's nothing like being in that crowd. Even if you don't like or don't really follow soccer, being there will make you understand the love for it. If you're only going to be in Barcelona for a few months, plan accordingly so that those months somewhat line up with available beach time. The Mediterranean Sea is right on the edge of Barcelona, and you don't want to miss an opportunity to enjoy it. Barcelona also stays warm well into what we would consider the fall. So even if you start teaching in September, summer isn't over and enjoy it while you can. Visit Tibidabo; it's an amusement park with a giant cathedral at the top of Barcelona. Bottom of Barcelona = Mar (sea) & Top of Barcelona = Montaña (mountain). If you're feeling ambitious, hike all the way up.

The public transportation, or the ability to walk anywhere majority of the year with the nice weather, is one of my favorite things about Barcelona. The metro and the buses are incredibly easy to figure out. Even if you're not already from a big city, everything is color coded. There's also a bus station near the Arc de Triomphe (another sight to see along with Parc de la Ciutadella) which allows you to take short trips in and out of Barcelona very easily.

If you're considering Barcelona, you probably already know about its nightlife. This goes along with the culture and the food in Barcelona. It's normal to eat dinner at 10 pm. In fact if you're eating between 6-8 pm, people will definitely know that you are not from around there. So once you're done eating dinner, stroll to the beach for the massive nightclubs, or meander through the side streets until you find a Caribbean bar with the BEST mojitos.

There are always festivals, art shows, and ample eating opportunities going on in Barcelona. Utilize the ITA Alumni page for both Spain and Barcelona to find other people interested in what you might be interested in! That's how I found one of my closest friends I've ever made in Barcelona.

Lastly, be open to pretty much anything. This goes for Spanish food (which you will come to adore) or activities or hobbies you may not have found an interest in stateside but could be willing to try while abroad. There's no harm in trying something new and if you don't like it by the end, chances are you'll at least have a good story out of it. However, if you're moving abroad, chances are you're pretty good at getting out of your comfort zone.

COUNTRY INFORMATION - MONEY
What are your monthly expenses?

I lived with a host family, so my expenses were actually higher because I was compensating them for the amount they would typically earn by hosting an actual student. Most flats are somewhere between 350 and 500 euro a month (between $390 - $560 USD), the less you want to pay obviously will have an impact on the conditions of the flat, but most really great places are somewhere in that price range, and if you're living in a foreign city, you shouldn't be spending that much time cooped up in your flat anyways! If you're looking for somewhere more modern with more amenities, you could be paying well over 500 euro ($560 USD) a month, so take that into consideration as well.

Again, most of my meals were paid for because of my host family, so I don't have a good assessment of how much money you would spend on food per month.

There's plenty to do in Barcelona that is free or very cheap, even just exploring or going to the beach can cost you little to no money whatsoever. Just know that if you plan on frequenting nice restaurants, bars, and night clubs, your social spending will accumulate to something similar to what you spend going out in a big city in the states. Maybe not NYC or Vegas, but it adds up.

Public transportation is incredibly easy, and if you're going to be like me who had students all over the city, you'll want to invest in a metro pass. It works for the subway system and the city buses. I believe the largest amount you can buy is a three month pass, and you'll need your passport number to do so. If I remember correctly, it costs about 120 euros (approx. $135 USD). That seems like a lot, but it's a one time fee for those three months and you would spend way more if you took cabs or continued to replenish your metro pass more often than that. Those passes are only sold at certain stations, so I would get it at the Plaza Catalunya stop.

When I got to Barcelona, I went to Orange, a mobile phone provider. I got a Spanish SIM card for my American iPhone with a pay as you go SIM card. The plan allowed a certain amount of text messages and data time for 20 euros ($22.50 USD). Obviously the more you text or are on the internet without wifi, the faster you have to replenish it, but it's better than getting roped into an entire phone contract.

As for travel, how much you spend depends on how much money you're making or had saved up upon arrival, and how much you're comfortable spending. I took two trips while in Barcelona, one to Dubrovnik, Croatia, and one to Budapest, Hungary. The flights and hostels for both were very reasonable price-wise and Budapest isn't an expensive city at all, so I felt like I could spend the money for a couple trips and be comfortable doing so.

How would you describe your standard of living?

My standard of living there was very high, but that's largely because of my host family. If i didn't have that connection, I would've been just fine in a smaller, cheaper flat.

In your opinion, how much does someone need to earn in order to live comfortably?

1000-1500 euro a month (approx. $1115- $1675 USD) is my estimate.

ADVICE FOR PROSPECTIVE ENGLISH TEACHERS
What advice would you give someone planning or considering teaching abroad? Would you recommend teaching in your country?

If you have any interest in teaching abroad and are remotely curious, I would say to go for it! You don't want to regret never having tried it and traveling is a great way to learn about yourself and obviously the world around you, no matter what age you are and no matter how long you stay for! I love Barcelona, and everything about Spain and the Spanish culture, so of course I'm biased when saying yes I would recommend it. If you are comfortable with how relaxed it is and feel it would be a good fit for you, then absolutely! And if not, there are so many countries that might fit your different needs. Why not try a few? ;)

For more on Jillian's adventures, check out her blog: jmorgen830.tumblr.com
Founded in 2010, International TEFL Academy is a world leader in TEFL certification for teaching English abroad & teaching English online. ITA offers accredited TEFL certification classes online & in 25 locations worldwide and has received multiple awards & widespread recognition as one of the best TEFL schools in the world. ITA provides all students and graduates with lifetime job search guidance. ITA has certified more than 25,000 English teachers and our graduates are currently teaching in 80 countries worldwide.
Want to Learn More About Teaching English Abroad?
Request a free brochure or call 773-634-9900 to speak with an expert advisor about all aspects of TEFL certification and teaching English abroad or online, including the hiring process, salaries, visas, TEFL class options, job placement assistance and more.