must read
TEFL & Teaching English Abroad or Online During COVID - 19: What Are My Options?
Get a full overview of the current COVID-19 situation for TEFL certification, teaching English online & teaching English abroad.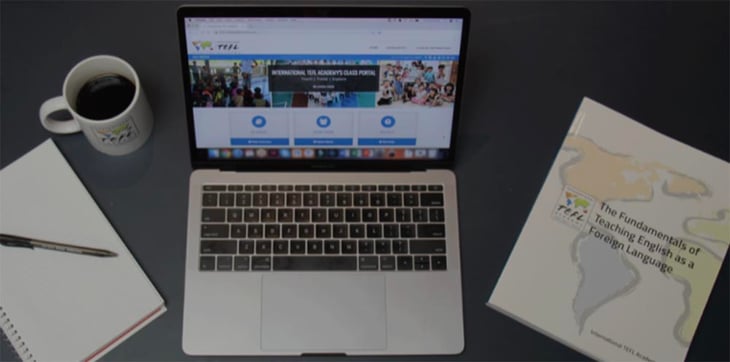 Is the coronavirus (COVID-19) putting your goals of teaching abroad in doubt? Are you wondering if there is a market for teaching English online? Do you have concerns that getting TEFL certified during COVID-19 will be a waste of money?
Table of Contents

In the age of COVID-19, many of us are pondering such questions as we strive to stay healthy while facing an uncertain future. Here at International TEFL Academy (ITA), we cannot predict the future and we certainly aren't public health experts, but as leaders in the field of TEFL certification & teaching English abroad for the past decade, we are here to help you.
We can do this by providing a realistic overview of your options (and even opportunities) for TEFL certification and getting paid to teach English, whether online or in-person overseas.
Our TEFL courses provide an internationally recognized qualification that will enable you to teach English online (even during COVID-19) and overseas as many countries reopen and ESL teaching opportunities are beginning to emerge. Since the outbreak of the COVID-19, ITA has been monitoring the situation closely and we have been in touch with our partners, alumni, recruiters, online teaching companies, and others involved in the field of TEFL and TEFL certification around the globe.
Watch: TEFL in the Age of COVID-19 (Everything You Need to Know) Webcast.
What is the current situation for teaching English overseas?
With communities - and even entire countries - still affected by travel restrictions and economic fall-out stemming from COVID-19, the impact of the pandemic of the field of TEFL has been massive though schools in many countries have begun to reopen and have resumed hiring TEFL certified English teachers. International travel remains only a fraction of normal levels and travel restrictions remain in place depending on the country. Meanwhile, online education has expanded and many ITA graduates are now teaching English online as a way to sustain themselves during COVID-19-related school closures.
As of October 2021, some schools and language institutes are reopening and hiring English teachers to work in physical in-person classes. This is the case in some Asian nations like South Korea, where schools and government public school programs like EPIK have been recruiting and hiring teachers, including ITA graduates. In many cases, new teachers will need to complete a COVID-19 test and possibly proof of vaccination. In some cases, a quarantine (usually 7-14 days) may be required for some English teachers (even if vaccinated in some instances) before they can begin their job and engaging with the local community.
In Europe and the Middle East, many nations are also beginning to slowly open their economies and schools are beginning to hire and reopen. The exact situation will vary country-to-country and even region-to-region within some nations. Again, travel restrictions or temporary bans remain for foreign nationals in some cases. Some countries require a negative COVID test and quarantines of up to 14 days.
Some nations in Latin America have experienced some of the highest case rates in the world into 2021 (especially Brazil) and closures and restrictions remain in place in some countries. Still, many schools are beginning to reopen. Again, the situation can vary greatly from one nation to the next and is subject to change at any time depending on the COVID-19.
Worldwide demand for English language education is massive and demand for teachers will continue to grow. As the virus is brought under some control, there will likely be strong demand for in-person teachers across the globe. In more than 10 years as a world leader in the field of TEFL, we've seen that in times of economic crisis, people across the world invest in English language education. Gaining a new skill and boosting your resume is critical for getting hired in so many sectors of the 21st-century economy.
For firsthand perspectives on ITA graduates who are teaching or just riding out the COVID-19 abroad, check out these articles.
The economic outlook is uncertain - is now the time for me to invest money in a TEFL course?
After a turbulent 2020, economies in the United States and around the globe have begun to recover in 2021, yet many uncertainties remain and sectors like travel will likely remain well below pre-COVID levels even into 2022.
We believe that while times are tough and uncertain, those who prepare themselves now will best weather the storm and will be best prepared to hit the ground running once the world returns to some sense of normalcy.
Some points to remember if you are interested in teaching English online or in-person in the future:
Demand for English teachers online remains strong and will continue to remain strong. This is a viable way for you to earn money if the COVID-19 and lockdowns continue in the U.S. and Europe.
Education is largely recession-proof - schools will continue and people will invest in their education to improve their job prospects, this is especially true for the case of English language training.
If you want to teach English abroad, take advantage of the downtime you have now to get certified so you are prepared to take advantage when jobs open up in the future. Many countries are beginning to recruit English teachers, but you should be patient in your job search.
Your TEFL certification will never expire and your access to ITA Job Search Guidance is a lifetime service. So, if you get TEFL certified now you will be able to call on the resources you need to get a job teaching English abroad or online at any point in the future, whether it be in 1 year, 5 years, 10 years, or whenever you want to take the next step.
How can you get TEFL certified during the COVID-19 crisis?
ITA's accredited 11-week, part-time Online TEFL course or the 4-week, full-time Intensive Online TEFL course are your best options at this time for getting TEFL certified and preparing you for opportunities to teach English online and overseas in the future.
Many in-person TEFL schools around the world remain closed as of October 2021 and many will remain closed for the rest of the year. In some countries, like Costa Rica and Spain, however, classes have reopened. For up-to-date info related to availability and cancellations of in-person TEFL courses around the globe, please read our COVID-19 Updates page.
Important to know: You can take both the 11-week Online TEFL Course and the 4-week Intensive Online TEFL Course safely from home. You can also complete your 20-hours of student teaching online to ESL students.


What is a realistic timeline for TEFL certification & then getting a job teaching English abroad or online?
ITA's 170-Hour Online TEFL course is 11 weeks long (part-time) and then you'll need to finish your 20-hours of practicum (live practice teaching). These practicum hours can be completed during or after your TEFL class at an in-person location or online.
If you take ITA's 4-week Intensive Online TEFL course, which has the practicum hours built into the course, you can begin looking for teaching jobs immediately after your course ends.
Your lifetime job search guidance begins the day you enroll in your TEFL class, so you can get the conversation started with your ITA Student Affairs advisor when you're ready. Your Student Affairs advisor can help you put together your resume and cover letter; gathering any documents that you may need.
Teaching Jobs Abroad:
As of October 2021, recruiting and hiring for in-person teaching jobs is still slow though schools in some countries are beginning to ramp up hiring as they reopen. Travel restrictions are still a major obstacle, especially for Americans and others from countries with high numbers of new COVID-19 cases. Timetables will always vary based on where you want to teach, but even in normal times, it's best to give yourself anywhere from 6-9 months from the time you start your TEFL class to the time you're heading overseas.
The process of lining up an in-person teaching job can take anywhere from 1-6 months depending on the country and the employer. As the vaccine becomes widely available, you could feasibly be abroad as early as late spring 2022, if you begin your online TEFL course in November or December 2021. If you are already in the country where you want to teach, you may be able to line up teaching jobs faster, but this will depend on factors like COVID-19-related restrictions, the local hiring cycles, and other local circumstances.
International TEFL Academy will be monitoring the situation and continually updating this article as we learn more about hiring timelines around the world.
Teaching English Online Jobs:
From the time you begin your 11-week part-time Online TEFL Course, it's possible to be teaching English online in 4 months. If you take the 4-week Intensive Online Course you can begin your job search as soon as your course ends within a month of beginning your course.
No matter what course you take, the process of lining up online teaching jobs can take at least a couple of weeks with interviews.
You may be able to get part-time work teaching or tutoring online during your TEFL class, but these opportunities are usually part-time and offer lower pay as the vast majority of major online teaching companies will only hire you once you have your TEFL certification.
Can I get paid to teach English online during the COVID-19 crisis?
Many schools are resuming classes online and online schools are hiring TEFL-certified teachers to teach English online. In our experience from working with online language schools, the demand for online education, including teaching English online, will continue to grow, even as the pandemic subsides. The key is taking an accredited TEFL certification class (more on that below) that will provide you with the teacher training you need and the qualification required by the vast majority of online teaching companies.
Why consider teaching English online?
First-time teachers typically make $15-$20 an hour teaching English online. You may not get rich, but it can supply sustainable income during uncertain economic times.
You can work from the safety and comfort of your home during the COVID-19 and any social isolation, or lockdown, caused by the outbreak. Check out Can I Teach English Online from the USA?
While many sectors of the economy are coming to a standstill and millions face the prospect of losing their jobs, there is strong demand to hire TEFL-certified teachers during the COVID-19 crisis and beyond.
If you do eventually plan on teaching English abroad, teaching English online first from home will help you gain valuable experience and boost your resume when you're applying to in-person jobs.
NOTE: In the summer of 2021, the government of China - one of the largest markets for online English teaching - implemented new regulations restricting the ability of Chinese companies to hire foreign English teachers. This has made the TEO job market more competitive. To learn more about opportunities with non-Chinese companies, check out 13 Non-Chinese Companies for Teaching English Online.
Why should I get certified with International TEFL Academy?
We care about you. Simple as that. We are all world travelers and have spent years of our lives living all over the world. We are not the cheap guys and we're not a diploma mill, we sincerely believe in what we do. We've helped more than 40,000 people get TEFL certified and experience life as a paid English teacher online and in over 80 countries. We truly set the standard in the TEFL industry with internationally accredited TEFL classes and lifetime job search assistance. As a full-service TEFL provider, we not only stress the quality of our actual TEFL courses but also provide personalized guidance from our team of experts, in addition to access to the best information and resources.
Learn more about why International TEFL Academy is considered the world leader in TEFL certification for teaching English abroad & teaching English online by reading 10 Reasons Why International TEFL Academy is the World's Top TEFL School in 2021.
What does ITA recommend at this time?
#1 - Stay safe! Stay informed and follow the guidance set out by local and national authorities. Getting vaccinated will not only provide protection against the virus, but it will enhance your ability to travel and work as an ESL teacher overseas. Talk to your doctor to go over your questions and discuss your options.
#2 - Talk with an ITA Admissions Advisor about your options for teaching online and overseas. Fill out this form and your personal Admissions Advisor will get in touch. You'll also receive your TEFL starter kit via email in a few minutes. You can also call us now at 773-634-9900.
#3 - Take advantage of our flexible payment options. We are doing everything we can to help our students through this challenging time. If you are interested in teaching online in the coming months or overseas in the future we have created a special payment plan for this crisis to make this affordable in your budget.
# 4: Plan for the future: We are all going to get through this. It typically takes 6-9 months start-to-finish to get TEFL certified and teach English abroad. So take action and get your planning started so you'll be ready to go when the time is right.
Finally, we are doing our best to stay informed on this rapidly developing situation and advise our students accordingly. Check out our Coronavirus (COVID-19) updates page for the latest information.
Read More: 6 Tips for Teaching English Abroad During COVID-19 Reopening
Read More: How COVID-19 Affects The TEFL Job Market
To learn more about your options, check out this video below:
COVID-19 FAQS: TEFL & Teaching English Abroad or Online What are My Options?
John Bentley is Co-Founder & Senior Writer for International TEFL Academy (ITA), the world leader in TEFL certification for teaching English abroad. A graduate of Harvard University and the Medill School of Journalism at Northwestern, John is a recognized expert in the field of TEFL. His articles have appeared across the field's top websites, including GoAbroad.com, StudyAbroad.com, InterExchange, GoOverseas.com, Adventure Teaching, & many others. He has also spoken as an expert on Teaching English Abroad & TEFL certification at major conferences like MeetPlanGo and Lessons from Abroad (LFA) in Portland & San Diego.
Want to Learn More About Teaching English Abroad & Online?
Request a free brochure or call 773-634-9900 to speak with an expert advisor about all aspects of TEFL certification and teaching English abroad or online, including the hiring process, salaries, visas, TEFL class options, job placement assistance and more.