must read
10 Reasons Why International TEFL Academy Offers the Best TEFL Certification for Teaching English Abroad & Online in 2023
Learn why International TEFL Academy offers the best TEFL certification courses and best job placement assistance for teaching English abroad & online.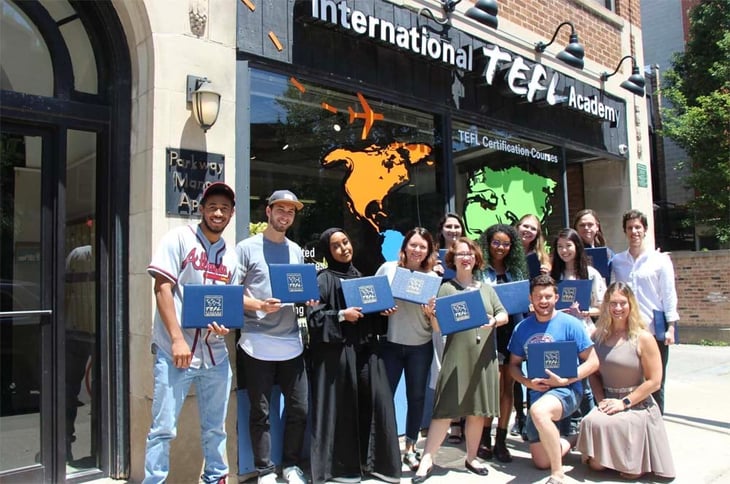 From world-class TEFL / TESOL certification classes and university-level instructors to personalized job search guidance and alumni networks, International TEFL Academy (ITA) is committed to ensuring that all of our graduates can have a life-changing experience teaching English abroad and/or teaching English online.
Here are 10 reasons why ITA offers the best TEFL certification to teach English abroad.
1. We Care About You
Simple as that. We aren't a diploma mill. If you're looking for quick, cheap TEFL certification training then we aren't the school for you. If you're looking to invest in a TEFL certification school that doesn't cut corners and will work with you one-on-one to craft a realistic, attainable plan for teaching English abroad and teaching English online – you've met your match.
Everyone on the ITA team, from our Admissions Advisors to our Student Affairs team and TEFL class instructors, has lived and traveled overseas extensively. We want YOU to have a life-changing experience getting TEFL certified and teaching English overseas, just like we all did.
The world is changing constantly, so we strive to provide our students with the most current, transparent guidance and information. We don't measure our success by how many students enroll in our classes, but instead by how many students go on to graduate from our classes and find teaching jobs.
2. Our Belief in Education and Our Commitment to Top Quality Training & Service
ITA was founded on the premise that language education offers English speakers from all backgrounds the opportunity of a lifetime to experience other cultures and build relationships abroad while providing a worthy service to others. We are committed to complete transparency and integrity in representing who we are, what we do, and what we stand for.
We Believe:
All students have a fundamental right to receive instruction from a trained professional teacher.
All teachers have a responsibility to their students to provide them with the best possible educational experience, which requires professional-level training.
English language education enables millions of global citizens to enhance their lives by learning English and makes our world a better place by promoting tolerance and mutual understanding through cultural exchange.
Teaching English as a Foreign Language provides English speakers from all walks of life with one of the greatest vehicles and most realistic opportunities to live an extraordinary life abroad.
Our Commitment:
To provide our students with the training and guidance that will enable them to travel the world while teaching English and provide a quality educational experience abroad as a trained English teacher.
Learn more about International TEFL Academy and who we are by reading our Mission Statement.

3. Alumni Community, Networking & Support
Our 40,000+ graduates are the heart and soul of ITA. You join the ITA family the day you enroll in your TEFL class! We have an Alumni Engagement Department here at ITA, and their top goal is to create and nurture traveling and teaching communities for all ITA students & graduates.
Top Alumni Resources:
- Country-Specific Facebook Groups: If you don't know anyone who has taught English overseas or online, don't worry, you're going to have many opportunities to connect with ITA and fellow alumni! These groups are the best for sharing travel tips, making new friends, asking questions to fellow alumni, finding roommates, and much more.
- ITA's Instagram (@IntTEFLAcademy): If you're looking for some serious travel inspiration and a glimpse into what it's really like teaching and living overseas, then follow us on Instagram! We feature day-in-the-life videos from our alumni all over the world so you can see this adventure through the eyes of an ITA graduate.
- ITA's Alumni Video Library: We have hundreds of videos from our alumni all over the world!
- Alumni Stories: Check out hundreds of articles, Q&As, and videos from ITA grads teaching in more than 60 countries worldwide.
- ITA's Teach Abroad Film Festival – This event is a fantastic way for ITA alumni to give everyone a firsthand glimpse into what life is really like day-to-day overseas.
4. The Best Job Search Guidance In The Industry. Yes, We Said It
No matter if you take our Online TEFL class or an In-Person TEFL Class, all ITA students and graduates receive lifetime job search guidance. We do not just email you over job boards and general information and wish you the best.
We have 8 full-time Student Affairs Advisors and their job is to assist our graduates in finding paid work teaching English overseas or online. Every ITA graduate will be assigned a Student Affairs advisor who will work with you one-on-one throughout your job search. Your job search advisor will assist you with everything from creating your resume/CV and cover letter, to coaching you on the interview process and helping you evaluate job offers and contracts.
Other Highlights of ITA's Job Search Guidance:
- Job Search Guidance Manual: All of our graduates receive a manual detailing all relevant information for major job markets around the world. This 500+ page manual is broken down country by country so you can easily find relevant information like international job boards, visa procedures, and more!
- ESL Worldwide School Directory: We will send you a directory of tens of thousands of schools worldwide broken down by country & city that you can contact directly regarding employment opportunities. We will also highlight our top preferred employers!
- Job Search Guidance For Life: Maybe you plan on teaching English abroad for 1 year and coming home to teach English online. Perhaps you want to country hop from South Korea to Spain to Costa Rica. Well, we've got your back throughout your entire ESL teaching career! If you ever need us, don't hesitate to get in touch and we're always ready to help you.
- Guaranteed Job Placement Programs in Asia: For those willing to invest extra for additional levels of support and guarantee of a high-quality English teaching job in Japan, South Korea, or Thailand, ITA offers our Guaranteed Job Placement Programs for Teaching English in Asia.
Check out a comprehensive overview of Job Search Guidance at International TEFL Academy.
5. Comprehensive Pre-Enrollment Guidance From Expert Admissions Advisors
It's our policy and belief that every person who wishes to teach English abroad or online must speak with an Admissions Advisor prior to enrolling in any of our TEFL classes. Why? Because we want to ensure that every single one of our students is fully informed on what their realistic opportunities will be for teaching English abroad and online. We also want to make sure everyone understands how the TEFL certification process works prior to committing time and money to enroll in a course.
Our highly trained Admissions Advisors have all lived, worked, traveled and taught abroad. They have experienced firsthand the challenges and rewards of living & teaching English abroad.
All ITA staff members receive extensive, ongoing training to keep up with the latest developments relating to teaching abroad. Your Admissions Advisor is available to discuss all aspects of teaching abroad including hiring & visa procedures, salaries, benefits, top country options, and much more!
6. TEFL Instruction Provided by University Level Instructors
Instruction is provided by highly qualified university-level instructors with extensive experience teaching English as a foreign language. All our TEFL course instructors must meet or exceed the following standards:
Hold a Master's in Education or TESOL (Teaching English to Speakers of Other Languages) or higher; a high percentage of instructors will also hold a PhD.
Have at least one year of overseas teaching experience. Professors will share their personal experiences and insights with their students.
Read more: Meet our Instructors
7. Accredited TEFL Course Options to fit our Students' Needs
International TEFL Academy offers internationally accredited TEFL / TESOL certification courses in more than 25 locations around the world as well as state-of-the-art 170-Hour Online TEFL Certification.
We are proud that all of our courses meet or exceed professional international standards:
International accreditation from leading independent bodies in the field including IATQuO, the College of Teachers, and others.
Requirement of at least 100 hours of academic work and 6-20 hours of live practice teaching, observation and/or tutoring.
Instruction is provided by highly qualified university-level professors with extensive experience teaching English as a foreign language.
Limited class sizes to ensure individual attention from instructors and an interactive, hands-on learning environment.
Each course is designed to provide students with the skills and confidence to become professional English teachers abroad. The quality and accreditation of our courses enable our students to successfully gain employment in schools and language institutes around the world.
Quality Assurance
ITA issues its awards through TQUK, one of the leading accrediting bodies for TEFL certification in the world that is sanctioned & recognized by the British Government. The certification is lifetime and qualifies our graduates to work in any country with an English teaching market worldwide.


Read more: Accreditations for TEFL
8. Continuing Education Opportunities
Are you interested in teaching English online? What about teaching English specifically to young learners or business professionals? All ITA students and graduates have the option to enhance their teaching skillset and resume by taking additional TEFL Specialty classes.
Your standard Online or In-Person TEFL course is a great foundation and first step to becoming a successful English teacher. These specialty classes are meant to boost your confidence and ultimately give you a competitive edge over other job applicants.
ITA's Specialty Classes:
9. ITA TEFL Certification Classes are Regarded as the Best in the Field
If you're going to invest your time, money, and energy into getting TEFL certified and moving to a foreign country to teach English abroad, you want to get a certification from a top institution that is respected and recognized within the industry, right?! Over the past decade, ITA has developed a reputation as the world leader in TEFL certification for teaching English abroad. Many schools and teaching programs specifically approach us asking to hire our students because they know from experience that ITA graduates are well-trained and prepared.
ITA staff, students and alumni are proud that ITA has also received multiple awards & widespread recognition as one of the best TEFL schools in the world for offering TEFL certification for teaching English abroad & teaching English online.
In 2018, 2021 and 2022, ITA won the People's Choice Award for Best International Education Organization at the GoAbroad Awards for Innovation in Meaningful Travel.
Since the beginning of 2019, ITA has also been named the #1 TEFL school by GoAbroad.com and GoOverseas.com across a range of awards categories for TEFL certification, including #1 Best Online TEFL Course and #1 Best In-person TEFL Class (ITA Chicago TEFL Class) by GoAbroad.com. ITA's Online TEFL Class also received recognition as the top-ranked Online TEFL class in several categories of the GoOverseas.com Community Choice Awards for TEFL Certification as well.
In addition, International TEFL Academy has an A+ rating from the Better Business Bureau (BBB).
To learn more and to check out press mentions, please read International TEFL Academy's Awards & Recognition page.


10. Don't Believe Us? See What ITA Alumni Have to Say!
Okay - we get it, we're blatantly tooting our horn here — guilty. So, do you want to see what our students have to say about their experiences getting TEFL certified and teaching English abroad?
Check out the following links to read more than 2,500 candid reviews of ITA from actual students and graduates on external 3rd party websites:
A journalism major at the University of Iowa, Jessie took the ITA Online TEFL Course and taught English in South Korea & Vietnam before joining the team. As one of ITA's most senior writers, Jessie is the author of numerous articles about teaching English abroad & TEFL certification, and she has spoken at various conferences about working & teaching abroad, including the Lessons from Abroad (LFA) symposiums in San Diego & Portland. Her articles have also appeared in such popular online publications as InternQueen.com.
Want to Learn More About Teaching English Abroad & Online?
Request a free brochure or call 773-634-9900 to speak with an expert advisor about all aspects of TEFL certification and teaching English abroad or online, including the hiring process, salaries, visas, TEFL class options, job placement assistance and more.