must read
13 Non Chinese ESL Companies to Teach English Online With
Looking for non Chinese ESL companies that are hiring online ESL teachers? We've got you covered! In this guide, we've compiled 13 non Chinese online English teaching companies you can teach English online with.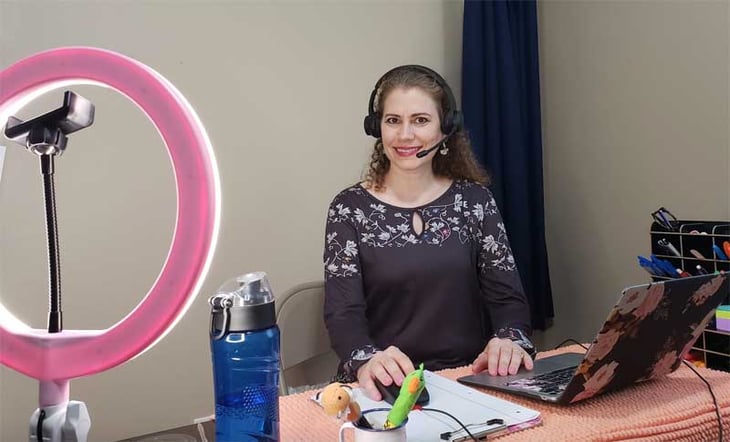 The hottest topic in the world of online ESL teaching right now is the China education crackdown from the Chinese Ministry of Education. This news affects mostly for-profit private tutoring institutions within China that cater to children, including online ESL schools. While this has caused a lot of panic and uncertainty within the industry, we've put together a list of alternative online teaching platforms, all of which are non-Chinese-based companies.
Here are 13 non-Chinese ESL companies you can teach English online with:
Table of Contents
All Right
All Right is a growing English school teaching mainly young learners from the ages of 4-12. They are based in Europe.
All Right Teacher Requirements:
A degree is not required to be a teacher with All Right.
If you do not have a degree, however, you will need a TEFL certification as well as some teaching experience to be considered.
You also do not need to be a native English speaker - All Right takes on three categories of teachers: Standard; Near-native; and Native, and pay will fluctuate based on which category of teacher you fall into.
All Right Pay:
Near-native teachers usually start on $8 USD per hour but after 6 months, the pay can be bumped up to $10 USD per hour based on performance.
Native teachers can expect to make up to $12 USD per hour.
A teacher incentive program is also offered which contains monetary and non-monetary rewards.
All Right Hours:
For Near-natives and Native teachers, there is a minimum contract requirement of 15 hours per week, with 6 of those hours needing to be on weekends.
Classes are either 25 mins or 55 mins in length.
All Right Students:
Mainly young learners from the ages of 4-12.
Provide services to students from all over the world, but most of them are from Russia, Poland, Spain, and Italy.
All Right Class Structure:
They have their own in-house curriculum which is provided to you.
Trial lessons are 25mins and allow the teacher to meet the students and parents and an opportunity to sell themselves.
If the student is happy with the trial lesson, they can book paid lessons with the teacher.
Lessons are either 25min or 55min packages.
Consists of mainly 1-2-1 lessons.
Also offers "Speaking Clubs" which can contain small groups of 6-10 and some even 35 students, which are conducted on Zoom and the teachers can sign up for them to fill their schedules if they are not so successful at getting 1-2-1 students.
All Right Technical Requirements:
Laptop/computer with webcam and microphone capabilities.
Headset with microphone preferred.
Stable and reliable internet connection.
All Right Cons:
Lower hourly rate than most other platforms but hours may be better suited since they are based in Europe.
All Right Application Process:
Step 1: Applicants will need to fill out a form outlining some details and qualifications.
Step 2: Upload your resume.
Step 3: Upload a copy of your degree if you have one.
You can apply to be a teacher with All Right here.
Beyond English
Beyond English (BE) is a B-Corp Certified Edtech company based in Chile. They are dedicated to teaching languages ​​to promote cultural exchange and expand access to educational opportunities. They are a team of passionate educators from all over the world, united by the same social mission.
Beyond English Teacher Requirements:
A bachelor's degree.
TEFL Certification.
Letter of Recommendation.
Authorized to work in the USA or Chile (but can teach from anywhere in the world).
Classroom experience.
Native English speaker & teacher OR Native Spanish speaker & teacher.

Intermediate Spanish level/knowledge.

Excellent intercultural and communication skills.
Beyond English Pay:
Starting pay is $14-17 USD per hour taught for U.S. teachers.
Beyond English Hours:
Hiring part-time online teachers to teach up to 16 hours per week.
The minimum hours required is at least 10 per week.
Hours are set and you can pick your own schedule.
Teachers receive a survey to provide their availability and are then given classes based on their available hours/student preferences.
Beyond English Students:
Children (4-14) and adults.
Beyond English Class Structure:
Adults: individual and group classes (max. 5 students)
Children: one-on-one
You develop and plan your own engaging student-centered lessons with the support of a team and BE's teaching resources.
Beyond English Technical Requirements:
Laptop/computer with webcam and microphone capabilities.
High-speed internet connection.
Beyond English Application Process:
Complete the online application by including your resume, cover letter, degree, and letter of reference.
Upload your video pitch as part of your application.
Submit application.
You can apply to be a teacher with Beyond English here.


Watch ITA alumna Beverly Webster talk about her experience in La Paz, Mexico teaching English online with non Chinese ESL company Beyond English:
Cambly
The Cambly platform enables you to engage in short discussion sessions with students from around the world via webcam - no experience necessary.
Cambly Teacher Requirements:
Be a native-English speaker from a native-English speaking country: United States, Canada, UK, Ireland, South Africa, Australia, and New Zealand.
No bachelor's degree or prior teaching experience is required.
Cambly Pay:
Pay is $0.17 USD per minute ($10.20 USD per hour).
Cambly automatically tracks the time you spend tutoring.
Cambly delivers your earnings every Monday via PayPal.
Cambly Hours:
As a Cambly tutor, you set your own hours.
Work as little or as much as you want.
You can log in whenever you have a free moment and start taking student calls within minutes.
No minimum number of work hours is required.
Cambly Students:
Students are usually adults.
Students can be from anywhere around the world.
You might chat with a university student from Brazil, a marketing professional from Japan, and an English enthusiast from Turkey all in one day.
Cambly Class Structure:
Lessons are 1-on-1 - just the teacher and the student.
Cambly provides guided courses, including academic test prep, business English, conversation practice, and more.
Cambly Technical Requirements:
Laptop/computer with a webcam.
Headset with a microphone.
Cambly provides you with an interactive online classroom.
A steady, fast internet connection (wired preferred).
Cambly Cons:
Pay is considered to be on the lower end of the scale compared to other online teaching platforms.
Given that no qualifications are required, competition can be high at times when there is an abundance of teachers looking for students.
Cambly Application Process:
Becoming a Cambly online ESL teacher is made up of a 3-step application process.
Step 1: You will need to make sure your connection can handle video streaming reliably. Here, Cambly will test your video and audio and automatically let you know if they pass the connection test.
Step 2: Record an on-the-spot short introduction video. If you mess up, you can re-record it as many times as needed.
Step 3: Fill out your tutor profile as you'd like it to be viewable to students. This is your chance to market yourself to students on Cambly. Submit your application.
Ready to apply? Click here.


Preply
Preply is an online tutoring platform that caters to a plethora of languages other than just English. Preply tutors teach 800,000+ students globally.
Preply Teacher Requirements:
No degree or teaching experience is required.
Looking for tutors that enjoy sharing knowledge and making a difference in students' lives.
Have outstanding communication skills.
Are willing to provide a personalized learning experience to international students.
Preply Pay:
Choose your hourly rate and change it anytime.
On average, English tutors charge $15-25 per hour.
Most popular tutors on Preply earn up to $550 a week.
Your earnings depend on the hourly rate you set, the number of lessons you teach, and how many students continue learning with you after the trial lesson.
A tip for newly registered tutors: start with a lower hourly rate to get first students faster. You can change your rate anytime.
Preply takes a commission fee from your lessons.
The commission for every trial lesson with a new student is 100%. For all subsequent lessons, the commission starts at 33% and decreases to 18% based on how many hours you've taught on the platform.
Preply Hours:
Decide when and how many hours you want to teach.
No minimum time commitment or fixed schedule.
The more hours you tutor with Preply, the less commission they take from your rate of pay.
Preply Students:
Students can be from anywhere in the world.
Students can be of any age, but the majority will be adults.
Preply Class Structure:
Preply Technical Requirements:
You will need a laptop or a desktop computer.
A stable internet connection.
A webcam.
A microphone for conducting lessons in the Preply virtual classroom.
Preply Cons:
If you're only teaching a few hours a week, the 33% commission structure that Preply takes is very high. You have to build up teaching hours for the commission to drop down to 18%.
Preply Application Process:
The Preply application form consists of the following sections:
About section
Profile photo upload
Description
Upload an intro video
Set your availability
Complete the Preply verification
Complete your application here.


SkimaTalk
SkimaTalk Teacher Requirements:
To apply to be a SkimaTalk teacher, you must be a native English speaker with American, British, Canadian, Australian, New Zealand an/or Irish/English dialects.
Those whose native tongue is another language or dialect than those listed above will be asked to wait until SkimaTalk expands its teacher qualifications.
Tutors must be 18 years of age or older.
Prior teaching experience/training is preferred but not required.
SkimaTalk Pay:
New teachers are initially required to conduct 3 free sessions to understand how the system works and build up their reputation on the platform.
After the three initial sessions are booked, the price will automatically change to $8/session (25 minutes).
Once the system automatically sets your price at $8, you will be able to set your own price if you choose to do so.
Whatever price you set, just remember that SkimaTalk charges a fee of 20% of the session price, less applicable PayPal / Stripe fees. The remaining 80% of the session cost (less applicable PayPal fees) gets passed directly to the teacher.
SkimaTalk Hours:
Set your own schedule.
Work as many or as few hours as you choose.
SkimaTalk Students:
Students are more often than not adults.
Students are from all over the world.
SkimaTalk Class Structure:
Lessons are 1-on-1 - just the teacher and the student.
Teachers can be creative and use their own teaching materials and methods to be unique and stand out on the SkimaTalk platform.
There are SkimaTalk courses available for you to use during a lesson, but you do not need to use these unless your student requests that you do.
SkimaTalk Technical Requirements:
Laptop/computer with a webcam.
Skype - you will use the Skype platform to conduct classes.
Headset with a microphone.
A steady, fast internet connection (wired preferred).
SkimaTalk Cons:
You only get paid once per month.
You have to use Skype to conduct your lessons - SkimaTalk does not have its own video-based platform.
SkimaTalk Application Process:
Becoming a SkimaTalk teacher is made up of three easy steps:
Step 1: Create an account by signing up.
Step 2: Fill out your teacher profile and record a video introduction.
Step 3: Complete a few short, simple tests and then wait for approval and account activation.
Ready to apply? Click here. Want more info? Check out SkimaTalk's teacher FAQs.


Open English
Open English is the most renowned online English school in Latin America. Since 2007, they have helped more than 500,000 students reach language fluency. Different from on-site courses, overcrowded and with fixed schedules, Open English offers online, live classes 24x7.
Open English Teacher Requirements:
Open English is looking for qualified EFL/ESL professionals who are native, North American English speakers to provide services as Academic Specialists.
Candidates without a relevant degree must have a TEFL/TESOL certification and at least 1 year of EFL/ESL teaching experience.
Spanish language skills are a plus.
Open English Pay:
Open English Hours:
Open English is a great fit for those who currently have a busy schedule working or studying, and are available during evenings hours (USA ET).
Teachers must provide a minimum of 10 hours of availability each week, and can be scheduled a maximum of 26 - 36 hours a week, depending on location (part-time employees are limited to 26 hours per week).
There are no guaranteed hours, and assigned hours can vary seasonally.
Open English Students:
Open English: Teach adult professionals from all over Latin America in a group or one-on-one classes on our well-known state-of-the-art teaching platform.
Open English Junior: Teach highly engaging group and one-on-one classes with children and adolescents between the ages of 8 and 14 from across Latin America.
Open English Centers: As a remote teacher for Open English Centers, you will teach interactive group classes to students attending our popular learning centers.
Open English Class Structure:
Teach with developed lesson plans so no preparation is required.
Access to the Open English Teacher Hub with resources, podcasts, training, and more.
Both group or 1-on-1 lessons are provided.
Open English Technical Requirements:
Must have a computer/laptop equipped with a webcam and microphone.
Access to a reliable, high-speed internet connection.
Open English Application Process:
While completing the application to become an Academic Specialist with Open English, you will learn about the classroom experience and technical requirements, while also providing information about your qualifications, skills, and experience. After completing the application, it will be reviewed and may be held until there is a position available. You may be asked to complete an interview or video recording.
If you are selected, you will go through an onboarding process and must complete training to become familiar with the Open English platform and preferred methodologies before being assigned any shifts. To summarize the application process:
Step 1 - Complete application
Step 2 - Complete any additional steps required (interview or video submission)
Step 3 - If selected, complete on-boarding
Step 4 - Complete training
Step 5 - Start teaching!
Interested in applying? You can apply here and find out more information here.
Latin Hire
LatinHire is a business process outsourcing company specializing in online education. They recruit and manage talent for some of the largest education companies in the world. LatinHire isn't just looking for English tutors though, their tutors are experts in at least one of the following areas: English, Calculus, Chemistry, Physics, Statistics, Algebra, Geometry, Trigonometry, Accounting, and Finance and Economy.
LatinHire Teacher Requirements:
American tutors only.
If you are chosen as a LatinHire Online Tutor, they will introduce you to one of their clients and you must pass the client's own evaluation to start tutoring.
All formalities (training, management, payment, etc.) are handled by LatinHire.
You don't need to submit any documentation in your initial application. Later on, if you qualify for one of their online work opportunities, you may need to submit proof of your academic achievements and you may need to go through a criminal background check.
LatinHire Pay:
The compensation varies depending on the subjects the tutor will be tutoring, the quality of his/her sessions, and the total amount of hours that he/she is available to work.
Pre-selected applicants are informed of exact pay rates for each specific subject, quality, and client.
Tutors get paid for every minute they teach or wait for students.
LatinHire Hours:
Hours are completely up to you - teach as many or as few hours as you wish.
You have the freedom to teach in the morning or at night.
LatinHire Students:
Adults and children based in Latin America.
LatinHire Class Structure:
Both 1-on-1- and group lessons.
LatinHire Technical Requirements:
Laptop/computer with webcam and microphone.
Fast, stable internet connection.
LatinHire Cons:
LatinHire recruits online English teachers on behalf of other e-learning companies, so it is unclear which company you will be working for while completing the application process.
LatinHire Application Process:
You must first complete and submit an application form. LatinHire will then review your application and if your profile meets any of their current needs, they will contact you to start the application process for the specific tutoring subject and company where you are needed. If your profile doesn't meet any of their current needs, you will be put on a waiting list and they will contact you as soon as we need to recruit tutors in your area of knowledge.
You can access the LatinHire application form here.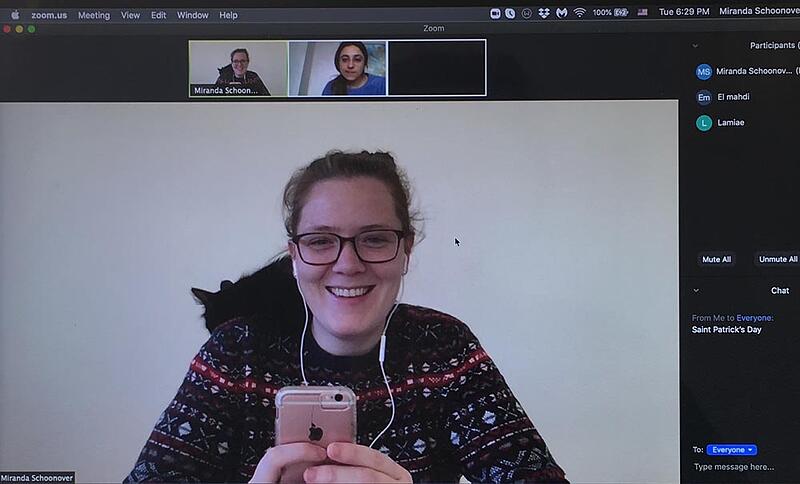 English2Go
With English2Go, you teach English online to business executives in Costa Rica and throughout Latin America. English2Go's goal is to bring high-quality, competitively priced English language training to professionals in a completely online setting.
Given the older and more professional student demographic that English2Go targets, they prefer hiring teachers over 40, especially if they have any life/business experience to offer!
English2Go Requirements:
TEFL Certification.
Native English speaker (North American English preferred).
University graduate (BA or higher preferred).
Experience teaching ESL or other teaching experience is preferred.
English2Go Pay:
The current starting hourly rate is $11-$12.00 USD.
English2Go Hours:
Minimum six-month commitment with a preference of one year.
Set your own schedule.
Most starting subcontractors can expect to receive 4 to 12 hours a week so they can get their feet wet.
English2Go Students:
Your students will be business executives in Latin America.
You should be prepared to adapt to different cultural and student needs. Any specialized vocabulary and knowledge that a subcontractor can bring to a class will be a plus, especially business, banking and finance, accounting, medical or legal vocabulary.
English2Go Class Structure:
English2Go will provide you with the necessary materials for your classes, but you are responsible for class preparation, lesson planning, daily class, and student reporting, as well as monthly course reporting.
Class size will range from 1 on 1 teaching to group classes with up to 6 students per class.
English2Go Technical Requirements:
Laptop/computer with webcam and microphone.
Fast, stable internet connection.
You will be teaching English to employees and executives using the English4You online learning platform, and the secure video conferencing software of your choosing.
Experience with video conferencing software, such as Zoom, Microsoft teams, Skype, or others, is essential.
English2Go Application Process:
Complete their application form and wait to hear back.
You can find the link to the English2Go teacher application page here.


FluentBe
FluentBe is an online language school targeting central European students. Their classes take place online 1-to-1 or in groups of up to four students using webcams and applications similar to Skype.
FluentBe Requirements:
At least 1-year of experience teaching English to foreigners.
Online teaching experience is a plus.

Non-Natives: While Fluentbe doesn't specifically mention that they recruit non-natives, their requirements only mention that you must be:

Happy, talkative, engaging, and open.
Passionate about something (we will talk about it during the interview).
FluentBe Pay:
While this is not directly listed on their website, other sources list the pay rate at $10 USD per hour.
FluentBe Hours:
Flexible working hours - you choose when you work.
FluentBe Students:
You would be required to teach English to Central European students (children, teenagers, adults).
FluentBe Class Structure:
Classes take place online 1-to-1 or in groups of up to four students.
Teaching resources and lesson plans are provided.
FluentBe Technical Requirements:
Must have a good internet of connection at least 1Mbps.
Laptop or desktop computer
Webcam
FluentBe Application Process:
Fill out the form, attach your resume, and wait for a reply.
You can apply here.
Engoo
Engoo teachers provide English lessons to students from Japan, Taiwan, and other parts of the world via Skype.
Engoo Requirements:
Must be at least 18 years old.
Must be proficient in English (a language test is part of the application process).
ESL teaching experience is not required.
Engoo Pay:
Although the rate of pay is not listed on the Engoo website, Glassdoor estimates pay to be around $11 per hour, but we have no confirmation of this rate.
Engoo Hours:
Tutors are free to select slots to open for teaching. The schedule is flexible, slots can be opened 24/7, up to 7 days in advance, including weekends and holidays and there is no minimum number of classes you have to conduct.
Engoo Students:
Tutors will be teaching (mostly) Japanese students of varying ages, proficiency levels, and backgrounds. Students may also be from Taiwan and other parts of the world.
Engoo Class Structure:
Your lessons will be 25 minutes long, with 5 minutes break time in between and all lessons are one-on-one.
Lessons are one-on-one.
Engoo Technical Requirements:
You will need a working computer (desktop or laptop)
Skype account required
High-speed internet connection
Working headsets/earphones
Webcam
Engoo Cons:
You have to use Zoom to conduct your lessons - Engoo does not have its own video-based platform.
Engoo Application Process:
Register
English & Internet Connection Test
Receive Training Materials
Complete Training & Demo Lesson
Start Teaching
You can apply here.


Lingoda
With students at the center, Lingoda's mission is to empower even the busiest people to master a language and unlock their potential – anytime, anywhere. Students at Lingoda can learn English, German, French, and Spanish in small groups or in private classes. Lingoda is the leading online language school in Europe.
Lingoda Teacher Requirements:
To apply to be a teacher with Lingoda, you must have at least 2-3 years of teaching experience.
Hold an ESL teaching certification (TEFL/TESOL/CELTA).
You must be a native speaker of the language you wish to teach (in this case, English)
You must also be legally able to work as a freelancer.
Lingoda Pay:
Pay ranges from €7 - €11 per hour (~$7.85 - $12.34 USD per hour).
Lingoda Hours:
Design your own schedule around your life.
Work not only when you want but as much as you want.
No minimum hours are required.
The beauty of Lingoda is that you can book both long term (months in advance) and short term (hours in advance). This allows you to have a completely flexible and spontaneous schedule.
The average Lingoda teacher teaches approximately 5-20 hours per week.
Lingoda Students:
Students are adult learners.
Students are from all over the world.
Lingoda Class Structure:
Small groups (3-5 students) lessons available.
1-on-1 private lessons available.
Use Lingoda's in-house designed learning materials based on the European Framework (CEFR) to minimize class preparation and make teaching a breeze.
Lingoda Technical Requirements:
Lingoda classes are taught on Zoom, an online conferencing platform.
You need a high-speed internet connection
A computer/laptop with a webcam.
A high-quality headset.
Lingoda Cons:
You have to use Zoom to conduct your lessons - Lingoda does not have its own video-based platform.
Lingoda Application Process:
Apply online.
Be invited for an interview.
Complete the online onboarding process.
Take your first class!
Ready to apply to teach English with Lingoda? Head to this link.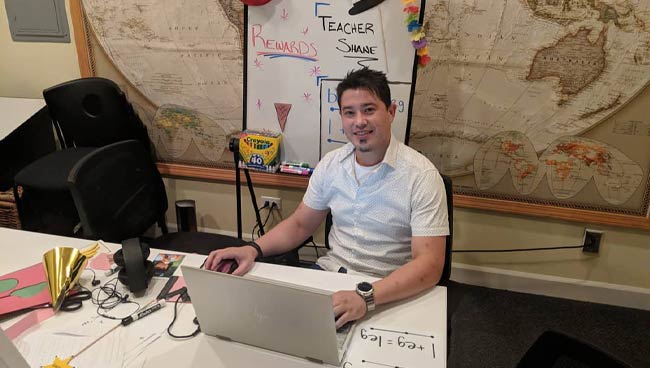 italki
italki is a global language learning community that connects students and teachers for 1-on-1 online language lessons. They claim to be the world's largest marketplace for online language teachers.
italki Teacher Requirements:
italki's 'Professional Teacher' role requires one of the following qualifications:
A TEFL certification from an accredited institution (120 hours minimum), OR
A university degree in teaching English as a foreign language, OR
A national or state English teaching license, OR
Proof of employment at an English language teaching institute.
So as long as you have your TEFL certification, even without a university degree, you can apply for this role.
italki also requires that teachers have native proficiency or C2 level in order to teach English.
italki Pay:
As an italki teacher, you set your own prices.
The lowest price per lesson Professional Teachers can charge is $10 USD.
Teachers usually offer a lower Trial Lesson price to attract new students.
When a lesson is completed, iTalki charges a 15% commission fee based on the teacher's listed lesson price (so if you list your lesson price at $10, you will receive $8.50 and iTalki will take $1.50 in commission).
italki does not charge a commission fee for trial lessons.
italki Hours:
Set your own schedule and availabilities.
Teach as much or as little as you want.
Students schedule lessons during your available times.
italki Students:
Students can be of any age, but most commonly will be adults.
Students can be from anywhere around the world.
italki Class Structure:
Classes are taught 1-on-1.
italki Technical Requirements:
A laptop or desktop computer with a microphone and a webcam.
Headphones are also recommended.
A stable internet connection.
You can use one or more of the following video platforms to conduct lessons.
italki Classroom
Skype
Zoom
Google Hangouts
Facetime
WeChat
QQ
italki Application Process:
Application submission
Application review
Pre-Approved or Waitlist or Rejection of application (applicants will be notified via email within 10 business days)
Teacher Success Videos and Quiz
Video Call with italki Teacher Services
An application will be approved once steps 4 and 5 are completed within 7 days of the pre-approved email being sent
Begin your application here.


Tutlo
Tutlo is a modern language learning platform that allows flexible learning. It is a Polish-based platform that offers one-on-one learning to business professionals, children, and adults.
Tutlo Teacher Requirements:
A native English speaker from: the US, the UK, Ireland, Australia, New Zealand, Canada, and South Africa.
At least 18 years of age.
Minimum of 6 months of English teaching experiences (offline/online classes, private tutorials, language volunteer programs).
TEFL certification.
You should be a good conversationalist.
Tutlo Pay:
Pay ranges from $5-11 USD per hour.
Paid via PayPal.
Tutlo Hours:
Teach as much or as little as you want.
Lessons are on-demand, meaning they do not have to be booked via an open schedule in advance - just connect at your convenience.
Tutlo Students:
Students can be children and teenagers, adults, or business professionals.
Tutlo Class Structure:
Lessons are 1-on-1.
Lessons are 20 minutes in length.
Students also have the option of selecting a 40 or 60-minute lesson.
Tutlo Technical Requirements:
At least 5 Mbps internet speed both for upload and download.
Laptop/computer with webcam and microphone capabilities.
Headset with microphone preferred.
Tutlo Cons:
The website doesn't go into too much detail about the job role, etc.
Tutlo Application Process:
The application process is straightforward.
Fill out this

form

, submit the required documents, introduce yourself in a short video, and submit your application!
Additional Resources:
Read further: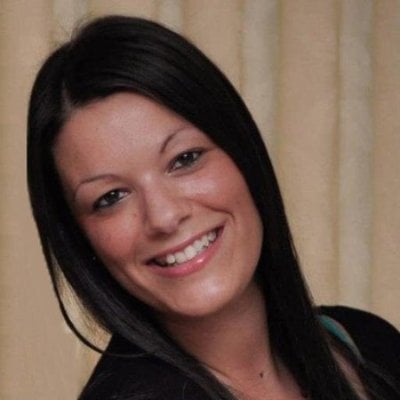 An accomplished traveler (she's visited 40 countries!), Lynda hails from Melbourne, Australia. Since she joined ITA in 2017, Lynda has become a primary expert on the field of teaching English online. Not only has she published numerous articles on the topic herself, but she has worked with International TEFL Academy alumni around the world to produce an entire library of information and content about teaching English online. Lynda also serves as a primary organizer of ITA's ground-breaking Teach Abroad Film Festival.
Want to Learn More About Teaching English Abroad & Online?
Request a free brochure or call 773-634-9900 to speak with an expert advisor about all aspects of TEFL certification and teaching English abroad or online, including the hiring process, salaries, visas, TEFL class options, job placement assistance and more.