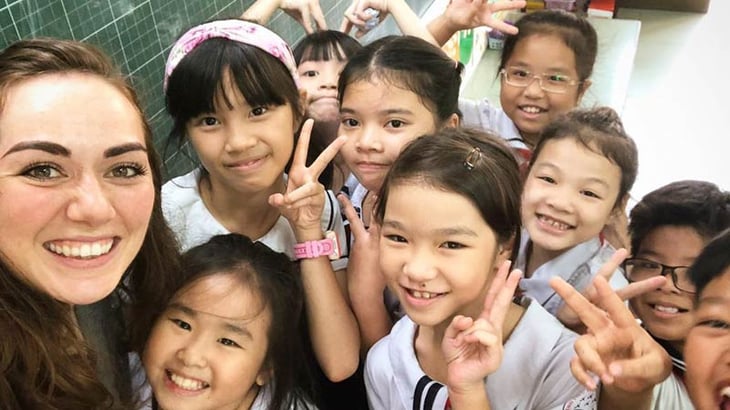 6 Reasons Why Teaching Abroad Will Be Even Better Than Studying Abroad
Did you have the time of your life studying abroad in Madrid, Paris or Prague?


Have you got a serious case of the international travel bug?


Missed out on studying abroad, but still want to travel the world?


Do you like the idea of getting paid to live in Europe, Asia or Latin America?

If you're like about 99% of us who have studied abroad, your typical first answer when people ask you about your experience is, "I loved it, but it wasn't enough and I'm dying to get back overseas!" Well, here's some great news: if you are an English speaker, whether or not you studied abroad, you can take your international experiences to the next level by getting paid to live and teach English abroad.

In fact, at International TEFL Academy, we like to say that if studying abroad is "International Adventure 1.0," then teaching English abroad is "International Adventure 5.0+."

A native English speaker with a degree (in any field) who earns a TEFL Certification can viably can employment teaching English abroad in up to 80 countries worldwide and even without a degree, you can teach in up to 50 countries. For most English speakers, it's not a question of whether you can get a job, but which job in which country is the best fit for you?
So, if you're wondering if you really can top that semester in Florence, here are 6 reasons why teaching English abroad will be even better....


1. It's Way Cheaper and You'll Actually Get Paid to Live and Travel Abroad
Studying abroad can be a life-shaping experience and while it may be worth every penny, but let's be frank, it can be prohibitively expensive as most study abroad programs end up costing the average student $10,000 - $30,000 for one semester overseas. Holy student loans, Batman!
As an English teacher abroad, you will actually get paid while living overseas - in Europe, Asia, Latin America, just about anywhere. Certainly teaching abroad will require incurring certain start-up costs, but they are a fraction of what you will spend on studying abroad and once you begin working, you will be making a salary that enables you to cover your living costs and enjoy all of the experiences and adventures of living overseas.

Basically you will be able to fund yourself while living abroad as long as you like; and, in some cases you can make and save a good deal of money as an English teacher abroad. In fact, in some countries you can even make enough to pay off some of those big student loans you incurred while studying abroad!
Did you know that a first-time English teachers with a TEFL certification in a nation like South Korea will receive free airfare, free housing, 3-4 weeks paid vacation and make enough salary to save $1,000 a month or more after expenses? That way you can actually start repaying some of those student loans you racked up while studying abroad. In addition you can spend your vacations scuba diving in the Philippines, backpacking in Thailand or eating sushi in Tokyo.
How many entry-level jobs right out of college can match that? Virtually none.


2. Get International Work Experience on Your Resume
Studying abroad is often hyped as resume booster and certainly it does provide some juice, but teaching English abroad will provide actual international professional work experience on your resume. In the globalized economy of the 21st century, potential employers in nearly every field seek those with exactly this sort of experience.
In addition, teaching English abroad provides a ready answer that will set you apart when an interviewer for a job or a placement in a quality graduate program asks you to provide a real-life example of how you've taken on new challenges, stepped out of your comfort zone and adapted to new environments. Your international experience and stories will set you apart from the thousands of others who possess a similar academic background, internships, and so forth, but who haven't been abroad.

"My professional and life experiences abroad made me memorable, worldly and interesting. They helped my resume stand out from the others in the stack. I didn't need to tell my interviewer that I am motivated, diligent and determined - my experiences abroad provided ample evidence to my interviewer that I was all of those things and more. I made a goal to throw myself out there and really do something meaningful and different and I followed through. When asked to provide examples of my abilities to take on new challenges, adapt to new environments, or work with people from different backgrounds, teaching English abroad provided compelling answers."
- International TEFL Academy graduate & staff member, Jessie Smith


3. You'll Actually Live as a Local in a Foreign Country
As an English teacher abroad, you will certainly be able to tap into a diverse and active English-speaking community in most cases, but you will also truly live life as a local. You'll typically live in a typical apartment in a middle class neighborhood. You will shop at local shops and markets and hang out at local bars and cafes just like the locals. You'll probably ride public transportation every day and as an English teacher you will encounter local citizens from a variety of backgrounds, both as students and colleagues and in the routines of your daily life.
What's also great is that almost no matter where you teach in the world, your colleagues, students and other local citizens of your host country will welcome you into their homes to experience their daily lives and cultural traditions firsthand, from weddings to national festivals. And, if you're looking to master a foreign language, this sort of immersion can provide a perfect opportunity to really achieve fluency.
As an English teacher abroad, you will become a valued friend, mentor and colleague in the local community.
4. No Rush! You Can Stay Abroad as Long as You Want
Most participants in a study abroad programs stay overseas for one semester, or 3-5 months. This provides a perfect opportunity to experience international travel and moving far away from home for the first time, but many study abroad participants find that by the time they've actually settled in, adjusted to life in their new country and begun to build true friendships - D'oh! - it's time to head back home and the realization sets in that there is just so much more to see and do. Factor in classes and endless bus tours to castles and other programmed activities, you realize that really, you didn't have quite enough time overseas during your semester abroad.
As an English teacher overseas, you will typically teach in one country for 10-12 months (contract lengths can vary from 1-2 months for summer camp positions to a year or longer), with the option to stay as long as you like in most cases because the job market for English is teachers in most countries is just so strong. This really provides you with an opportunity to make the country where you teach your home for as long as you like, whether it be 6 months, a year, or five years. You will develop a routine, make friends and have time to travel and explore not the only the city or country where you teach, but the region as well.
5. You Can Teach English and Live in Multiple Countries and Regions
In addition, an accredited TEFL certification is internationally recognized and does not expire, so once you have it, you will be qualified for thousands of jobs worldwide, which means you can teach in as many countries as you like. At International TEFL Academy, all students and graduates receive lifetime job search guidance, so if you teach first in Spain and then decide you want to experience another part of the world and teach English in Asia, or Latin America, you will have access to all of the assistance, resources, contacts and guidance you need to gain employment opportunities in those regions. Many International TEFL Academy graduates have taught in multiple countries and some, like Annie Chen from Los Angeles California, have taught in as many as 4 or 5 different countries (and traveled to many more along the way).


From Italy to Indonesia, International TEFL Academy graduate, Annie Chen (left), has taught English abroad in four countries since taking her TEFL class in Florence, Italy.
6. You Will Make a Positive Impact on the Lives of Others
One of the great aspects of working as an English teacher overseas is that you will be able to make a difference in the lives of others. The fact is that in the globalized world of the 21st century, learning English opens the doors to greater educational and professional opportunities for billions of people worldwide. As a teacher, enabling your students - whether they be school children, businessmen, or university students - to achieve their goals of learning English will probably be one of the most rewarding experiences of your life. In addition, you will enjoy a status of respect as a mentor and teacher that you just never had when you were studying abroad.


---
"If you're twenty-two, physically fit, hungry to learn and be better, I urge you to travel – as far and as widely as possible. Sleep on floors if you have to. Find out how other people live and eat and cook. Learn from them – wherever you go."
― Anthony Bourdain
John Bentley is Co-Founder & Senior Writer for International TEFL Academy (ITA), the world leader in TEFL certification for teaching English abroad. A graduate of Harvard University and the Medill School of Journalism at Northwestern, John is a recognized expert in the field of TEFL. His articles have appeared across the field's top websites, including GoAbroad.com, StudyAbroad.com, InterExchange, GoOverseas.com, Adventure Teaching, & many others. He has also spoken as an expert on Teaching English Abroad & TEFL certification at major conferences like MeetPlanGo and Lessons from Abroad (LFA) in Portland & San Diego.
Want to Learn More About Teaching English Abroad?
Request a free brochure or call 773-634-9900 to speak with an expert advisor about all aspects of TEFL certification and teaching English abroad or online, including the hiring process, salaries, visas, TEFL class options, job placement assistance and more.