3 Major Ways Teaching English Abroad Has Changed My Life Since My Return Home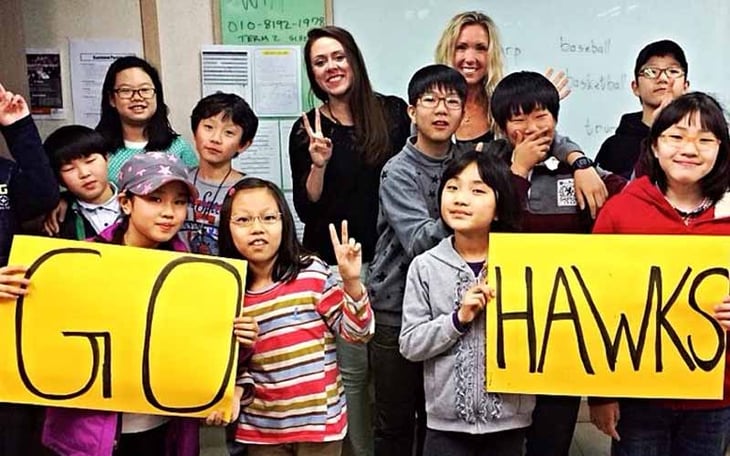 "Wait, you just graduated with a (very expensive) degree in journalism, and now you're jumping on a plane and flying 8,000 miles away to teach English abroad —WHAT?!"
To say my loved ones were a bit concerned and confused by my seemingly reckless life choice of moving overseas (to Korea?!) to teach English would be an understatement. I'm sure many of you have confronted similar objections.
Teaching English overseas was the best move for me; I didn't have a single doubt in my mind. It was just so hard explaining it to everyone else. In my head and my heart the choice to live and work abroad made so much sense, but to everyone else it was just a desperate, irrational attempt at escaping the realities of our rotten economy and the need to kick off a "real career."
Having now returned, it is so clear that the benefits of teaching English abroad were so much greater than I ever could have imagined. My personal and professional lives haven't been the same since, and here are just three major reasons why.........
1. My Job Prospects Were Greatly Enhanced
Job interviews just got a whole lot easier. It turns out that many employers actually seek out job applicants with international experience. The moment my traveling and teaching experiences came up in any interview — and rest assured they always came up — the rest felt like smooth sailing. I'd casually share a few of my finest abroad tales and my interviewer was instantly impressed. My real-life adventures living and teaching English in South Korea and Vietnam demonstrated a lot more about my personality and my ability to take on new challenges than any resume bullet points ever could.

My professional and life experiences abroad made me memorable, worldly and interesting. They helped my resume stand out from the others in the stack. I didn't need to tell my interviewer that I am motivated, diligent and determined - my experiences abroad provided ample evidence to my interviewer that I was all of those things and more. I made a goal to throw myself out there and really do something meaningful and different and I followed through. When asked to provide examples of my abilities to take on new challenges, adapt to new environments, or work with people from different backgrounds, teaching English abroad provided compelling answers.
2. I Discovered A New True Passion
I had no idea that teaching abroad would end up changing my entire career path. I love writing; I've always loved writing. Majoring in Journalism was an obvious life decision, as was growing up to be a professional novelist. At first, I justified teaching abroad by saying it would rejuvenate my writing inspiration. While abroad, my school had a window for a new course, so I figured why not try teaching a writing class.

I'd never taught writing before. I'd never in my life even considered becoming a writing instructor, but within a couple of days I noticed a change in myself. It was unlike anything I've experienced before. My entire mood and presence in the school changed. I was energetic; I was undeniably passionate and dedicated to my work. My true character came to life like I've never seen before. I came alive while teaching writing classes. Those moments reaffirmed my love for writing, but above anything else, they helped me discover a hidden love of teaching and education that I never knew I had.

Now that I have returned home to the United States, I continue to work in the field of education here at International TEFL Academy (all staff members are required to posses extensive international work and travel experience), where as an admissions advisor, I help others achieve their goals of living and teaching abroad.
3. Learning to Make New Personal Connections
One great aspect of teaching English abroad, especially when you do it alone, is that it forces you to meet and befriend people you probably never would have met otherwise.
I make new friends every single day. Whether it's the cashier at Starbucks or the security guard at the subway station, I am meeting new people everywhere I go. I don't care what they look like, how old they are, or what clothes they are wearing, all I know is they have an interesting life story and I want to hear more. Teaching English abroad instilled in me a genuine curiosity for people, particularly those who are completely different than me.
The opportunity to immerse myself into a brand new culture enabled me to realize just how small my social circle was back home. All of my friends fit into the same demographic, lived in the same general area, and shared the same interests. I never once saw that lack of diversity as a problem until I went and taught overseas.
Within a couple of weeks of moving abroad, I had a group of friends who were all from different countries and entirely different upbringings. I found myself having to explain (and sometimes defend) American culture to my new friends. Exchanging stories over meals like why Americans are obsessed with the NFL, and why our food sizes are so gigantic, and whether or not the American Pie movies are really a fair representation of college life, were all just a few hot topics of conversation.
These new friendships reshaped my life and my point of views. They helped me take a step back and not be so judgmental, but instead, view differences as exciting topics of conversation and opportunities to learn. These new relationships have changed my life for the better, and it's scary to think that I almost missed out on them.
The Opportunities are Endless
These are just some of the benefits and rewards of teaching English abroad that continue to impact my life now that I am back home, but it's really just the tip of the iceberg. Whether it's learning to enjoy new foods, acquiring valuable professional experience, mastering a foreign language or making new lifelong friends, teaching English abroad will almost surely make a profound impact on your life long after you come home.
Related Resources:
A journalism major at the University of Iowa, Jessie took the ITA Online TEFL Course and taught English in South Korea & Vietnam before joining the team. As one of ITA's most senior writers, Jessie is the author of numerous articles about teaching English abroad & TEFL certification, and she has spoken at various conferences about working & teaching abroad, including the Lessons from Abroad (LFA) symposiums in San Diego & Portland. Her articles have also appeared in such popular online publications as InternQueen.com.
Want to Learn More About Teaching English Abroad & Online?
Request a free brochure or call 773-634-9900 to speak with an expert advisor about all aspects of TEFL certification and teaching English abroad or online, including the hiring process, salaries, visas, TEFL class options, job placement assistance and more.